On the Air with LOBO Live
How one district's unique approach is breaking down language barriers and engaging their entire community.
(en español: Al Aire con Lobo Live)
It's 12 o'clock sharp on a Tuesday afternoon, and once again, Francisco Rojas finds himself behind a microphone. He spends a lot of his time this way, it seems—whether he's hosting his district's Spanish-language radio show or commentating live on a high school soccer game. When Rojas takes the mic, it becomes more than a communication tool; it's a bridge connecting the Spanish-speaking community in Longview, Texas, to their English-dominant schools.
The son of Ecuadorian immigrants, Rojas was born in Miami, Florida—a city often affectionately known as "the capital of Latin America." There, he "had the opportunity to get to know all these different Latin American cultures," he tells us. While Rojas didn't always speak Spanish at home, his parents did. "Every time I had to communicate with my parents, I spoke in English and they would respond in Spanish," he says.  When he was 10 years old, Rojas' family returned to his parents' home country. "A lot of what I experienced when I was a kid and when I lived in Ecuador helped me with the position that I currently have as someone who can connect with the Spanish-speaking community," he says.
Rojas eventually graduated with a degree in marketing from the Universidad de las Américas in the capital city of Quito, Ecuador. His professional path then led from an International Baccalaureate school in Quito to a Texas nonprofit, and finally to Longview ISD. "I already had an idea of where I wanted my life to go," he tells us. "I wanted to always be connected to serving my community, especially in education." He took a position as a family engagement coordinator at the district in February 2020. But just a month later, the COVID-19 pandemic would make his face-to-face work with parents nearly impossible.
Even though his formal responsibilities were on hold, Rojas still searched for ways to help families stay connected with the district. He reached out to Longview ISD's community relations department, volunteering to help translate district communications into Spanish. They readily agreed; at the time, no one on the team spoke Spanish. A few months later, a position in the department opened up, and Rojas became Longview's new public information officer.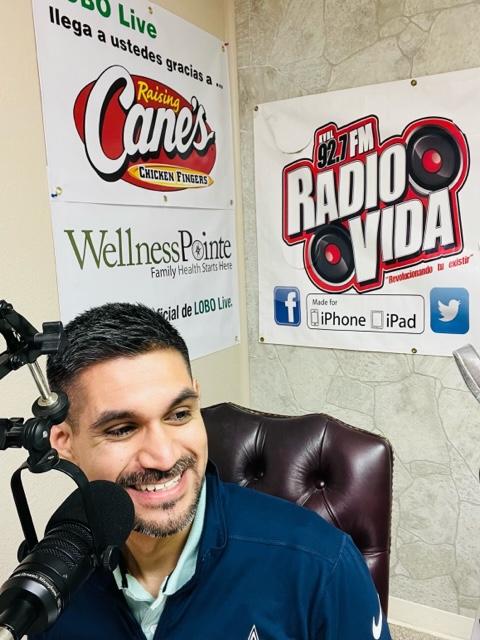 In his new role, Rojas continued to ponder the issue that had drawn him to the department in the first place. Longview's mascot is the Lobo—the Spanish word for "wolf"—but that's about where the district's Spanish literacy ended. Even though about 40% of Longview's 8,200 students are Hispanic, and many of them do not speak English at home, the district wasn't providing much of their communication in Spanish. That meant a huge portion of Longview's families were essentially being blocked from engaging with their children's schools.
For Rojas, this issue was about more than just keeping families in the loop; it was about winning their trust. "Trust is everything—but there's an issue of distrust within the Spanish-speaking population," Rojas explains. "They're coming from difficult backgrounds. Oftentimes their own governments in their home countries have gotten involved in corruption instead of pouring resources into their communities. Plus, when they arrive in the U.S., they know that a lot of people don't want them here. All that creates a higher level of distrust."
So how could Longview build this crucial community's confidence in the district? They had to begin by de-centering English. The U.S. doesn't have one official language—and neither does Longview ISD. It was time to stop defaulting to English, assuming that everyone understood it. "The first step is to start communicating in Spanish," Rojas says. "We can't expect them to come to us—we have to approach them first."
Meeting People Where They Are
The Longview team knew that engaging this community effectively would take not only intentionality, but creativity as well. "We didn't want to do it the boring or traditional way—sending emails and newsletters in Spanish," Rojas says. "All that's great, but how many people would like to read a bunch of emails and newsletters? A lot of people don't have time for that." The key, he knew, was to meet Spanish-speaking families where they already were—starting with the radio.
"A lot of Spanish speakers didn't have Internet access or TVs growing up in their home countries, but they did have radio," Rojas explains. "They built that relationship of trust with their radios. That was their way of getting updated news and entertainment." According to Nielsen, 97% of Hispanic people in the U.S. listen to their radios at least weekly, and listeners who speak predominantly Spanish tune in more than any other group. So why not reach Longview's Spanish speakers through the airwaves?
As it happened, Rojas already knew the owners of Radio Vida, a nonprofit Spanish-language radio station in Longview. He pitched the idea for a district radio show, all in Spanish. "I said, Hey, we have close to 4,000 Hispanic families. We're the largest school district in the area. If you give us the opportunity to have a show on your station, we could probably pull some of our families into your audience," he tells us. "We saw it as a win-win situation."
To maximize impact, the Longview team also wanted to broadcast the show live on the district's Facebook page. "If you want to reach the Spanish-speaking population using social media, Facebook is the go-to place," he explains. "Facebook allows them to see what their family members are doing in their home countries. It's the way they keep in touch with their culture and people." National data backs up that idea. According to Pew Research, 72% of Hispanic people in the U.S. say they use Facebook, compared to 50% who use Instagram and 23% who use Twitter.
Fortunately, Radio Vida agreed to the partnership. Since the start of the pandemic, they had been having trouble finding and keeping presenters. So they offered the district a slot from noon to 1 p.m. on Tuesdays and Thursdays—completely free. The fledgling radio show, "LOBO Live," was officially a go.
Providing Value
Launching a radio show wasn't enough; Rojas and his team had to actually attract listeners. "We didn't want to just share content about Longview ISD," he tells us. "How many people want to listen to a radio show that's only district announcements? We had to come up with interesting content to share."
Once again, Rojas' firsthand experience with different Hispanic cultures informed his approach to the project. "Hispanics are very family-oriented," he says. "They're always looking to build better relationships with their families." So Rojas spends the first 30 minutes of his radio hour presenting information about parenting and family issues, from helping kids with their schoolwork to improving nutrition.
Rojas isn't an expert in these fields, but that's okay. "Before the show, I do research and find articles written by professionals," he tells us. "Then I share those articles on the show in Spanish. The information isn't coming from me; I'm just communicating it." But that communication is critical. Because these resources are in English, they're often inaccessible to Spanish speakers.
"LOBO Live" also spotlights community organizations and other resources for anyone who might need them. Every two weeks, the show features representatives from local nonprofits, who talk about their services and programs. In Longview, about a quarter of Hispanic people are living below the poverty line—but language barriers often keep them from accessing community resources that could help. "A lot of them are struggling but aren't aware of what's available to them," says Rojas.
But it's not just resources. "LOBO Live" works to raise awareness for community events, too—a concert by the East Texas Symphonic Band, for example. And according to Rojas, when these events get promoted on the show, organizers do typically see an uptick in Spanish speakers attending. "It's great—we're bringing the community together," he says. "It's showing them they're also a part of our community; they just needed a way to get connected."
And if all that wasn't enough to attract listeners, the show also gives away prizes every week, whether they're donated gift cards from local restaurants or Lobo swag. But in order to enter, "the listeners have to share the livestream on their own Facebook pages," Rojas says. "That way, we get more people to tune in and listen to what we're doing."
Of course, the show does offer updates on what's happening in Longview ISD as well. "Parents who speak Spanish want to know when the school board approved something, like a mask mandate, for example," Rojas says. That's the genius of "LOBO Live": it provides value outside of basic district updates. Even if listeners tune in mostly for parenting tips, community information, or giveaways, they get that district information, too.
Providing that value even brings in audiences outside of the Longview community, expanding the district's reach. "We have folks from Houston listening to us, folks from the Dallas-Fort Worth area, people who don't even have kids in Longview ISD—but they like the show," says Rojas.
Bridging the Gap
Like many new projects, "LOBO Live" wasn't an immediate success. "You have to be persistent," Rojas tells us. "If we had only offered the radio show for a month, it would have been a huge failure." But just two years later, Longview ISD is seeing this unique communication strategy pay off. "Now, Spanish-speaking families are reaching out to us," he says. "They're asking us questions and sharing their thoughts."
Rojas attributes that interest in connection to the trust "LOBO Live" has built with its audience. Families know that if they reach out to the district in Spanish, someone can respond. "That's not the case in a lot of districts," he says. "Oftentimes, even if they get a newsletter translated into Spanish, when they call the contact phone number, the person who answers doesn't speak Spanish." Longview's Spanish communications always include Rojas' contact information for families who might want to get in touch. "Right away, they see that there's a real person there to help them—and oftentimes they know who I am because they recognize me from the radio show," he says. "There's already that trust built, and they know that they can reach out freely without a problem."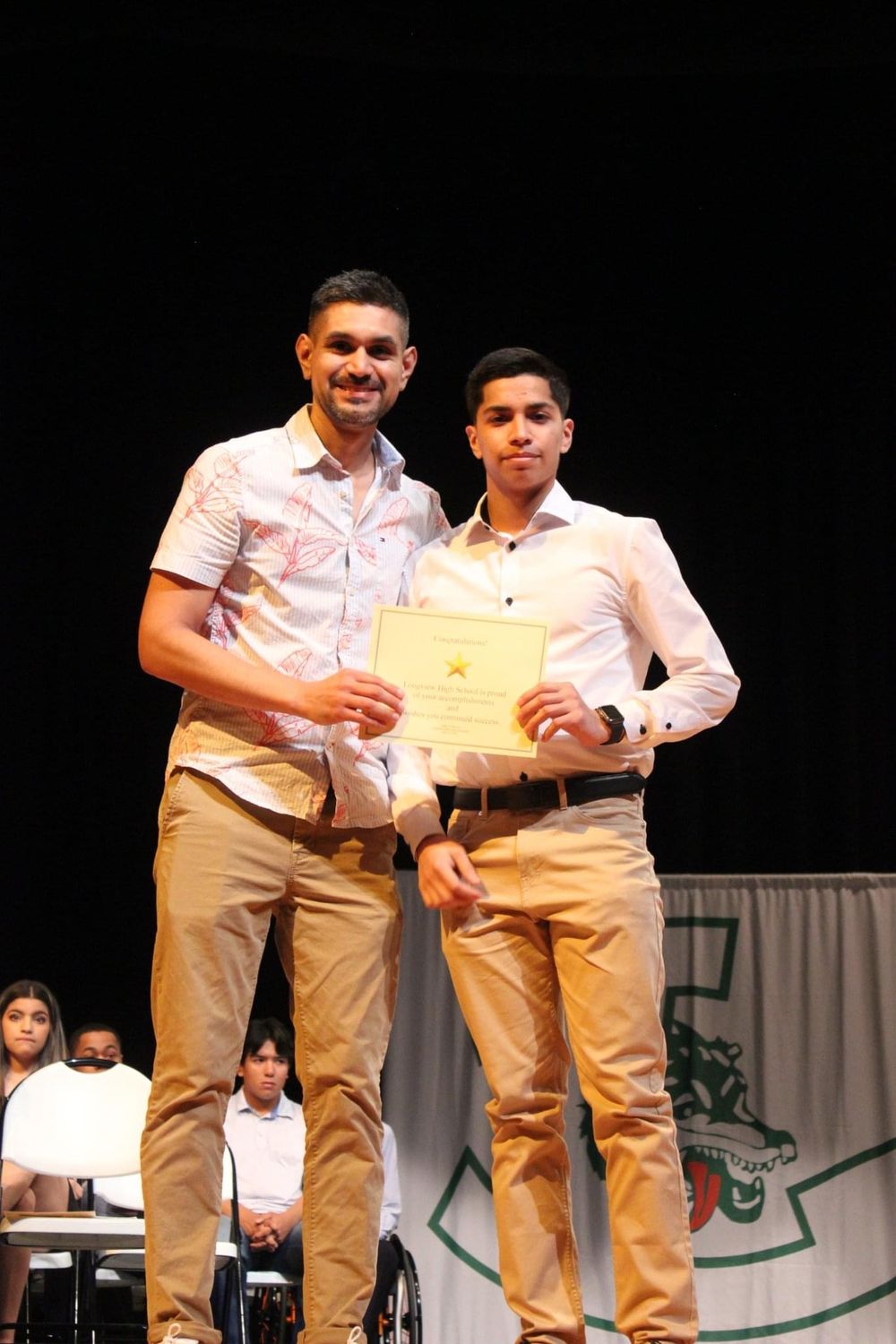 Over the last two years, the show's popularity has also brought in two sponsorships: one from healthcare organization Wellness Pointe and another from the local Raising Cane's franchise. Since broadcasting the show remains basically free, Rojas and his team are giving that money back to the community—through scholarships.
"In May, we gave out three scholarships of $1,200 each to seniors who are bilingual in English and Spanish," Rojas tells us. All three will be the first members of their families to go to college. "That makes me feel extremely proud," he says. "It gives me even stronger convictions about what we've achieved so far, and it encourages us to push forward and continue this project."
Scoring New Goals
As "LOBO Live" took off, Rojas and his team began to turn toward another avenue for connection with the district's Spanish speakers: soccer. Hispanic culture in the U.S. is not a monolith; a Colombian family will have different perspectives and customs than one from Mexico or El Salvador. But since it arrived in Latin America in the 1800s, fútbol has been a unifying interest across nearly all the disparate cultures in the region. If you're a native Spanish speaker, chances are, you're a soccer fan—regardless of your country of origin.
Hispanic immigrants have brought that passion with them to the States. According to a study from Nielsen, 61% of U.S. Hispanic people tuned in to at least one soccer game on TV in 2017, and of those, a whopping 94% did so on a Spanish-language network. That knowledge led the Longview communications team to a simple idea. "Since the majority of our fans who follow our soccer games are Spanish speakers," Rojas explains, "why not livestream the games with Spanish commentary?"
The plan seemed like an obvious win for the soccer program. Livestreaming would allow Spanish-speaking family members who worked late or otherwise couldn't attend in person to follow the games in their own language. Longview decided to stream the games on Facebook, and once again, Rojas found himself behind the mic—not as a radio host, but as a commentator.
"We want to deliver the same experience that families get when they turn on the TV and watch a professional soccer game," he tells us. "I try to be as enthusiastic as possible, like the professional commentators." It's been a huge hit. "We have even people getting together at their houses to watch the games we're streaming," he says.
But this soccer strategy is more than a great touch point with Spanish-speaking families; it's a moneymaker for the district. Since the broadcasts began, the soccer team's number of sponsors has jumped from seven to a whopping 24. The district has even seen a boost in enrollment. "Thanks to these broadcasts, a lot of students are being scouted by colleges," Rojas explains. "Because of that exposure, soccer players from other schools are now wanting to transfer to our district just to play on our team."
All this makes a powerful point: Including everybody in your communications isn't just the right thing to do. It's a good business decision, too. "This simple but out-of-the-box marketing strategy is bringing in revenue to the school district," Rojas says. "It's bringing opportunities to our kids who want to go to college." What started as a way to engage more families is now transforming students' futures.
Offering Experiences
As of now, "LOBO Live" is the only Spanish-language school district radio show in Texas—even though almost 30% of Texans are native Spanish speakers. Longview is also the only district in the state to broadcast their soccer games in Spanish. But Rojas is anything but proprietary about these ideas. "I'd love to see other school districts take the initiative and do what we're doing, or come up with other strategies to close that gap," he says. "It starts with small things."
For districts struggling to reach their Spanish-speaking community members, Rojas has a few tips. First and foremost, "every single communications, PR, or community relations department should hire someone who's bilingual," he says.
Beyond that, he suggests optimizing the channels and materials you already use to make them more accessible to Spanish speakers. "For example, start posting in Spanish on your Facebook," he says. Rojas even points out his own business card: English on one side, Spanish on the other. "You can't ask them to reach out and trust you when everything you're putting out is only in English," he says. These principles, of course, are true for any non-English language that's prevalent in your district—not just Spanish.
But most of all, Rojas says, "you have to deliver experiences." To really get people engaged and win their trust, you need to give them something they will value—no strings attached. For Longview, that's an informative radio program or an exciting night of soccer. "The trick is to offer entertainment and tag school information along with it," Rojas says. "That way, folks are going to be more interested."
This past February, Longview was awarded a Gold Star from the Texas School Public Relations Association for "LOBO Live" and their soccer broadcasts. The radio show also received an Honorable Mention from NSPRA's National School Communication Awards; it was the only Spanish-language audio project to be recognized.
But better than all the accolades is the trust and two-way communication the district has built with its Spanish-speaking families. Finally, though it's been long overdue, everyone is on the same wavelength. "The awards are fantastic," Rojas tells us, "but the fact that now we have a relationship with our largest student population, and that they trust us and reach out to us—that means the world. That's our greatest achievement."
---

SchoolCEO is free for K-12 school leaders. Subscribe below to stay connected with us!