About SchoolCEO
Everything You Need to Know
SchoolCEO is a research and perspectives magazine for school superintendents and other K12 leaders. Published quarterly in print and online, SchoolCEO is the only magazine focused on marketing in K-12 public education. This publication equips its community of innovative educators with the unique and actionable ideas they need to brand and market their schools in a highly competitive environment. With more than 20,000 readers, SchoolCEO is leading the conversation on communications, recruitment, and branding in public education.
Where to start:

What we do:
Being a school leader is one of the hardest jobs in the world, and in the last 25 years, it's only gotten harder. Charter schools, cyber schools, voucher programs, and a whole host of school choice programs are pulling students from their zoned districts—and taking their funding with them. In competing with these programs, superintendents now face the challenge of not just running their districts, but also marketing them.
As a team of marketers, researchers, and former educators, we know leading a school district is very different from leading a private sector company. That's why it's our hope not only to bring you innovative marketing strategies, but also to connect you with other exceptional school leaders utilizing these ideas to market their districts. Our marketing expertise, combined with original research and in-depth interviews, will give you the tools you need to drive real results and transform your school community for the better.
SchoolCEO: a magazine for superintendents & school leaders
We're best known for our quarterly superintendent magazine, SchoolCEO (see all back issues here). It features original research and journalism devoted to exploring high-level ideas in school leadership and marketing. If you're a superintendent or communications director, you can subscribe to receive a free edition of the quarterly print magazine here.
Start with our original research:
Then read our other most popular articles: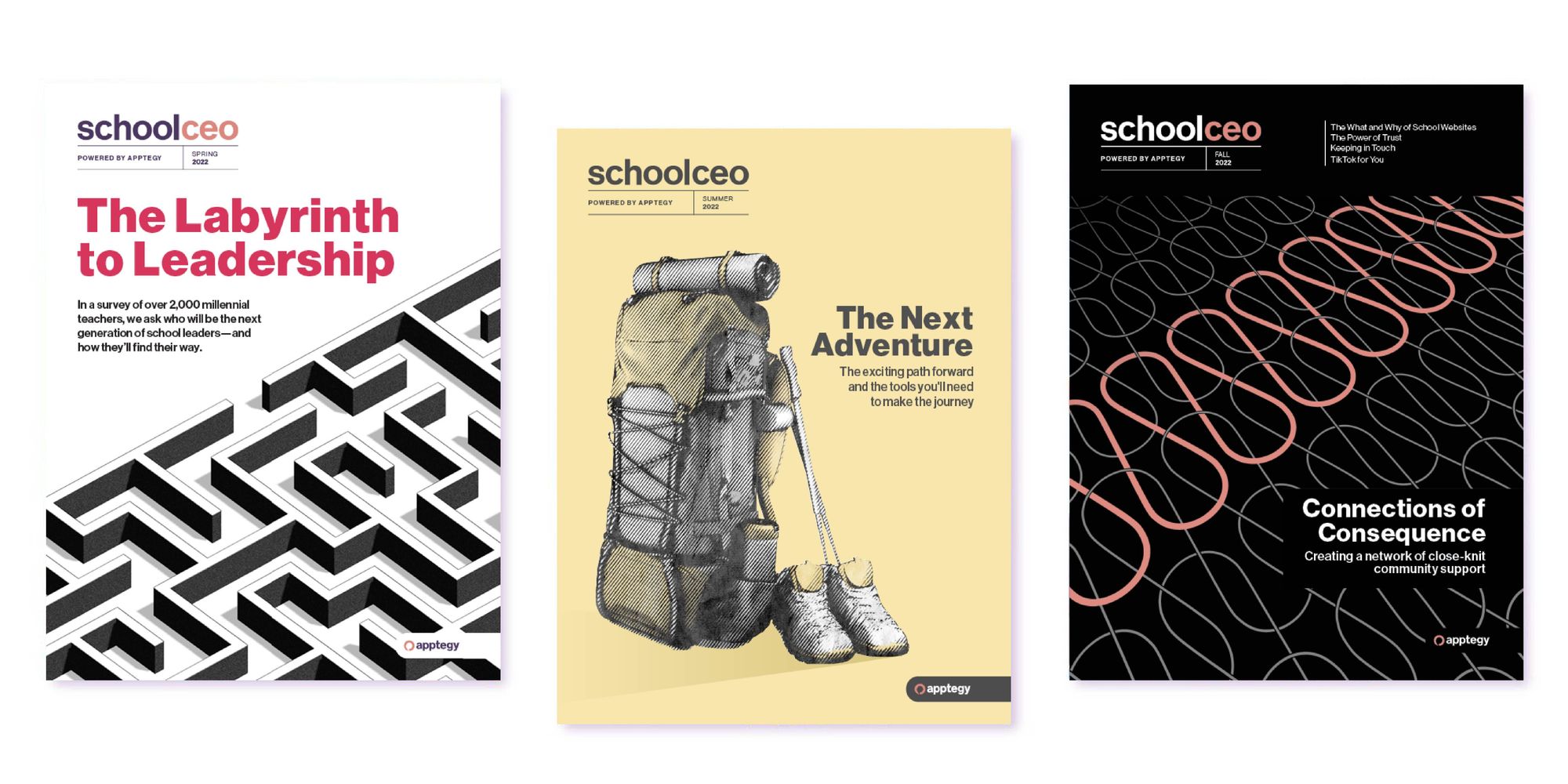 Have a story worth sharing?
Our favorite part of our jobs is talking to school leaders. If you'd like to tell us about a great initiative at your district or a personal story about your leadership journey, email us anytime at editor@schoolceo.com.

We regularly publish perspectives from school leaders across the country that posit unique solutions to challenges faced by superintendents everywhere. This could be a unique idea, a new program, or simply something that has worked for your district or that you feel does not get enough attention. You can find submission guidelines here.
SchoolCEO Newsletter
Our bi-weekly newsletter keeps 15,000 school leaders in the loop. It includes a short letter from our team, three ideas to get you thinking, a school story to inspire you, and a couple of resources that you can use right now.
Sign up today to start receiving the newsletter (you can unsubscribe at any time).
SchoolCEO Conversations
On our podcast, SchoolCEO Conversations, you can hear how other superintendents and private sector experts are thinking about education, influence and brand. Get started with some of our most popular episodes:
Conferences
Our school marketing conferences bring some of the best keynote speakers to present on generational influence, school culture, employee recruitment and retention, and more. Our next conference is still in the works, but you can register your interest to get new info as soon as it's available.
Speaking
Our team includes high-caliber writers and researchers who are available to speak on topics related to school marketing, culture, and recruitment. Our talks primarily focus on marketing and branding, teacher recruitment, customer service, and school culture.
Reach out and let us know what you have in mind and how we may be able to help. Learn more on our Speaking Opportunities page!