SchoolCEO Conversations
Get a glimpse into how three school leaders practice school marketing.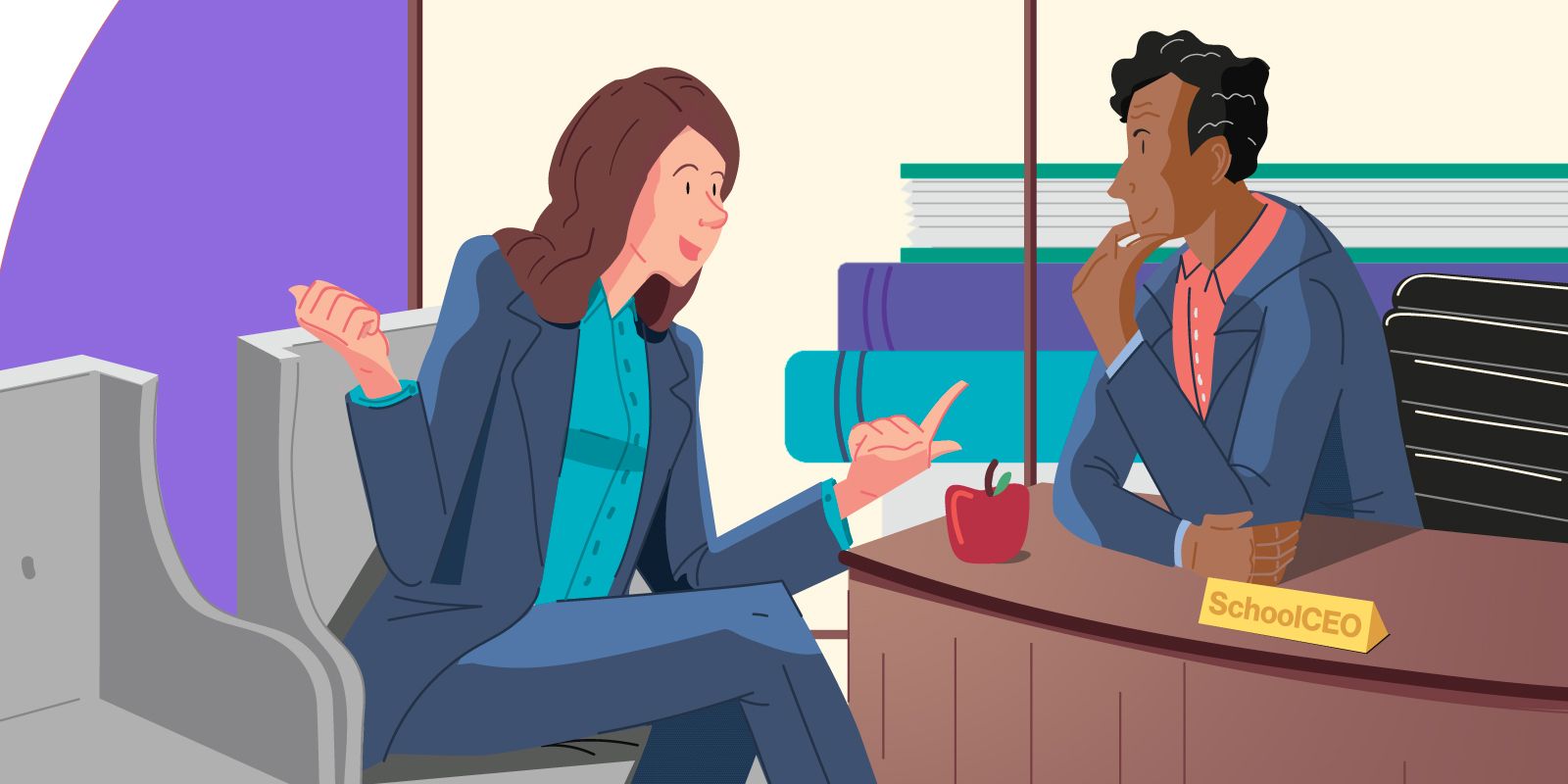 When we ask school leaders who they look to for guidance in tackling their most difficult challenges, the answer is always the same: one another. Running a district requires a unique skill set, one that's hard to master—or even understand—until you've stepped into the role.
So we had an idea. Let's get school leaders to share their strategies here, through our magazine, like they're sitting at a hotel lounge during a conference or comparing stories in a group text. (Maybe a little less fun than that.)
Since our last issue, we've begun a new interview series we're calling SchoolCEO Conversations. Reaching out to our subscribers, we've chatted with superintendents, communications directors, marketing executives, and more about best practices when it comes to marketing a school district.
In the sections that follow, you'll get a glimpse into how three school leaders—all communications directors—practice school marketing.
---
Get kids involved.
Elsa Covarrubias: Director of Communications and Public Information, Anaheim Elementary School District, CA
Elsa Covarrubias is always looking for new ways to impress her school community. "We don't want our parents just to be satisfied," Covarrubias says. "We want them excited. We want them saying, 'Wow.' And we're making every effort through our communication media to get them there."
She accomplishes this, at least in part, by involving the students themselves in her marketing efforts. For example, each district newsletter includes a "kid columnist" story, written by an elementary student. "People love it," she says. "The kids love it."
Covarrubias would also like to involve students in one of her most successful engagement tools: Instagram stories. "I would love to have kids do little takeovers at school and tell their stories themselves," she says. "It would be fun for the parents to watch, and it would really teach the students 21st-century skills." After all, Covarrubias herself knows how valuable knowledge of social media can be to a future career—she uses those skills every day.
"Even on a small scale, I would love to give our students the opportunity to explore the world of social media responsibly under the guidance of the adults in their lives," she says. "We're a school district! That's what we should be doing."
---
Connect face-to-face.
Joëlle Doye: Communications Director, Mineral Point Unified School District, WI
Joëlle Doye isn't just her district's Communications Director. She's also the former vice president and current board member of the local chamber of commerce, a former president and current board member of the Kiwanis Club, and a member of the Education Endowment Board.
"In lots of districts, the superintendent holds those positions," Doye tells SchoolCEO. "But we've found that people aren't always comfortable talking to the superintendent." Since she's further down the chain of command, people often feel more at ease telling Doye what they're thinking.
"I think it's good that we have more than one face for the district," she says. "I can be an extra set of ears and eyes out there in the community—I can hear concerns that people have and answer them, or relay them to the proper person."
And as Doye knows well, those face-to-face interactions are critical—often even more so than traditional marketing tactics. "I think some people spend too much time on digital stuff," she tells us. "It's a lot of legwork, but building those face-to-face relationships is more beneficial in the long run for creating a high level of trust around your schools."
A simple face-to-face conversation may not feel like marketing, but according to Doye, it is. "It's not just what I'm doing on social media," she says. "Everything we do every single day is marketing for our district, from the way we answer phone calls to our email responses."

---
Combat your weaknesses with memorable experiences.
Melissa Martinez: Communications Director, El Paso ISD, TX
After 20 years as a journalist, Melissa Martinez knows how to ask the right questions. "When you're a reporter, you have to be an expert in a lot of different fields," she tells SchoolCEO. "Not only do you have to get the public the information they want to hear, but you have to anticipate what the public wants to know."
This expertise came in handy as she transitioned into the school communications field. "When I started in this role, I had to learn all of the jargon, terms, and policies that come with K-12 education, so I just started asking a lot of questions," she says. "My job is to be a voice for the district and to not only communicate our message, but help strategize it. I can anticipate what questions the community will ask, what parents want to know, and what information they need. This crafts the district's story, which makes this job no different than when I was a reporter."
And when the district began to face the daunting challenge of declining enrollment, Martinez's journalistic training paid off. "El Paso is the largest, oldest urban district in the county," she says. "We have an aging population and older neighborhoods, as well as the most private and charter schools in our district's boundaries in the area." This led Martinez and the rest of administration at El Paso to ask themselves, "What can we do to retain our current students and recruit new ones?"
At the beginning, El Paso ISD combatted the decline by becoming an open enrollment district. However, it was their marketing savvy that really set them apart. "We started promoting ourselves to those who weren't looking at us as an option," says Martinez. They started slowly, first using traditional channels like television, radio, and direct mail. But as they gained their footing, they added more marketing strategies to their roster: social media, digital marketing, and in-person events.
For the past two years, one of El Paso's greatest marketing efforts has been a district-wide event they call the Discover EPISD Expo. The expo brings all 85 of the district's campuses together, highlighting specialty programs in each school.
"The event shows exactly what we have to offer to community members and families," Martinez says. "We make sure that each campus puts their best foot forward and shows something engaging and interactive." Even students get in on the fun: clubs and other groups hold performances and presentations throughout the day. "We definitely make it worthwhile to come out on a Saturday," Martinez says.
And the event has been a successful investment for the district, drawing over 1,000 community members each year. "It's the perfect way to reach out to people who might not be familiar with EPISD," says Martinez. "Parents and families are able to meet teachers and administrators one-on-one and find out more about our schools."
Beyond getting the word out about the district, the expo produced an additional benefit: inspiring EPISD's staff. "Seeing the magnitude of all of our schools and programs together has helped give a boost to our employees," says Martinez. "We see this sense of pride, where they say, 'Wow, I didn't know all of these wonderful things are happening. I'm so proud to be a part of EPISD.'"
Martinez also feels that same sense of pride. "Once you see it put together and you see our employees beaming, it gives us a new opportunity to look at all of the great things we've done in the past year," she says. "It reminds myself, our staff, families, and community members why EPISD is an impressive organization."
---

SchoolCEO is free for K-12 school leaders. Subscribe below to stay connected with us!
---