With Open Arms
Helping displaced students feel welcome in your schools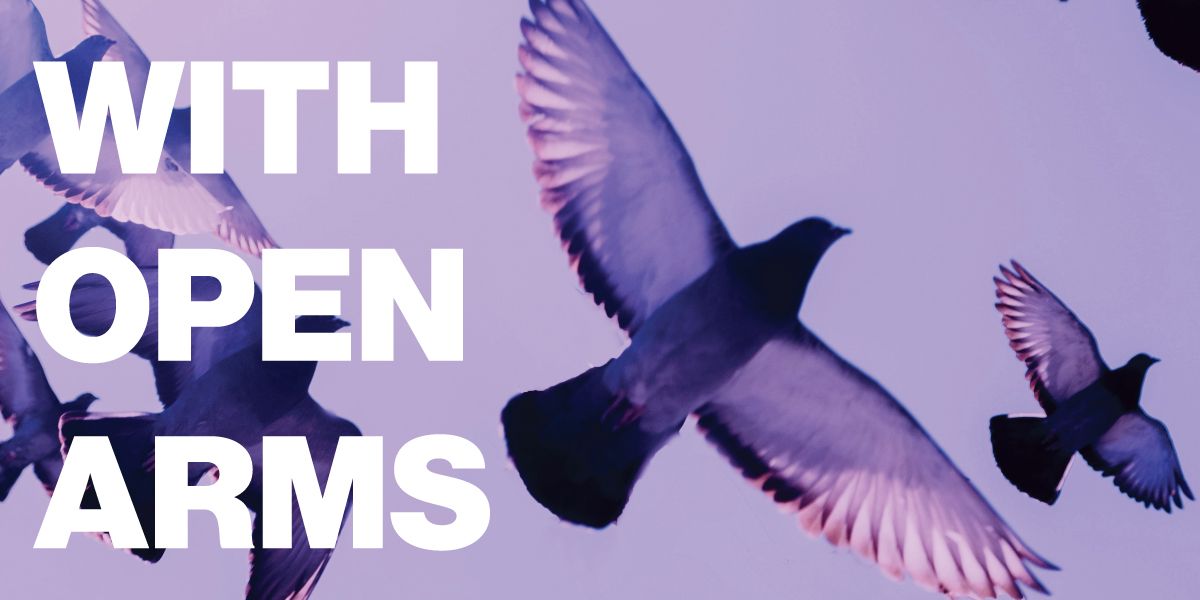 It's never easy being the new kid in school. Adjusting to a new routine, meeting a whole slate of different teachers, and making friends can all present struggles for any student.
But these challenges are amplified for students who have been displaced. Around the world, millions of families have been forced to leave their homes and move to new communities, usually due to armed conflicts or humanitarian disasters. According to the United Nations High Commissioner for Refugees, some 3 million refugees have resettled in the United States since 1975. This includes those fleeing recent high-profile conflicts in Iraq, Syria, and Afghanistan.
Even if your district isn't receiving students who've escaped international conflicts, you're likely to work with displaced students in the future. Hurricane Maria, for example, brought over 11,000 students fleeing Puerto Rico to Florida schools in the middle of the 2017-2018 school year. Many families in the continental U.S. either choose or are forced to uproot their lives after hurricanes and wildfires. Even students already within your district can become displaced at any time, whether due to a house fire, domestic violence, or the death of a caregiver.
Working with this vulnerable group of students requires a deft touch, but it also presents school leaders with an opportunity to make a difference in their communities. Schools are often an important touchpoint for these families as they settle into their new homes. Fortunately, numerous districts around the country are welcoming displaced students and their families into their schools in heartfelt, innovative ways. While supporting these students can seem like a daunting task, your school community will be all the better for it.
Meeting Students Where They Are
Displaced students often enter schools with several stressors weighing heavily on their hearts and minds. The trauma of being forced to leave home combined with starting over in a new school—or even a new country—can be a lot to handle. That's why one of your top priorities should be making your displaced students feel welcome and safe.
One of the simplest steps is being thoughtful about how you introduce these students to their new peers. Dr. Rob Watson, superintendent of Montana's Missoula County Public Schools, told us his district has found success with taking the burden of those introductions off of the students themselves. Because displaced students often struggle to talk about their homes and the circumstances under which they left them, an EL tutor will come to the classroom and talk about the new student's home country, sometimes even in the form of a lesson.
"Building the capacity of the students who are already here, so they understand a little bit more about the home country, is probably the most important thing we do," Watson says. Once students have that background information, they can take it and run with it. One elementary class in Missoula was so excited to learn about a fellow student's home country that they asked to be taught words and phrases in that student's native language to make their new friend more comfortable.
Missoula also pairs each displaced student with a peer for the first few weeks of the school year. This gives the student a buddy to guide them through their new school, kickstarting the process of meeting people and making friends. What's more, having a connection right off the bat helps ease culture shock; after all, they're adjusting not just to U.S. culture, but to your school culture as well. For example, something as common as block scheduling can be utterly confusing without a peer to explain how it works.
Understanding the nuts and bolts of the school day is important, but school leaders have even bigger academic hurdles to overcome. When students are gathering their belongings from their former homes, things like report cards probably don't make the cut. This makes it tough to piece together a transcript and place these students in the proper grades.
However, this careful work behind the scenes is critical in order to set your newcomers for success. California's San Juan Unified School District has dedicated staff to help these students thrive academically. "A teacher on special assignment looks at transcripts to make sure students are being placed correctly in classes and that they receive credit toward graduation for whatever courses they completed in their home countries," says Cristina Burkhart, a Program Specialist for the district's Newcomer Support Team.
In many cases, students need extra attention to stay on grade level. For San Juan Unified, this takes place in Saturday Academy. Younger kids receive lessons not just in their academic subjects, but on English language acquisition and emotional regulation as well. Older kids, meanwhile, are able to pursue credit recovery for graduation in an environment where language translation is available. Elsewhere in California, Cajon Valley Union School District has had success with their Power Up after-school program, which uses activities like soccer to provide kids with language acquisition help, social-emotional learning, and even counseling.
When it comes to supporting displaced students in the classroom, you have to be willing to meet them where they are—sometimes literally. Burkhart relayed just one example of what this looks like. When two Afghan sisters weren't coming to school, members of her team visited the students at home. They discovered that the girls were intimidated by their route to campus.
So what did the San Juan Unified team do? They walked the girls to school, leading them through busy intersections and intimidating crosswalks to show them they could do it. That simple act got two students back into class and showed them that the district cared. "I think our district is really good about supporting our families," Burkhart says. "We do whatever we need to do."
The chief support for your newcomers will usually be found in the classroom itself. Teachers are the primary point of contact for any student, and setting yours up for success will go a long way.
This support can take several forms. In Missoula, teachers learn basic words and phrases in students' native languages. Doing so facilitates communication and connection, while also helping those students feel more comfortable in the classroom. San Juan Unified utilizes bilingual instruction assistants to break down learning barriers by assisting teachers with translation services.
Sometimes putting teachers in the best position to succeed takes the form of actual professional development, such as workshops on general cultural responsiveness and trauma-informed practices for the classroom. All of these strategies work to make displaced students' experiences as welcoming as possible so they can continue to learn and grow. Texas' Austin ISD, for example, includes basic language instruction in staff training. Refugee Family Support Coordinator Salimah Shamsuddin makes a point to teach everyone she trains how to say "hello" and "thank you" in both Dari and Pashto—the two languages most commonly spoken by Afghan students.
One simple step that teachers can take, Shamsuddin tells us, is learning how to pronounce their newcomer students' first and last names correctly. It may sound like a minor detail, but it matters deeply to these students. Shamsuddin knows this personally. "So many immigrant children, including myself, have had teachers who could not pronounce their names,"she says. "Every time they called my name during roll call, I would get tense. It is important in building that relationship to just ask students how their name is pronounced."
Serving the Whole Child
Of course, education isn't just about what goes on between the morning and afternoon bells. Schools can support displaced students outside of normal classroom instruction, too. One of the most obvious methods is devoting time and care to your students' mental health.
Put yourself in the shoes of a displaced student: the conflict or disaster that drove their family from home; the often harrowing journey to flee and settle somewhere foreign; the stress of trying to reset life in an entirely new community. None of this is easy, to put it mildly.
Fortunately, school can play an invaluable part in these students' healing. Austin ISD brings together school counselors and the district's licensed mental health professionals to focus on the individual needs of each student. One important aspect of this work is ensuring that students have access to culturally competent mental health providers. "Culturally competent" is a key point—students are best served by providers who have experience working with refugee families.
"When you're speaking to these families about counseling and therapy, try to focus on speaking about their wellness rather than mental health," Shamsuddin suggests. This way of framing the conversation is more inviting, with less loaded terminology. "We found that parents are more open to the idea of therapy when we frame the conversation around their child's well-being and how it's going to help them," she says.
Not every district can employ mental health providers as part of their campus or central office staff, but that's okay. The important thing is being there for the students and allowing them to process the trauma they've experienced in their own time, on their own terms. "When somebody comes back from a traumatic experience, the instinct is to say, Let's counsel you out of it—it doesn't work that way," says Michael Serban, Cajon Valley's Director of Family and Community Engagement. "So it's making everybody aware that—two weeks from now, six months from now, a year from now—this child is going to have to get this off their chest in order to process and move forward. When that happens, we want to be there to support them with all of our resources."
Part of being there for students is simply providing them opportunities to have fun like any other kid. After-school clubs, athletic teams, and other structured, school-sponsored activities are an excellent way to help new students step outside of their existing circles and meet new friends. For displaced students in particular, shared interests in sports or music can facilitate bonding with new classmates; these activities transcend language and open the door to cultural exchange. "Students don't need to have English skills to be able to build friendships and dance," says Amy Rovai Gregory, San Juan Unified's Director of Family Engagement and Partnership Development. "You can dance in any language."
However, a few barriers can keep some of your newcomers from participating in extracurriculars. For example, families living in a new community may not have a car or a valid driver's license, making it difficult to transport kids to and from campus or other locations after school. Watson tells us those challenges are compounded in a community like Missoula, which lacks viable transportation options beyond cars. Fortunately, his district has found a solution that benefits all of their families—activity buses for use during after-school hours, paid for partially through a Title I grant.
While transportation options are a big help for displaced families, other barriers may still remain. In many families, for example, older kids are expected to look after younger siblings while their parents work, making after-school activities inaccessible. To provide opportunities for these students, you might integrate activities into the regular school day, with club meetings and other events taking place on campus during lunchtime.
Getting Families Involved
Some schools have also found ways to extend learning into the home. Everyone we talked to agreed that refugee families often find taking an active role in their child's education intimidating; some may even think it's not their place. That sentiment is understandable given the high status some cultures afford to educators, but schools should still try to work toward forming an active partnership with all families.
In Cajon Valley, teachers work toward this goal by forming family-teacher teams. What does this look like? Imagine a back-to-school night, but with a twist—the meetings take place during the school day, with a performance or some other element involving students to encourage parents or other family members to attend. These families are then invited to take part in the learning, working with their child on one specific area of focus. All the while, parents get to discuss their hopes and dreams for their children with teachers. These partnerships then continue to build over the course of the school year as both parties regularly touch base on the student's progress.
Sometimes, equipping families with the tools they need involves a crash course in U.S. education. San Juan Unified holds workshops to go over all the information parents need to know, from how to read a report card to district graduation requirements to the steps involved in filling out college applications. While families in the States may take this knowledge for granted, making sure it's available to newcomers can remove significant barriers to playing a more active role in their child's education.
Even after families learn how local schools operate, school and district communication efforts can still fall flat if there's not an intentional effort to translate materials into different languages. Flyers, pamphlets, and newsletters should all be produced with different local populations in mind. San Juan Unified, for example, recognizes six official languages as a district and ensures that all their materials are available in those languages at minimum. During enrollment, they provide parents with bilingual picture dictionaries to help break through communication barriers. This is a valuable resource that families and teachers can all put to use right away.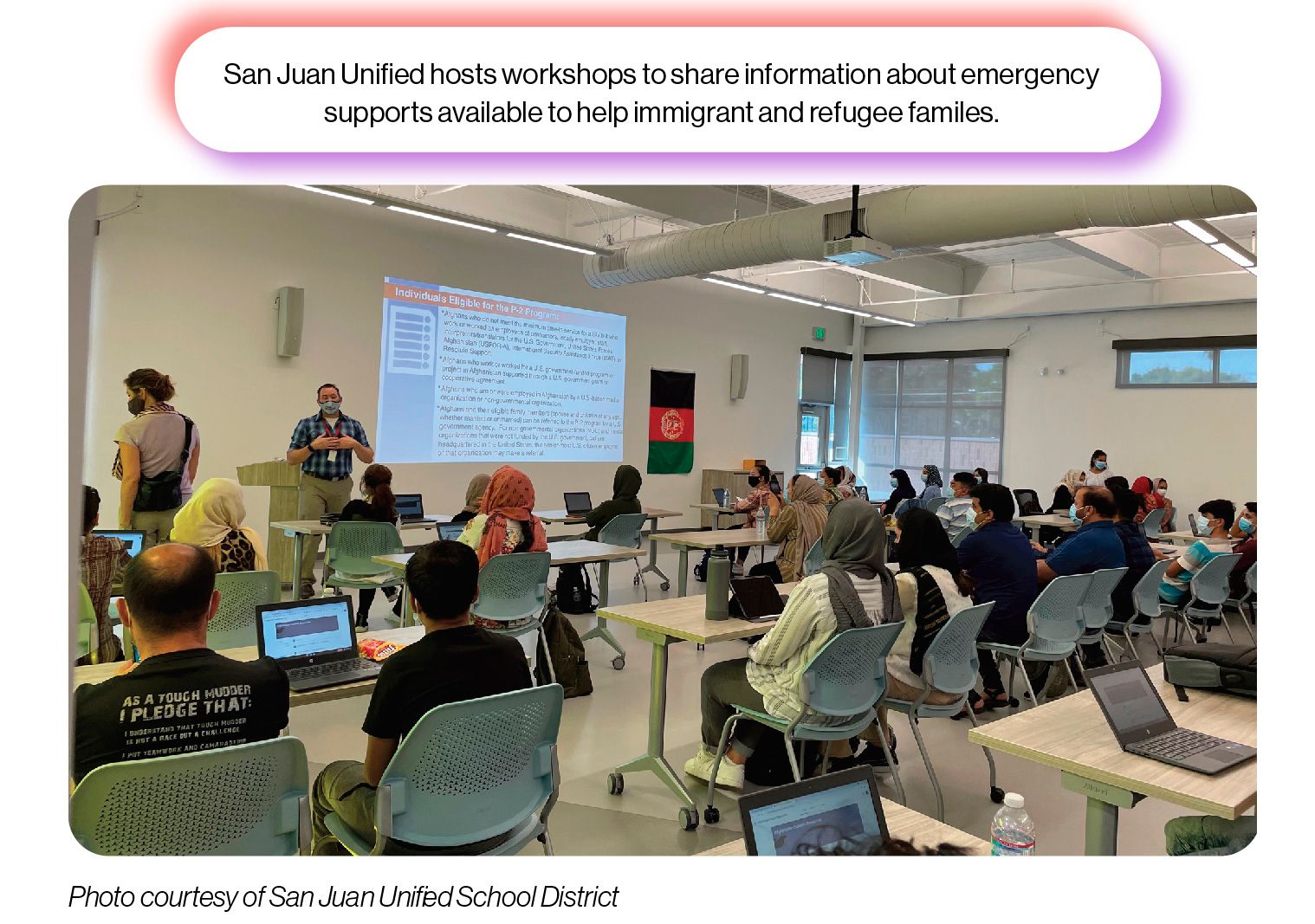 Admittedly, it can be difficult to find translation services for languages that are not very common in your area. But Missoula found a solution to this problem simply by turning to their community. The district hired several local Congolese refugees to translate district materials into languages their students and families could understand. Working with the local refugee community can also help to deepen ties and open new doors to collaboration.
Before assuming your displaced families require a translator, though, it's always best to ask. Parents who are unsure about their English skills may welcome the assistance, but those who are already proficient in English may not need that sup-
port. It's important to remember that just because someone's a refugee doesn't always mean they don't speak English.
That isn't to say there aren't other communication barriers to be aware of. Nonverbal communication is oftentimes a very subtle aspect of engaging with another person, but it can make or break an interaction. Part of cultural responsiveness training is knowing what cues to watch for so you can put parents at ease. For example, things that seem normal to you—like shaking hands or holding eye contact—may not be as acceptable in another culture. Showing respect for your families' nonverbal norms will go a long way toward making them feel at ease and strengthening their trust with your schools.
Supporting District Families
For many displaced parents, making the honor roll takes a backseat to more immediate concerns for their children. This is where the necessary work of breaking down barriers and building real relationships with these families comes in. As we've seen over the course of the COVID-19 pandemic, schools play a very important role in helping families in need.
For starters, many refugees come to the U.S. in need of assistance finding affordable housing and employment. These can be tough subjects to navigate even without a language barrier. However, many communities have plenty of resources available to help displaced families. Schools are perfectly positioned to act as a bridge between nonprofit organizations and district families who may not know these supports exist.
"Nonprofits in general do not focus on advertising," Serban tells us. Understandably, these organizations tend to invest their money in the supports they provide. At Cajon Valley, Serban's department works to build relationships with refugee resettlement agencies and local health groups so they can connect these groups to families in need. This effort has culminated in resource fairs that bring local support organizations to campus. In San Juan Unified, district staff bring the community directly to families, holding events in neighborhoods with high populations of displaced students. However these partnerships work in your community, schools have a role to play in establishing those connections.
Sometimes the work of bridge building takes place within the district itself. As part of their enrollment process, San Juan Unified pairs each refugee family with a district employee who speaks their native language. This employee helps with questions not just about school, but about resources available in the community as well.
Cajon Valley takes this a step further and employs 16 Family and Community Liaisons who work to facilitate relationships between school staff and their students' families. The positions were created when the district recognized the need to better interface with their growing Iraqi and Syrian communities. Combining state grants and Title I funding, Cajon Valley hired these liaisons from within the district community. For example, one liaison was a district parent who had previously worked in Cajon Valley as a student aide.
The work of these trusted liaisons took on even greater importance this summer when some of the district's Afghan families turned to them for help in a time of crisis. When several students didn't show up for the first day of school, the district checked on each family and discovered that these students were trapped in Afghanistan during the U.S. military's withdrawal and the Taliban's takeover. Cajon Valley then sprang into action, helping many of these students and their families secure safe passage back to the U.S.
"Our families stranded in Afghanistan were nervous to talk to anybody else," Serban says. "They didn't know if they were talking to the Taliban or to an American support person—but they knew their school liaison." That relationship is what got these families back to Cajon Valley safely. "The only reason they got out was because they had connections," he says. "We were able to tell the Marine on the other side of the airport fence to let these people go through, and we got them an escort through thousands of people to the other side."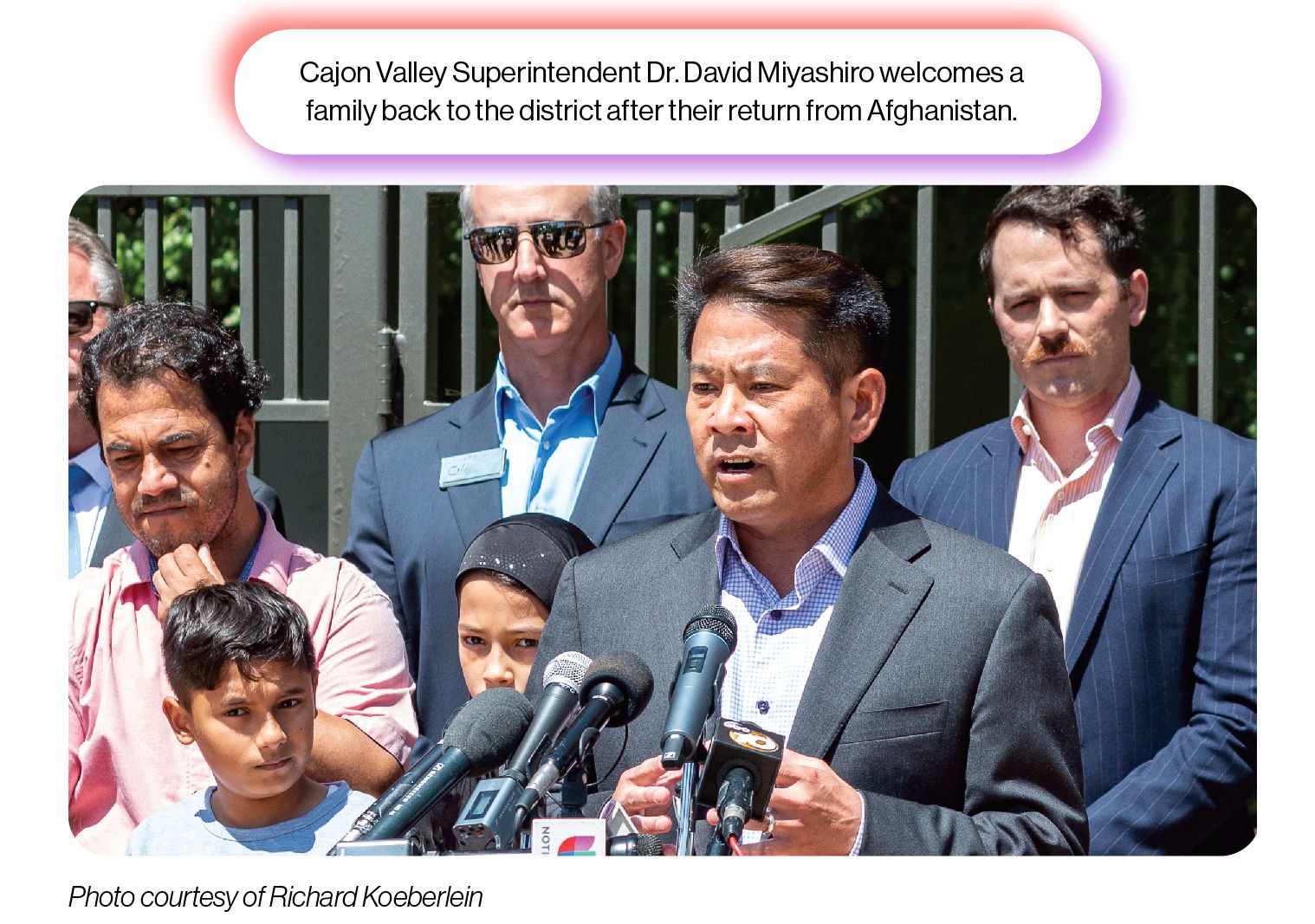 This heroic work on the part of Cajon Valley's two Afghan community liaisons came at a cost; the media attention endangered their own extended families in Afghanistan. "They put other families before themselves in order to get our school community's families home," Serban tells us.
For other school districts with a high population of Afghan students, Serban has a word of advice: "Look at your attendance from Day One, and don't feel guilty that you haven't done this yet. Just be aware that there might be a family or two still in Afghanistan who could use your help."
Aside from district initiatives, community support is a huge factor in successfully welcoming displaced students. "We're just one cog in the wheel," Watson says. "We're an important piece, but these families need a ton of support."
It starts with neighbors supporting one another. Watson has seen it in Missoula, where a refugee family recently received a brand new home constructed for them by local Habitat for Humanity volunteers. In San Juan Unified, local doctors provided displaced students with last-minute sports physicals to keep their school's soccer program from folding. "Our community is very accepting of these families because people want to help," Watson tells us. "They want to make them feel welcome. They want to provide resources."
A Better World For All Students
All too often, Shamsuddin says, it can be easy to fall into a deficit narrative when thinking about displaced students: focusing on what they demand of the district rather than how they enrich the school community. "We really should be focusing on the positive aspects of what these students bring into the classroom, onto campus, and into the district," she says. "They are resilient. They've been through something so traumatic, and yet, they are completely rebuilding their lives here—and they're doing a great job."
In her Supporting Afghan Newcomer Students training, Shamsuddin includes a slide with pictures of Albert Einstein and Freddie Mercury—both refugees. She does this to make a point: "Let's bring it back to what these individuals have done in society and look at it as something we're gaining as a community," she says.
Best practices for supporting displaced students translate to best practices for all students. Whatever your district's population, any student and family will benefit from a stronger network of support. With a little special attention and care, your school community can be one where every student, no matter their background, feels truly at home.
---

SchoolCEO is free for K-12 school leaders. Subscribe below to stay connected with us!