Bond Campaign Deep Dive: Brecksville-Broadview Heights CSD
Activating Recent Voters · Meeting Face-to-Face · Speaking to Needs · Maintaining Relationships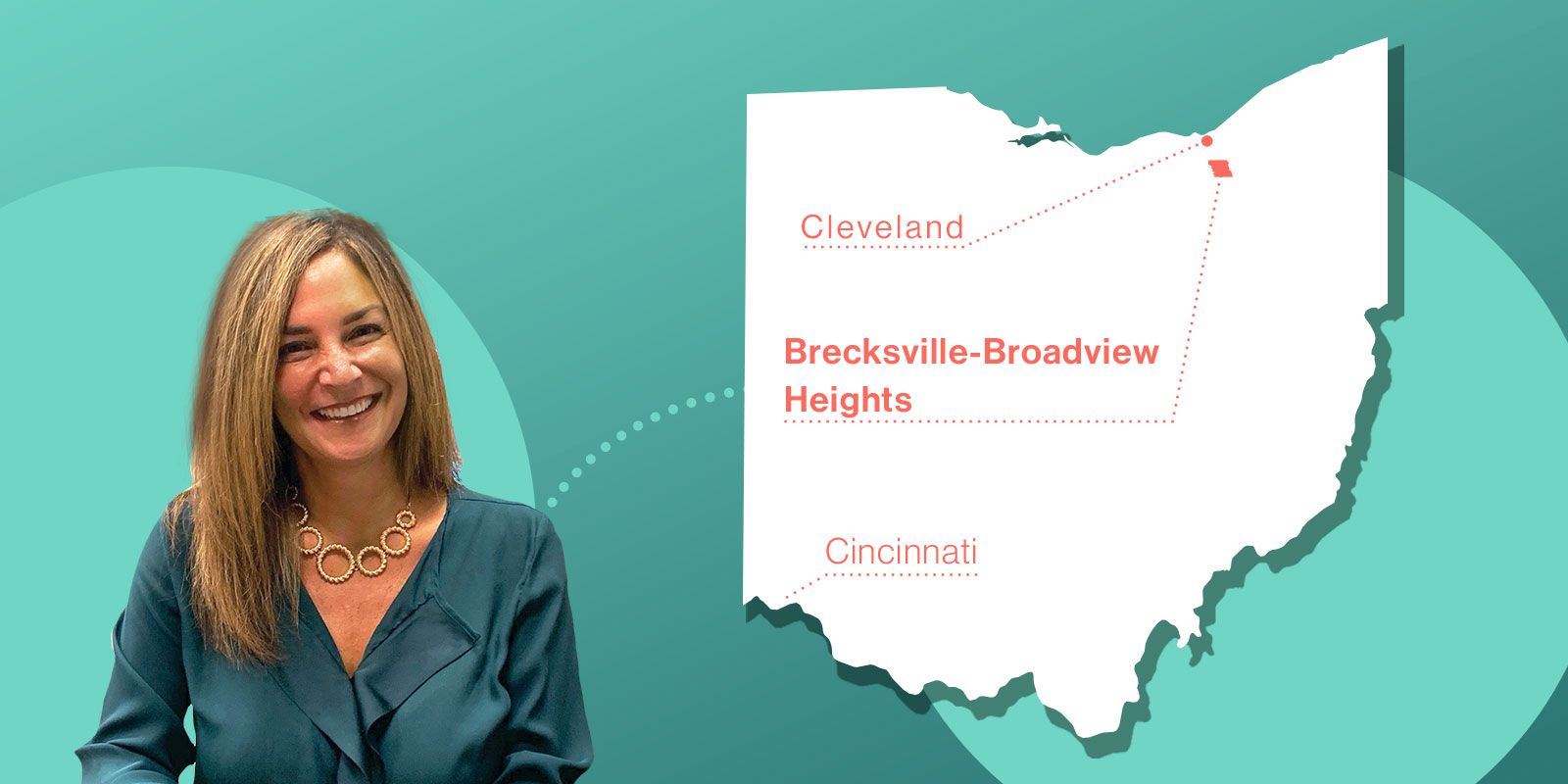 Two years ago, Joelle Magyar, superintendent of Brecksville-Broadview Heights City School District, found herself gearing up for a seemingly impossible challenge.
"Most of the time when people are looking at a bond issue, it takes years of planning," she tells SchoolCEO. But just months before the district would need to file for a bond,administrators realized a unique opportunity. A bond that passed 27 years ago was coming to maturity. "If we just extended the bond life, we could generate $45 million," she says. "It wouldn't cost the taxpayers any additional money."
The BBH team discovered this option in June of 2017; Magyar's window was rapidly closing. "As the bond falls and the millage goes down, it doesn't generate as much money,"she explains. If the district wanted to take full advantage of the opportunity, they would have to get moving—and fast.
By November of that year, BBH had filed for a May 2018 bond worth $44.5 million. Magyar and her team had just five months to plan, promote, and pass it.
Lessons from Breckville-Broadview Heights:
Activate recent voters.
Magyar knew there wasn't much time to educate her community about the bond, so she focused her resources on one segment of her community: active voters.
"We did some research analyzing our community's voting habits," she says. "We didn't look at how they voted; we just looked at who actually comes to the polls. We really wanted to target our messaging to those voters."
To find their target audience, the BBH team focused on the community's last five elections. "People who haven't voted, or who have only voted once—we didn't really concentrate on them," Magyar says. Those who had voted upwards of three times, though, became part of the district's target demographic. "Those were the people we called, the people we sent direct mailers to, because we knew they were going to the polls," she says.
Targeting this subset of the community meant that BBH's campaign was smaller, more focused, and more reliant on grassroots efforts. "I don't want to say we didn't market it, because we did—clearly, it passed," Magyar tells us. "But we took a lower profile approach to it." For example, neither the district nor its volunteer support groups put up any signs about the bond measure. "At least in my district, if there are signs that say to vote, it could remind the voters who typically don't come out to vote against it," she says.
Ultimately, focusing on likely voters—not the community at large—allowed BBH to garner great results while expending fewer resources. "There's no point in spending all that extra money blanketing your community with a ton of information when only 50% of them ever even vote," Magyar explains."Instead, we worked through our community, through our teachers, through our people to get it passed for us."
Face-to-face meetings grow advocates.
During the campaign, coffee talks quickly became one of Magyar's most successful communication channels. "Parents and community members volunteered to host me at their homes and invited 10-20 people," she says. "I could give them information, and they had the opportunity to ask me questions right there in person."
Magyar had initiated coffee talks in her first year, during a campaign to pass a levy. That year, she did seven; in 2018, she held 20 between January and May. And they were a hit, she says—"we had to turn people away."
"It's a great way to get to know your community," she adds. "You have parents you've never met before opening up their homes to you, and then you're having these very intimate conversations in their family rooms or on their front decks. What I learned is that people enjoy that. They enjoy the intimacy of those conversations."
Getting to know the entire community is particularly important in Brecksville and Broadview Heights, where only 30% of households have kids attending school at BBH. According to Magyar, "most of the coffee talks ended up being with people who don't have kids in the schools." Senior citizens hosted coffee talks to see what their tax money was supporting; parents with kids in pre-K got together to look at this investment in their children's future. "That ended up being a great way to put a face to the community and build that support," she says.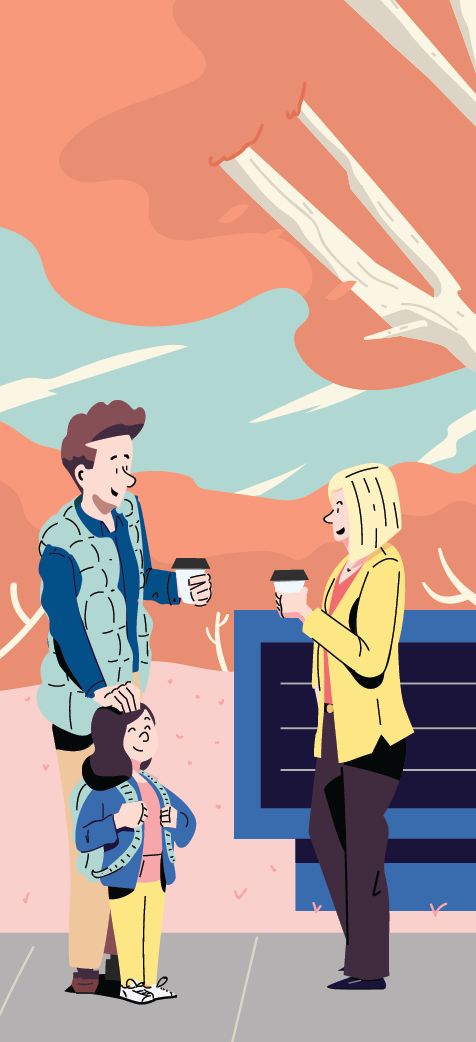 Speak to your audience's needs.
The coffee talks did more than just build relationships; they allowed Magyar and her team to tailor their messaging to each community group.
"If I was talking to a group of parents, that message might look a little different than when I went to the senior citizens center," Magyar says. "Unlike our parents, seniors weren't so concerned about the intricate details on what the school building would actually look like, what the classrooms would look like, what the activities were—they were more concerned about how this was going to impact their pocketbooks. So we'd highlight more of the financial pieces of the messaging with them."
But in order to tailor her talks to each specific group, Magyar needed to understand their unique needs. "Before I would schedule these coffee talks, I would ask, Who's my audience? I would know going in who was sitting in the room," she says. "You really just have to know your audience and drive your messages based on the questions that are being asked of you."
BBH also made sure to understand the best ways to reach their community year-round. "We sent a survey to every resident—we have about 10,000 households in both communities—and asked, Where do you get your information about our schools?" says Magyar.
"What we found was that it wasn't necessarily from our website," she explains. "Instead, 52% of the people in our community said they got their information from three of our local publications. So I reached out and asked if I could have a monthly column in each, and they were all kind enough to agree. We utilized those columns to give out information about schools and about the bond and levy to squelch any rumors that people were hearing."
Magyar was also in tune with her community's concerns— including uproar about the bond's proposed consolidation of four cherished neighborhood elementary schools into one.
"Parents were very hesitant at the thought of closing their elementary schools to build one or two brand new buildings,"she says. "Many parents had gone to those schools. They moved back so their kids could go to those schools. There was this whole cultural heritage piece we had to figure out."
Most of the buildings in BBH were upwards of 60 years old—and the district hadn't passed a bond in nearly 15 years. The BBH team knew that to ease their community's apprehensions, they'd have to open their eyes to the possibilities of a brand new facility. "So we packed a school bus with about 50 adults—community members, business leaders, parents, teachers—and we took them to a recent new build in a local district down the street," Magyar says. The tour of the "brand spankin' new" building was open to anyone who wanted to attend—and not all of them were in favor of the bond measure. "Some of it was taking some of the naysayers on purpose," she says. "Probably half of that bus wasn't in support."
But the tour had exactly the effect Magyar had hoped. "Once parents and community members saw what a new building could look like, they said, Yeah, forget our community schools. We want our kids to be educated in something like this," she tells us. "I had the support of all 50 by the time we left that trip. Allowing this group from the community to walk through and put their eyes on what a new build looked like—that was the catalyst to spark the support we had for going forward with the bond issue."
For Magyar, it all comes back to understanding your audience. "You need to know your community, and know what they know," she says. "Ours didn't know what a new build looked like, so I had to create that experience for them."
Don't lose the relationships you build during the campaign.
That May, despite the major time crunch, Magyar and the BBH team passed their bond with a 56% approval rating. Today, as construction projects get off the ground, they're working to keep their community involved.
For one, they've continued to hold coffee talks—albeit not quite so many. "We don't want people to think that we're just wanting to have those intimate conversations when we need something," Magyar says. "It's really important to model that you're transparent, that you want people to feel that they can talk to you even when you don't need money." Magyar also provides frequent construction updates through The Buzz, a bond-specific newsletter named for the district's mascot, the Bees.
Magyar also works to keep the personal relationships she's built with her community strong. "Everyone who helped with the bond in any way, shape, or form got a personal note from me, along with a small token of our appreciation," Magyar says—paid for with raised funds, not public dollars, of course. "And not through the mail—I went out and personally delivered all those to their homes." It all goes back to the intimacy that made the coffee talks so special.
Going forward, BBH's focus is the same as it's always been: giving students a great education. "We're in the business of kids," says Magyar. "We're only as good as our kids are in the community, and one of the business models for a school district is: How do you sustain your community? How do you get kids to come back and want to have their kids raised here? It's by giving them a great experience in their schools."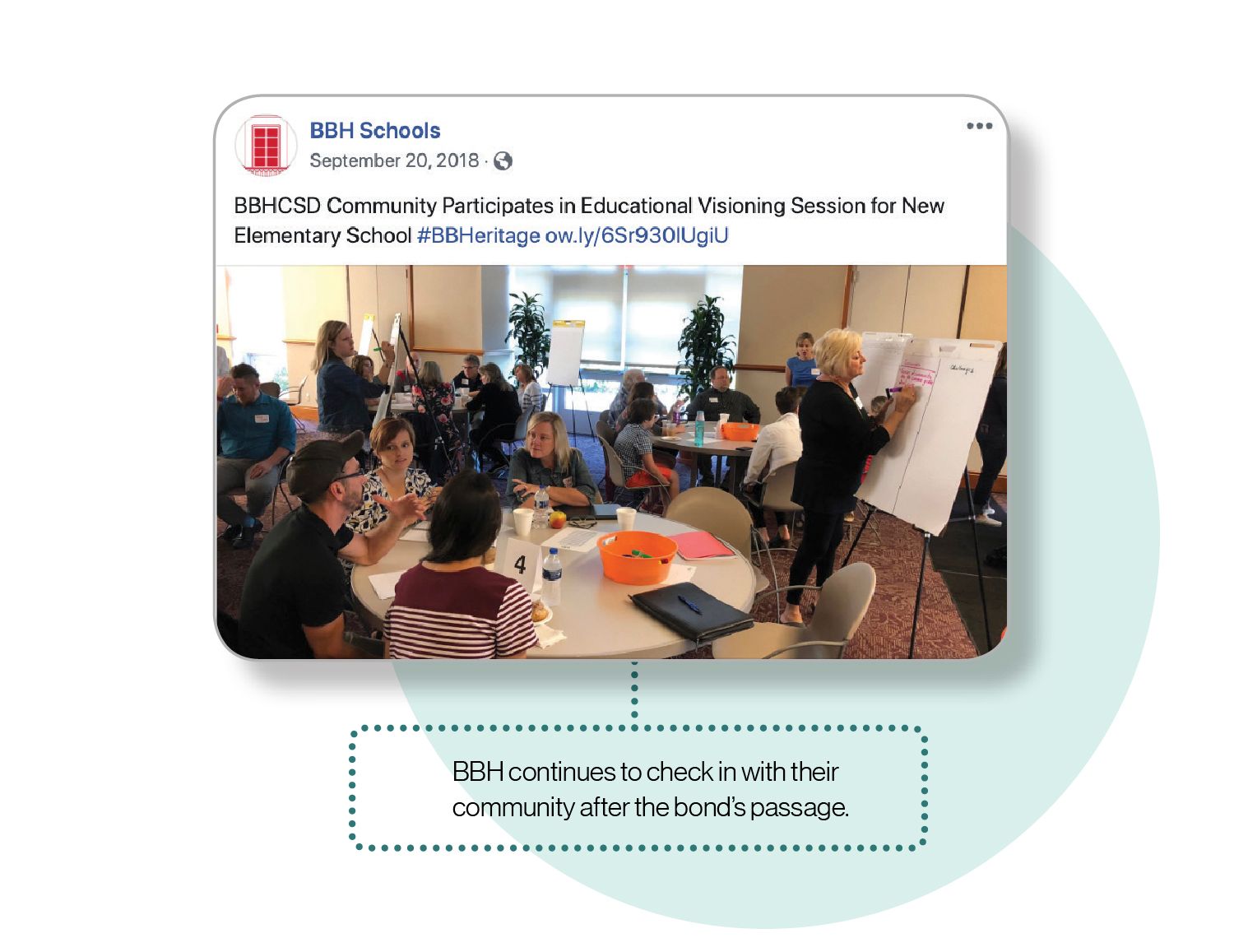 ---

SchoolCEO is free for K-12 school leaders. Subscribe below to stay connected with us!