Deep Roots: Dr. Michael Hinojosa
Dallas ISD Superintendent Dr. Michael Hinojosa is leading one of the largest districts in the nation through the impossible.
As the old saying goes, Everything is bigger in Texas. Dallas Independent School District is no different. With 230 schools serving about 154,000 students, it's the largest employer in all of Dallas. And for Superintendent Dr. Michael Hinojosa, it's not just the district he's always dreamed of leading—it's home.
In true Texas fashion, Hinojosa's career has been quite expansive. In fact, he's currently serving as Dallas ISD's superintendent for the second time—he calls it "Hinojosa 2.0." And though he's grown in experience and skill, one thing has remained steadfast throughout his career: his devotion to meeting the needs of students experiencing the same challenges he once faced. "I was one of those kids," he tells us. "You fly into Dallas and you see all these beautiful buildings and think we're all well-off. We're not. Our parents are the ones working in those hotels and restaurants, taking care of the city—and their kids deserve the same opportunities as anyone's."
His second run leading Dallas ISD has been so successful that just last fall, his contract was renewed through September 2024. We recently caught up with Dr. Hinojosa—via Zoom, of course—to discuss his approach to learning, leading, and supporting students. When we spoke, one unprecedented school year was coming to a close as another loomed on the horizon. "If we knew what to expect, we could solve any problem," Hinojosa says.
So what will school look like for one of the largest, most diverse districts in the country amid our continued international crisis? This lifelong educator gives us a candid look at what he's learned from the past, how he's led his district through the impossible, and what he sees for the future.
The Winding Way Home

With a deep commitment to his community, Hinojosa started as a teacher and coach in the place he knew best, Dallas ISD. "I grew up as an immigrant in the roughest part of Dallas, so I could see it all from the eyes of students and families," he tells SchoolCEO. But despite his now record-setting time at the district's helm, a young Hinojosa began hitting walls when he tried to transition from teaching to school leadership. "I was a student in Dallas, and I was a teacher in Dallas, but I couldn't even get an interview for an assistant principalship in Dallas," he says. "People encouraged me to become an administrator, and it just didn't work here."
So Hinojosa ventured to the suburbs to be an assistant principal before quickly rising through the ranks to become an assistant superintendent. He would soon relocate to West Texas to lead a small district near the Mexico border. "When I got there, people asked, What is your goal? And I said, I want to be superintendent of Dallas ISD," he tells us. "I can't believe I actually said that out loud!"
He later became superintendent of two suburban districts back-to-back—Hays Consolidated ISD near Austin and then Spring ISD in Houston. While at Spring, Hinojosa was named the 2002 Texas Superintendent of the Year and was also elected president of the Texas Association of School Administrators (TASA). But after four years in the district, the superintendent was ready to go back home. When the top position in Dallas ISD opened up in 2005, Hinojosa—now with many diverse years of experience as an effective leader—was finally recruited for his dream job.
A Texas-Sized Problem

Hinojosa's dream, however, came with some serious caveats. "When I first got hired, our brand was really bad," he says. "And some were saying, You don't have the experience of an urban superintendent." But Hinojosa knew where he belonged, and he knew Dallas. "So I said, No, but I have experience from the eyes of a child and a teacher and parent here. I think I'm prepared to handle this job."
To address the district's branding crisis, Hinojosa worked to immediately start building credibility with the community. After his hiring was announced, a reporter asked if he'd be placing his kids in Dallas ISD schools. His reply? Absolutely. "It gave me street cred," he says, "Even the mayor asked if I was really going to put my own kids in our schools, so I put my money and my family where my mouth was—I decided to take that plunge, because I believe in this city, and I believe in this district."
One major issue had been an inconsistency in leadership in Dallas ISD. They'd had five superintendents in just five years. "They all brought in their own senior people and everything changed every year, so it was total chaos," Hinojosa tells us. Not only that, but the district had also gone through its fair share of scandals—one former superintendent even served time in federal prison for embezzlement. With years of instability and controversy clouding their public image, things were looking pretty grim for Dallas ISD. "The community, the media, and everybody was just giving up on the district," he says.
Hinojosa is, however, quick to give credit to his immediate predecessor: "a guy who made the job doable," he says. Dr. Mike Moses, who served from 2001 to 2004, "stabilized the district, got a bond passed, and brought some credibility back," he adds. "To me, the job wasn't even possible before he established the structure and framework."
Building off that structure, Hinojosa quickly worked to gain both insight into the district as well as the community's trust. But he did things his own way, using a strategy he swears by and now passes on to other leaders. "I have a very specific entry plan that I've always used, and it's worked for me every time," he tells us. "I ask 100 people 10 questions each. I code their responses, I organize it, and it tells me what I need to do." Hinojosa says spending his first 100 days meeting face-to-face with 100 stakeholders no doubt helped him sustain momentum as a leader. "People start realizing, Well, this guy may be in it for the long haul," he says.
Learning directly about the needs and expectations of the Dallas ISD community is also vital for understanding the district beyond its numbers. "It lets me know the lay of the land politically, and it also tells me what's on people's hearts," Hinojosa says. "I've already studied the audit reports, studied accountability and our budgets, so I know all the quantitative data. But it's also about learning the qualitative data to put the whole package together as to where we're going to go."
The Dallas metropolitan area's sheer size and diversity make it a uniquely challenging place to lead a district. "We never apologize for our demography, but Dallas is a tale of two cities," Hinojosa explains. "We have 154,000 students with close to 90% economically disadvantaged. We are 45% English Learners; we have more English Learners than San Antonio has students." Facing these challenges can be difficult in a place like Dallas, with its dichotomy of booming industry and generational poverty. Divisive politics certainly don't make matters any easier, but Hinojosa knows the importance of working with anyone who can help his students. "We're in a red state in a purple county in a blue city, so I have to juggle all of those things," he says. "I have relationships with everybody—Republicans and Democrats—because I have to. That's my job. Our kids need resources from everyone."
During his first stint as Dallas ISD superintendent, Hinojosa oversaw countless initiatives to bring the district into the 21st century—both in terms of learning and equity. Doubling down on the importance of stakeholder feedback, he implemented a hiring system for new principals wherein staff and the community provide input. He also led the district through the successful passage of two separate billion-dollar bond referendums. The funds were used to build dozens of new schools, renovate existing campuses, and update hundreds of school facilities.
After six years in the district, Dr. Hinojosa had established himself as a fierce advocate for Dallas kids. But, in 2011, two of Hinojosa's sons—both Dallas ISD students—were accepted into Harvard and Princeton. To pay for their Ivy League schools, Hinojosa retired in Texas, leaving Dallas ISD, and accepted the role of superintendent in Cobb County Schools, the second-largest district in Georgia. Needless to say, this decision was a shock to many in the Dallas community—but, he wouldn't be gone for long. After only three years in Georgia, Hinojosa and his wife decided to move back to Dallas to care for their aging parents.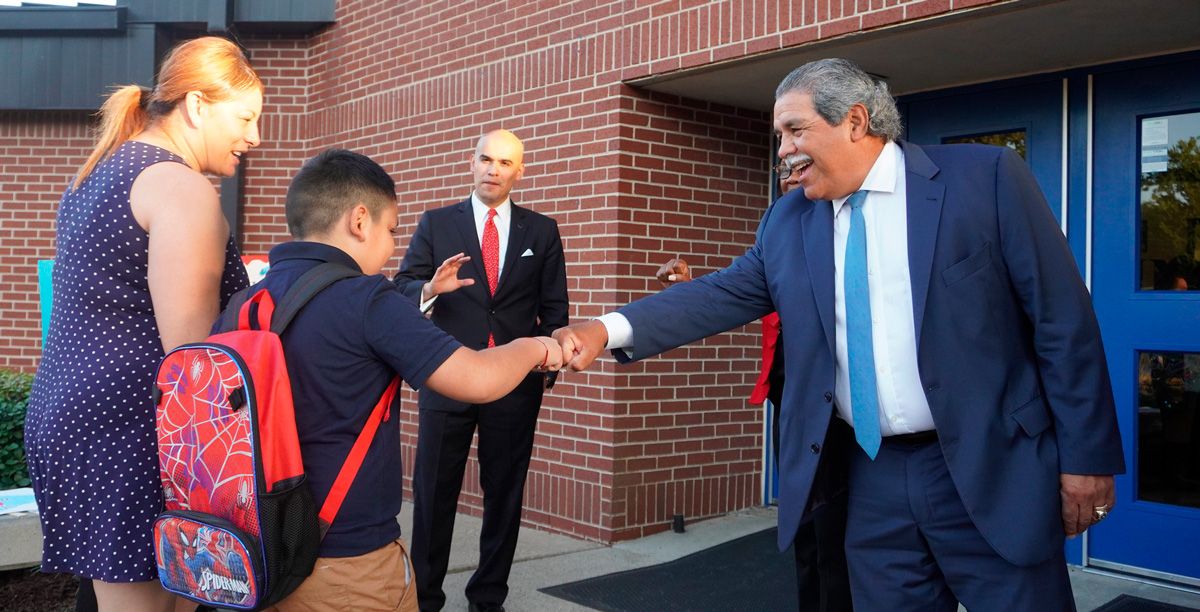 Then something unexpected happened. Hinojosa's replacement in Dallas ISD suddenly stepped down. "Lo and behold, things were very controversial while I was gone those four years," Hinojosa says. "The superintendent very abruptly resigned, so the board asked me to come back as interim." After three months on the job, the board asked if he'd stay on. "So I'm still here," he tells us. "I've been back for five years. I call it Hinojosa 2.0."
Hinojosa 2.0

Despite a warm welcome home, Hinojosa had a lot of damage to repair upon his second time entering the district. "The guy they hired after me was intense," he explains. His predecessor had put into place a new merit-based hiring system called the Teacher Excellence Initiative that was so controversial that half the workforce left the district. "He was an implementer. He set it up, but then he left," Hinojosa says.
"So now we've fixed it, modified it, and made it work," he adds. "We don't have those fights with our unions anymore, and 12% of our teachers are making over $70,000—so if you're doing well, you get paid more. It's hard to do, because it's so different, but because we're having success, we're getting away with it."
Now that Hinojosa and his staff have revamped the program, the district has been nationally recognized for the Teacher Excellence Initiative. "Fifty percent of our teacher pay is based on how they do with their supervisor, how they follow the rules, and how they do their professional development," Hinojosa tells us.  "Then 35% of their pay is how well their students do academically. And it's not just the state assessment—it could be a local assessment, it could be a value-added assessment—whichever one of those statements makes them look the best, that's the one we use."
The students in Dallas ISD also get to have their say. "Then 15% is the students. The students rate the teachers!" Hinojosa says. Student input is actually the highest indicator of teacher success in the district. Hinojosa is held to the same high standards as his staff: 60% of his evaluation is based on student achievement, 20% on financial stewardship, and another 20% on voice. "The students even get to rate my performance," he says. "The students, the staff, and the parents."
When he returned to lead Dallas ISD, he again put community voices at the forefront, meeting with 100 stakeholders over 100 days. "My entry plan for 1.0 was actually a lot different than 2.0," he tells us. But he did ask similar questions like, If you were in my shoes, what would you do? What three things do we need to make this the best urban district in the country?
"And I sat down face-to-face with these hundred people—a lot of them were principals, 25 of them," he explains. "It was every board member, too, and the heads of unions." Even though it was a huge time commitment, Hinojosa says it was worth it to build the trust and buy-in needed for future success. "You go slow so you can go fast later."
Hinojosa didn't waste any time helping the district start to recover its reputation. And, again, he did things his own way. "You just try to make things better than you found them," he says. "I think sometimes we get stuck in a rut, and I like creating new things. I think incrementalism is innovation's worst enemy, so sometimes you just have to blow things up to make things happen."
Part of this meant facing some of the shortcomings of his previous time in the district. "I was very ashamed because my first time in Dallas, I just did a lot of blocking and tackling," he says. "Now I think we've actually been able to innovate and get more success. But part of this I own. When I was here before, only 15% of our kids ever got any kind of higher education within six years of high school graduation. And by next year, we're going to try to have at least 50% of our students graduating from high school with an associates degree. That's because we've been able to innovate."
Student Voice and District Accountability

Hinojosa's childhood made him a firsthand witness to inequality in the school system, which has greatly informed his approach to school leadership. "I was a kid in 1971 when there were no suburbs in Dallas. Then integration was finally here, and boom, all the white people left," he says. "Ever since, it's been chaos." Of course, like most urban areas in the United States, white flight after the end of school segregation has created decades of inequality and underrepresentation in the classroom and beyond. Hinojosa has spent his long career trying to correct that chaos—by listening to the students he serves.
Since equity is always on Hinojosa's mind, he's led the district into several new initiatives in an attempt to meet the needs of every Dallas ISD student. "We have something called CAP: Creating Accelerated Performance," Hinojosa explains. "We take our lowest-achieving students—rising third-graders, rising sixth-graders, rising ninth-graders—and pair them with the best teachers and give them the best technology, even in this pandemic situation."
Student voice is a big priority in Dallas ISD, and Hinojosa speaks about it with vehement passion. "We have a climate survey on every campus," he says. "Student voice is weighed into what our principals are evaluated on. We believe in this. I believe that culture trumps strategy all day long. You can have the greatest ideas, the greatest strategy, but if your people don't believe in you, they think you're mistreating them."
To even further ensure a healthy and thriving school culture where students come first, Dallas ISD is one of only two districts in Texas with its own local accountability system. "That's because we're tougher on ourselves than the state is," Hinojosa explains. "Fifty percent of our accountability rating is based on state data. But the other 30% is on value added—how did we improve the students when they were here? And then 20% is on voice. So we have to have improvement; it's part of our DNA. We believe in the whole child—that's why we put so much emphasis on the culture. That's why we have social and emotional learning for the district."
Messaging is also a key part of upholding that positive, supportive culture. "By the way, I hate the A-F scale," he tells us. "You're going to give a kid's school an F? So we changed our narrative on that: Accomplished, Breakthrough, Competing,  Developing, and Focus. We don't call them an F school anymore; we call them a Focus school because we're going to give them more resources. It sends a message about your belief systems."
With such sharp, structured emphasis on student voice and high performance, the district is able to address many of the inequities that have plagued Dallas for so long. "Some people want to believe in racial equity, but they don't want to do it because it's too hard," Hinojosa says. "Well, we have a policy of racial equity where we actually do equity. In the past, we used to have the most inexperienced teachers working at the hardest schools, and therefore the results were awful. Now, we pay our best teachers more money to go and work in our toughest schools, and we've had tremendous improvement and achievements at those campuses."
The district has also partnered with a local nonprofit to convert an unused campus into a shelter for students experiencing homelessness. "It's called After8toEducate," Hinojosa says. "It's a shelter for students to come in, spend the night, take a shower, and then they go to school the next day."
Dallas ISD has also made equity one of its strategic initiatives. "It's something that costs us more money and that we fund first because it's a priority," Hinojosa says. "We also have public school choice. We want families to pick their neighborhood school, but if they don't want to, we get them where they want to be." For instance, arts programs and Montessori schools in the district are in high demand, but they can also be expensive. "We provide transportation, because if we don't, then students don't actually have a choice," he adds. "So that's our biggest expense—that's how we get the kids to those specialty schools that they're interested in. And actually, now we're getting more money from the state to help students who have that kind of need. If you have that lens, and you go in and implement, you can actually make things better. So we're very proud."
The Secret Sauce

Another thing Hinojosa takes great pride in is mentoring other school leaders. "Forty of my employees have become superintendents, and I get my energy from other leaders," he tells us. "It's kind of like my Professional Learning Community—being around my peers.  I dig into the ones I respect to try and get as much knowledge as I can out of them."
In terms of how he views leadership, Hinojosa is very specific—and he takes it all back to what matters most. "It wasn't until my third superintendency that I learned the secret sauce: the leadership triangle. At the top is your board, on one corner is your staff, and then on the other corner is your diverse community. And, in the middle of the triangle are the students, always. I teach this to young superintendents all the time."
Hinojosa's version of a leadership triangle focuses on interaction with every stakeholder group in the district and centers all conversations and actions around students.

Hinojosa doesn't just teach the leadership triangle, either; he lives it. "My calendar is color coded, and I spend time in all three parts of that triangle every week," he says. "Every Wednesday I go to schools unannounced and build relationships with cafeteria staff and others at every site. Now they see me as being real and not just some guy who's on TV occasionally. And I'm building relationships with them at the same time."
Despite his current success, Hinojosa is candid about his past missteps and what he's learned. "I wish someone had talked to me during my first superintendency, because I didn't do that well," he says. "And shame on you if you don't spend quality time in all three parts of that triangle. If you're going to be a micromanager, then you're not going to be successful. You hire good people and make them do their jobs, then you spend your time coaching in all parts of that triangle. If a superintendent can get that down, they'll be successful."
The other secret, he says, is more obvious: stability. "The reason we're having success now is that we've been having one leader for 11 of the past 15 years," he tells us. He believes strongly that consistent leadership is critical for an urban district's success. "If you go back and look—who was the superintendent of LA five years ago? Who was the superintendent of New York or Detroit? In any major city, there's such a churn. If you look at the tenures of most urban superintendents, it's three years at best. People aren't in there long enough to be held accountable for their work."
Looking to the country's other successful urban districts further proves his point. "You think about Miami-Dade," he says. "In 2008, they were in the tank. But since then they've had the same superintendent, Alberto Carvalho. So, for 12 years, they've had stable, strong leadership. And, yes, we both make mistakes, but at least people know who we are—they can rely on us. You can build relationships with the community, with staff, with the board. It just becomes organic."
The New Frontier

Dallas ISD has made huge strides since Hinojosa returned as head of the district in 2015. But, as our readers know all too well, things came to a sudden and screeching halt in March when the pandemic started closing schools across the country. "Our biggest problem is that we had 36,000 households who did not have broadband connectivity," Hinojosa tells us. "So we had to buy between 10,000 and 15,000 hotspots for all of those in April. But a hotspot is not as good as broadband—if you're on broadband, you can experience what everybody else is experiencing."
Another key to handling this crisis has been staying accessible to the public and communicating with them as much as possible. Fortunately, these are Hinojosa's strong suits. "I've made myself very available to the media and to anybody who wants to talk to me," he says. "And sometimes I have to tell them that we don't know the answers yet." Instead of daily briefings, he updates the district every two to three weeks when there's something significant to lay out. "I've done that several times during this crisis," he says. "When you make yourself vulnerable, it disarms people, and it builds credibility with your community. I'm a known commodity now."
Hinojosa says getting through this crisis is all about strategy—but not the kind you may be thinking. "There's a difference between strategic planning and strategic thinking," he says. "Strategic planning is a five-year plan; you've got it all laid out and it's all linear. But none of us know where we're going to be in five years. We know where we'd like to be, but we can't know that for a fact. With strategic thinking, you kind of know where you'll be in 18 months, and then every quarter you strike the next chord as things become more clear." Recalling a tornado that severely damaged three district schools just last January, Hinojosa adds, "A tornado and a pandemic were never on my calendar. You learn how to pivot. You learn how to think ahead. That's exactly what we're doing right now."
When his contract is up in 2024, Hinojosa will have been superintendent of Dallas ISD for 15 of the last 19 years. "I don't plan on going anywhere," he says. "When I was retired, I was miserable. So I've ordered a pine box for my conference room; when I get tired, I'm just going to climb into that and shut the lid."
With a big smile and light in his eyes, Dr. Hinojosa is excited as he speaks of the unique opportunities that so many years as Dallas ISD superintendent will bring. "That's when you can go deep," he says. "That's when you can implement. That's when you can pass multiple bonds. My senior team have all been with me now for about four or five years. We're building some deep roots here—and that's very unusual."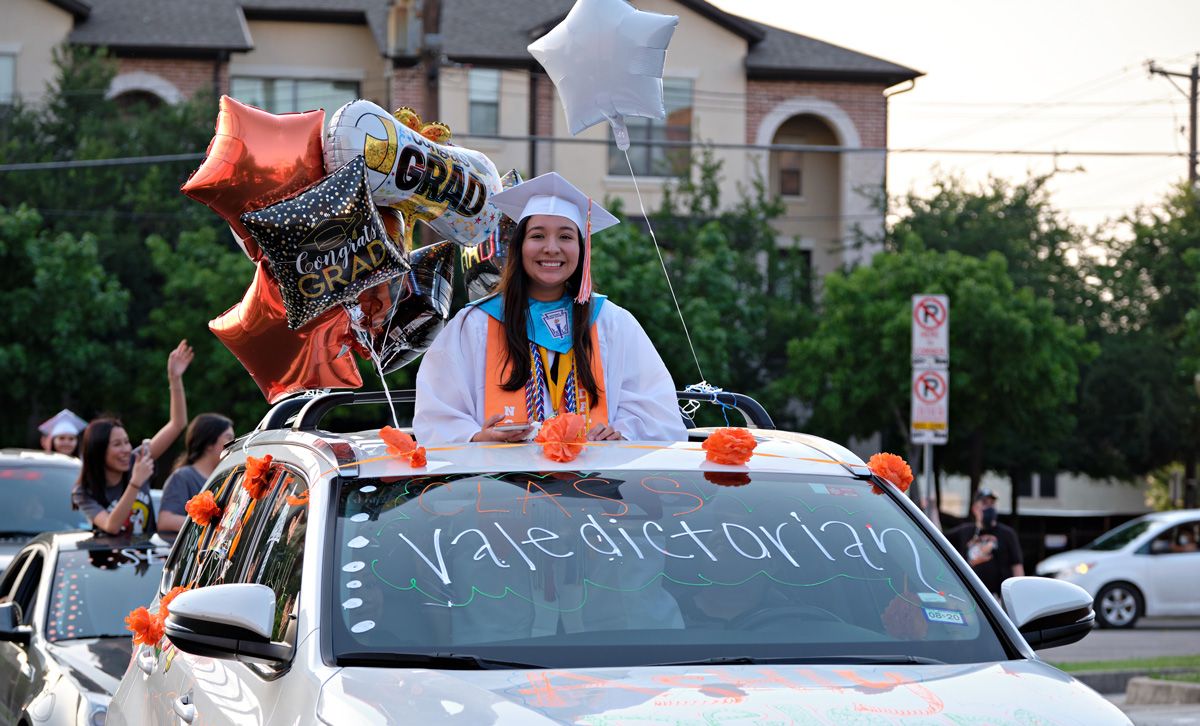 SchoolCEO is free for K-12 school leaders. Subscribe below to have a digital copy of the most recent edition of SchoolCEO sent to your inbox.