SchoolCEO Spotlight: Developing Latino and Latina Superintendents
Dr. Gladys Cruz and Dr. Lupita Hightower are heading up AASA's new Aspiring Superintendents Academy for Latino and Latina Leaders.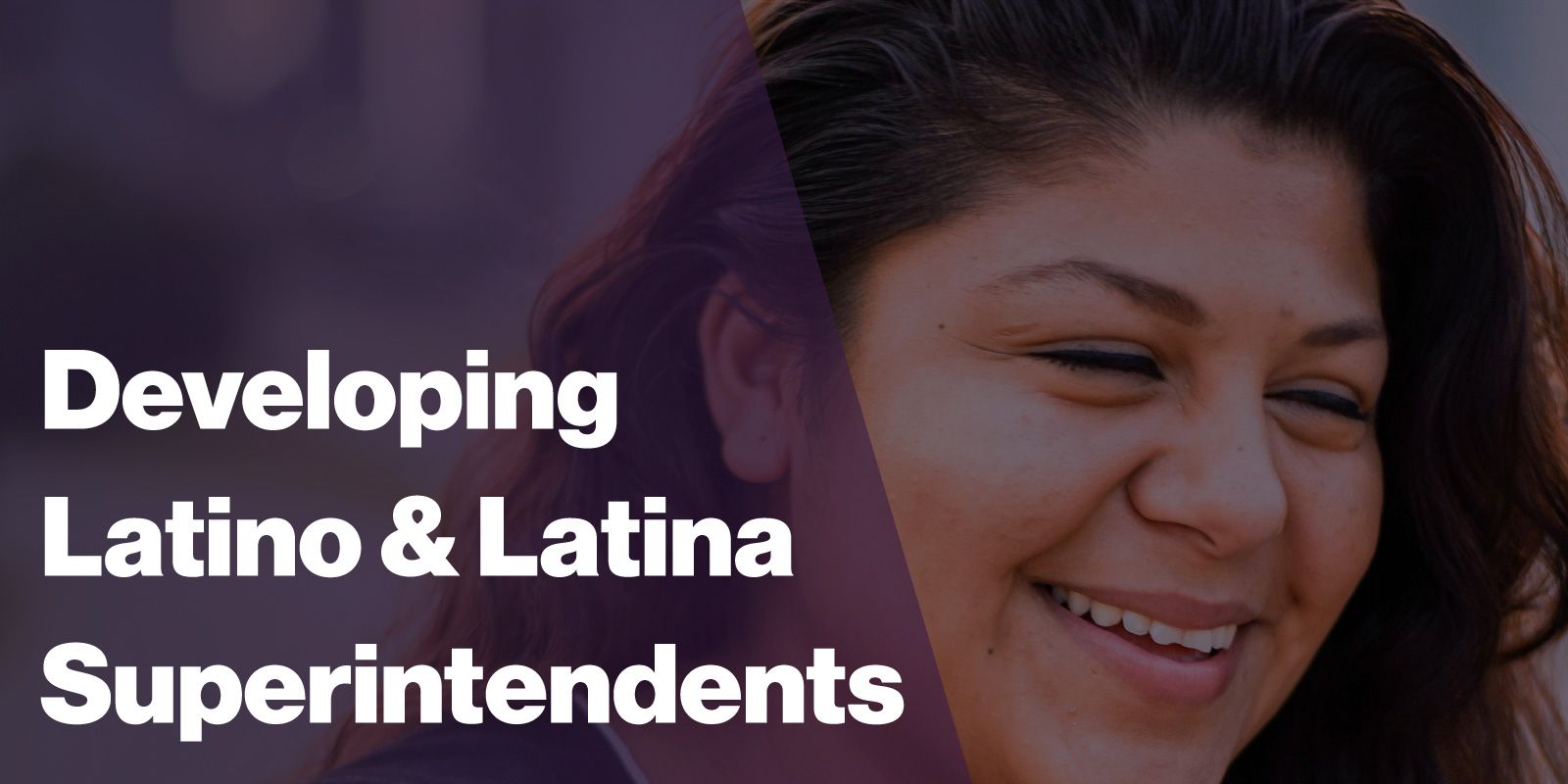 Unencumbered by the 2,500 miles that separate them, Dr. Gladys Cruz and Dr. Lupita Hightower are together launching a groundbreaking new program for leaders who have been underrepresented in public schools for far too long. The Aspiring Superintendents Academy for Latino and Latina Leaders is a project spearheaded by AASA, who selected Cruz and Hightower to help design the academy and serve as its lead teachers.
"I was very excited to see that AASA would take this on," Cruz says. "There's a big need out there. Currently, there's less than 2% of Latino superintendents across the nation." Cruz is the superintendent and CEO of upstate New York's Questar III BOCES, which serves 23 districts and over 30,000 students. "In New York, there are around nine of us superintendents who are Latinos in 700 districts...but our student population is highly diverse with numbers of Latino or Hispanic students growing very rapidly."
Across the country, Hightower leads Arizona's Tolleson Elementary School District, which serves four schools and about 3,000 students. In 2019, she was named Arizona Superintendent of the Year for mid-sized school districts. "When you have leaders who reflect the demographics you serve, suspensions tend to be lower, expulsions tend to be lower, and achievement tends to be higher," she says. "There's a different accountability. I feel it with my own district as I walk into the classrooms and I see the faces of our students."  
Leading for Equity
The year-long professional development program, which will welcome its very first cohort in January 2021, was originally intended to have sessions in person and online. Because of the pandemic, however, the program will now be completely virtual. "And because we want everyone engaged, instead of having longer sessions, we're having sessions that are more frequent and shorter," Hightower explains.
The program itself is designed around research and feedback from sitting Latino and Latina superintendents. Cruz, a member of AASA's Executive Committee, has seen the project go from need to reality. "A lot of members from AASA asked the leadership to develop a program for aspiring Latino superintendents," Cruz says. "We surveyed sitting Latino supers from across the country regarding what this program should look like and got some very good feedback. We also did a lot of research on what Latino superintendents say they would benefit from."  
The curriculum for the academy was personalized to align to the framework from The Power of Latino Leadership: Culture, Inclusion, and Contribution by Juana Bordas. The program's website provides an outline of what aspiring leaders can expect:
Cohort members will participate in experiential learning tasks designed to expand your understanding of self as a Latino and Latina and the critical skills necessary for success as a superintendent. Members of the academy cohort will explore problems of practice, simulations, and engage in a series of learning experiences culminating in a Capstone Project. The goal of the academy is to produce transformational superintendents rather than traditional administrators and prepare Latino and Latina leaders to be successful in the role of superintendent. Graduates of the academy will be equipped to lead diverse future ready school systems with creativity, vision, and a commitment to equity and excellence.  
With their combined expertise in school leadership, Cruz and Hightower will lead aspiring Latino and Latina superintendents through monthly virtual professional development sessions focused on six key modules: Framing the Superintendent Role, Leading for Equity with Urgency, Understanding Governance, Building Community Support, Balancing Leadership, and Leading Learning. "We're ensuring that the program really speaks to Latino leaders," Cruz says. "So we are tailoring it to speak to our own experiences."
One of the modules, Leading for Equity with Urgency, shows the program's commitment to producing transformational leaders. And there's no doubt that the academy is focused on translating equity in leadership into equity in the classroom. "Looking at the framework from Bordas's book, there's this big piece on purpose," Hightower says. "She calls it destino, or destiny. I would assume all of us got into education to make a difference, and we are working so hard. It's exciting to see this imperative that AASA has brought forth to increase the pipeline for Latino and Latina superintendents across the nation."
That pipeline is growing increasingly crucial, too. According to the National Center for Education Statistics (NCES), Hispanic and Latino students make up about 27% of all American public school students, and that's set to keep increasing. With only about 250 of the 14,000 superintendents in the U.S. being Latino or Latina, the numbers speak pretty clearly—countless students of color are not seeing themselves reflected in the leadership of their schools.
Of course, it's not just at the district level. Cruz says all administrators need to be more intentional about diversifying the leadership in their schools. "We all know that we have biases, and that we have to address those biases when we interview and when we hire," Cruz says. "In my BOCES, I did a video on biases for all interview committees as part of a training. I think we need to start with looking at our own practices and encouraging diverse candidates to apply. And it's about supporting them. Once you hire them, you can't leave them without support—you need to have a very strong onboarding system so that they are embraced and successful."    
A Network of Mentors
"I went through AASA's National Superintendent Certification Program and was a graduate of their first cohort," Hightower tells us. Both she and Cruz currently serve as mentors for the certification program, so it's no surprise that the new academy also has a strong focus on mentorship. The program will identify successful Latino and Latina superintendents to mentor its participants.
"We think that's critical," Cruz says. "They will have a person who looks like them to mentor and encourage them to continue their aspirations of becoming a superintendent. Some groups are not encouraged to be at the top of education systems. It's unfortunate. But it's the reality and that's why our statistics are the way they are. I think mentorship is going to be a unique and very special piece of the program."
As Hightower and Cruz have reached out to successful Latino and Latina superintendents across the country, they've been met with great enthusiasm from the prospective mentors. "They're saying, Count me in! I want to be able to support the next generation of Latino superintendents," Cruz says. "I think it's going to be so important for our participants to see other Latinos who have been very successful in this role."  
"They're thrilled," Hightower adds.
Destino
For these two passionate educators, the Aspiring Superintendents Academy for Latino and Latina Leaders is not only an opportunity to share what they've learned about leadership, but also to share their personal journeys—with each other and with their new students.  
Born in the border town of Nogales, Mexico, Dr. Lupita Hightower always dreamed of becoming a teacher, but was met with obstacles when she moved to the U.S. as a young child. "I went through different challenges, especially when I came to this amazing country in the seventh grade," she explains. "Learning English as a middle school student was difficult, but I had a lot of believers."
Dr. Gladys Cruz was born in Puerto Rico and came to New York when she was just one year old. "I was brought back and forth between Puerto Rico and New York, so my K-12 education was between two systems, two different curricula, and two different languages," she tells us. "That was difficult, but that's what really made me very balanced bilingually." It was Cruz's gift for language that led her into the teaching field. "I had a long term apprenticeship with master teachers, working in a co-teaching model for many years teaching English."
Cruz and Hightower met at AASA's national conference in February 2020 and reconnected when they were tapped to lead the Aspiring Superintendents Academy together. "It's been a great journey," Cruz says. "This has really provided us a platform to get to know each other well, to know that we are very passionate about our work, and that we are very driven. We've really looked at a lot of gurus and authors over our careers and it's just joyful to be able to share that background knowledge."
Both of these educators have spent decades changing lives, and now they're setting out on an adventure that could very well impact school children for decades to come. Whether you believe in destiny or not, you can't deny the power of their stories—a power their students, young and old, will keep with them forever.  
"Even though we're in different parts of the country, our journeys and experiences are so similar," Hightower says. "And if someone else can see themselves in our shoes and in our role, that's exactly what we want to be able to create. Yes you can! You will! And we need you! "

For more information, visit: The Aspiring Superintendents Academy for Latino and Latina Leaders
---

SchoolCEO is free for K-12 school leaders. Subscribe below to stay connected with us!