Dr. Paul E. Coakley: Building Equity Structures
Guest Writer Dr. Paul E. Coakley of Centennial School District shares ways his district is creating structures for equity at every level of the system.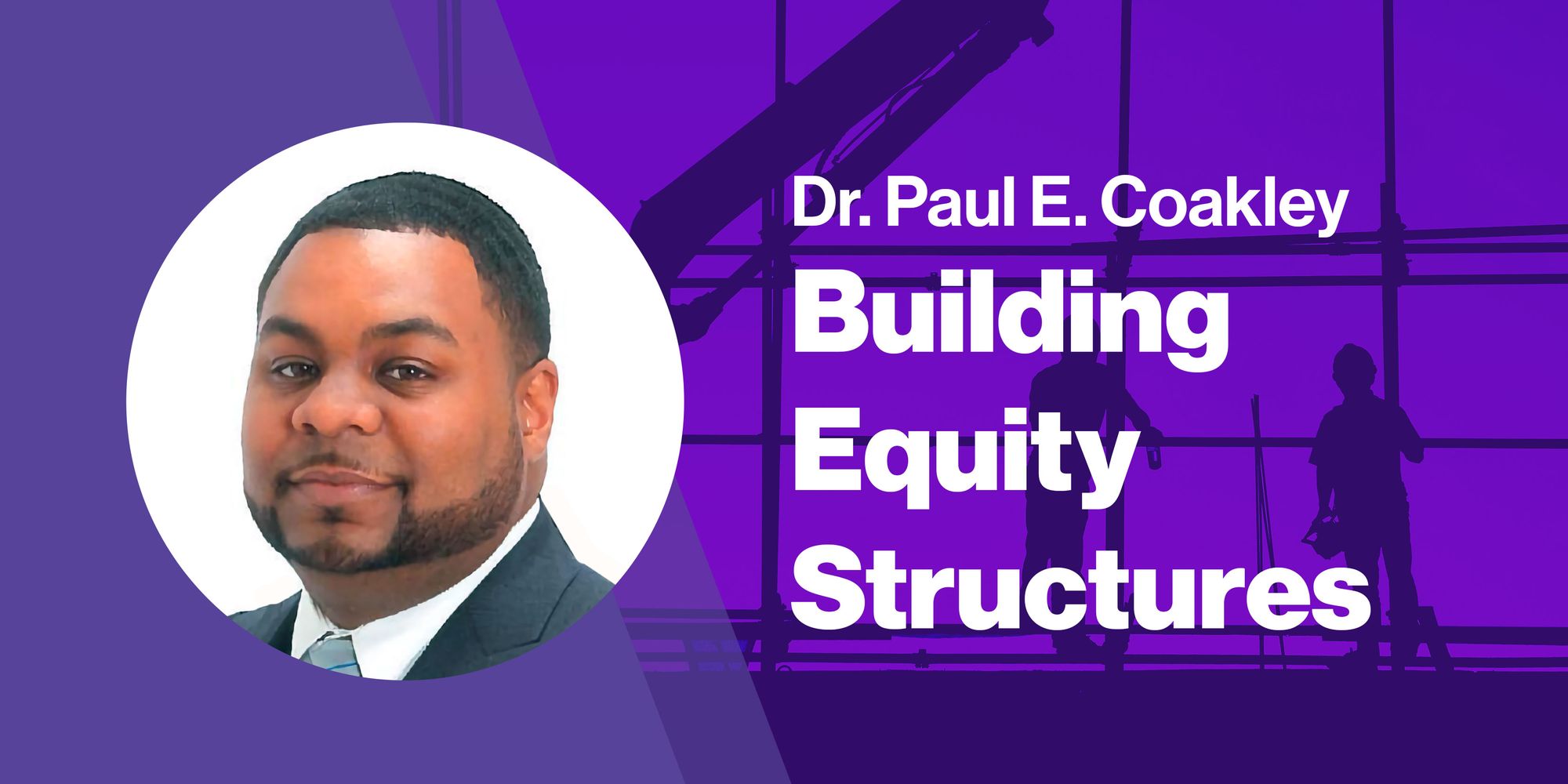 A few years ago, one of our principals at Centennial School District in Oregon found that his school's math achievement data had gone up 2%—which seemed great at first glance. However, when he disaggregated the data by race, the numbers showed something unsettling: not one African-American male student in the school met grade-level standards in math. Instead of sidestepping the issue, the principal stood in front of his staff and the school board, acknowledged that the numbers were hard to look at, and asked his staff to do the same. On that day, his team made a commitment to move the data.
Due to gentrification in Northeast Portland, we as a district have grown more diverse in a span of about five years. From 2010-2014, our student population was almost 70% Caucasian. Now, 57% are students of color, 43% are English learners, and more than 53 languages are spoken throughout the district.
I became Centennial's superintendent four years ago, after two years as assistant superintendent. I have the pleasure of serving with one of the first boards in our county to create and adopt an equity policy, adding systems and structures into our operations to create schools that serve all students.
We don't view equity as just a tool for improving student achievement—equity is the lens through which we make every decision, from student learning to hiring to resource allocation. We aim to create safe, effective schools for our students, and we have created structures at every level of our system—from our budget to professional development—to deliver on this promise.
Working through the systems and structures put in place at the staff, administrative, and community levels, the principal and his team were able to move those indicators quite a bit in just one year. But it never would have happened without him calling out the data, acknowledging the problem, and having his equity team and teachers own the issue at hand. Instead of being upset or feeling defensive, they recognized, This is something we need to change.
Starting the Conversation
First, we wanted to tackle the demographic mismatch between teachers and students. While we have around 57% students of color, 94% of our faculty is white. So we started with professional development, then made adjustments to our hiring practices.
In Portland, the teaching candidate pool isn't large, so recruitment is competitive. We've taken a look at our classified staff and considered, What are the barriers keeping them from teacher certification? Most can't take classes during the day, for example, or prefer classes to be held on our school campuses. We've examined our interview questions and even added a performance section to our interviews, asking candidates to teach a model lesson or to roleplay different classroom scenarios.
Based on our disproportionate student outcomes, we enacted a three-day summer workshop for current staff members with the goal of getting them comfortable talking about race and equity. About 70% voluntarily attended. We wanted to build a foundation for difficult conversations around the challenges we're facing at Centennial. It's a practice that's now ongoing—and often, it gets personal.
At the start of every professional development session or staff meeting, for example, we do what's called a "grounding activity." We might watch a video or read a poem, then partner up with colleagues to discuss how the activity relates to our work as educators.
In one grounding activity, we showed a clip from comedian Michael Jr. called "Know Your Why." In the video, Michael calls on an audience member to sing a few bars of "Amazing Grace." The audience member does so, quietly, a little nervous. Then, the comedian asks him to sing "Amazing Grace" to his uncle, as if he were reunited with him after many years, to which the man sings so passionately that the audience erupts in a standing ovation. "When you know your why," Michael says, "your what becomes more impactful."
At Centennial, we expect every staff member to know their why and have the courage to share it. These exercises provide a moment to reflect, recenter, and connect with the other educators in the room—and prepare to have hard conversations.
The initial three-day workshop was just a starting point. Instead of training only administrators in culturally responsive practices, we deliver equity training directly to our teachers as well. Some had already built culturally responsive practices into their classrooms; for others, it meant breaking routines they'd held onto for decades. So we worked together to create standards for cultural responsiveness, even adapting the Danielson rubric to measure teachers' success in incorporating inclusivity.
Now, we're seeing more culturally responsive classrooms, which provide students with a sense of belonging and bolster higher levels of student engagement. Teachers are changing their greetings as students enter, introducing more call and response, and providing more opportunities for students to move around the classroom and talk to one another. One teacher asked each student to bring a paragraph about their family to class; she then laminated the stories and kept them on the students' desks as a reminder to bring their full selves to school.
Some teachers even went the extra mile, acquiring a graduate-level equity certification. Teachers completed the certification process in groups, and many of those certified went on to serve on equity teams at their individual school sites.
Building Equity Teams
After we laid the groundwork for tough conversations with professional development, I set the expectation for every school to develop an equity team to work in collaboration with their School Improvement Plan (SIP). This team audits their individual school site, looking at academics, structures, discipline, and attendance. Then, they decide on goals, which go straight into the school's improvement plan. Those goals directly impact classroom practices for the benefit of all students.
When our principal found a disparity in math achievement data for African American male students, for example, he approached his school's equity team. Over the next school year, he worked with the team as well as coaches, parents, and district-level administrators to come up with strategies to support struggling students. One strategy was partnering with REAP Inc., a nonprofit organization that works collaboratively with school staff to reduce disparities and improve outcomes for students of color. They also provide restorative justice professional development to schools in partner districts. REAP Inc. was already a partner in our schools, but the team found ways to better utilize the partnership to support the SIP goals. The school's equity team also met with parents, deciding on supports that could be enacted at home, and tried to identify barriers to things like attendance and relationship-building. This is just one example of the team at work.
To make sure our equity teams continue to grow, we've also started professional development for those teams. Each team completes a book study—so far, many have looked at Excellence Through Equity and Transforming Culture. A lot of that training comes from our district-level equity team, which looks at issues in achievement, attendance, and discipline across Centennial.
In 2013, the board passed the district's first equity policy, which reflects the school board and district's commitment to equity. However, school boards are constantly changing. Each year, as we lose or gain members, we must work to get newcomers on board.
Board relations are key to reducing disparities, but every board member has their own values, beliefs, and experiences. It is important to learn their passions; value and utilize their strengths; have open and honest conversations; and provide information that builds their will, skill, and capacity to engage in conversations about equity and inclusion. In Centennial, we began disaggregating our data by race and identifying racial disparities to begin closing those gaps. Since this was a new concept for many, it was important to explain the why, so we could begin to address our achievement gaps.
Now, our board meetings are deep, meaningful, and student-centered. They celebrate the diversity of our district. Several board members have participated in a countywide equity cohort, and we now hold two meetings a month: one formal board meeting and one work session to ensure ongoing professional development. As a team, we've also created a series of questions to act as a lens through which to examine each administrative decision we make. As you'll see, the questions don't allow equity to fall to the back-burner.
Who are the racial/ethnic and underserved groups affected, and what are the potential impacts?
Does this ignore or worsen existing disparities or produce other unintended consequences?
How does this advance the district's priorities? How have you intentionally involved stakeholders who are also members of the affected communities?
What are the barriers to more equitable outcomes?
How will you mitigate the negative impacts and address barriers?
Incorporating this equity lens into our everyday protocols has allowed our schools to begin addressing disproportionate discipline and to find alternatives to exclusionary discipline. We've scaled the use of this decision-making lens throughout the district. Our CFO and Budget Committee use the lens when examining the budget. Principals use it to guide their schools and leadership teams.
When it came time to start on a new strategic plan a few years ago, we looked through the equity lens. The process took a year, but I'm proud of the fact that we didn't just start with the achievement data—we also gave perception surveys to students, community members, and staff. Equity kept showing up in every single category, a constant theme—so equity became the foundation of our strategic plan.
Connecting with Community Groups
We can't do this work alone, so we have built strong partnerships with culturally specific organizations. Centennial School District received the African American/Black Student Success Grant from the state in partnership with REAP Inc. We also have a partnership with Latino Network, a Latino-led education organization whose culturally specific practices and services lift up youth and families to reach their full potential. This partnership has provided opportunities for community members to meaningfully participate in the decisions that affect their students and families.
First and foremost, our work centers around connection. One of my favorite stories is about a student who hardly spoke through his whole high school career. During his junior year, he had to miss some time at school. Staff kept reaching out to him, and for a portion of time, teachers reduced his workload so the student could focus on his mental health.
Just before his graduation the following year, this student gave a four-minute speech to his classmates, explaining that he could speak all along but wasn't quite comfortable doing so. It was only after spending time away that he understood the overwhelming support from teachers and classmates. "I realized this is a really caring community," he said. "Everyone's here to support me, and I'm not by myself. It's not me against everyone."

SchoolCEO is free for K-12 school leaders. Subscribe below to have a digital copy of the most recent edition of SchoolCEO sent to your inbox.