Superintendent Q&A: Dr. Sharon Contreras
How Dr. Sharon Contreras is building relationships and addressing needs in a 72,000-student district
When Dr. Sharon Contreras stepped into the superintendency at North Carolina's Guilford County Schools in 2016, she hit the ground running. Traveling more than 500 miles to visit every school in a 72,000-student district, she conducted a listening and learning tour so extensive that she ultimately observed over 1,000 classrooms and met with nearly 100 community groups.
As the first African American Latina to be Guilford's superintendent, Contreras is a trailblazer. She's thoughtful and strong, unafraid to speak up for the kids and families she serves. Her strength in building community connections has garnered her widespread recognition, including the NAACP Community Service and Freedom Awards. She's also been a member of Chiefs for Change since 2018.
We had the chance to speak with Dr. Contreras about how she builds lasting community partnerships, connects with every student, and communicates her district's successes.
How did you get to know the needs of such a large community?
The goal of that initial listening and learning tour was to form and shape the priorities for our new strategic plan. Stakeholders were very open and transparent. They told me what they felt we did right, what we should improve upon, and simply gave me advice about how I could be successful. When I got here, there were 192 goals in the strategic plan—we got that down to six, so that the goals were actually achievable.
I also established a superintendent's transition team, made up of 100 educators, parents, business leaders, community members, and a national expert. They helped me make sense of all of the data I was collecting—I didn't just sit there and drink punch and eat cookies with stakeholders. We actually had members of the transition team analyzing the information we were receiving, much of which was anecdotal, yet still very important. We spent months analyzing the data before we presented it to the community.
How do you maintain the relationships you built?
School districts cannot do this work alone. The listening and learning tour helped me get to know community members instead of simply being a spectator or having them be spectators of the district. I was able to really develop and  nurture partnerships, and as a result of the tour, thousands of individuals became members of various stakeholder advisory councils, whether for gifted children or career technical education (CTE), etc. Those people stayed involved.
That connection-building is really important for superintendents because, inevitably, you're going to face an issue where you will need the community to say, That decision may not have been a great idea, but we know that the superintendent's intentions were pure. That is critical. Maintaining basic human relationships—which you develop during those listening tours—really helps when you face challenges. And in a district this large, you're going to face challenges.
Four years into my superintendency, I still meet with individuals through my stakeholder groups and task forces. I'm also very active in the community—I speak at churches and synagogues; I attend community events and participate in panel discussions;  I'm on the board of two local chambers of commerce. And through this involvement, I'm able to grow connections. One thing superintendents have to understand in large districts is: Yes, you are the educational leader, but you are not the chief academic officer or deputy superintendent for instruction. Your job is to get out and work with the community to garner support for the district's mission and vision.
How are you able to communicate with such a large stakeholder group?
I have three task forces: one each for teachers, principals, and students. I think that helps a great deal in that they get to hear directly from me—no one can deliver the message like the superintendent. So each month, I meet with more than 150 teachers, psychologists, counselors, and support personnel to discuss why I make the decisions I make and to get feedback. That does a great deal for rumor-busting.
The same happens with principals, and with my external communications group—we call them key communicators.  I also have more than 100 students that I meet with bimonthly. They are student leaders at the high school level, and I stand there for hours answering their questions. I don't leave until their hearts and minds are clear. They get to ask me anything about why we do things and why decisions are made. It clears up a lot of confusion.
Why are the task forces important?
I believe if people get to know you, even when they disagree with you, they will at least know your heart. It's about leading from the heart and treating others how I would want to be treated. So I try to work closely with the community and spend as much time as I can sitting down and talking to them.
Sometimes it's just about hearing their concerns. I had one parent that kept calling my office. My administrative assistant said, "She's cursing; she's upset." So I finally took the call, and she was still cursing, and I couldn't even make sense of what the issue was. I said to her, "You know, it hurts me when you speak to me like this, because I'm human, too." Then the woman just broke down crying and said, "My washer and dryer are broken. I can't get out. I have a disability. I'm just overwhelmed."
You can't take things personally. People are struggling every day to raise their children. When you're living in poverty, unemployed, or have a disability, raising children is more difficult. We have to be sensitive to that instead of taking offense at everything.
How do you address equity in the district?
We have a laser-like focus on equity. We're working to promote equitable school funding and to eliminate deficit-thinking in employees and in the community. We do that by looking at the disparities in academic outcomes for students. We've done several studies on this, and we see that irrespective of where you go to school—whether it's primarily made up of students of color or white students—students of color still experience significant achievement gaps. We still see a gap between even the wealthiest students of color and white students. We use this data to see how we can make our schools more diverse.
But that alone isn't enough. We also try to think about how we work with teachers to ensure equity for those students, because even in the highest-performing, wealthiest schools, we see that students of color tend to be in remedial courses. They're not in advanced placement or IB courses to the same extent as white students. We started eliminating remedial math and English classes. We work to train teachers on racial equity, and then we spend what limited funds we have on the development of teacher content knowledge and pedagogical skills. We spend a lot of money to ensure our teachers know how to teach all students, whether they're gifted, impoverished, an English learner, or a student with special needs.
One thing I would say we do that is different than other districts: we are addressing disparities in operations. We're looking at who we hire and how we hire, and we've learned that, of all of the employees who make $25,000 or less, 40% are African American while 17% are white.  I can tell you that number at every level, all the way up to my position. We do that because we understand that academic outcomes are related to the socioeconomic status of the parents. And most of our employees who make $45,000 and below, and certainly those making $25,000 and below, are parents in the district. So how do we ensure equity in hiring and make certain that our employees who are also parents have access to higher-paying positions?
We've also looked at our non-employee expenditures, like purchase services or contracts. Only 3% of those contracts go to black and Latino businesses, which are more likely to hire members of their own communities. That's inequitable—the money is not going back to those communities in an equitable way. We pay close attention to that because even though our job is not directly economic development, we contribute to economic development. If our parents have good, solid jobs, they can participate more in their students' education—and there's probably less stress and trauma in the home.
What challenges and successes have you seen with implementing equity?
I think it is very difficult, as a person of color, to talk about equity. When white superintendents speak about equity, they are praised by their communities. When superintendents of color do that, we are criticized as only caring about black and brown students. That speaks to where we are with race relations in this country—that anyone would believe that superintendents of color do not care about 100% of their students.
But we've seen lots of successes, and more people are getting involved in our equity work. White employees, employees of color, and community members are being very outspoken and discussing the issues we've uncovered over time. It was very uncomfortable for the community to see so many inequities in the data, especially since this is Guilford County in Greensboro, the home of the Greensboro Four and the sit-in movement. We all take great pride in that, but here we are 60 years later with these gross inequities. These conversations make us feel bad, but we still have to have them.
In doing so, we've been able to expand student access to AP and IB programs, as well as placement in some of our schools for gifted students. We've totally rewritten our five-year plan for gifted education to make sure we are identifying more students of color. Right now, we have the largest percentage of students of color in gifted programs in the state.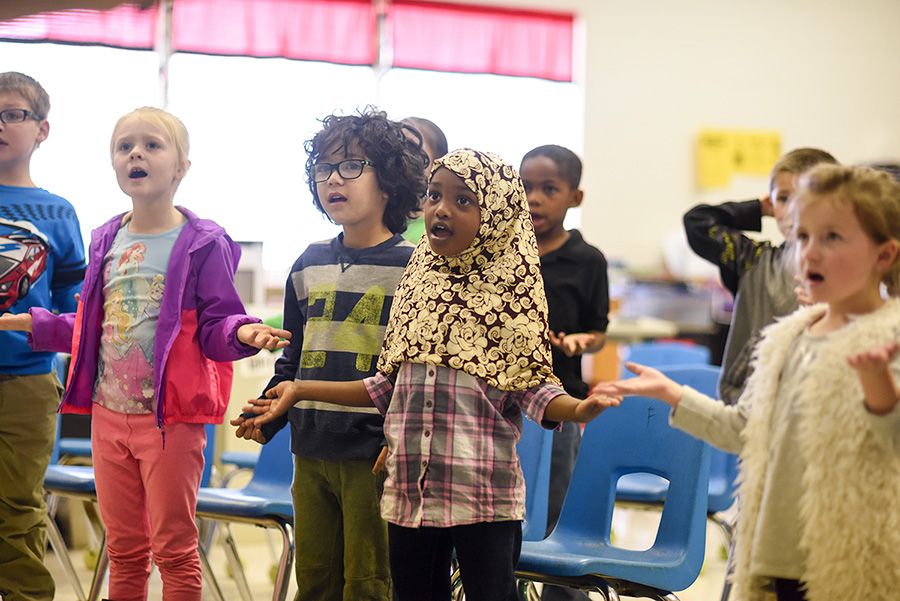 In terms of staff, how do you encourage women in your district to take on more leadership roles?
Only a very small percentage of superintendents in this nation identify as black, female Latinas. I try not to think about that. I just approach my work as an educator. However, it means a great deal to others who are inspired by my identity. Most of my experiences are very positive, but I've been at meetings where I'm asked to pour the coffee or take notes as the only woman in the room, and that happens more than one would think.
I've also never turned down a call from someone working on a dissertation on women in the superintendency, because I think providing information to others who want to pursue this path is incredibly important. We have to constantly contribute to the body of research and literature about women in the superintendency. I also make a point to mentor. I have at least two mentees per year through AASA's Howard University partnership. I work in particular with women of color who are aspiring superintendents. And I try to hire women into the C-suite—because that is a barrier to becoming a superintendent—and to high school principalships, where there's also a dearth of women and women of color. Many boards of education see that as the pathway to the superintendency. So I try to provide as many opportunities for women as possible.
I always share Shirley Chisholm's quote, "If they don't give you a seat at the table, bring in a folding chair." I just encourage women to push and not give up when they face barriers.
Your kindergarteners will graduate into a very different world than the one we know. How are you preparing them for the future?
We are preparing them by developing our teachers not so much to impart knowledge, but to help students be critical thinkers. We want to help them work together cooperatively, think about how they should work on teams, how to make great decisions, and how to contribute to our democracy. That is helpful. Instead of just developing teachers to become great math educators, for example, we are actually developing them to prepare students for a world we can't even imagine. To do so, we're also renovating facilities to allow for this innovative learning.
When you walk through the hallways of Guilford, what do you see?
The first thing I see are very gifted and talented students who are charming and funny and have such great potential to be successful. And you see that immediately. You see those who are artists, orators, those who excel with sports—it just runs the gamut. And it inspires me to work harder to make sure they can attend the college of their choice or have the career of their choice. I see greatness unfolding before my eyes every time I walk into a school.
I also see the talented educators who do so much more than teach. They are really investing in their students' lives. I see them listening to students and having deep conversations, because they understand that investment will pay lifelong dividends. Our teachers count their successes not just in test scores and grades, but in a child's smile, in a child's change of attitude, in the new sense of confidence that our children have that comes from knowing that someone believes in you and loves you deeply.  That's what I see every single day.

SchoolCEO is free for K-12 school leaders. Subscribe below to have a digital copy of the most recent edition of SchoolCEO sent to your inbox.