Dr: Lupita Hightower: No Exceptions
Always leading with hope first, Arizona's Dr. Lupita Hightower is fostering a community of future-forward learners.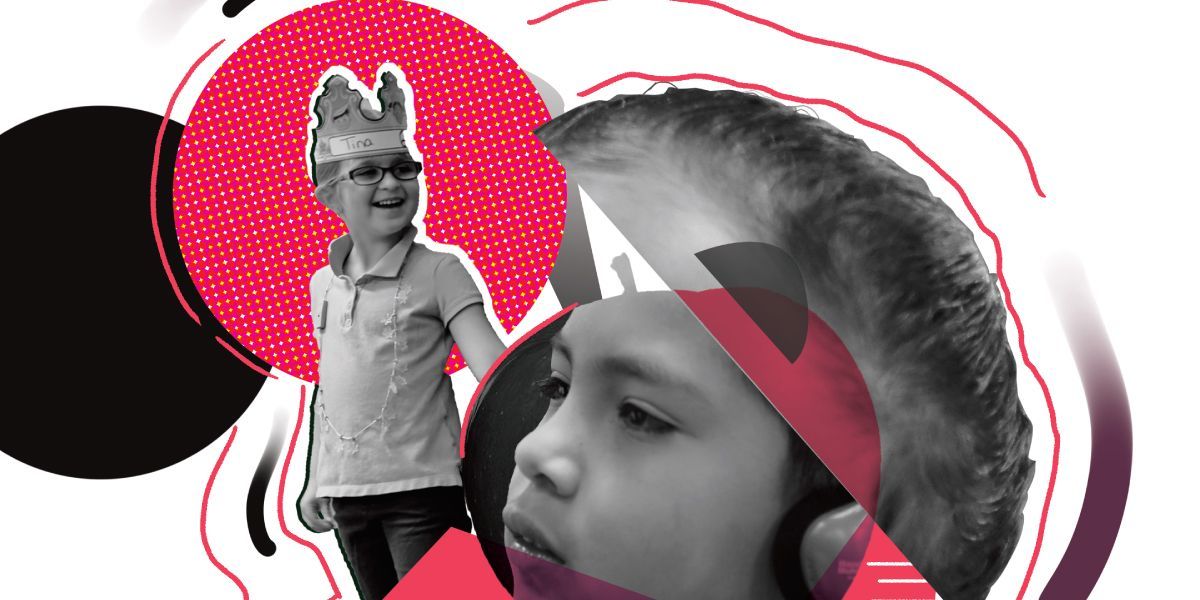 Recently, Dr. Lupita Hightower stumbled upon a VHS tape from her very first day as a teacher. She was practicing her lesson before the morning bell. The year was 1997. "You're going to be wonderful," her husband Ken says from behind the camera. "Just think where you'll be in 15 years." Little did they know what the future had in store for the young educator—or how many lives she would help change in the classroom and beyond.
Now the superintendent of Arizona's Tolleson Elementary School District #17, Hightower leads with positivity, conviction, and—above all else—hope. While these values may seem lofty to some, her team at Tolleson has fostered a culture where students envision their biggest dreams and pursue them in the real world. They even travel through time, but we'll get to that later.
With hope and high expectations at the center of her work, Hightower has earned an impressive number of accolades, both locally and nationally. In 2019 alone, she was named Arizona School Superintendent of the Year for mid-size districts, the Association of Latino Administrators and Superintendents' National Latinx Superintendent of the Year, and a Cox Communications Hispanic Heritage Awardee. Most importantly, though, her gift for dreaming and building relationships has helped Tolleson thrive as an innovative, collaborative, and family-centered learning community that believes in every student—no exceptions.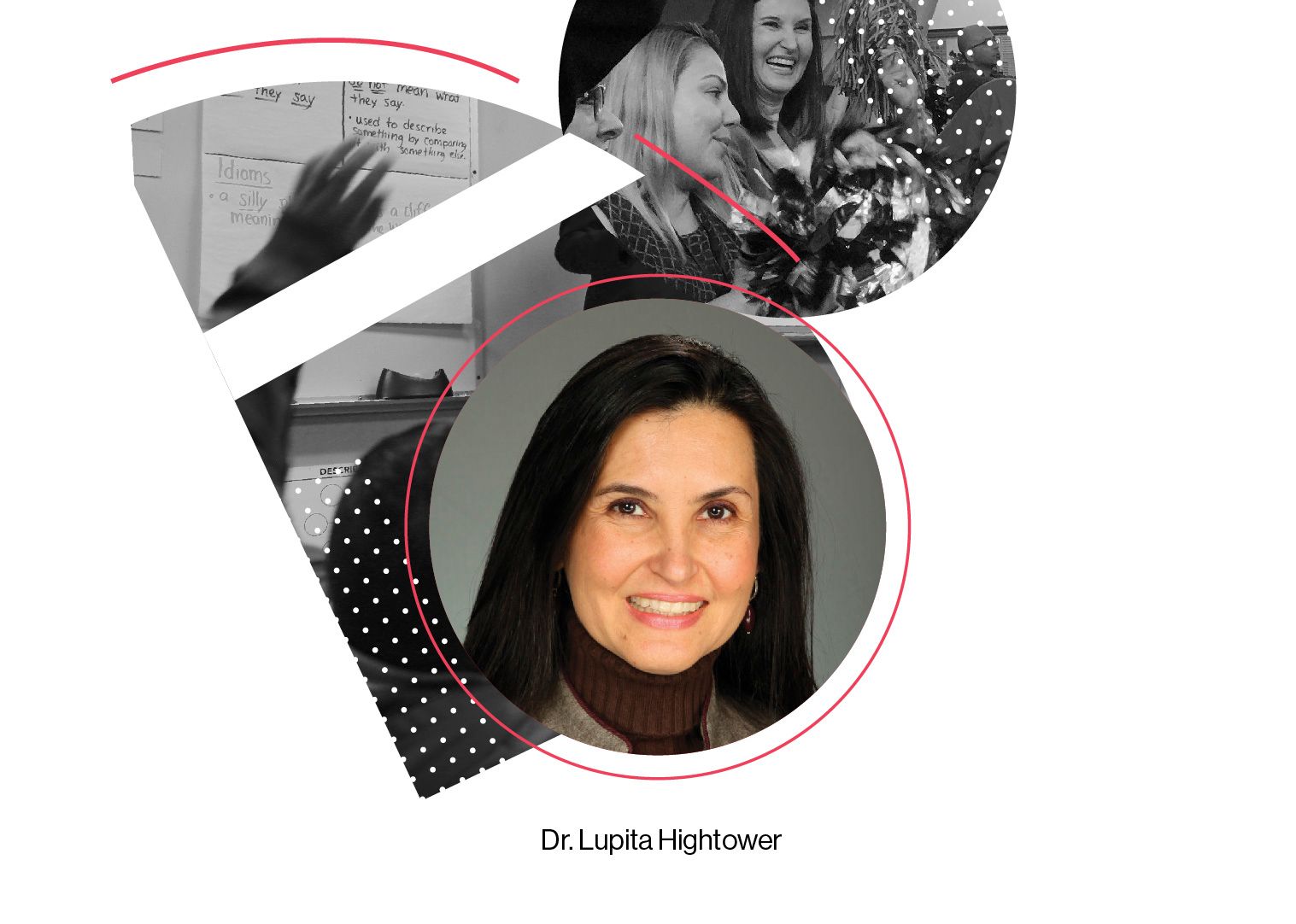 Chasing the Dream
Born in the border city of Nogales, Mexico, Hightower started dreaming of being a teacher at the age of 5.
"I would teach the neighborhood kids and all my cousins and siblings," she tells us. "I'm one of those lucky individuals who always knew I wanted to be an educator."
Hightower was particularly inspired by her sixth grade teacher, whom she and her classmates lovingly called Profa—short for profesora, or "teacher."  "She taught 44 sixth graders at a time," Hightower adds. "She was quite inspiring and had really high expectations."
Hightower's family moved across the border to Nogales, Arizona, when she was in seventh grade. Her parents thought their children would have better futures if they attended American schools. But for Hightower, the transition was a difficult one. "I had been a good student in Mexico," she tells us, "but the language here was hard, and being a middle school student was hard, too."
One unexpected hurdle was the fact that Nogales, Arizona, is about 95% Latino, so, for the most part, Hightower was only able to practice English at school. "Being able to express myself was hard," she says. She even had one teacher single her and a group of fellow English learners out, calling them "lazy Mexican kids" for not showing up for tutoring one morning. "That was impactful," Hightower says. Refusing to accept the teacher's words, she started applying herself more, regularly attending English tutoring, and excelling in school.
After high school, however, Hightower encountered another hurdle: Her parents were against her becoming a teacher. They thought she'd have more success if she studied business. So she took classes at a local trade school, then at a community college. "I really didn't like it," she tells us. "I didn't think I needed that business knowledge, but here I am running a whole district." Eventually, she was able to pursue her passion and study education. "I had a lot of believers at the University of Arizona," she says, "people who believed in me without exception."
But Hightower was also met with some negativity, not so dissimilar to the racist language she heard as a seventh grader new to the country. "When I was six months shy of graduating,  a professor wrote on my evaluation form: I doubt that you will ever be able to step into a classroom because, when you speak, you speak with an accent," she recalls.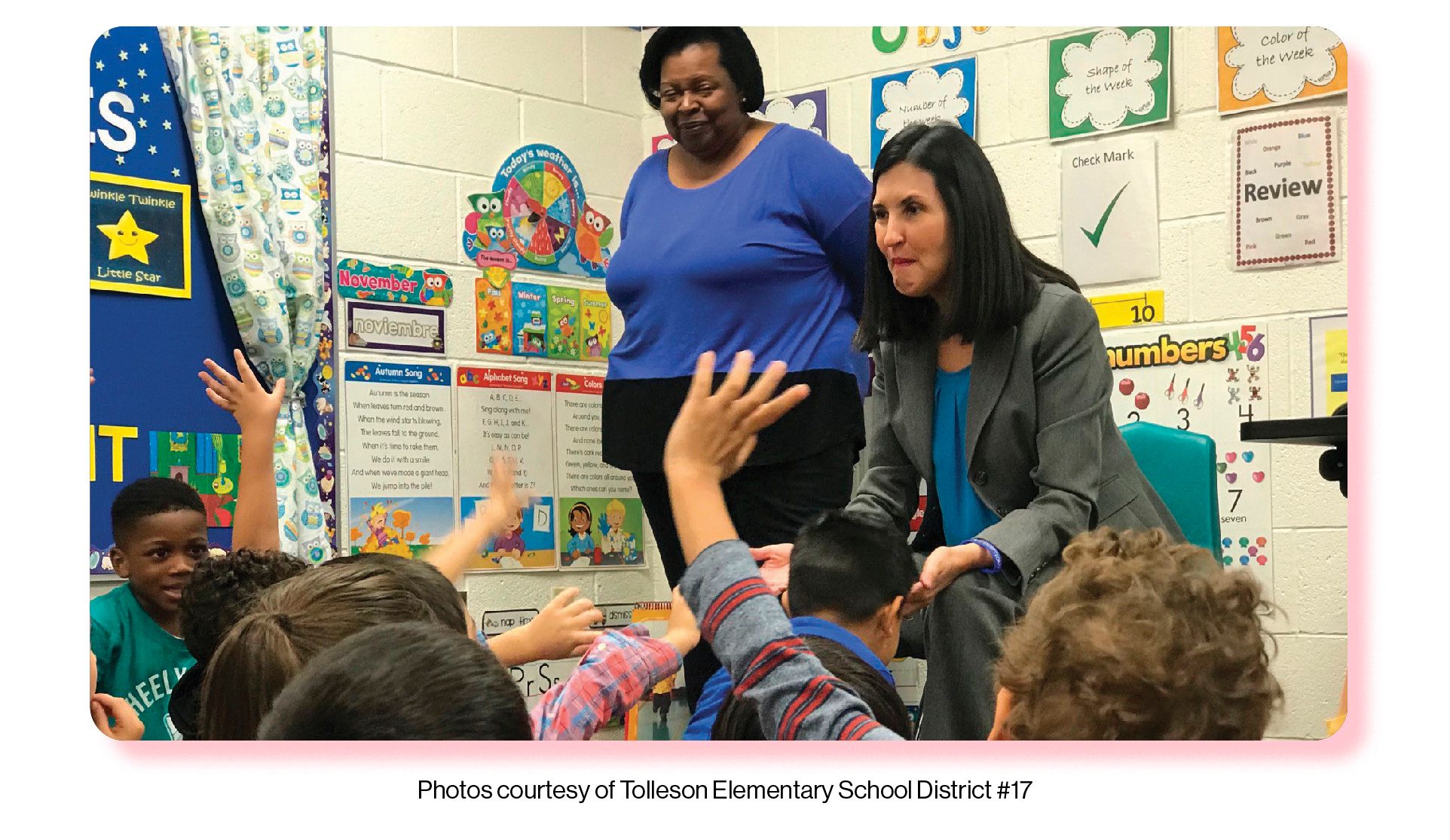 With encouragement from her supportive and always positive husband, Hightower continued on her path and soon found her first teaching job in Tucson, Arizona. "I felt like I had won the lottery with my $21,000 contract," she says. "I couldn't believe I was being paid to do this job." After a year of teaching kindergarten, Hightower interviewed for a position in Phoenix, where she encountered prejudice once again. "When I interviewed, a principal told me, We don't need people like you in our district," she says. "I left that interview crying and called my husband, who said: Too bad for them. They have no idea that they are missing out on a fantastic teacher."
Fortunately, Hightower found a position in central Phoenix's Washington Elementary School District (WESD). "It was an amazing, beautiful place for kids," she says. "It was diverse, with about 23 different languages represented in the school." Hightower quickly started making her mark in the classroom with her dual-language instruction. "I had white kids, Black kids, and Latino kids reading and writing in two languages, and people were impressed with that," she says.
At the time, George W. Bush was campaigning for the presidency, and Hightower's classroom was one of two at her school chosen for a visit from future first lady Laura Bush. "School board members, the superintendent, and the media were all there," she says. Hightower's teaching skills impressed administrators so much that the district invited her to mentor new teachers, even though she was only in her third year as an educator.
As a teacher, mentor, and English learner coach, Hightower continued to build on her philosophy of hope and high expectations. Even though this approach was sometimes tested, she let challenges inspire rather than derail her. "I would hear other educators say things like, These kids don't know anything. Their parents don't care," she explains. But Hightower knew this wasn't true. "Even though they hadn't mastered the standards, our students still knew a lot. And every single one of our parents cared about their child's education." Hightower wanted others to believe in students the way she did, so she started to consider her potential impact outside of the classroom. "I felt I could influence other educators if I went to school and got a master's in administration," she says.
Hightower was a classroom teacher for five years before becoming an assistant principal in WESD. Shortly after she began her first principalship in Glendale, Arizona, in 2005, she enrolled in a doctoral program at Arizona State University. Four years later, Hightower earned her Ed.D. with a focus on leadership, innovation, and policy administration.
At her graduation from ASU, she had another presidential encounter. The speaker that year was newly elected President Barack Obama, who shook her hand as she received her doctorate. "To have a president of the United States congratulate me was just amazing," she says.
By the time she became superintendent of Tolleson Elementary School District #17 in 2011, Hightower had served as the district's Director of Instructional Support, Curriculum Director, and Assistant Superintendent.
"Every time I switched roles, I had the hopes that I could make a bigger difference and have a positive impact," she tells us. "This job can be hard, but the work is absolutely incredible."
Building on Hope
Being the leader of a school system like Tolleson is not just a dream come true for Hightower—it's a dream playing out in real time for every student in the district.
"Students say to me, When I grow up, I'm going to be a superintendent," she says.
The historical significance of this is not lost on Hightower. Tolleson has had a unique history with representation and inclusivity, and having a Latina immigrant as its leader is an important part of that story.
In 1951, TESD was sued by a group of community members and a student named Johnny Camacho. The 17-year-old had pleaded with his superintendent to let Mexican students learn alongside their white peers—and be given the same opportunities and resources. The case ended up in U.S. district court, and history was made. Three years before Brown v. Board of Education, Tolleson was forced to integrate its schools and provide equal educational access for its large community of Latino students. Decades later, when Hightower was assistant superintendent, the district erected a memorial for the 60th anniversary of the monumental decision. "We listened to the stories of so many people," Hightower says of the anniversary. "And at the time, the principal was Latino, I was Latina, and the mayor was Latino. So who knows where we'd all be if this hadn't happened?"
Now Hightower leads a district that has fully embraced its diversity for decades. Currently, TESD is comprised of about 82% Latino students; 9% Black students; 4% white; and 5% Pacific Islander or Native American, Alaskan, or Hawaiian. These numbers also reflect the makeup of the city itself, which has proved to be wildly supportive of its schools. "It's just an unbelievable community," Hightower says. "In our district we try to offer as many opportunities as possible. Thanks to all the community support, we passed a levy that pays for all these additional opportunities that really address the education of the whole child."
Today, opportunities abound for the students of TESD. Each of the district's four schools provides art instruction, STEM-focused technology classes, and free after-school programs to all Tolleson students. Two schools also have their own jazz bands as well as award-winning mariachi and marching bands. Tolleson's mariachi band teacher, Efrain Casillas, was even named a 2020 Music Teacher of Excellence by the Country Music Awards Foundation.
Always focused on the whole child, Tolleson provides its students with counselors and social workers at all school sites and has partnered with nonprofit Playworks to give students structured recess time. The district also has a school-based health center that provides care to uninsured or underinsured children along with wellness programs for students and staff. But that's not all—TESD also runs a free supper program for its school community.
When it comes to staffing, Hightower and her team have maintained a sharp focus on inclusivity, opportunity, and representation, accomplished through a rigorous hiring process for leadership roles in the district. "There's a portion of our interviews that is completely blind with no names revealed—both for people applying from within the district and for external candidates," she explains. "That has created a lot of diversity within our leadership team. It looks a lot like our student body." Additionally, this team is made up of mostly women. "Through this very rigorous process, they turned out to be the top candidates," Hightower adds.
Furthermore, when the district interviews anyone new for a position, they ask them: Do you believe in all kids without exception? "It has provided us the opportunity to have a lot of believers join our district," Hightower says, "Of course, we have also lost some staff members—those who say, I know you want me to believe in kids at a 10 out of 10, but maybe I believe in them at a 9 or 9.5. And to that we always say: Our kids don't need 9s or 9.5s. Our kids need 10s in their lives."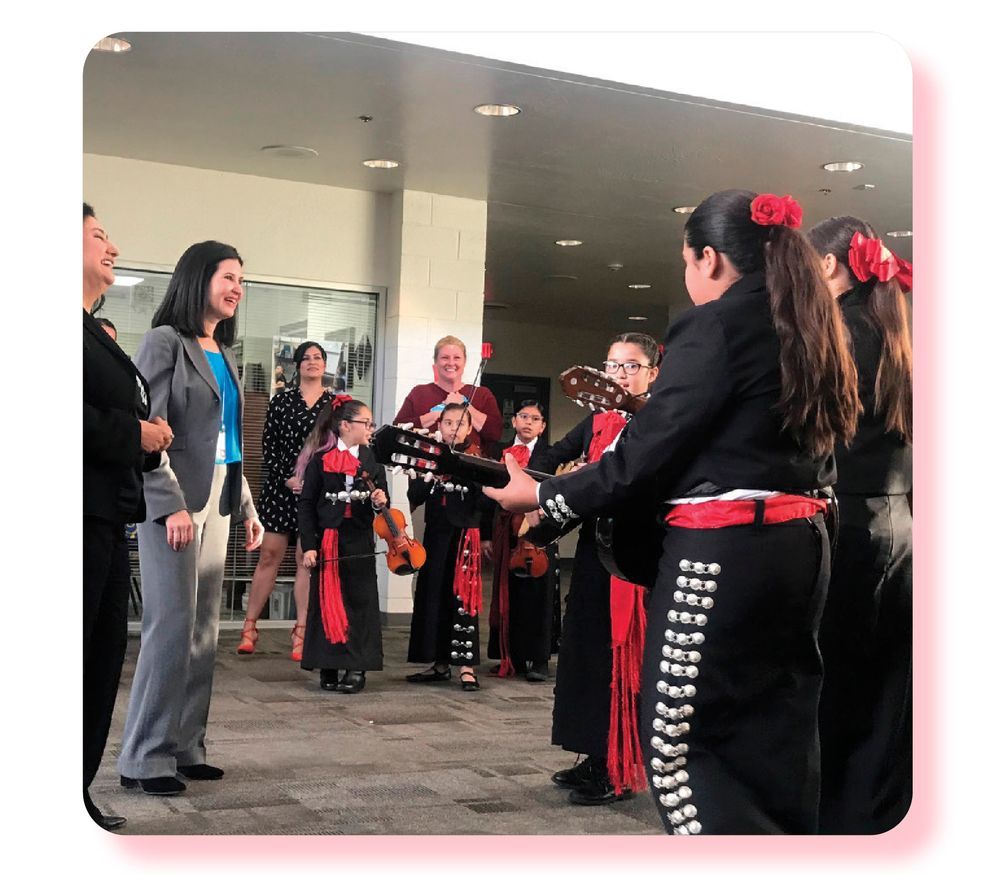 Traveling Through Time
When she became superintendent, Hightower brought the Kids at Hope philosophy with her.
"Kids at Hope is a belief system," she says. "Instead of looking at kids as being at risk, we look at our students as being at hope. We don't use the phrase at risk in our school district at all."
The Kids at Hope philosophy originates from the 2002 book Kids at Hope: Every Child Can Succeed, No Exceptions by John P. Carlos and Rick Miller. The belief system itself is based around three core tenets: We Believe. We Connect. We Time Travel.
Don't worry. There are no secret time machines in Arizona. This time travel is more about students envisioning and sharing their hopes, dreams, and aspirations.
"Kids succeed when they can articulate their futures," Hightower says. "We teach our students to mentally time travel to the future and create a plan to make their vision a reality."
Students are asked to consider four destinations when they time travel: Education and Career, Hobbies and Recreation, Community and Service, and Home and Family.
Time traveling starts with every teacher in the district creating unique "passports" for each of their students. Then they interview those students about their four destinations, asking questions such as: What kind of family member do you want to be? What kind of career would you like to pursue? What kind of community service can you provide, starting now?
"We try to start them as early as possible on all four pieces," Hightower says. To address Habits and Recreation, for example, Tolleson provides a multitude of unexpected and nontraditional opportunities, especially for an elementary district. From a wide array of sports to STEM to future chef competitions, the district offers every student the chance to find their passions, talents, and skills. "They are able to determine what they really enjoy," Hightower says.
Many of the programs the district offers actually stem from the conversations teachers have with their time-traveling students. In fact, just this past school year, a group of students expressed their interest in learning ballet, so the district sought grants to add it to their offerings.
Another aspect of being a Kids at Hope district is having the students recite a pledge each morning. "It's a daily affirmation," Hightower says. "I am a Kid at Hope. I am talented, smart, and capable of success. I have dreams for the future, and I will climb to reach those goals and dreams everyday. All children are capable of success, no exceptions!"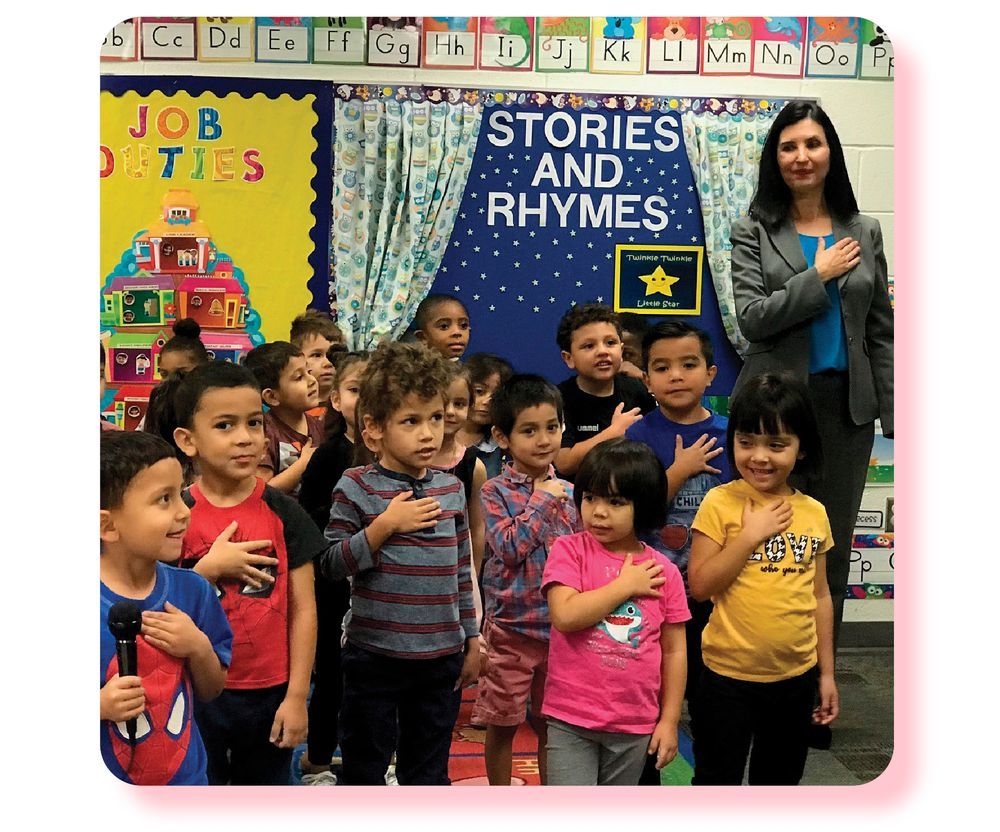 The philosophy goes even further by asking teachers and administrators to help their students live up to this pledge. "We call ourselves Treasure Hunters within the Kids at Hope belief system," Hightower explains. "We have our own pledge: As an adult and a Treasure Hunter, I am committed to search for all the talents, skills, and intelligence that exist in all children and youth. I believe all chlidren are capable of success, no exceptions! It has a lot of implications for the work that we do and how we strategize."
Even though it was the "no exceptions" mentality that initially drew Hightower to the Kids at Hope way, it was personal experience that made her so passionate about the philosophy. "When you have these believers and Treasure Hunters looking at you and your skills, talents, and intelligence, and then fostering that in you, anything is possible," she says.
"So even though I had that professor who said I'd never be able to step into a classroom with my accent, I had another who used to say, Lupita, you're going to come back and take my job someday, I just know it. She believed in me, so it became possible."
Through Kids at Hope, the district has set itself apart in the surrounding area. "Something that makes us very proud is that within this belief system, we have been able to keep students engaged and in school," Hightower says. "In the last 10 years, we haven't expelled a single student in our district, and we've only had one long-term suspension." Tolleson has also welcomed students who've been expelled from other local school systems. "It's a huge impact, and all of our schools have accepted expelled students, but always with a plan and a strategy." It seems that with the help of Hightower and Kids at Hope, there really are no exceptions in TESD.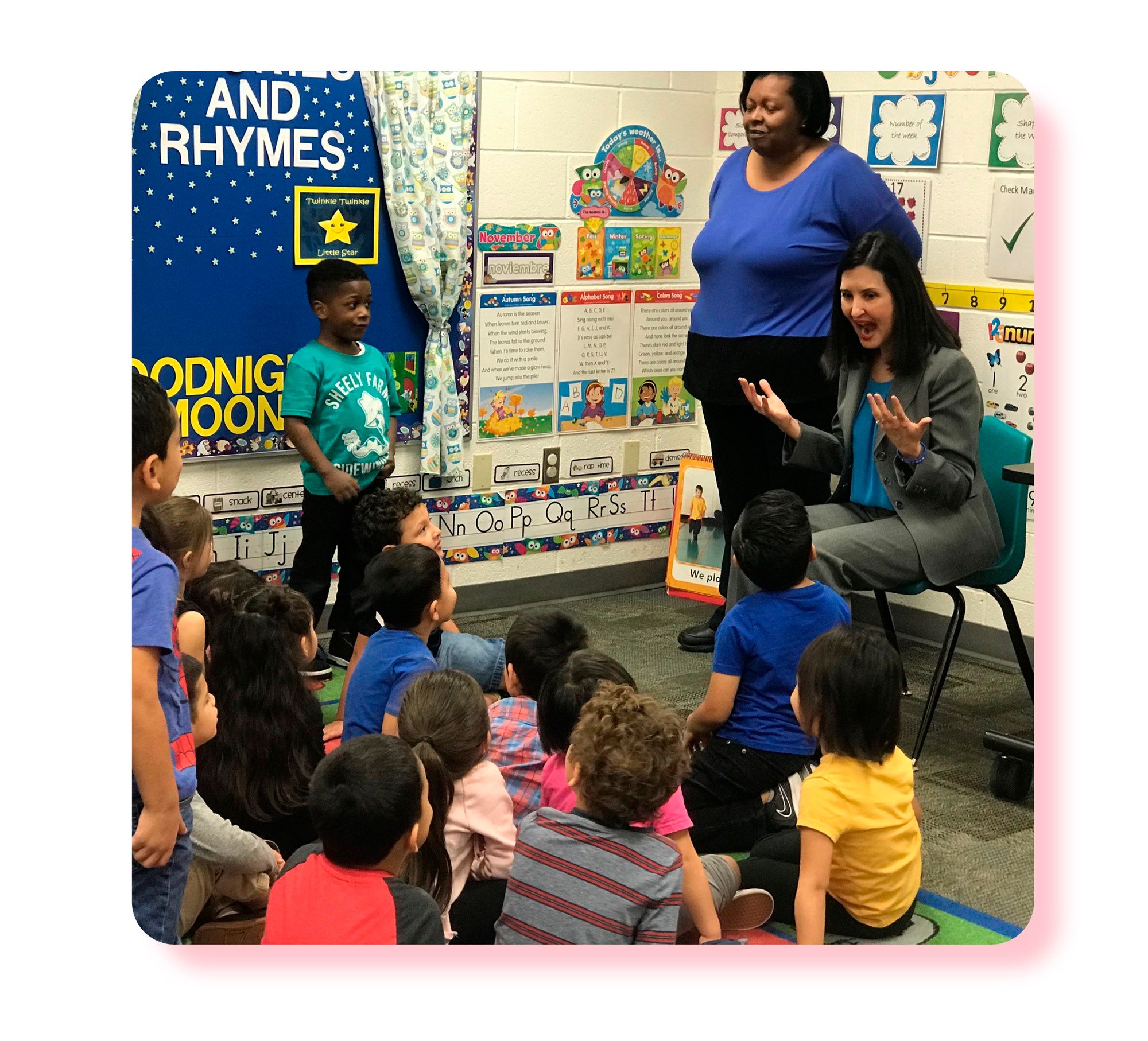 Sharing the Dream
Outside of Tolleson, Hightower's impact has had an impressive reach. She is the newly elected president of the Arizona School Administrators Association and serves as a mentor for the National Superintendent Certification Program run by the American Association of School Administrators (AASA). Hightower was also chosen to help AASA develop and launch their Aspiring Superintendents Academy for Latino and Latina Leaders. The program is co-led by Dr. Gladys Cruz, the district superintendent of upstate New York's Questar III BOCES. The year-long professional development academy, which welcomed its first cohort in January 2021, is designed around research and feedback from sitting Latino and Latina superintendents. Its curriculum has been personalized to align to a framework from The Power of Latino Leadership: Culture, Inclusion, and Contribution by Juana Bordas.
The academy isn't just part of Hightower's continued effort to mentor other leaders; it also helps students everywhere be seen and heard.
"When you have leaders who reflect the demographics you serve, suspensions and expulsions tend to be lower, and achievement tends to be higher," Hightower says. "There's a different accountability. I feel it with my own district as I walk into the classrooms and see the faces of our students."
During the program, Cruz and Hightower lead aspiring Latino and Latina superintendents through monthly professional development sessions focused on six key modules. One of the modules, Leading for Equity with Urgency, shows the program's commitment to producing transformational leaders. And there's no doubt the academy is focused on translating equity in leadership into equity in the classroom. "Looking at the framework from Bordas' book, there's this big piece on purpose," Hightower says. "She calls it destino, or 'destiny.' If someone else can see themselves in our shoes and in our roles, that's exactly what we want."
In Tolleson, the same language of high expectations Hightower learned as a child has become the driving force behind the district. "My Profa always said she expected 150% from her students," Hightower tells us. "So we could give her at least 100%. No exceptions." After learning the story and impact of Hightower's sixth grade teacher, one of Tolleson's governing board members gifted her a T-shirt and hat reading, Profa. The superintendent also has a matching personalized license plate. It's no surprise she would earn the title herself. During her tenure, Hightower has been a fierce champion for the historic Arizona district—and she's done so by asking her students and community to believe in themselves and their futures.
From her first classroom in Tucson to her decade-plus at Tolleson's helm, there's truly no way to count the lives touched by Hightower's "no exceptions" leadership. This confident, proud leader would surely make the new, nervous teacher on that VHS tape very proud. Throughout her life, Hightower has chosen to listen to the believers, never letting her dreams be compromised.
"When I share my journey with students," she says, "and I mention the professor who said I'd never step into a classroom, I always say, How many classrooms can I step into now? I share that story because I want them to follow their dreams and aspirations. I want everyone to know: Yes, you can."
---

SchoolCEO is free for K-12 school leaders. Subscribe below to stay connected with us!