On the Grid
Why your district needs Instagram and how it can help you stand out from the crowd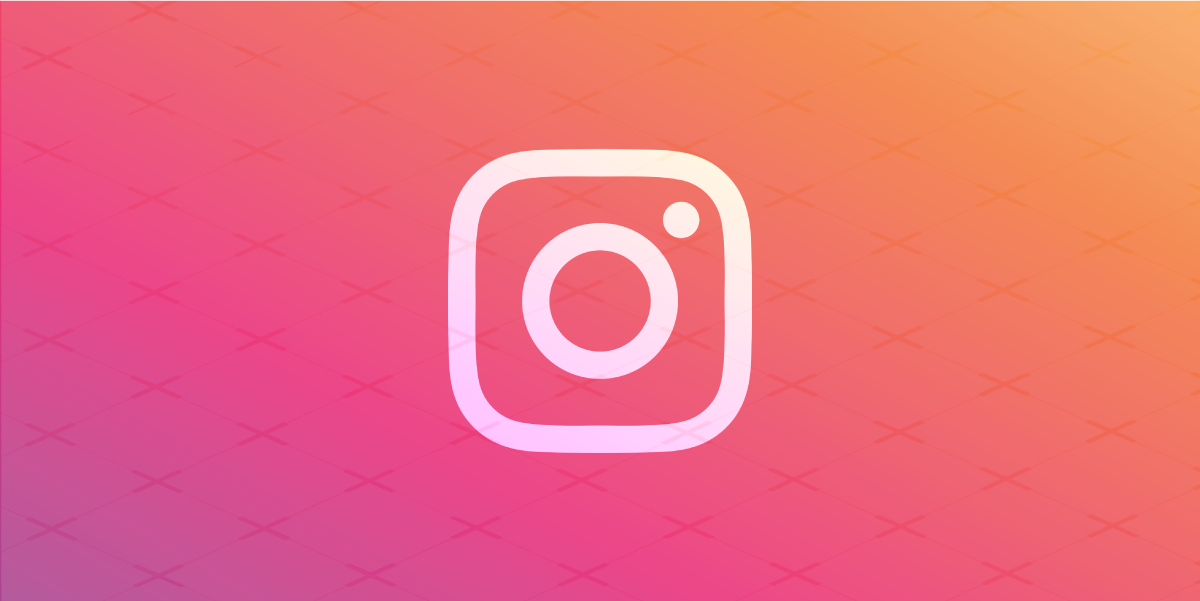 When Instagram first launched in 2010, it established itself as a place for selfies, food photography, and cute cat pictures—but now, it has grown into one of the most important social media platforms for branding and marketing. People go to Instagram to find the brands they want to connect with, buy from, and even work for. In recent years, it's become a mega-hub for community building, amassing more than one billion average monthly users and counting.
Unlike Facebook or TikTok, the power of Instagram lies in its ability to attract everyone, from baby boomers to Gen Z. About 68% of moms check Instagram daily, and nearly half of dads use the platform weekly. Your students are on the app, too: 65% of Gen Zers check Instagram every single day. Even a striking 82% of teachers are on Instagram, checking their feeds for an average of at least 15 minutes each day. This universal appeal makes Instagram perhaps the most important platform for your district's social media strategy. After all, everyone you need to reach is there.
If you want to share your unique story with every corner of your community, having a district Instagram presence is a crucial first step. But, of course, getting in front of your audience isn't enough. You have to break through the noise and capture their attention. Luckily, with features like Stories, Reels, and more, the platform makes authentic storytelling easy. Whether you're just starting out on Instagram or looking for fresh new strategies for your district, we're here to help you make the most of this community-building juggernaut.
Tell your story.
Unlike other social media platforms, Instagram is uniquely suited to visually tell your district's story. The human brain processes visual information 60,000 times faster than text—which makes Instagram the best option for quickly connecting your community to the heart of your schools. Done well, your official Instagram profile can offer an immediate snapshot of your district's personality, values, and culture.
The layout of your profile, or your grid, plays a key part in this. Your grid is like a picture book—you don't even need to read the captions to get a sense of your district's values and culture. Bios and captions are just the icing on the cake. Your Instagram profile condenses your identity into a small space, making it easy for your community to see who you are.
But how do you showcase your school culture visually? The key is to focus on authenticity. Your audience—whether it's parents, students, or even prospective teachers—wants to know what's really going on inside your schools. That's what your content needs to show them.
What does that look like in practice? Well, think of the moments in your schools that make you smile. It's usually the small ones: a good morning greeting from a bus driver, an encouraging conversation between a student and teacher, or a coach beaming with pride after a game. The best Instagram posts take those invisible things—seemingly small moments your community might not witness—and make them visible.
Take this post from Oklahoma's Jenks Public Schools, for example: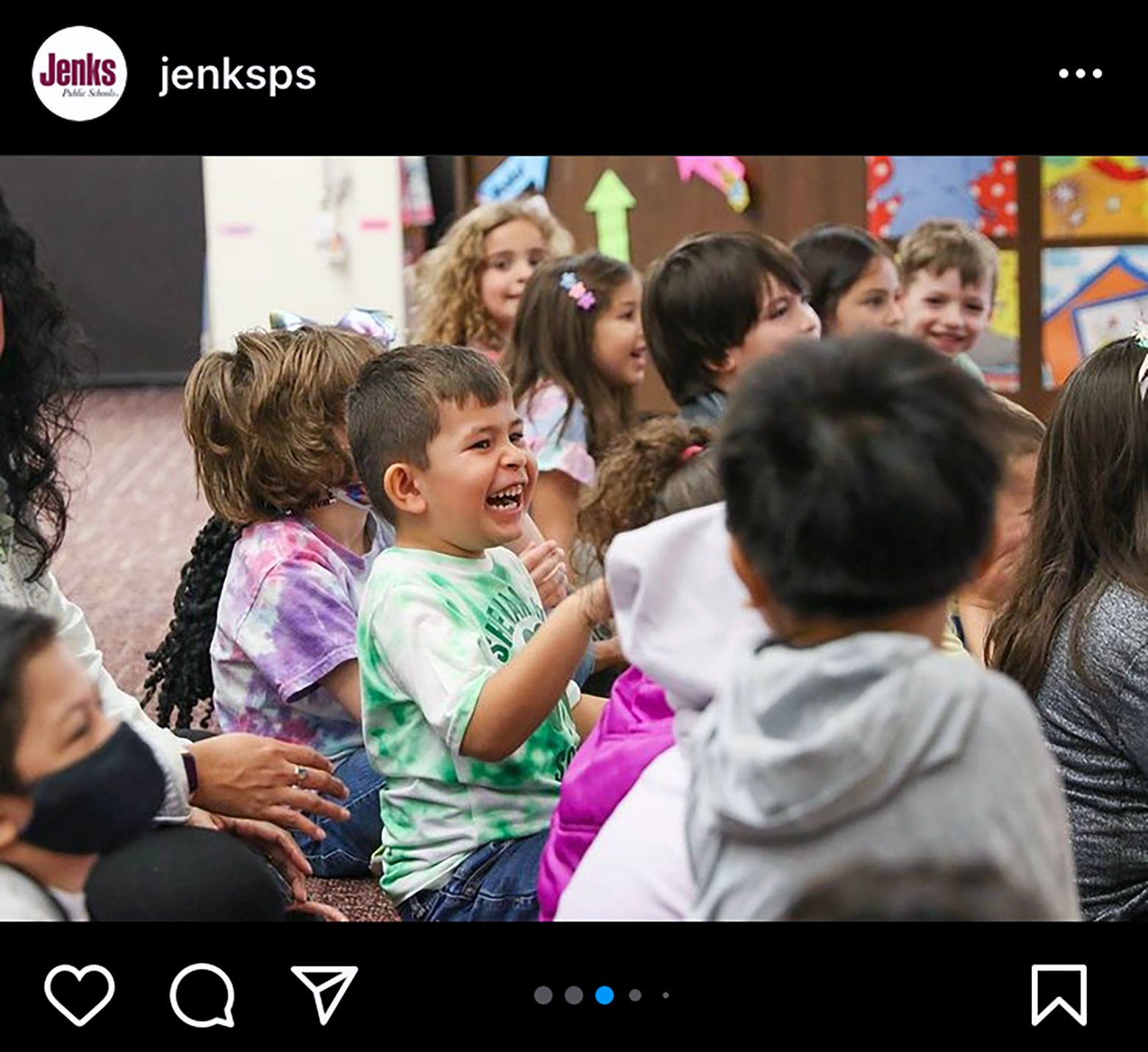 Like many Instagram posts, this one is highlighting an event: a high school theatre troupe performing for elementary students. But it's the specific moments captured in these photos—the older students' call for applause, the younger kids cracking up—that make the post captivating. Where some districts might have posted a group shot and explained the event in a caption, Jenks puts you right in the room with the students. That's authenticity.
Of course, as a school leader, you can't be everywhere at once—so empower others to capture content all over your district. In fact, those closest to the action are often your most authentic storytellers.
This is especially true when it comes to recruitment. When you empower your employees to share the moments they're capturing with your social media team, you let prospective staff see your schools from the vantage point of those who know it best. Try giving teachers control of your Instagram account every once in a while. These "teacher takeovers" give your followers a look at a typical day in your schools, up close and personal.
Because it's so visual, Instagram lets your audience do more than just read about your district's values and day-to-day practices. Instead, they can take a peek behind the curtain, getting a real sense of your schools for themselves.
Take advantage of the tools.
Unlike other social media channels, Instagram gives you many different avenues for content creation. You can reach your audience in your Feed through a standard post, or engage with them through Stories. For events or big announcements, you can even go live and interact directly with your audience through the comments section.
The possibilities for storytelling on Instagram are endless—but where should you begin? Here, we'll focus on three features: Carousels, Stories, and Reels.
Increase engagement with Carousels.
The first tool in your Instagram toolbelt is the Carousel: a series of up to 10 photos in one swipeable Instagram post. Carousels are powerful because they allow you to tell a larger story. With room for several images to work with, it's easier to build a compelling narrative.
Look at this Carousel from Texas' Tyler ISD:

Even without the caption, the story—an elementary school ice cream celebration—is clear. We get to see the entire day play out: cartons of ice cream being delivered, excited teachers picking them up, and happy kiddos digging in. Several small, authentic moments build to create a full story.
Carousels also call your audience to engage with your content. On a Carousel, you don't just scroll past; you have to actively participate with the brand by swiping to see the next image.  And once you start, you'll swipe until you see the last photo.
This built-in desire to finish what we've started is a psychological phenomenon known as the ​​Zeigarnik Effect. It may be the reason why Carousels perform better than other forms of Instagram content in terms of engagement. In one study, Social Insider found that Carousels score higher engagement rates (1.92%) than single-image posts (1.74%) and video posts (1.45%). Long story short, if one of your Instagram goals is to increase engagement rates, Carousels are an optimal feature to explore.
Capture Stories like a journalist.
Instagram Stories are short posts—videos, graphics, or simple text—that disappear from your profile after 24 hours. Stories make it easy to share content in real time. Because they are usually less edited than other Instagram content, they have a raw and transparent quality, lending your brand that all-important authenticity. They make the viewer feel like they're not just seeing the brand—they're experiencing it.

Luckily, Stories also require little to no preparation ahead of time. All you have to do is pull out your phone, capture the moment, and share with all of your followers—instantly.
You can also save and group your Stories into collections called Highlights, which will appear at the very top of your profile. This is a great place to emphasize the content you most want your audience to see. For example, you might build a Highlight collecting all the Stories that relate to your core values. Other Highlights might introduce your district's administrators or cover annual events like Teacher Appreciation Day.
Since they're at the top of your profile, your Highlights section may well be the first content a newcomer to your district's page sees. Whatever you decide to include in your Highlights, be sure it's tied back to your district's overarching brand. By presenting the best parts of your schools with authenticity, you can make a case for why students, families, and even new teachers should choose your district.
Expand your reach with Reels.
As TikTok grew in popularity, Instagram responded with Reels: a feature that allows users to create short-form videos and apply special effects like music and filters. Because of the effects component, Reels tend to look and feel more polished than Stories. They also enable you to show your audience who you are through engaging video, rather than just telling them.
Let's look at an example:
Because the U.S. Army Base at Fort Hood falls within its boundaries, Texas' Killeen ISD serves many military families. It's a huge part of their culture. And with just a single Reel—a touching reunion between a military father and his daughter—the district communicates their concern for this part of their population.
Unlike Stories, Reels remain on your Instagram profile permanently in their own tab. But depending on the content and quality of your post, your Reel could also show up in users' Explore feed—even if they don't follow you. We won't get into the nitty gritty of the algorithm, but basically, if a user has interacted with your Instagram content (or content like it), Instagram is more likely to feed them your Reels.
For this reason, Reels also have the potential to boost your content's reach. Killeen ISD's Reel, for example, has been viewed more than 11,000 times—even though the district's Instagram account only has about 4,000 followers. And lest you think only sentimental stories get views, check out this Reel from Washington's Sunnyside School District 201: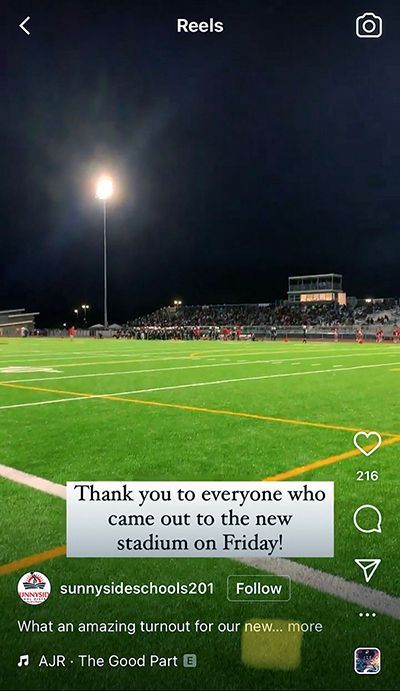 It's simple: The camera pans up to show the district's new football stadium under the Friday night lights, while a catchy song plays in the background. But that five-second video has garnered 9,700 views—about 12 times the district's number of Instagram followers.
Think outside the box.
Instagram offers limitless opportunities to authentically showcase your school's culture, values, and people. But don't box yourself into one Instagram strategy. Your story is constantly evolving, so your approach to Instagram should, too. Keep experimenting with new strategies, trying out new types of content, or even using features we haven't mentioned in this guide.
Remember, staying genuine is more important than getting the most views or likes. After all, authenticity comes with an added benefit: Your district's content ends up looking different than anyone else's. Anybody can post a graphic announcing a snow day or a group shot of a championship team—but no one else can showcase the special moments that make your schools unique. In a sea of content, your stories will make the biggest waves.
---

SchoolCEO is free for K-12 school leaders. Subscribe below to stay connected with us!