Dr. Trevor Greene: Pursuing Digital Equity as a Community
With the help of community partners, Dr. Trevor Greene is amplifying campus WiFi to cover his entire district.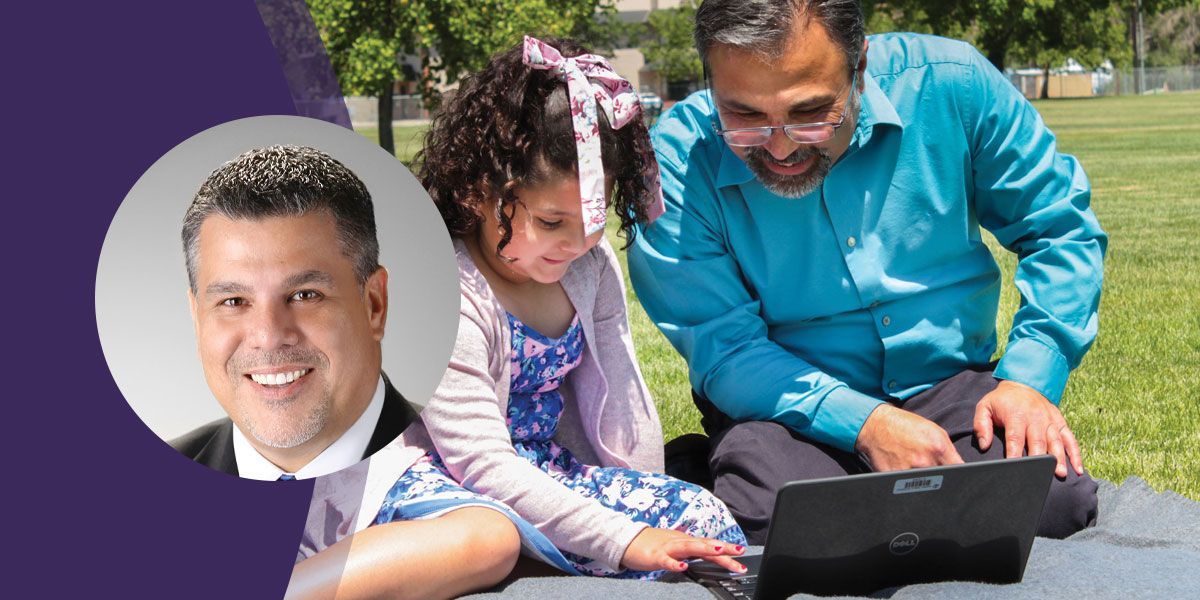 Schools have never been more integral to our communities. They served as bastions of support for neighborhoods and entire cities as COVID-19 shuttered the doors of normalcy and ushered in a period of isolation and trepidation. Recognizing exacerbated inequities, Yakima School District here in Washington state immediately reached out in proactive partnership to provide sustainable supports to our community.
If there is such a thing as a normal year at Yakima, I have not had one; the pandemic began in my second semester on the job. But even though I've only been superintendent since 2019, Yakima is my home. I found my way back here after spending years serving students and families in other Washington districts. It was Yakima where I grew up as a student and started my teaching career. Now I'm leading my childhood district through something that none of us could have predicted.
Our district is nestled in the greater Yakima Valley and surrounded on all sides by agriculture. It's about a three-hour drive from Portland and only about two hours from Seattle. While we're in a rural setting, we serve a diverse array of students with the same issues as those in any urban district. Plus, we're fairly remote, so I don't have to tell you that even before COVID-19 hit, our kids needed a lot of support from their schools. Of the nearly 16,000 students we serve, almost 80% are Latinx, and many are first-generation English speakers. In fact, about 30% of our kids are classified by the state as migrant students. To add to our unique challenges, we're also a high-poverty district.
Our parents do the same as parents all over the country—they entrust us with their greatest treasures. We owe it to them to provide equitable opportunities, addressing our students' needs by putting greater supports in place for all of them.
Of course, when the pandemic struck, we worked hard to support our families. We provided over one million free meals for children in the community in the first six months—leading food distribution statewide—and even created daycare spaces for first responders and essential workers. But when school buildings closed to in-person learning in March of 2020, it became clear that we didn't have a plan to focus on our hidden—or perhaps overlooked—equity issues. Specifically, the pandemic forced us to confront the realities our students face in terms of technology. We knew we had to do something.
Our Path to Sustainable Digital Access
By the time I took the helm in Yakima, I had committed to sustainability and resiliency in schools. This means centering the district around sustainable systems, not just a dynamic leader. A system dependent upon one person is no system at all. What happens when that dynamic leader leaves?
I've always had success engaging others in the building of systems that sustain themselves, no matter who's in charge. This belief led me to collaborate with the community in the development of a new six-year strategic plan. Within my first year, I spent a significant amount of time building and reengaging relationships. I also developed my leadership team, aiming to assemble a cohesive cabinet focused on systemic inequities in education.
However, technology was not specifically addressed in this new plan. We didn't even have a one-to-one strategy in place. Fortunately, our Director of Technology Services, Andy Gonzalez, and I were classmates in middle school, which helped us quickly establish trust in each other—something essential when you're plotting out new systems from the ground up. Together, we started planning a sustainable, equitable technology access program for our students.
Before I became superintendent, Andy had already laid the groundwork by creating Safe Harbor Educational Access Portal, or SHEAP. The district placed technology labs around the community, targeting the areas with the highest need. These computer and resource labs served as a bridge between our school libraries and students' homes. The program was also designed for community education, particularly parent resources. Technology shouldn't be an additive process; it should be an inclusive one with robust family participation. Through SHEAP, we've been able to show parents and families a glimpse of their children's online lives, allowing us to educate them on tech safety and help them understand the social and emotional aspects of technology.
For a while, SHEAP's primary challenge was securing enough reliable funding to keep it operational. Then, COVID-19 happened. The greatest benefit of this program was that it existed closer to where students lived, embedded within the community—but during a pandemic, managing multiple brick-and-mortar locations was no longer a feasible option. How else could we ensure access to reliable Wi-Fi and technology for all of our students?
Even before the pandemic, Andy and his team had already noticed an odd pattern in the way students were logging into the district's online platforms. They weren't accessing our schools' software at home; they were going to commercial areas around town at all hours. This made it clear that students needed better access to computers and the internet. Keeping libraries open later into the evenings for community use did not resolve the problem; students still needed access on weekends and before school. Additionally, traveling between home and school outside of standard commute hours proved to be a significant barrier—kids had to walk uphill both ways, often in the dark, during our cold winters or long, hot summers.
After conducting empathy interviews with students to learn more about their online habits, Andy and the team recognized that the problem was even worse than they'd thought. Some students said they often accessed Wi-Fi from outside local fast food restaurants, unable to buy food and do their schoolwork inside. It was clear that the district had fallen into the common practice of addressing issues on our terms—not according to the realities our students and families faced.
At first, we were operating under the assumption that we could reopen with the same processes we used before going remote. We quickly realized this wasn't equitable. Why? Because it's all temporary—hotspots, federal emergency funds, all of it. We needed to provide ongoing equitable access for every student.
After distributing nearly 16,000 computers to meet our one-to-one needs, we started broadcasting our own Wi-Fi signals. But we were still concerned about where students were congregating to reach these signals, especially if they were having to work outside in extreme conditions. To keep safety a priority, we had
to make sure that our solution worked well for students and families, not just for the district. Thus, Project Gemini was born.
Project Gemini
To deliver Wi-Fi access to each of our 16,000 students, we needed to expand our reach—literally. A signal broadcasted from a school campus can only reach about half a mile in any direction, leaving many of our students outside our range. So instead of relying exclusively on campus signals, we asked our community to help.
Yakima began to establish a network of long-term community partners who could help us create what's called a mesh network. In a nutshell, if our partners were willing to host hardware in their buildings to boost our signals, we could expand our Wi-Fi network to cover the whole district. We started out by looking at local businesses, churches, nonprofits, and even farms that could host technology in town and farther out from the city center.
To make this all work, we also needed the support of private tech companies. We began working with groups like Ednetics, Cisco, and SpaceX to consider how signals could be cast and what devices could power the districtwide network we were proposing. These conversations evolved into public-private partnerships to develop technology and services to support our host partners. As Andy would say, "The baked-in philosophy is that it's not just hardware—it's a service delivery."
The Gemini network is a twin to the district's existing network, so students have the same experience on Gemini as they would in their school buildings. Nodes strategically placed at several school sites relay our Wi-Fi signal, which is then strengthened and expanded by our community partners' networks. In order to expand the network with a large and diverse community support system, the project is also technology agnostic—meaning a student can use any device to access the service. From phones to iPads, Project Gemini is accessible no matter where a student is or what tools they're using.
With our strategic planning process, we were able to lay a solid foundation with several community partners who are now personally invested in the success of our schools. We also forged strong relationships with community leaders in locations we might use in the future by discussing the need for these support structures.
We built Project Gemini on a membership model, so the architecture is modular and allows us to add future community partners at any time. These members maintain secure, regulated network environments and can share as much or as little bandwidth with us as they want. This model provides unlimited scalability and security best practices. Not only is this a sustainable, community-driven program, but because it's managed at the local level, it allows for the fair and equitable distribution of underutilized resources.
Even though the technology we're working with may not be the first of its kind, I believe our process of developing deep community buy-in, offering tech support, and establishing collaborative partnerships really sets Project Gemini apart. It takes a community to solve this kind of problem. We can always build something with a big donation or grant, but this is about building partnerships.
The more a community is involved, the bigger the win. And that buy-in ensures that the project will be long-lasting and sustainable well into the future. The pandemic has revealed to many of us that we can't reopen and approach education like we did before. We are seeing our students and communities in new ways through their struggles and successes in this digital world.
While we've returned to in-person learning, we recognize that many students showed tremendous progress in a virtual learning environment. Teachers tell us that some students who were previously disengaged in school excelled online. My goal, and that of our strategic plan, is to create a more flexible system that serves the diverse needs of all our students, no matter where or how they choose to learn. Whatever the case may be, my vision for the future includes a stable at-home model. This requires the kind of ongoing digital access that Project Gemini can provide.
After initial startup expenses, we estimate that Project Gemini will run at an annual cost of no more than $30,000. This makes in-home, high-speed Wi-Fi an affordable reality for our district and a source of sustainable tech access for our students and families.
Walking, Listening, Learning
Yakima School District once lacked clearly defined and sustainable technology plans. Today, we have a robust, modern, and community-supported infrastructure system empowering us to fully achieve our vision. My goal is to expand our initiatives to serve our school community to the fullest—moving from one-to-one devices and Wi-Fi for everyone to community co-designed programs that unravel the inequities so prevalent in our current systems.
On the whiteboard in my office, I've written myself a note: "Create the conditions for people to speak truth to power." As Yakima's superintendent, I recognize that I am in a position of power, and I can use that power one of two ways. I can choose not to listen to the people I serve, or I can create conditions to give them a voice—especially those who are considered voiceless. After all, in the words of novelist Arundhati Roy, "There's really no such thing as the voiceless. There are only the deliberately silenced, or the preferably unheard."
After the events of the last year, we're determined not to let our students and community go unheard. As a dual citizen of the United States and the Muscogee (Creek) Nation, a big part of this philosophy comes from my heritage: You walk with people, listen to people, and learn collaboratively to make the best decisions for everyone. I'm proud to say that in Yakima, we are listening to our families, working with our community partners, and building equity for every student—together.
---

SchoolCEO is free for K-12 school leaders. Subscribe below to stay connected with us!