Rookies of the Year
Meet four newcomers to the superintendency with innovative plans and bright hopes for the future.
When you hear the word rookie, the image of a baseball player may come to mind—a young athlete standing at the plate for their first major league game, the crowd looking on from all directions. You probably know this feeling all too well. As a school leader, you've stood at the plate, taken swings for your team, celebrated wins, and endured heartbreaking defeats, all under the watchful eye of your entire community.
Now imagine doing all that for the very first time while navigating a global pandemic. Many school leaders are beginning their superintendencies during this historically complicated time—and they're making the field younger and more diverse. So we wanted to highlight a few "rookie" superintendents with inspiring paths into education and plans for their districts. They've only been in their new positions for a few months, but they're already impacting their communities. There's no telling what the future holds for these all-stars in the making.
It was never Tiffany Dietz's plan to become an educator, but you could say the signs were there all along. After learning American Sign Language (ASL) to communicate with her oldest son, Dietz began working as an ASL interpreter for a  local high school student. Moving from classroom to classroom, she got a firsthand look at different teaching styles and the relationships educators formed with their students.
She quickly fell in love with the idea of being a teacher, so she enrolled in college and eventually landed a job teaching eighth grade history at Corning Union Elementary School District (CUESD). This is where Dietz would find her calling. "Being a middle school teacher, I got to know such a great age group," she tells us. "It's such a critical time in children's lives—where they're really figuring out who they are—and it was so fun."
In her fifth year of teaching, an administrator told Dietz she should consider becoming a school leader herself. While balancing being a mom and full-time teacher, she started taking credential courses on weekends. Within a couple of years, she moved into a vice principal role at one of the district's K-8 schools. Shortly after, she served back-to-back principalships in CUESD, the last of which was at the middle school where she began her career.
This past summer, after 15 years in the district, Dietz was named superintendent of CUESD. She credits the support she's received in the district over the years for getting her where she is today. "I've been given great opportunities here," Dietz says. "People have put their faith in me, and it's worked out. I'm really thankful."
Even though she'd already spent years building connections and partnerships in the district, Dietz still kicked off her superintendency by setting up meetings with each member of her administrative team to get to know them even better. "It's a really solid team that I'm stepping into," she tells us. "They've been so good to me already."
Dietz describes Corning as a mostly rural area in northern California, filled with farms and almond orchards. These attract lots of migrant families, bringing a large population of English learners to the district. "Trying to get our kids what they need in order to learn to read and write well is probably the biggest weight I feel other than their physical safety and their health," she says. "To me, the reading piece is the most critical area—making sure we get that right so that we can get our kids where they need to be."
Another major focus of this year for Dietz and the district is ensuring kids are in the classroom after so much interruption and confusion caused by the pandemic. "We are united in our belief that kids should be in school," she tells us. "And our union has been on board with that as well, so that's been helpful. Even though this is like nothing we've ever seen, I do think that we will get back to a sense of normalcy. We all want to just be at school and not talk about COVID all the time."
Prior to the pandemic, the district was making noticeable progress, so Dietz isn't looking to make any drastic changes to what was already working. "The superintendent before me was doing a great job, and most of our employees were happy," she says. "We were actually climbing in our scores, and our kids were achieving better, so staying the course—and accelerating our progress—is my goal for the district."
Backed by a devoted team, a career of experience in the district she now leads, and an unwavering love for the work, Dietz is more than ready to serve the students and staff of CUESD. "I love our kids," she says. "And I love it here."
"My story is so much about connections and relationships and how they've intertwined to lead me where I am," Andrew Gonzalez tells us. The father of five recently took the top spot in Connecticut's Lebanon Public School District. But he tells us that wasn't always the plan. He first studied business management at Sacred Heart University while playing for the school's football team, the Pioneers. However, a post-college job in the insurance field had him doubting his career choice. As fate would have it, a family friend happened to be the director for one of Sacred Heart's education programs. She had seen Gonzalez interacting with student athletes, so she told him to consider becoming a teacher. "It was one of those aha moments," he says. "Why wasn't I working in an area I felt passionate about?"
Gonzalez then enrolled in graduate school to work toward his Master of Arts in Teaching. Interning and student teaching in Lisbon, Connecticut, he started running sports camps, building connections that would eventually earn him an invitation to tutor English learners in the nearby town of Sprague. After he completed his teaching certification, a school offered him a job teaching fourth grade, and the offers kept coming. "Whenever there was an opening in my school, I was always the guy they turned to," he explains. "In the six years that I was a teacher, I taught in five different roles. At that point, I wasn't really piecing together how beneficial that would be to me in the long run."
After earning his administrative certificate, Gonzalez moved to his first leadership role as an assistant principal in Bolton, Connecticut. "I was able to bring the experience of being in all those different grade levels," he says. "Being fresh out of the classroom, I could really relate to the teachers."
Only one year into that role, fate would intervene once again. Having heard about him from her granddaughter—a student at Bolton—the superintendent of nearby Lebanon Pubilc School District asked Gonzalez to interview for a principalship. He served in that role while working on his certificate to become a superintendent.
After a brief principalship in nearby East Hampton—and with 10 years of building-level leadership experience—Gonzalez jumped at the chance to apply for the superintendency in Lebanon this past year. "I knew what a close-knit environment this was, what a family feel this town has," he explains. "I wanted to come back and be a part of something like that—a district that I could really wrap my arms around, get to know, and grow with as a superintendent."
As Lebanon's superintendent, Gonzalez hit the ground running. At a leadership retreat, he assigned readings tailored to the personal and district goals of each of his building-level leaders. "We all did presentations based on those readings and had a really nice back-and-forth, which served as a springboard for the work we did in developing our district goals," he tells us.
Under his guidance, the team intentionally designed each of the district's new goals to have a direct connection to each school building in Lebanon. "Every building-level goal feeds into a district one, and their action steps align to each of those goals," he explains. "It builds momentum for us so that we really have a collective effort working toward greatness this year."
Establishing a manageable set of district goals and centering his entire team around that vision has been one of Gonzalez's top priorities, especially after such a uniquely challenging year. He also attended a retreat for the Lebanon Board of Education before the school year began, where he laid out his vision. "We need to make sure we're continuing to communicate those goals, that we're monitoring our progress, and that we're involving the community so that they understand where we're going as a district," he tells us.
It's no surprise that Gonzalez credits his time playing sports for his strong belief in teamwork. "The work ethic and collaboration that go along with being a good teammate are really beneficial in a school setting," he says. "As a leader, it can't be about you. It has to be about each and every one of those learners and stakeholders."
Gonzalez's passion as a leader is earning him support in Lebanon Public Schools, and he speaks about his new role with refreshing clarity and boldness. "One thing that has gone a long way was just being vulnerable with the board and with my team," he explains. "I told them I don't have any superintendent experience and I'm going to be growing with them. I'm not going to shy away from leading them where I think the district needs to go, but I'm going to need critical friends. It's going to take a team approach to do what's best for this community."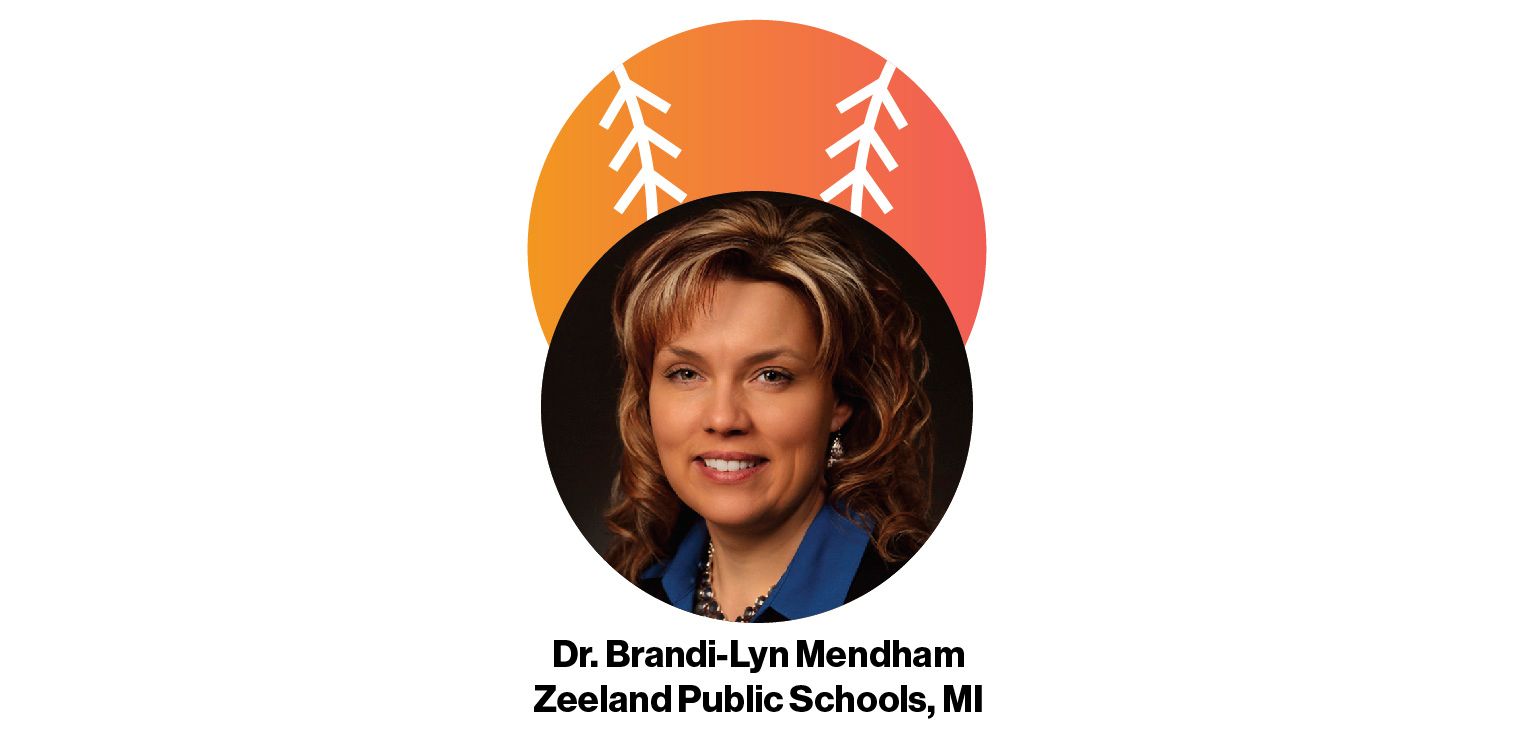 On her very first day of school as a superintendent, Dr. Brandi-Lyn Mendham was dealing with a chemical spill at a business neighboring her district's main campus. "That definitely wasn't on my list, but we've got a great team here, and we put our heads together and figured it out," Mendham tells us. Despite a first day filled with split schedules, students sheltering in place, and hazmat suits, she still talks about her new role with excitement and hope.
Mendham was able to work closely with her predecessor to transition into the superintendency, and she also received a scholarship to attend a small conference led by education scholar Dr. Doug Reeves this past summer. "It turned out to be kind of a think tank," she tells us. "There were just eight of us leaders from across the country sitting at a conference table. We spent three days together troubleshooting, hearing ideas, and sharing strategies. That work is invaluable. I've always been a strong believer in the power of networking."
She noticed immediately how isolating the role of superintendent can be, which is why Mendham takes this kind of networking so seriously. "In other roles you always have another group, a network, or someone else within the system with the same or a similar role," she explains. "Then, all of a sudden, you're in this spot where everybody is looking at you and you're the only one."
Like so many leaders we've talked to, Mendham never saw herself as a superintendent or even an educator. She actually planned to become a doctor, spending her first two years of college studying pre-med. But after leading nature classes for children at a local state park, she fell in love with teaching. Then, after earning her teaching degree, Mendham returned to her hometown in Lake County, Michigan, to student teach at Baldwin Elementary School.
Growing up in Lake County, Mendham witnessed a wide array of hardships from a young age. "I realized that kids were dealing with a whole lot more than academics and were struggling to overcome a lot of challenges," she says. "There was an unspoken expectation in my community that you weren't going to amount to much."
Because Baldwin Elementary had so much turnover when she returned, Mendham was able to expedite her student teaching and get her own first grade classroom just 10 weeks into the school year. "It was so challenging, and the student behavior issues were immense, but I knew I was more than just a teacher to them," she says. "We fed our students. We often provided clothing to them. There was a medical site on campus as well. I knew we provided far more for that community than just education, so I had a passion early on to serve in that capacity."
Mendham's five years in the classroom were cut short when her twin daughters were born prematurely, but she was just getting started in the field of education. Once her newborns were healthy, she worked briefly as a site developer for education consulting company ATLAS Communities, where she supported leaders and systems across the country. Afterward, she worked for eight years as the General Education Services Coordinator and Early Childhood Specialist for West Shore Educational Service District. "We provided all kinds of curriculum and instruction support at the county level," she explains. "I ended up being the administrator of their state-funded 4-year-old preschool programming. It was a phenomenal experience to be able to hire staff in those spaces, provide professional development, and work hard to elevate the status of those preschool teachers who oftentimes don't feel as recognized."
She began her time in Zeeland Public Schools as the Director of Curriculum and Technology, eventually moving up to Assistant Superintendent of Curriculum. After seven years in that role, with such a unique experience in education already under her belt, Mendham has taken the helm in the district as superintendent. But she is well aware of the disparities between it and the districts she's previously served.
"The system I'm leading is so different from the system I worked most closely with for the longest amount of time," she explains. "I always remind myself: Even though we have these beautiful facilities and these incredibly equipped staff members and supports, we still have kids in poverty. I always have my mind and heart on the fact that we can't lose sight of them. So I'm working hard with our team to provide the resources needed to make sure everybody has equal access."
Mendham says Zeeland is also the best decision she could have ever made for her family—which is why her three kids attend school in the district. "It is a growing community with lots of agriculture, a strong faith base, and incredible industry," she explains. "It's the perfect place to raise a family, and there's been this long-standing trust with the district that I don't take for granted. The folks who came before me established that."
To maintain that trust and instill her own vision for the future, Mendham kicked off the year with a full-day session centered around Brené Brown's book Dare to Lead. "I've always been a believer in having hard conversations and seeing vulnerability as a strength in our spaces," she says. "So our team moved through the first three chapters of Brown's book, and we ended that day with a call to courage. It was such a powerful experience."
She's following that up with two more half-day sessions. "This is for each individual to grow and for us to grow our own culture together as a team," she explains. "Starting that way on the heels of a tough year—and moving into what feels like an even tougher year—is grounding us in a common language and in the expectation that we'll be stronger together than any of us are alone."
When we spoke at the beginning of the school year, Mendham was most excited about the work her staff is doing around Professional Learning Communities (PLCs). "It's the right work," she says. "It's an initiative that people have passion for here. They were on fire for PLCs prior to the pandemic, so we are really eager to make that the way we do our work in this system."
Mendham is also making history in Zeeland as the district's first female superintendent, an opportunity she speaks about with reverence and heart. "It's such an honor, and I feel the responsibility of it in a very big way," she says. "People are looking to me not just to be the leader of a system but to show their kids the potential they have. I think about those kids where I'm from who don't see a way out, and it's nice to be able to give more students that vision."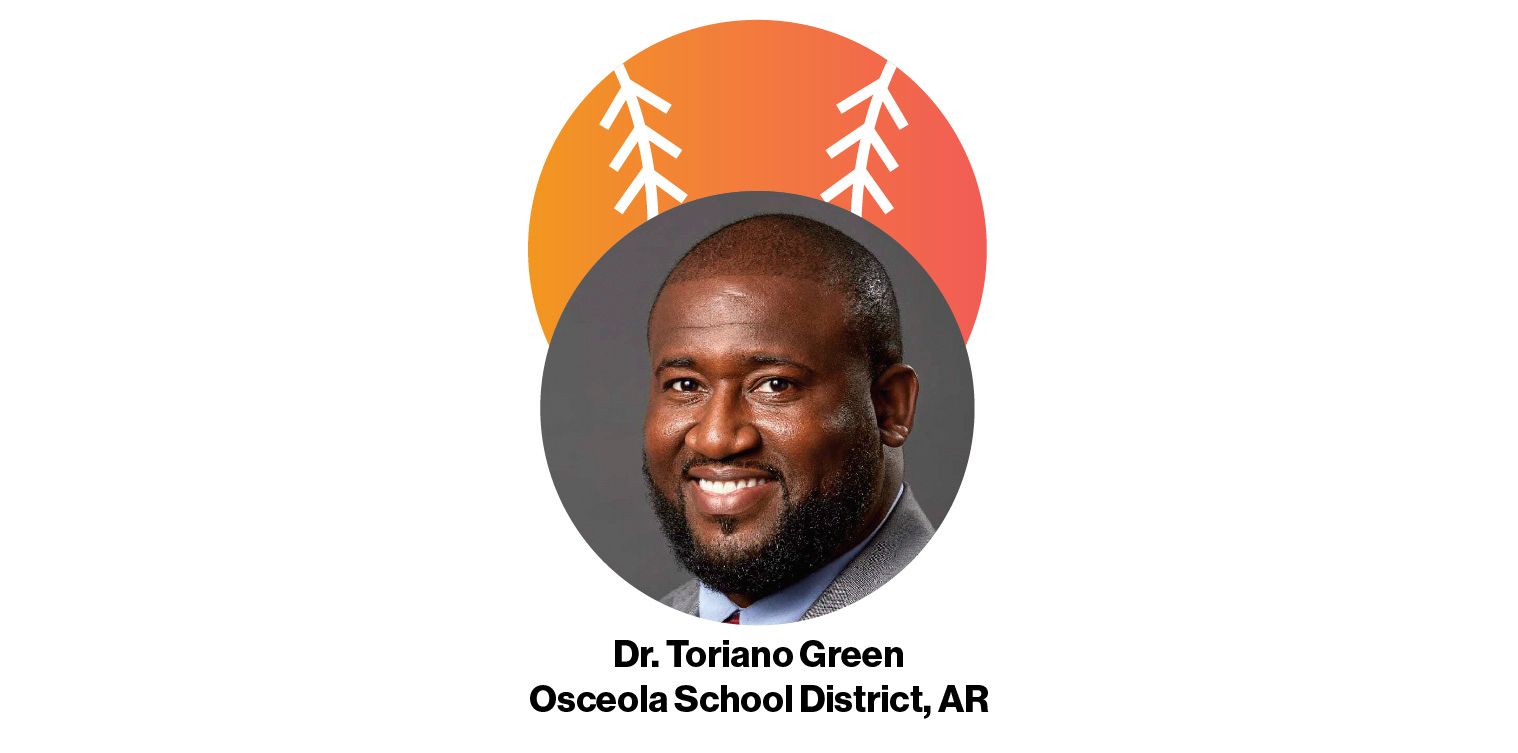 "People have believed in me more than I believed in myself," Dr. Toriano Green tells us. "I'm very fortunate to be in the role I'm in today." Growing up in West Memphis, Arkansas, Green dreamed of being an aeronautical engineer. But when he got to orientation day at Tennessee State University, he says he "just didn't feel it." So he went undecided for the first two years of college.
During that time, Hurricane Katrina hit the Gulf Coast and, surprisingly enough, changed the trajectory of Green's life all the way in Nashville, Tennessee. His university received a grant to run a monthlong camp teaching and tutoring first through sixth graders who had been displaced by the storm. Green was one of 25 college students hired for the job. "It was the life-changing moment that put me in education," he tells us. "I absolutely loved the connections I made with the kids." After, Green quickly declared his major in education. "I never saw myself in that world," he says, "but it has been a blessing ever since."
Just a few years later, Green started teaching and coaching in Metropolitan Nashville Public Schools, working on his Masters in Organizational Leadership at the same time. He went on to earn an Ed.D. in Learning Organization and Strategic Change as well. "I had a blast," he says. At first, Green's only goal was to coach until he was about 40, but he says that plan "went awry" when someone believed in him more than he believed in himself. "Just walking around as a P.E., health, and science teacher, I had an administrator pull me aside and say, I really like how you carry yourself, and I'd like for you to have a bigger role in the building." Green was then made Assistant Principal after just two years at Whites Creek High School.
Afterward, he co-ran the school's credit recovery program and computer lab. "We helped about 180 students recover around 380 credits by self-motivating and building in SEL components, showing them that learning can be fun," he says. He would also serve as Athletic Director before meeting Alfred Hogan, then the assistant superintendent in Osceola, Arkansas. "He's a great man, a 46-year educator who believes in investing in people," Green tells us.
Hogan asked Green if he'd be interested in returning to Arkansas, something he then discussed with his wife. "I told her I'd like to go home someday with the expertise I have and try to shine that light in Arkansas—let them see that representation matters," he says. "She got on board with the idea, too."  Green also credits his late mother-in-law, Dr. Julie Williams, for influencing his return to Arkansas. "She was a legend in education," he says. "She served as a great mentor to me, and I miss that tremendously."
Green would get the opportunity to impact his home state when, in 2018, Hogan was promoted to superintendent in Osceola. "He made me his assistant superintendent and gave me great mentorship," Green says. "It was a steep learning curve, but I was able to lean on him and learn quite a bit. It was almost like an old-school apprenticeship." That relationship has continued even into Green's superintendency. "We do things differently, but I still keep him in mind and call him for various situations in the district," he says.
Hogan announced his retirement in November 2020, and the school board voted Green in as his successor just one month later. "They took a chance on me and believed in the vision I set forth," Green says. "I just wanted to be a coach. But once I got into this world and started studying it, I thought I might not be that bad at this. I can influence and motivate people, and if you believe in me, I'm not going to disappoint you."
Moving back to Arkansas had personal benefits for Green as well. Now in a smaller district, he's been able to take more time for his young family. "I have a middle schooler now, and he's in our district," he tells us. "I'm a firm believer in my kids attending school wherever I work. If I stand here and say, This is good enough for your child, then it has to be good enough for mine, too. At the end of the day, we've got to get it right for everybody's kids."
For Green, leading a school district goes beyond credentials and experience. It's also about representation. "African American males only make up about 2% of all educators, so my platform has become much bigger as I've become older and found my purpose," he says. "Whether it's in this role or not, I'll be in education for as long as I can make an impact."
When we spoke in September, Green had already committed to spending about 60% of each day in classrooms around the district. "It's rough, and some days it requires working late hours, but I can't make decisions just sitting in my office," he says. "The action is in the classroom—that's where the fun takes place and the lightbulbs turn on. I need to see if our curriculum is worthwhile, if our students' needs are being met, and if they're engaged." Green says this also helps him earn the trust of his teachers. "It shows them that I'm as invested in the learning process as they are, even though they're the boots on the ground," he says.
Not only has Green engaged at the classroom level, he's also been on the district's school buses—all of them. In the first few weeks of school, he rode all 10 morning bus routes in the district. "Our bus drivers are important, and I like to let them know that," he says. "It gave me a totally new appreciation for them. We have some who drive a long country mile to pick up our kids, and it's important for me to see that."
Green is decisive and clear about his intentions for helping Osceola continue to grow and thrive. "I've taken the district into some new directions as far as the teaching and learning process goes," he explains. "We have to get back to the nuts and bolts of teaching and learning. A program can never replace a teacher, and we have to give them the best opportunities to be successful."
With a commitment to being hands-on, staying boldly supportive of his teachers and staff, and centering learning around every student's needs, Green has started his superintendency doing what he does best: being a coach. "I'm a different kind of coach now," he says. "I just have to do it on a grander scale. There are thousands of kids who depend on me to get the game plan right for their success."
---

SchoolCEO is free for K-12 school leaders. Subscribe below to stay connected with us!