School Shoutout: Cody-Kilgore's Circle C Market
How one rural Nebraska district is serving their community and giving students hands-on learning experiences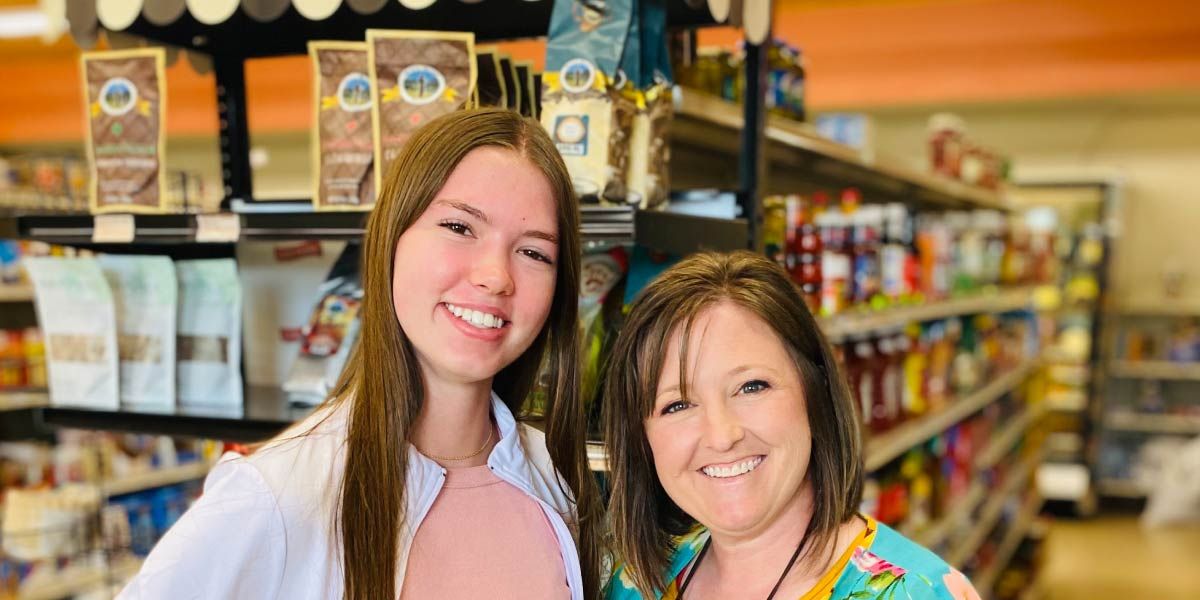 If you're ever driving through Nebraska's sprawling Sandhills, you'll come across something very special in the small village of Cody. Just off Highway 20 is a sign inviting you to shop at "Nebraska's Only Straw Bale Supermarket!" But Circle C Market's building isn't the only thing that makes it unique—it's actually a fully stocked grocery store run by the students of Cody-Kilgore Unified Schools (CKUS). It's also the only grocery store serving residents of the large rural district.
As food insecurity becomes a growing problem nationwide, the story of Circle C Market illustrates how the deep, necessary relationship between a community and its schools can be leveraged to make lasting change.
A Community in Need
Cody-Kilgore Unified Schools is a remote district in a massive county. Cherry County, Nebraska, is so large—encompassing nearly 6,000 square miles—that it takes up more land than the entire state of Connecticut. The people of Cody and Kilgore have a deep connection with that land, too. Many of the district's families have been farming and operating ranches there for generations.
But Cody and Kilgore together have a population of fewer than 250 people—and around 160 of them are students. So living and learning in the area presents a unique set of challenges, especially when it comes to finding jobs and resources. On top of all that, the school district itself serves a whopping 553 square miles of Cherry County, which includes three area codes. That means long commutes for many of the district's families and staff.
Sadly, the district's sole grocery store closed in 1995, forcing residents to drive long distances for food and other household goods. "Some of our kids travel over an hour to get here from their ranches," says Secondary Administrative Assistant Carrie Ford, who helps run the store outside of school hours. "One of the things that parents were always saying was: If I'm going to enroll my kids in Cody-Kilgore, I need to be able to get groceries when we come to town." It became clear that CKUS needed a solution—one that would benefit the district and the entire community. And so the Circle C Market was born.
A Community Response
Circle C Market was the brainchild of Cody-Kilgore teachers Stacey Adamson and Tracee Ford, who started the planning process in 2008. To kick things off, they assembled a team of student volunteers who dubbed themselves the GRIT Committee—short for "Growing, Revitalizing, Investment, and Teamwork." These students helped spread enthusiasm around town about a student-operated store—one that would simultaneously serve the community and help teach students business practices and skills. And when the Circle C planning team discovered that a USDA Rural Development grant could help pay for the project, a town board member was so impressed with the idea that they helped write the application.
After securing the USDA grant and additional funding from independent organizations, there were still more hoops to jump through before construction could begin. First and foremost, they needed a location. Fortunately, there was an unused plot of land in Cody not far from the high school—but procuring it wouldn't be so easy. The land was owned by the Nebraska Game and Parks Department. So what did the GRIT Committee do? "The kids had to go five-and-a-half hours to Lincoln to give a presentation pleading their case for the store," Carrie Ford says. Their efforts were a success, and the students were granted a 99-year lease for the land.
Student involvement didn't stop there. The GRIT Committee played a part in everything from helping craft the business plan to building the actual store. Because straw is plentiful in the Nebraska Sandhills, the team decided to build the market in the energy-efficient "straw bale" technique, using donated straw for insulation. Students and other community volunteers broke down 1,300-pound straw bales into smaller square bales and placed them within the building's frame. There's even a viewing window inside the store where you can get a peek at the straw in its walls.
After a few hiccups, Circle C Market eventually found a supplier willing to travel to the area and stock its shelves. It also formed a partnership with a grocery store in nearby Valentine, Nebraska, to keep fruits and vegetables in stock. And the unique market doesn't just sell the basics, either. It actually looks much more like a Trader Joe's than a typical grocery store, with shelves full of thoughtfully curated products and home goods, often chosen by the student workers themselves. "We have a really good selection to help our community out," says teacher and store manager Liz Ravenscroft. The store even sells locally crafted fruit and wine vinegar made at another of Cody's straw bale businesses.
Now the 3,500-square-foot market and "entrepreneurial learning laboratory" has been a staple of the Cody-Kilgore community for a decade, providing residents with a wide selection of food choices and students with unique, hands-on learning experiences.
More Than a Store
From the beginning, Circle C Market has been all about the students—and, for the most part, they're the ones keeping the store up and running. Student workers do everything: ordering products and supplies, managing inventory, stocking shelves, working cash registers, maintaining clean facilities, and even using bookkeeping software. "This teaches them so much more than just working in a grocery store, like how to work with others and how to handle the business side of things," Ravenscroft says. "The goal is to grow more future business people."
During the school year, students earn grades for their work, and they get paid hourly for working after school and on weekends. In the summertime, students have the opportunity to be paid for even more hours. "The kids run the store during the summer, too," Carrie Ford tells us. "We only default to adults if all our kids are absolutely busy." Some even work as "student managers," but overall operations are managed by Ravenscroft, who also serves as the district's business, accounting, and entrepreneurship teacher. "Part of the agreement with the district is that the business teacher is always the manager of the store," she tells SchoolCEO. "My main classroom is actually at the market, and it's set up like an official classroom. But there are also work-based learning classes where students come down to the store for an hour at a time and learn various skills."
Kate, a Cody-Kilgore student who will be a junior in the fall, just began training as an office assistant at the market. She approached Ravenscroft because she wanted to learn the software it takes to run a business. "I've always been interested in doing things like Quickbooks for a career, maybe being an accountant," Kate tells us. "And I live 40 miles away, so I get to come over for sports and then come to work, too."
The impact on the district's students is multifaceted—they're getting the opportunity to work and earn money in a rural area, to have hands-on learning experiences, and to support their community while growing as people. "The store has a good impact on the community, especially the students," Kate says. "It teaches us a lot of social skills, like how to talk to people and communicate better."
The market also helps the district in more ways than one. "The big challenge of being in a rural community is getting our kids to come back," says Ravenscroft. "But ranchers need their books kept, too. So learning in the store can help students with many different things, even if they want to come back and start their own businesses. We're always trying to see where we can make this even better and help even more kids."
Because of this student-centered endeavor, area residents no longer live in a food desert, and they're also able to support their local schools by shopping at the store. "There's a lot of community support here that really understands the need on both levels," Ravenscroft explains. Customers can even round up their purchases to the nearest dollar to contribute to annual scholarships for high school seniors who have worked at the market.
When customers enter Circle C Market, they see big, bold orange letters painted on the far wall that read: "It's more than a store. It's our future!" In so many ways, this statement rings true. What started as an idea between two dedicated teachers has become an inspiring reminder that no community is too small for big ideas. No school district is too far out of the way to give its students the opportunity to grow their futures. "Not only is Circle C Market important for the kids," says Ravenscroft, "it's important for the community, and for everyone to see what we're doing here. You've got to come visit our store."
---
Subscribe below to stay connected with SchoolCEO!