SchoolCEO Conversations: Meaningful classroom tech creates engaged citizens.
Superintendent Dr. Eric Conti of Burlington Public Schools in Massachusetts tells us how and why.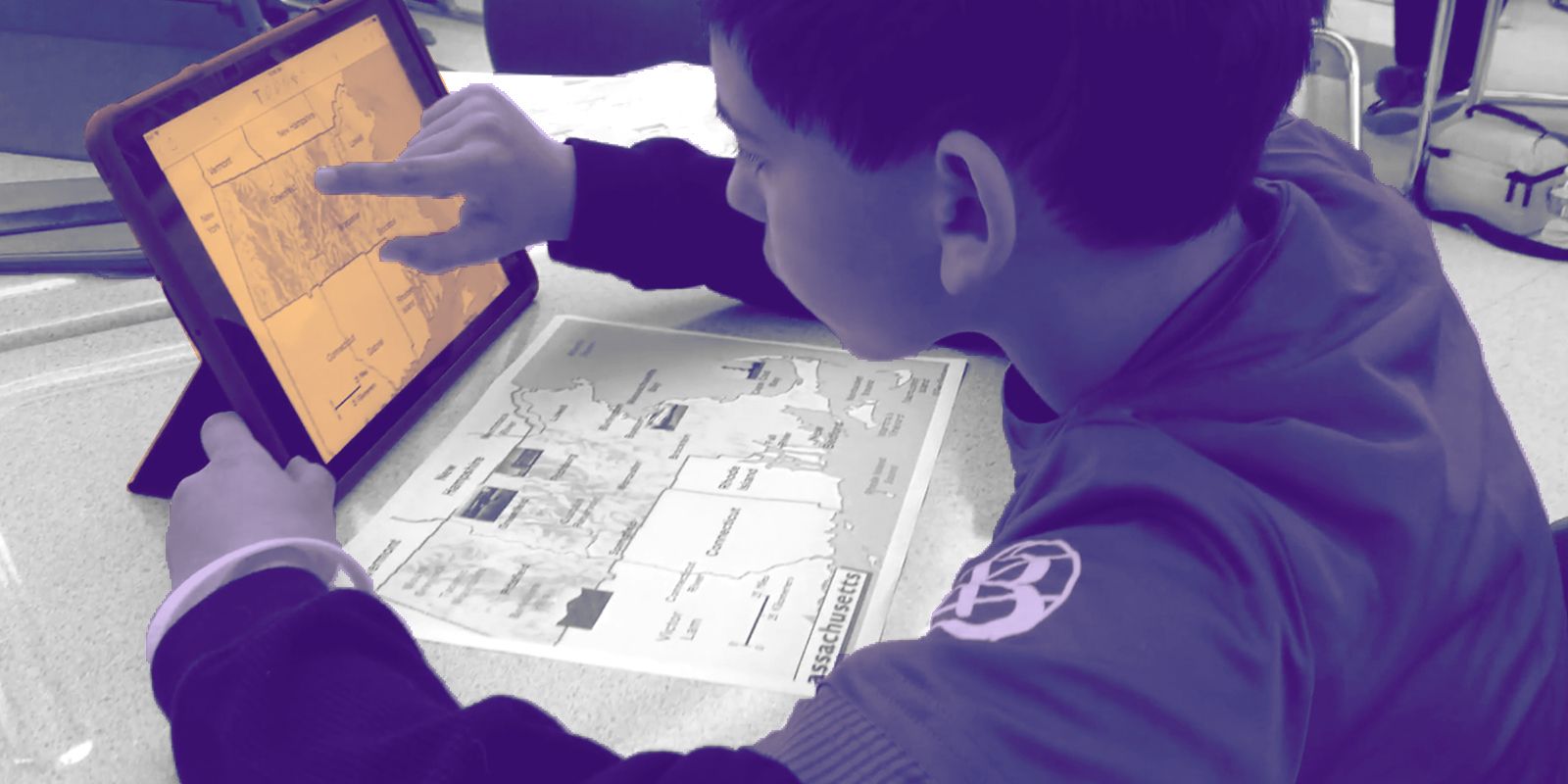 Sitting about fifteen miles west of Boston, the growing suburb of Burlington is sometimes called a city by day, but a town by night. "There's about 25,000 residents at night, but there's a lot of industry in town so there's about 150,000 people here during the day," Dr. Eric Conti tells us. Conti is the superintendent of Burlington Public Schools, which serves roughly 3,600 area students in pre K-12th grades, with 1 in 4 being students of color. With suburban sprawl, however, the district is changing. "We are seeing an increase in student population, diversity, and languages spoken," Conti tells us.
To keep up with these demographic changes, Conti and his team have centered instruction on technology and engagement. "About ten years ago we were one of the first districts to go one-to-one with iPads at the high school level," he tells us. "And currently we are basically a one-to-one district in grades 1st-12th and the primary device we have is an iPad."
Conti is quick to share credit for his district's technology success, specifically highlighting the support they receive from the Burlington business community. "The Burlington Area Chamber of Commerce offers an incredible resource to the school district, especially in the area of technology," Conti tells us. "These partnerships provide our students with a glimpse into their futures."
Can student tech be personalized and enhance instruction?
Conti explains that, at first, there was more excitement about the school's new technology than actual quality use of it. Currently, however, teachers in Burlington are more comfortable with tech and are using tablets in more targeted ways for "amplifying quality instruction."
Successfully implementing meaningful technology use in the classroom was an endeavor aided by individualization for teachers. "We allowed a lot of personalization of the device," he adds. "And we didn't mandate a learning management system."
Conti also believes that regulating student devices too much can actually hurt instruction. "We didn't restrict the kids' usage," he tells us. "Some of the districts that were failing [with similar programs] would provide a device like an iPad and they'd lock it down so completely that it was no better than a textbook. The content was basically static," he adds.
"We were relatively permissive" he tells us. "We filtered everything...but we allowed the kids to put some of their own music on the device, to personalize it." Now, Burlington has a suite of tools they employ on all student devices, and Conti believes the instructional software has gotten better over time.
"We've become a little bit more restrictive," he says. "But I think we're getting better at targeting high quality tools and applications and then having that become part of our high quality tasks in terms of classroom activities and curriculum."
Is new tech worth your time and money? Here are some guiding questions.
When it comes to evaluating new technology for his district, Conti has several guiding questions: Is it enhancing instruction? Is it creating engaging lessons? Are we seeing deeper learning? Is it amplifying the best of what we want to do? Are kids applying knowledge to different situations using the devices?
Dr. Conti believes students need to learn how to use technology and also understand how it works. "Which is really why we're getting more into computational thinking and coding and algorithmic thinking," he adds. "We have to change what we're doing because the tools are all changing and the kids need to know how they work.  Those tools are shaping not only the workplace, but our communities as well."
Despite school choice not being a huge issue for Burlington Public, Conti is still aware of the need to market his schools and is still very much concerned with the district's brand. "I'm worried about branding in terms of making sure that we are communicating proactively instead of reactively. Because if you don't fill the space, the space will be filled for you, by others, and may not be filled in such a positive way."
Engaged students, engaged citizens
When asked what reading has impacted or inspired him recently, Conti cites a New York Times article by Thomas Friedman published in February. It's no surprise that the article's focus is on creating more engaged kids. In "The Two Codes Your Kids Need to Know," Friedman posits that all students need to know computer coding and the civic codes of the U.S. Constitution, based on research from the College Board. To Conti, this is validating for his district's approach to instruction."That really struck a chord with me—those two codes being so critical for being an engaged citizen, never mind a successful community member moving forward."
"...if you want to be an empowered citizen in our democracy — able to not only navigate society and its institutions but also to improve and shape them, and not just be shaped by them — you need to know how the code of the U.S. Constitution works. And if you want to be an empowered and adaptive worker or artist or writer or scientist or teacher — and be able to shape the world around you, and not just be shaped by it — you need to know how computers work and how to shape them."  -Thomas Friedman, "The Two Codes Your Kids Need to Know"
---

SchoolCEO is free for K-12 school leaders. Subscribe below to stay connected with us!