Small but Mighty
How four superintendents are leading small, rural communities through COVID-19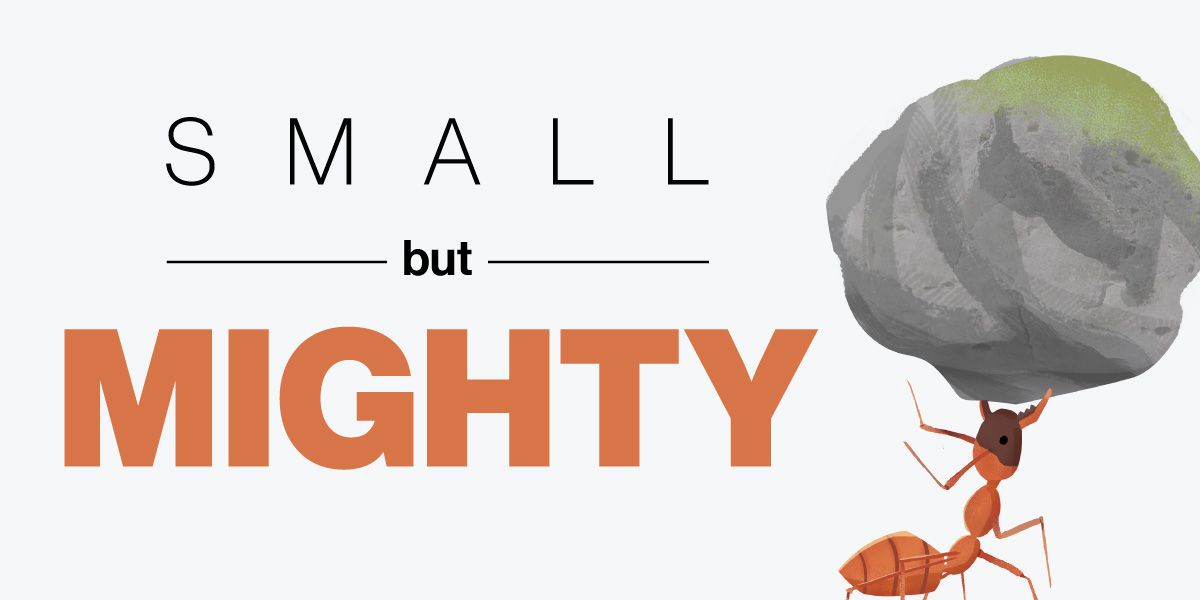 Small school districts are the foundation of U.S. public education. In 2019, Census Bureau data indicated that 56% of U.S. students attended a school district with an enrollment of 1,500 or less—many of them located in rural areas. According to an annual report by the Rural School and Community Trust, one out of every five public school students attended a rural school district in the 2017-2018 school year. While rural schools serve more than 9.3 million students and make up around 53% of school districts in the nation, they're often granted less funding and resources than their urban counterparts. As a result, superintendents in small districts often can't afford to hire additional administrators, forcing them to serve as their district's CEO, CFO, and CMO all in one.
When the coronavirus shut down schools and altered public education forever in March, the role of the rural and small school district superintendent intensified. These leaders have dealt with the same seemingly insurmountable challenges as their peers—but with a drastically limited pool of resources. This fall, rural and small district superintendents faced an even more daunting question: How do we reopen?
We spoke with four superintendents of rural and small school districts to learn about their experiences reopening schools in the midst of a pandemic—finding out their greatest challenges and lessons learned along the way.
Starting her second year in the superintendency at LaGrange Highlands School District 106, Dr. Amy Warke formed five subcommittees composed of 31 staff members to find the best solution for reopening this fall. After state guidance changed several times, the team settled on a hybrid model of A/B days with Fridays set aside for remote instruction. Communication has been a key part of their reopening plan—Warke's team makes sure that all of the district's stakeholders receive accurate, effective
information in a timely manner.

Because Moshannon Valley School District is small (and 75% of families requested face-to-face instruction), Dr. John Zesiger and his team in Houtzdale, PA, are providing in-person learning five days a week. One fourth of Moshannon Valley's families have chosen to learn virtually, making for a smooth transition into the 2020-21 school year. "I'm really pleased with everything so far," Zesiger says. "We're able to provide in-person instruction for all students who want it in a safe environment."
Like many rural superintendents across the country, Superintendent Jackie Crabtree of Holly School District RE-3 had never put together a district reopening plan before this fall. She and her team settled on in-person instruction five days a week, while also offering students a virtual option. Included in Holly's reopening plan is temperature checking, which Crabtree has turned into a fun morning ritual, especially for her elementary students. "Some mornings I'll sing a song; I'll make up a little rhyme for the students," she tells us. "We know this is crazy, but we can have some fun, too."
While West Feliciana Parish School District has a medium-sized student population with over 2,000 students, the district is spread out across rural Louisiana. After being diagnosed and hospitalized with the coronavirus in March, Superintendent Hollis Milton made it a priority to ensure the return to school was as safe as possible. One out of every five West Feliciana students are learning from home, while 80% of students chose face-to-face instruction. All students, regardless of their choice, participate in remote learning every Wednesday.
What's been your district's greatest challenge and greatest strength?
Warke: I think our biggest challenge is also our biggest strength: our size. We are a tiny district, and we don't have many people to do a lot of the necessary work. However, our size allows our staff to have an intimate knowledge of what needs to be done and how. It propels us forward and allows us to adapt.
The thing that drew me here is the community. While we don't have a large staff, they're able to get work done within their teams and solve problems. Research shows that when students see that sense of community, they'll build that community, too. It's been a huge strength in how we've gotten through the past couple of months. Everyone has relied on one another, divided up tasks, and worked together. It's been extremely rewarding.
Crabtree: The challenge has been working with all of our stakeholders to make decisions. Before reopening, we often received different guidance from state and local groups. For example, our state health department and our local health department would give us different messages, which made it difficult to rapidly communicate those changes to our community. We felt wrong no matter what we did. Thankfully, I'm part of the Colorado Rural Schools Alliance, where all of the rural superintendents in the state work together to come up with solutions or to simply bounce ideas off one another. That really has been a blessing. We were all facing the same things, at least to some degree, because we didn't have the resources that some of our peer districts did, like extra teachers or curriculum directors.
When I was writing our reopening plan, it took me longer than some other districts. I had to resubmit it over and over again. It was heartbreaking—some nights I just felt extremely lonely. However, I worked with my colleagues in the Colorado Rural Schools Alliance to see what they were doing and thinking, which helped me get our plan approved. No matter how hard it gets, we're able to be there for one another. They have been just such a great support system. We actually have a group text now! It feels good knowing that we're not alone, because a lot of the time it can feel like we are.
Milton: I would say our greatest strength has been working together to reach a common goal. A majority of our parents wanted us to get back to school, and from the beginning, we kept saying that was the district's goal as well. Over the summer, we worked 15-16 hour days: administrators, teachers, and support staff all working together to figure out the best solutions for reopening. We kept our communication lines strong. We made sure to share updates and make parents part of the solution.
Our greatest challenge was that it took a Herculean effort to accomplish all of this, especially during a time of uncertainty. We had to visualize every activity from a safety aspect. For example, a football game in the age of COVID is a lot of hard work. It took a lot of thought, creativity, and constant reminders of what our district and our greater community both wanted: students back in school.
Have you made any changes for this school year that you see yourself carrying on after the pandemic?

Warke:  One thing I hope stays is the adoption of some of the dynamic learning pieces my staff have used over the past few months. Our teachers have been able to engage with our students in creative ways, and not just with pencil and paper. They're getting creative in the way they learn about their students and share about themselves. I hope these mind shifts continue, and that we don't revert back to the way we did things before.
Even my teachers really like this. For example, at my middle school, my English language arts teacher and my social science teacher are teaching interdisciplinary units. Before the pandemic, I wouldn't have even thought to have them collaborate with each other, but now, they've said, I don't want to go back to not doing this—it's made my unit richer. One of our middle school science teachers has been holding socially distanced science nights for our students at school and learning over Zoom. Everybody has loved it! I hope that "out of the box" thinking sticks around.
Zesiger: This fall we made the decision to film all of our sports games and broadcast them online. Many school districts have done this, but what sets us apart is that we're not charging anyone. We know that sports are important here; our small, tight-knit community usually comes out in droves for a football game on a Friday night.
After our governor said we weren't allowed to have any spectators attend the games, our tech department found a streaming service that would cost parents monthly to subscribe. Knowing the economics of my community—six out of 10 students are on free and reduced lunch—I knew that wasn't an option. So I went to our board, told them that we needed to pay for this service, and they were completely supportive. They knew it was important for us to allow parents, grandparents, and community members to watch their sons, daughters, and grandchildren march in the band at halftime, play football, or cheerlead from the sidelines. We want our families to see that whether we win or lose, our real victory is just being on the field.
What's your biggest takeaway from this experience?
Warke: Relationships and communication are key. I'm working at keeping that in the forefront. You don't know what other people are dealing with. This experience has really shown me that I need to seek to understand—and help other people do so as well.
This morning I had a meeting with a parent who was upset, and finally I just said, You've said so much, but not once have you sought to understand. Not once have you asked us what we are doing for our students' learning. If learning were your main focus, wouldn't you have asked that? That completely diffused her. It helped her reframe where she was coming from, and then we had a great conversation.
So often we actually have the exact same goals. We might have a different perspective, and that's fine—that makes the world better. But we have to seek to understand one another. This whole experience has really reinforced that idea for me: the importance of truly listening and trying to figure out the root cause of the problem at hand.
Crabtree: I have seen people come together to share ideas, through my BOCES, through my groups. Just before this meeting, I was sending out a form letter to some of the superintendents in my group for them to use if they happen to have a case. We're just all looking out for one another. People who normally would have done their own things in their school districts are now collaborating with other school leaders. So it's this new awakening for some superintendents. We've been trying to coordinate and consider what other people are doing and thinking. The communication between our teams has increased, and they have been such a great support system.
How do you think COVID-19 has changed your district?
Zesiger: Before this, many took school for granted. Now that we're back, it's been great to see students really excited to be here. They seem ready to learn. There's a fear right now that at any moment we could be forced not to be here, and as a result, relationships are more appreciated by our students, by our staff, by our families. So I've been really encouraged. The positive to come out of this might be an appreciation for school: what we are, what we do, and what we provide.
Milton:  This has accelerated the use of technology in so many ways. That's in part because of virtual learning, but it's also part of the in-person classroom. Right now we can't do lessons in a traditional cooperative learning environment, but you can leverage technology in that classroom so that even though kids are sitting six feet apart from one another, they can work on the same project.
So we're seeing a lot of innovation happening in classrooms as teachers build this new arsenal. That phrase, Necessity is the mother of invention—we're seeing that all over the place in education right now. When this is all over and we don't have to be afraid of this virus anymore, I think all of us are going to step back and say: What did we learn? What do we need to keep? I believe we are going to be forever changed for the better as a result of this experience.
What can educators in urban areas learn from rural and small school districts?
Warke: I feel what urban school leaders could learn from us is collaboration. I have the best team here that I have ever worked with. In our district, everyone wears several hats, and we're willing to do whatever we need to ensure that our kids have a successful year.
Once we realized that we're all interdependent, we all started talking, working together to come up with the best solutions. It's a blessing because it takes all of us. Whether it's making big decisions or doing presentations in front of our board, our team is sitting together, hearing everyone's collective thoughts, and receiving feedback.
Zesiger: There's a myth that rural schools serve broken communities—like we need to be fixed. After going through this, I'm here to say we're not broken.
In a rural school district, you could be in coveralls or a tuxedo, and you'd fit in. We look out for each other. I would say I know 70% of the 800 students in my district by name. Families approach me when they see me in the community, and they call my personal cell if they have an issue. That sense of cohesion and community is something that urban education leaders can focus on and build in their own communities.
Crabtree: The advantage has definitely been our connections with the kids. We already know all their names, their favorite colors, if they just had a breakup—whatever it might be. It really adds value to what we do. So we're able to take extra time for social-emotional needs, and we have those support systems in place. We don't just have one school counselor checking in on students; we have multiple adults in their lives that they can connect with.
This past summer, we had several students who were having a hard time. A few local organizations offered their services, including childcare, so that their parents could get a break and their families could recharge. Having those connections in larger districts would be so beneficial.
Milton: Be as close to the work as you can. I am so fortunate because I can go out there and check temperatures and hear how families are doing on a daily basis. I think that can be more difficult for urban districts.
Despite how busy we all are, it is so important to get out to the schools. Even if it's only popping into a classroom and saying a quick hello, or spending two minutes talking to a parent about a concern, it goes a long way. It builds an arsenal—a collection of experiences that allow you to make decisions and communicate effectively. You're able to get a better sense of what's going on. That's a strength we can leverage.
Rural school districts, by nature, are small ships. We can dramatically change course and make a 180-degree turn very quickly. Larger ships can't do that; it's more of a gradual change. Those are the strengths we leverage: fostering relationships and adapting quickly. In a system that is built on close relationships, you pick up on things in real time, allowing us to move faster and get a true sense of what is out there, what is coming, and what is important to our families, students, and employees.
---

SchoolCEO is free for K-12 school leaders. Subscribe below to stay connected with us!