Storytelling
Build a compelling district narrative and captivate your audience with your content.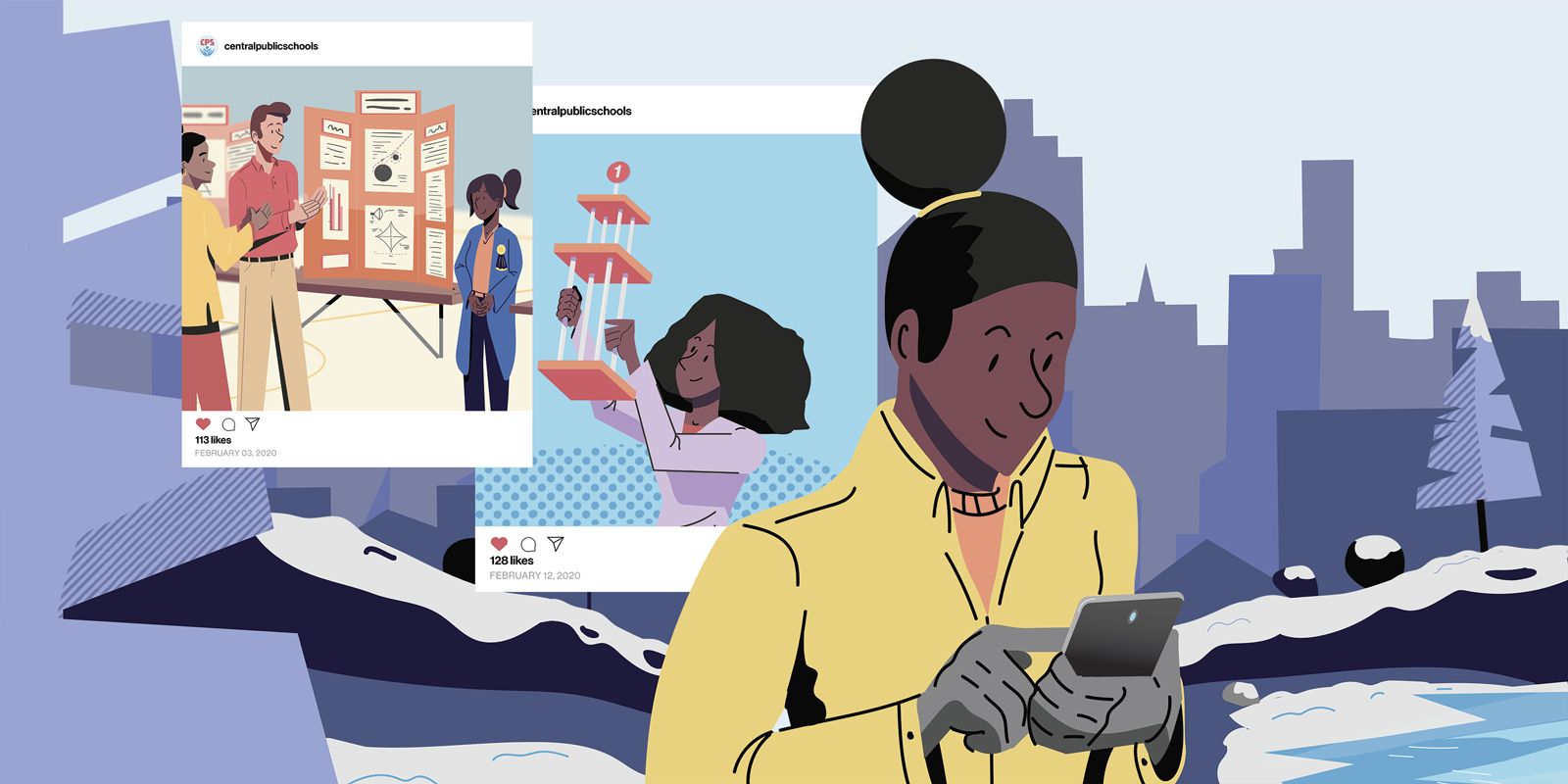 All successful marketing includes a crucial secret ingredient, a "special sauce" of sorts that makes your content sing. It's not a flashy logo or consistent color schemes—though those certainly help. It's not fancy equipment like the best cameras or design software. It's not even a dedicated team of communications professionals. No, all successful marketing has one simple factor in common: it tells a story.
Of course, not just any stories will do the trick. In your district, you're looking for stories that reinforce your values, grab your community's attention, and move people to action. Stories like this one:
When Alex started at Centerville High four years ago, he was nervous about the prospect of taking honors classes. But at Centerville, he found something new: teachers who believed in him, encouraged him, helped him unlock his potential. Today, he's graduating—with honors. It's just one more example of Centerville Cougars overcoming obstacles.
This story could have easily been an Instagram post with the caption "So proud of our graduates!" On the one hand, there's nothing wrong with a post like that… but on the other, it's a missed opportunity. Any district in the country could share the same post. The best leaders uncover and share the emotional, authentic stories that reinforce their district's unique messaging. In other words, they tell the stories only their schools can tell.
In this article, we'll give you a crash course on how school leaders can use different platforms to tell better stories. We'll start with the basics, sharing why stories are so effective and how to craft the overarching narrative of your district. Then, we'll teach you how to find and tell smaller stories that not only reflect your values, but captivate your audience along the way.
Why story?
We probably don't have to tell you that storytelling is one of the most powerful tools at your disposal. Research by cognitive psychologist Jerome Bruner suggests that stories are 22 times more memorable than facts alone. Stories can clarify complex ideas. They have the power to elevate boring subject matter into something engaging and interesting. What's more, 92% of people say they prefer that the marketing they consume come in the form of a story. Whether it's the Budweiser Clydesdales pushing through snow or a can of Chef Boyardee rolling through the supermarket aisles, when marketing tells a story, it sticks with us.
Stories also encourage us to turn off our sense of skepticism, says digital culture expert Frank Rose, author of The Art of Immersion and one of today's leading minds in the field of storytelling. "Stories encourage the willing suspension of disbelief," he tells SchoolCEO. "Even if only for the duration of the story, you tend to turn off your critical faculties and just listen to what the story is telling you."
But most importantly, stories are a catalyst for connection. "Stories are the way that we connect with each other," says Hilary Trudell, founder of storytelling organization The Yarn. "You want to connect with your audience, whether it's a theater full of people, your parents, your kids, or your school board. You want to create empathy within that space. Stories are an essential part of what creates a community."
Of course, this is even more true in a school setting, where the stories you tell are really the stories of your community's children. And once you've worked to build that connection, that trust, that community, the stories you've told over time can drive them to action. Dr. Steve Webb, superintendent of Washington's Vancouver Public Schools, says he sees himself as the district's "storyteller-in-chief," and that "a year-round commitment to storytelling" helped his schools win a major bond measure.
"If we don't tell the story about the great work that is happening in our schools on a day-to-day basis, then we're missing an opportunity," Webb tells SchoolCEO. "It's about building public confidence in our schools and enlisting continued support from partners, stakeholders, patrons, and taxpayers."
Build your district narrative.
We've often discussed how to build your district's core message: a short statement that indicates a problem and provides your solution. But when it comes to school storytelling, it might be helpful to think of your core message as a story itself—a district narrative.
Your heroes
As you begin to construct your district narrative, you must first determine your hero: the main character of the story you're telling. We'll tell you a secret: your district is not the hero of this story. Instead, it's your students, parents, and community members. Your brand narrative shouldn't focus on what you want; it should focus on what they want.
Your district does have a role in this story, however; you're the wise and helpful guide. Like Gandalf in The Lord of the Rings, Dumbledore in Harry Potter, or Obi-Wan Kenobi in Star Wars, it's your job to help your heroes accomplish their goals.
What they want
Every great story, from Moby-Dick to Finding Nemo, is about a main character who wants something. Captain Ahab wants to slay his white whale; Marlin the clownfish wants to find his son; and your community's parents want specific things from their schools.
We can't tell you what the members of your unique community want—but you probably already know. It might be cutting-edge innovation, with state-of-the-art STEM programs; it might be an emphasis on social-emotional learning and the child's wellbeing; it might be safety and security. Account for everything a parent could want for their child's education. These are your heroes' goals.
How they'll get it
Your district's narrative is the story of how you'll help your heroes get what they want. As the guide, it's your job to lead your parents and students to success.
Compare your heroes' goals to the amenities your district uniquely offers. Where do their wants line up with your offerings? That intersection is the core story your messaging should be telling—and you'll back it up with smaller stories along the way.
Back up your district narrative with smaller stories.
Your district narrative should be the backbone of your school communications. Everything you post—on Facebook, on Twitter, on Instagram, on YouTube—should function as a part of that story. Think of your individual posts as episodes of a TV show. Though each post will have its own unique story, each also contributes to the overall narrative of your school district.
Smaller stories feed your overall story when they share the values of your audience—the same values you're emphasizing in your district narrative. According to Trudell, connecting through values is a key part of any story.
"I think the biggest thing to think about when you're creating your story is, how do you create an opportunity to relate on a values level?" she tells SchoolCEO. "There's always breaking it down and thinking about the values that are inherent in the story. Are we talking about them in a way that's going to let someone else connect with them?"
Take, for example, the way Hawai'i Preparatory Academy (HPA) makes community relationships a key part of their narrative. "At HPA, we welcome you not just to our campus but into the HPA family ('ohana)," the school's website promises. " 'Ohana involves inclusivity, shared responsibility, and care for one another. So when you arrive at HPA, you join a community that will accept, support, and strengthen you."
It makes sense that, alongside the group photos typical of a commencement ceremony, HPA's Instagram features exuberant, emotional moments from their graduations, highlighting the relationships they promise. Though the captions are pretty sparse, the images say it all: the school has created an environment where students genuinely love their teachers and one another.
Smaller stories like this one succeed for several reasons. For one, it's emphasizing an aspect of school that HPA knows their community values: relationships. Stories like this one say, "We understand what you want, and we can provide it"—and that level of understanding builds a connection with an audience.
What makes a great story?
HPA's Instagram post also works on its own, because, well, it's a great story. One look at these photos and you understand what they're saying: "We've really grown to love one another here." That's because HPA knows the essential factors that make a great story, no matter the medium: emotion, authenticity, and transformation.
Emotion
Over the last decade, Paul Smith has become an expert in business storytelling. Interviewing hundreds of CEOs in dozens of countries, he's learned the keys to building a story that sells—and one of them, he tells SchoolCEO, is emotion.
"A story is nothing more than a fact plus an emotion," Smith says, referencing novelist E.M. Forster. He goes on to share one of Forster's examples: "If I were to tell you that the king died, and then the queen died, that's just a fact. But if I were to tell you that the king died, and then the queen died of grief—now that's a story."
So often, when districts share what's going on in their schools, they focus on the facts: the success of an event, the details of a new initiative, or the results of a board meeting. But they miss the emotion: the driving force that turns fact into story.
Last year Dylan Rheker, a student battling cancer and other disabilities at Michigan's L'Anse Creuse Public Schools, won the Macomb County Volunteer of the Year Award.  Those are the facts. But the way the district chose to report those facts made it a compelling story. Look at the opening of this article, "A Hero's Happiness," in the district's magazine, Living L'Anse Creuse:
Theresa Rheker and her husband tried to smile through the tears streaming down their faces. They watched their 14-year old son Dylan receive a standing ovation as he walked across the stage to accept an award nobody saw coming.
This was one of "those" moments. A moment Theresa says she would bottle up and play over and over if she could. This was a moment that personifies why Dylan is his parents' hero.
No matter how interesting the facts of a story are, it's the emotion that draws us in—because it's the emotion that allows us to relate. But a story doesn't have to be as dramatic as overcoming disease and disability to capture our emotions. It can be as simple as excitement over a cherished school tradition.
Since retiring from a 34-year career at one of Colorado's leading news stations, Jack Maher has put his journalistic skills to use for public education. Now, he's the sole videographer for Jeffco Public Schools, a district of 86,000 students and 15,000 employees. As he crafts stories for the district's Emmy-nominated YouTube channel, JPS-TV, he's looking for emotion, too. He tells us about a fairly simple shoot, capturing a first-day-of-school tradition at Van Arsdale Elementary: the launch of a model rocket painted to look like a #2 pencil.
"They've been doing this for years, but you just would not believe how excited the kids and the staff were to see this little model rocket shoot up," Maher tells SchoolCEO. "When you think of public school, it was all there. It was the excitement of the first day. It was pride. It was love, love for their school."
But you don't have to take Maher's word for it. You can hear it in the little voices counting down to blast off, see it in the faces gazing up at the sky. By highlighting those emotions, Maher's taken a fairly universal event—the first day of school—and made it something special: a story.
Authenticity
Dr. Frank Rose, who teaches a seminar on storytelling for Columbia University School of the Arts, believes authenticity is one of the keys to great storytelling.  "People need to put themselves in the position of the reader," he tells SchoolCEO. "People who are in positions of authority tend to think about what they need to communicate rather than what the audience wants to hear. So as a result, you see people communicating in a way that they would never respond to themselves."
Your community doesn't need your flashy, overproduced highlight reel—no matter how much you'd like to show it to them. They need the honest stories of what's happening in your schools. If you want to win with story, that's what you need to give them.
"That's really the key to authenticity," he says: "to look at everything you're saying from the audience's point of view."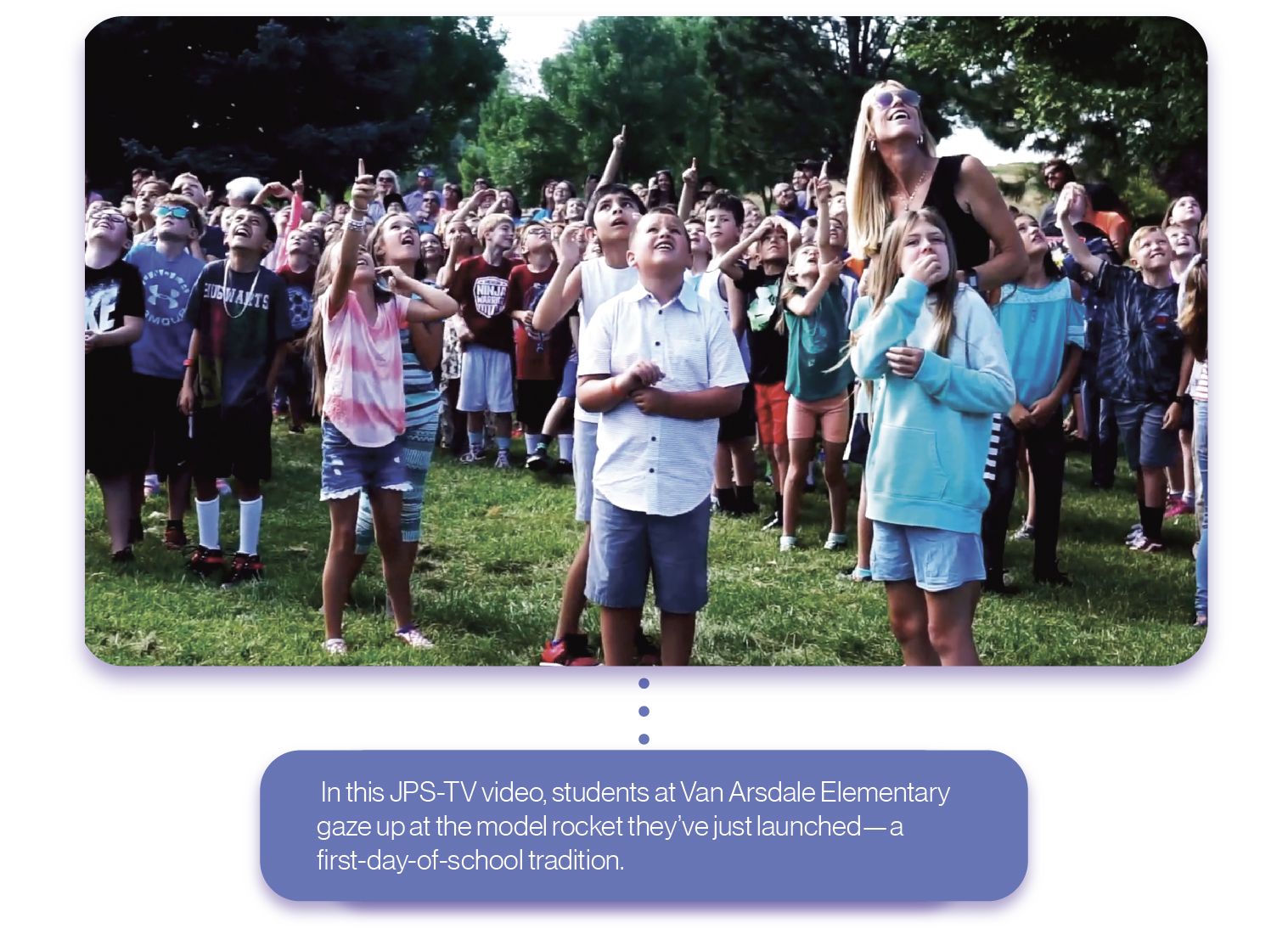 Despite his background in video, Maher has found that at Jeffco, sometimes less is more. While in past years he's filmed superintendent messages with plenty of polish—fancy backgrounds, three-point lighting—now, he's decided that's "too slick."
"This school year, we're just telling our superintendent, You're at schools every day. Take your iPhone and just do a selfie video with a teacher. It may not be the best quality, but let's see you out there in the raw, interacting with your employees and your community," Maher says. "And boy, has it been a hit. It's very direct, and it's very honest, very authentic. It's something any superintendent could do in any district."
As you get started with storytelling, remember to make your content a window into your schools, not a glossy filter. "As educators, we have this really special privilege of seeing kids at their best," says Maher. "You want to give your community a window into that world."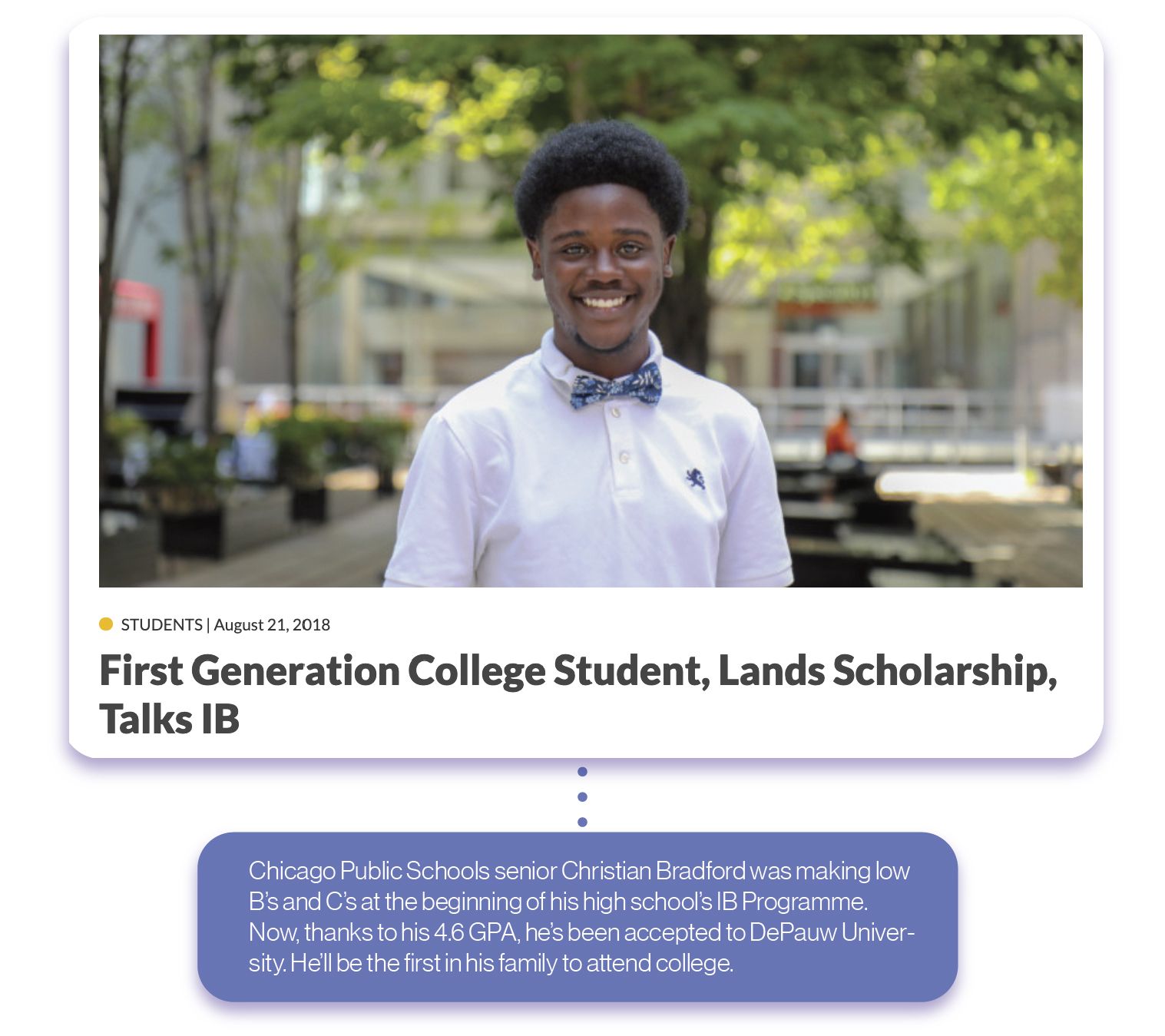 Transformation
Think of the stories that have most impacted you, and you'll probably realize they all deal with growth and change. The Beast, thanks to true love, turns back into a human. The Little Mermaid trades her tail for legs. Scout Finch and Holden Caulfield move from childhood into adulthood. Ebenezer Scrooge becomes a better man. This is a principle emphasized by The Moth, a nonprofit group that shares the power of personal storytelling through workshops, live events, a podcast, and even a Peabody Award-winning Radio Hour.
"In all our stories, there's an element of change—the way the storyteller has changed since the beginning," says Hanna Campbell, Senior Manager for The Moth's Education Program. "It can be a huge change or a small change, but that's just as interesting to us as human beings. We want to know how the person in front of us has become who they are. We want to see that transformation."
As a school district, you'll want to highlight two main types of transformation in your stories: changes you make to your schools in order to improve outcomes for kids, and changes your schools are making in the lives of your students.
Colorado's Boulder Valley School District (above) showcases the exciting changes made possible by a recent school bond measure. "BVSD completed $75 million of work on 14 different projects, improving learning environments and extending the useful life of buildings in a variety of ways,"the story reads. In a feature from Chicago Public Schools (right), graduating senior Christian Bradford credits his high school's IB Programme for his college preparation—he's the first in his family to attend. Bradford, who was making low B's and C's at the beginning of the program, got into DePauw University with his 4.6 GPA.
Changes like these are easiest to convey in a longform story on your site—but with a little extra planning, you can use social media to tell them over time.
For example, say your district is attempting to pass a bond measure to build a new STEM facility. Once you've finalized the plans for the building, post the concept art on your Instagram. When the bond passes, make an announcement on all your social media platforms. Share photos along the way of the groundbreaking, the construction, the final ribbon-cutting. When the time comes, share photos of students finally using the facility.
Taken individually, none of these posts makes a complete story—but together, over months or even years, they culminate to tell a story of transformative growth.
This approach to storytelling doesn't just work on capital projects. Follow the progress of your Quiz Bowl team as they prepare for a big match, the band as they practice for the homecoming halftime show, or your football team as they train for the championship. When you finally share these successes, they'll mean that much more to your audience—because they've followed your progress along the way. They saw where you started, and they've seen the transformation.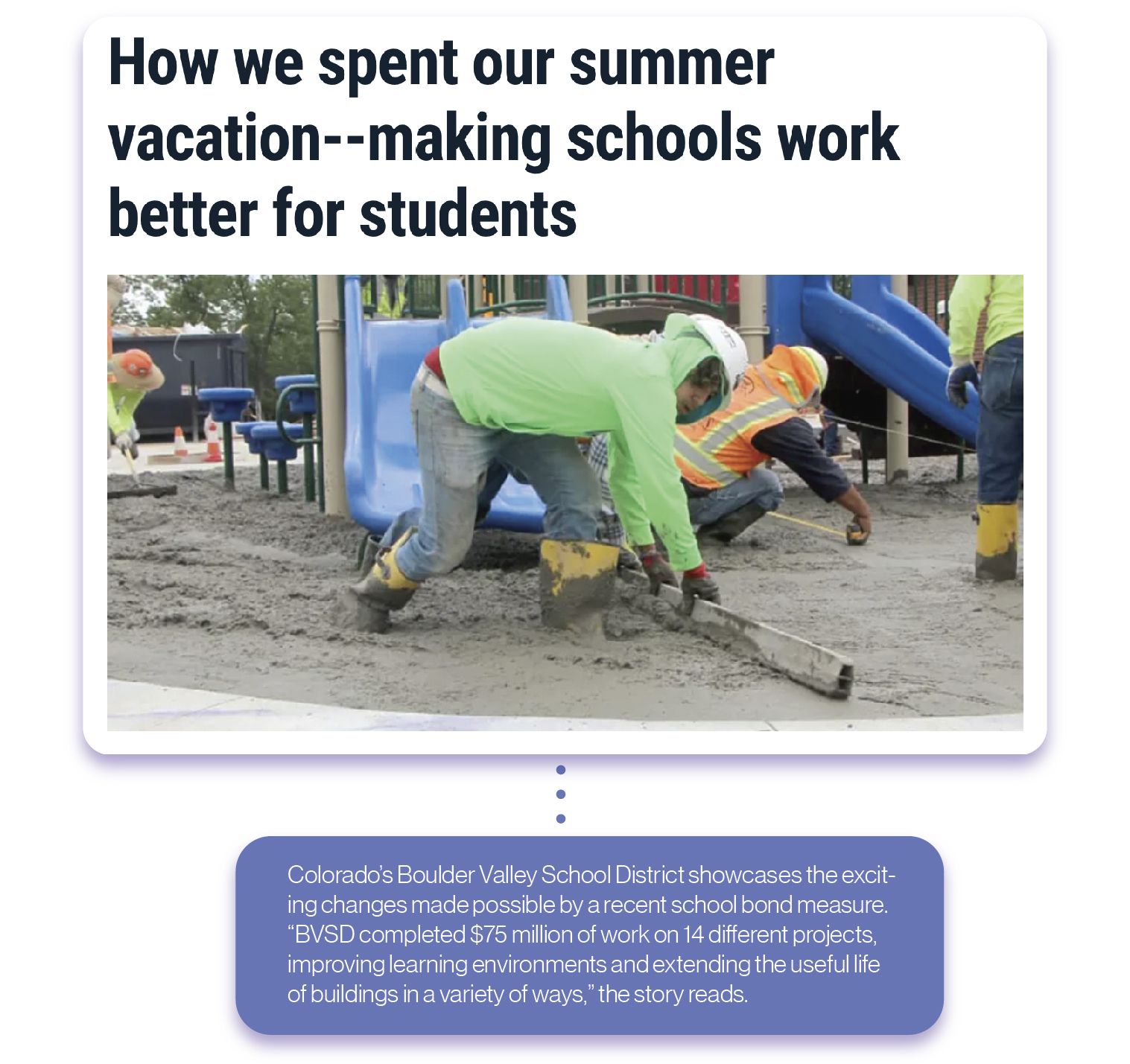 How do you find great stories?
Work with a team.
At The Moth, the creation of stories is often a collaborative process. When she's conducting workshops, Campbell finds that a group setting enhances her participants' brainstorming.  "Sometimes in our culture, when we're going to work on a story, we go and we sit by ourselves and we write it, but sometimes it can be extremely generative to do it in community," she tells SchoolCEO.
In a large district, working with a team is practically necessary if you want to find stories across all your schools. So build a group that can help you extend your reach—whether that means hiring a full-time communications team, consulting regularly with your building-level leaders, or creating a group of particularly story-savvy teachers and staff members.
Once you have your team, find outlets for collaboration and story-sharing. Smith suggests "story circles." Once a month, invite different people to a lunch where "you're only allowed to do two things: eat and tell stories." You could also make story-sharing a regular part of your all-staff meetings.
Whatever strategy you choose, know that while you may be your district's "storyteller-in-chief," you don't have to find stories by yourself. Use your resources—especially the people around you.
Build a story wish list.
As you're looking for stories to tell, go back to your district narrative. What values stand at the center of your overarching story? Maybe you're proud of your commitment to innovation, your focus on students' emotional wellness, or your determination to push learning to its limits. What kind of stories would best promote those values?
Do some brainstorming around that question. Are the girls on your volleyball team exemplars of grit? Does the improvement of your high school choir show off your district's growth mindset? Once you know what types of stories will best advance your vision, don't be afraid to make your wants known. "Make a list of the type of stories you wish you had, and ask for them," Smith tells us. "Once people know you're looking for particular stories, you'd be surprised how eager they are to tell you."
Empower your staff to tell their own stories.
Kindergarten teacher Lauren Neumaier, an employee of Arizona's Crane Schools, has found a creative way to make her students feel safe and in control. Each day, as kids enter the classroom, they get to pick how their teacher greets them. By pointing at a chart on the wall, they can pick a dance, a hug, a high five, or a fist bump.
When Neumaier first recorded this daily ritual, she only meant to show her principal, Laura Hurt. But Hurt was so touched by what she saw that she shared the video on the school's Facebook page—where it's since received more than five million views, 63,000 likes, and 23,000 shares.
This is exactly the kind of story Crane Superintendent Laurie Doering and Executive Director of Human Resources and Communications Lupe Lewis had hoped to uncover with their recent emphasis on staff-wide storytelling.
"Our school environment just naturally has a lot of amazing things happening on a daily basis, and we find our staff sometimes takes them for granted," Lewis tells SchoolCEO. "Before I worked for Crane, as a parent, I didn't really know what was happening after I dropped off my daughters at school other than traditional forms of communication—flyers, emails, occasional social media posts." Parents were only getting announcements and updates, not stories from the classroom. "So we wanted to start showing off what's happening inside the walls of our schools during the day so that parents feel more connected," Lewis says.
To accomplish that goal, Doering explains, "everybody has to market"—everybody has to be a storyteller.
For the last two years, Crane has empowered their building-level leaders with monthly trainings on marketing. And in return, Crane's principals are "feeling comfortable and creative," Doering says. "It's a risk," she adds. "Sometimes you're wondering, Is this worthy of posting? But we're just saying, Take the risk. What's the worst that could happen, you get two likes versus 100?"
Doering and Lewis aren't just leading the storytelling charge at Crane. They're giving their staff the skills and permission to feel confident about the content they're posting—and stories like Mrs. Neumaier's are the payoff.
How do you tell those stories well?
Show, don't tell.
Just google "storytelling tips," and in almost every article you click, this classic missive will turn up: "show, don't tell." In the words of Anton Chekhov, "Don't tell me the moon is shining; show me the glint of light on broken glass." Or, in other words, "Don't tell me your schools are innovative—show me kids programming robots in your STEAM lab."
When you sit down to work on a story, think about the details that will bring your work to life. Writing about a decisive basketball win? Give us a dramatic recounting of the moments before the final buzzer. Tweeting about how much your teachers care? Show me a photo of a student hugging a staff member.
In the context of schools, showing is about more than just telling a compelling story—it's your proof that you're following through on your messaging. It proves your authenticity. At Crane, Lewis and Doering know this well.
"We're not using keywords, we're not using buzzwords," Lewis says. "We're not just telling you we're innovative and creative in the videos we release—we hope you capture that through what you're watching, what you're feeling. It has to be real. We have to prove that it's actually true."
Keep it simple.
Maher's best advice for school storytellers? "Apply the KISS rule: Keep It Simple, Stupid," he says with a laugh. It goes back to authenticity—you don't have to overthink your content. "If it's back-to-school and the kindergarteners have a sweet welcome song, use your iPhone and get that welcome song recorded," he says. It can be that easy.
At The Moth, Campbell also finds that her workshop participants tend to make storytelling harder than it has to be. "Typically I find that the first version is super long," Campbell tells us. "Folks feel like they need to give you all this context of who they are and where they were for their story to make sense. So the first question I ask is, What is this story really about? Then we can focus on which details are essential."
As you work on your story—whether it's a Twitter thread, a Facebook post, or a blog article—go back to your district narrative. Which ideas are you using this story to reinforce? Keep those at the forefront of your mind, only including details that serve that overarching theme.
You're also shooting for simplicity in the way you present your content. "Write like people talk," says Maher. "I think in education, sometimes the 'eduspeak' can really muddle the messaging. So step back after you've communicated. Is this authentic? Do I sound like a person talking to a person over a cup of coffee? If not, if it's laced with eduspeak, you need to start doing some editing."
Look for dynamic visuals.
Scroll through any school district's social media—perhaps even your own—and what do you see? Posed photo after posed photo: students holding up awards, teachers standing with their classes, the football team gathered for a group shot. The problem with these photos is two-fold: they're not very interesting, and even worse, they're not unique. Every other district is posting similar photos, meaning that your posed content won't stand out from the crowd.
As Jeffco's videographer, Maher is bringing skills from his newsroom past into his classroom shoots. He says he tries to avoid what he calls "BOPSA": code for "bunch of people sitting around." "I really try to find those stories that have a really cool visual component," Maher tells SchoolCEO.
Next time you're tempted to take a video or photo of some BOPSA, think again. Instead of posing an awards photo, try to catch a student's authentic reaction to receiving her certificate. Instead of a yearbook-style shot of the football team, get a shot of teammates hugging after the final touchdown.
Don't be afraid to get started.
As you're getting started with storytelling—and even once you're a pro—it's easy to get paralyzed by perfectionism. You might want your article, your Instagram, your Facebook post, to be perfect right from the get-go… making even the thought of getting started intimidating.
"It's all too easy to censor yourself," Rose says. "You end up staring at a blank page for a long time. But it's better just to put down what you want to say with a minimum of censorship."
You're not going to get your story exactly right on the first try—but that's okay. Later you'll rewrite, recut, remove extraneous details. You'll show your drafts to colleagues you trust and get their opinions. But for now, you just have to string one word, one shot, one photo after another. You just have to get started.
Subscribe below to stay connected with SchoolCEO!