Super Team
Teamwork as an Essential Element of a Great Website Launch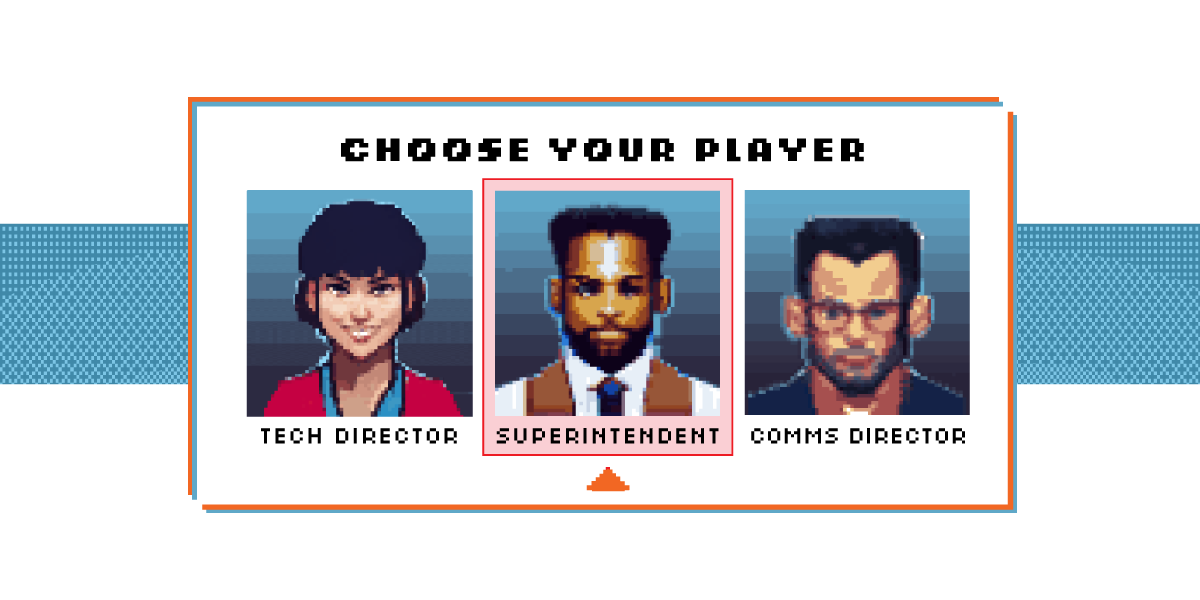 There are few projects more exciting—or more stressful—than launching a new school website. For a brief moment, the possibilities seem endless. Better navigation, more user functions, pages for every classroom—what can't your envisioned new website do? But getting from the initial brainstorming session to the website launch can be a long, tedious process, involving a lot of well-organized coordination among many professionals and teams.
But how do you get there, especially with so many tasks to be done and such high stakes? It's all about teamwork. Moving forward not only requires a lot of hard work, but also communication within a team that understands their roles, responsibilities, and limitations.
The best school websites reflect the strengths of the districts that build them. Laying the groundwork for strong coordination within your team is the first step to ensuring your website is everything you and your community have dreamed of.
When to Start Planning
Sometimes, it feels obvious when a district needs a new website. Maybe the current site is too old to function on mobile or no longer reflects your brand. But other times, a new website has more to do with what's happening in the district. A new website rollout might coincide with some other event, such as an important anniversary or the successful completion of a five-year plan. For example, Texas' Laredo ISD decided to launch their new website with their 140-year anniversary. "We wanted our website to complement the years of culture and tradition that we had established," says Veronica Castillon, the district's executive director of communications and community relations.
Initiating a new website launch usually involves a multitude of stakeholders—all with their own priorities and opinions. The first step in launching a new website is making sure that you, the school leader, understand how each stakeholder group feels about your website—what they like, what they wish for, and what they find difficult to use.
You'll want to learn this information over time through careful listening, rather than through a one-time survey. "We pretty much knew how our community felt about our website and that they wanted a one-stop shop," explains Erica Chandler, director of communications at Affton Schools in Missouri. "We were entrusted with finding a solution that met all of our community's expectations." Once you understand what your stakeholders want from your website, you can begin the process of translating those wants into reality.
Uniting Behind a Purpose
The best teams are motivated by a single purpose—and a website launch team is no different. Before you dig into the specifics of who will do what, it's important to unify behind a single goal or mission for your site. Maybe it's to better facilitate your district's storytelling. Maybe it's to serve as a strong recruitment platform for teachers and students. Regardless of which vendor you choose or what other decisions you make, this consistent guiding mission will be your touchstone as you navigate whatever challenges arise.
Sharing this vision will keep your team unified even when tensions are high and help you navigate minute decisions along the way. When you reach a decision point, consider the question, "Which option best serves our original mission?" This will help you stay aligned to your website's intended purpose—and justify your team's decisions if anyone has questions.
Defining Your Roles
Building a new website is a much bigger project than simply maintaining an old one. It requires close, interdependent work, blurring the "lanes" that normally help keep distinct departments on track. Since the work of launching a school website involves tasks that aren't typically in anyone's job description, you have to set clear roles and responsibilities within your team.

The good news is that if your district site is a team effort—and carefully reflects the needs of all its stakeholders—it's much more likely to win your community's approval. Almost every website launch team will involve at least three individuals or departments: leadership, communications, and technology.
The School Leader
Sometimes leadership is pretty hands-off when it comes to a new website, but in other situations, they play an integral part in cultivating the vision. If you're a school leader, you should think carefully about what role you will take in developing your site and how you'll function within the broader capacity of the launch team. Being less involved isn't necessarily a bad thing—it could help you manage your time more sustainably and show that you trust your communications and technology teams.
However, smaller districts with fewer central office staff members will almost definitely require a more substantial leadership presence in this process. After all, launching a new site is a lot of work for just a few people. In Affton, Chandler expressed that the continued availability of their superintendent during the entire process was very helpful. "Our superintendent was super hands-on, as he is with everything," she explains.
There's no doubt about it—a new website needs a lot of time and attention. However, districts have the resources to hire new people to tackle that work. While your website vendor will likely handle many aspects of the launch, your team will still need people with the capacity and authority to steer the ship and make decisions on behalf of the district. It's your role to make sure the people on your website team have enough time to get the work done while still managing other aspects of their jobs. This means setting reasonable expectations for the timeline of the process, as well as regularly checking in with other members of your team. In any case, clear communication is essential.
Questions for the Leadership Team:
How involved do we plan to be in the formation of the new website?
What are our non-negotiables for the new website?
What central goal do we intend the website to achieve?
How can the school board's expectations be communicated to other stakeholders?
How should progress be communicated to the board?
The Communications Team
It's important to recognize your website as a small piece of a larger brand—and your communications professionals are experts in that brand. They're in charge of making sure the look and feel of the new website fits within your district's broader brand narrative.
In fact, all the content on your website—from photos and videos to articles about alumni—falls to the communications department. Think back to the original purpose of the new site—all of your content should align to this original purpose as well as to your district brand. Comms will also be responsible for ensuring that the website's content is updated regularly. As Chandler puts it, "a website can become a graveyard of information. Our ideal website was a living, breathing space for our community."
There's also a chance that you'll get some negative feedback about your new website, but you can chalk a lot of that negativity up to unfamiliarity. "Change is never easy, and getting used to something new can be challenging," explains Castillon, "but you can't be afraid of making a decision to improve the experience for your community." Come up with a game plan and resources ahead of time to equip staff members to help any frustrated stakeholders navigate your new virtual space.
Questions for the Communications Team:
What narrative or values do we want to emphasize in the creation of the website?
How can we best prepare ourselves to have enough content to update the website regularly?
Whose job is it to keep the website updated, and what are the responsibilities involved in making this happen?
What overall experience do we want all our users—whether families, students, teachers, or community members—to have as they navigate our website?
The Information Technology Team
The role of the technology team is all about functionality. "Our IT director wasn't concerned about the way things looked, but rather that everything was working and integrated the way our users needed," Chandler explains. The technology team will have the best grasp on how your website's previous iterations have been used and what the new site will need to do to serve stakeholders even better.
The tech department also has a big role in making sure the future website is sustainable. While they probably won't be updating content, they will be the ones who understand how a website integrates with other platforms and tools.
Launching a new website can also involve making changes to your Domain Name System (DNS) records. This may sound tricky, but the process is usually quite simple. In fact, most issues are caused by simply being unable to login to the domain hosting platform—especially for folks who haven't had a site refresh in a few years. So all you need to do is track down the necessary login information. For example, if GoDaddy is your domain provider, do you know who has the login credentials? The sooner you find that out, the easier launch day will be.
Questions for the Technology Team:
What information and data can we share about how the website was used previously?
What functionality areas did our previous website struggle with? How can we improve these in the future?
How could our website better support the tools that our educators use?
Understanding what each of these groups brings to the team can help you work more smoothly and efficiently through a potentially difficult process. It also sets you up for success as you prepare for the regular maintenance of a strong, thriving website.
What happens after launch?
Once your website has launched and your community is familiar with its functionality, you can switch gears into maintenance mode. If you've built strong relationships and an understanding of how each segment of your team functions, keeping your site running over time will be that much easier. Maintaining a website is, in most districts, part of the regular scope of the communications and technology teams' jobs. Still, it's good to have a clear plan for how to keep your website the living, breathing space that your community deserves.
A new website is a big deal. Once your website is live and functional, be sure to take a victory lap. Not only have you shifted the way your school community interacts online, but you've also changed the first impression your digital visitors will have for years to come.
---
Subscribe below to stay connected with SchoolCEO!