Dr. LaTonya M. Goffney: A New Way Forward
In Texas' Aldine ISD, Dr. LaTonya Goffney is connecting with her community, creating leaders, and encouraging innovation.
Unlike many school leaders, Dr. LaTonya M. Goffney didn't grow up in a family of formal educators. She lived with her grandmother, who worked as a housekeeper for a local family in Coldspring, Texas. "My grandmother left early; she stayed late," Goffney tells us. "She cleaned, she cooked, and she never complained. She taught me the value of hard work."
Goffney started her career as an educator right there in Coldspring, a town that spans a little less than two square miles. She succeeded as a  teacher, and leadership noticed. Soon she added cheer coach to her rack of hats—then head of the language arts department, team lead, and site-based chair. In each role, she more than rose to the occasion.
"Everywhere I've served, I've been reminded of how important it is to show up and be the best that you can possibly be," she says. "For me, education became an opportunity to give back. If education could change the trajectory of my life, it could also give others a path out of poverty."
In 2017, Goffney was named Superintendent of the Year by the Texas Association of School Boards for her innovative leadership in Lufkin ISD. In 2018, she transitioned to her current role in Aldine ISD, a neighbor of Houston ISD that serves around 67,000 students.
"I would never have dreamed that I would be able to be a superintendent," she says. "But that same work ethic that I had as a teacher, I continue to have. I just try to leave every district better than it was when I got there and do the work that needs to be done."
What growth have you seen in your time at Aldine ISD?
During my first year at Aldine, I focused on looking, listening, and learning. I started to notice a theme of low expectations. In a district with Black and Brown students experiencing poverty, people assumed that lowering expectations would help students. Some didn't want to frustrate students because of their perceived limitations or because they came to school with more baggage. Demonstrating what is possible for students is now our mindset.
At the time, everyone was also looking back to when Aldine won The Broad Prize or when our early childhood program won the H-E-B award. It was important for us to honor the solid foundation that Aldine was built on while staying focused on how we could move forward.
So for my first year, I came up with the hashtag #AllN4Aldine. It gave us a reason to look toward the future and was a unifying message from Day One. My grandmother used to say, "Where there's unity, there's strength." We started with that unifying message. While I was looking, listening, and learning during my first year, we began to formulate our strategic plan.
As we focused on the notion of what is possible, we were able to get parents and community members excited about the work we were doing. They saw we weren't just throwing everything up against a wall to see what stuck—they saw real work that would produce real change over time.
We made sure that change was led by strong leaders. I'm excited and thankful to say that we moved from a C to a B on our state accountability rating. Luck did not raise our rating. It was done through intentional effort. And we're not done yet. That's just a glimmer of our incremental progress.
How have you amplified Aldine's story?
While there were stories online about Aldine's schools, students, and staff achievements, I didn't see many stories about specific district programs, or targeted messages about meeting strategic goals. Aldine is the ninth-largest district in the state, but most people in the area didn't know that fact. I found that employees in our district were working really hard, but unfortunately, they were often working in isolation. Our story just wasn't getting to our community.
One of the first steps I made was getting staff to work together and to share information. Communication is key. The community needs to know about the many great things happening in Aldine, and the choices and opportunities families and students in the district have. We regularly communicate with staff, students, and families. We involve them in decisions and planning. And we communicate the strategic plan, the goals we have achieved, and how we are increasing access to high-quality schools and learning experiences.
We've been intentional about telling our story. Aldine is 73% Hispanic and 23% African American. and about 90% of our students are economically disadvantaged. When some people hear those demographics, they have a certain mindset about our students and district. Our storytelling has focused on the fact that even though our students may be facing more challenges prior to coming to school, school is where the magic happens.
My grandmother used to say, Iron sharpens iron. Since everyone existed in silos before, it has been extremely powerful to see how aligning expectations and telling a unifying story has helped us move forward. Social media has provided a unique opportunity; we've been able to communicate that story not only across the district but also to all of our stakeholders. We've been able to tell families about the work that we're doing and show how we're paving a new way forward.
Being intentional about telling our story and not waiting for someone else to tell it has helped others see the great work happening in our district. We're showing that we're so much more than our demographics.
How are you able to stay connected with so many stakeholders?
I've just always been authentically me. When I first became superintendent of Aldine, I kept getting asked, How are you prepared to lead a large urban district? My thing is that if you can lead in a small district, you can lead anywhere. In a small school district, you have to put a smile on your face, greet Mom and Pop at the grocery store, and explain to them why you made a specific decision.
I'm a country girl at heart, and one thing I know is that when you have good information, you can make good decisions. Starting in a smaller school district, I knew more because I was directly involved in every decision that was made. I knew how to engage and determine what our stakeholders were thinking and feeling, so I was able to make effective decisions. I've carried that mentality into Aldine.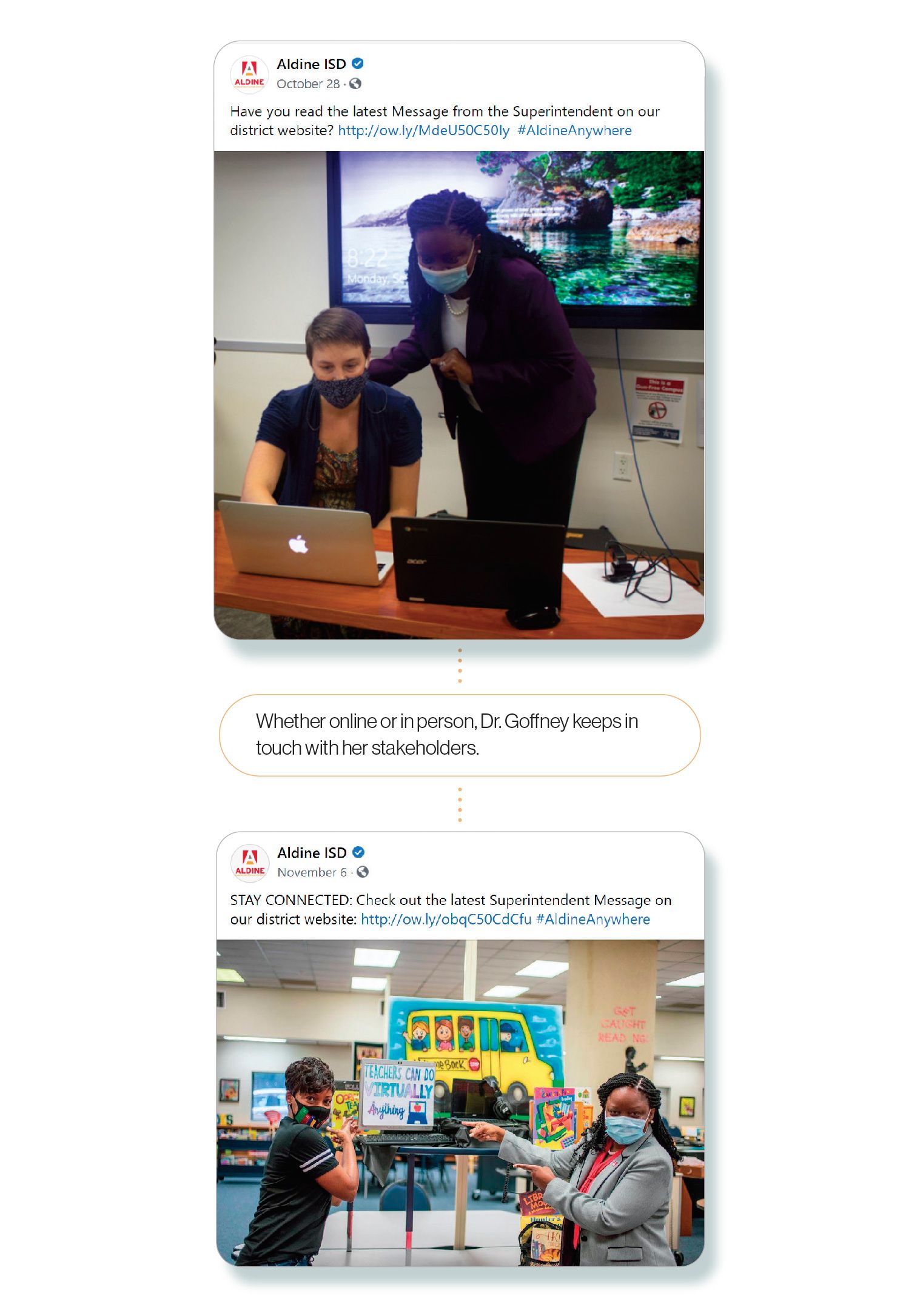 Intentionally taking time to listen to all of our stakeholders has also allowed us to come up with new ways to move forward. If community members or business leaders have any ideas, I've told them: I don't know magic. What I do know is that when everyone comes together, we can do magic. I'm probably more available than I should be, but I do that because it builds goodwill throughout the district. There are times when I make mistakes, so when I own those and communicate with my stakeholders, we're able to move forward together.
How have you been able to develop strong leaders in the district?
Once you have the right people in the right positions, everything changes. I love to ask this question: Would you rather have one mediocre principal and 60 amazing teachers, or one amazing principal and 60 mediocre teachers? When you have amazing teachers with weak leadership, they can't be amazing. But when weak teachers have an amazing leader, they're able to rise to the occasion.
I can't stress enough the importance of leadership. We all want amazing teachers, but I don't think it happens by chance. Amazing teachers are fostered by highly effective leaders who can motivate and inspire them to want to do what's best for their students. You cannot underestimate the power of a leader.
In 2019, we were selected as one of six Texas school districts to participate in the Holdsworth Center's five-year partnership. The program focuses on growing a pipeline of inspiring leaders in their partner districts. Aldine was known for hiring from within, but now we focus on hiring the best person for the job—whether internal or external. I think it's made a world of difference as we're building leadership capacity in our district.
We are also reorganizing our staff to make sure we are as effective as possible. We established a Director of Leadership Development and Chief of Schools specifically to help, support, and empower principals. We know that you can't just have a highly effective or amazing principal alone. They have to have a support system of their own so that they can support our teachers.
We're really proud of that work. Through Holdsworth, we've been able to come up with our leadership definition. We desire to connect, inspire, and ultimately make an impact. We have to be focused on those qualities—not just focused on a position.
I truly believe that our district can move forward and improve faster with good leaders. With 82 campuses, we need people who want to be in leadership and really want to make a difference. You have to know how to love and inspire your teachers. People who fit that description—they're the ones making the biggest difference for our students, and we can't afford to lose good teachers because of bad leadership. That's our focus.
How is Aldine innovating?
We're very proud of our ACE (Accelerating Campus Excellence) schools. Using the ACE model, we took two of our lowest-performing campuses and staffed them with our most highly effective principals and teachers. Those schools also have their own family and community engagement pieces, social-emotional learning supports, instructional supports, and an extra hour of instruction in the school day.
Then we poured in additional resources through philanthropy. Now, our ACE schools outpace all of our other schools by all measures, whether it's improved student outcomes or student engagement—even during the COVID-19 crisis. So we're certainly very proud of that work­, of demonstrating what is possible. No one is wondering if Black kids, Brown kids, or poor kids can learn. We're proving that when you have the right people doing the right work, it's amazing.
But it's not just the ACE schools. A couple of years ago, we opened the Rose Avalos P-TECH School. At this campus, students will not only graduate with their high school diplomas, but they'll also earn either workforce certificates or associate degrees at the same time. We were having trouble getting bilingual teachers, so now we are growing our own at Avalos. They'll be able to leave Avalos P-TECH, go to college, and then have a job in Aldine ISD. That's powerful.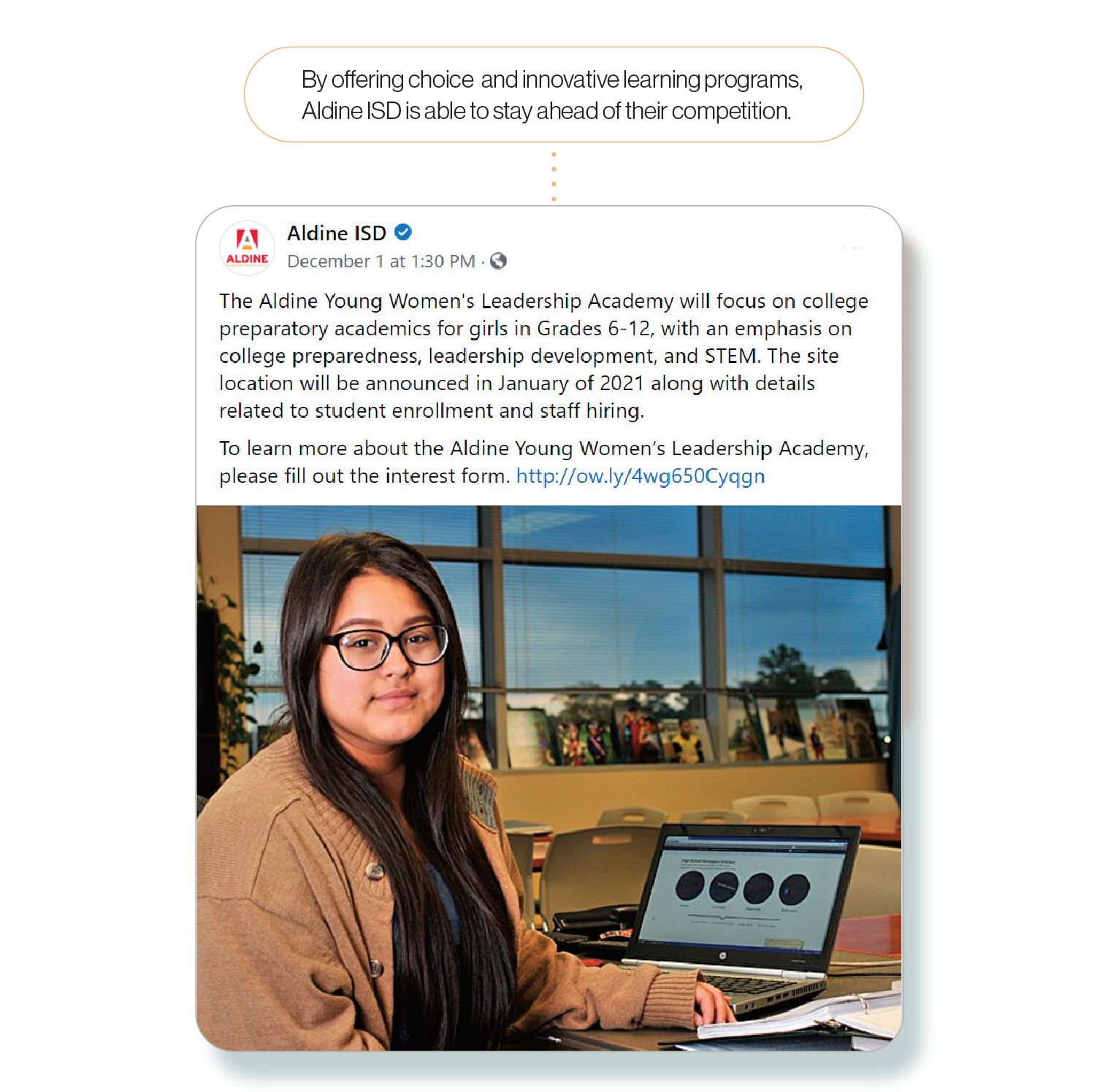 We also launched a two-way dual language immersion program. It is a hit with both our native and non-native speakers. It's so important to be bilingual, bicultural, and biliterate. We're very proud of that. This fall, we are launching a Young Women's Leadership Academy. On top of that, Aldine ISD has quite a few families who are new to the country, so we're launching a Newcomer School that will feed into a high school for dual language.
At Aldine, we're always looking at where we are and how we can strengthen our programs, providing more choices for our students. We want to be the best choice for the 67,000 students who reside in these 111 square miles of possibility. We don't want them to have to look at other opportunities through another district, charter, or private school.
How do you think about innovation—is it a mindset or a skill set?
I think innovation is driven by urgency. It's about creating the urgency to do what's necessary for our students and not just do what we've always seen done. When I'm doing the work, I'm not thinking of innovation just for innovation's sake. I'm thinking of changing a life, motivating a young mind, or providing a choice for our students. That's the urgency that drives innovation. You definitely have to be clear on the why; you've got to get out of your head and give your students what they deserve.
One of the things that I used to ask quite often at principal meetings was: Would you want your own kids in your school? It was evident which staff members did, because they actually did bring their kids to their schools. But most of our teachers, probably 90%, drive in from a suburb and send their children to a different school. If your campus isn't good enough for your own kid, it's not good enough for anybody's kid. I need teachers and administrators manifesting schools that are good enough for their own kids, which makes them good enough for every kid.
This has been a tumultuous time. How have you adjusted your leadership?
In March of 2020, we began dealing with COVID, and in May, we saw the killing of George Floyd. We all watched that eight minutes and 46 seconds of video. For a moment, we were all able to say that Black lives matter. Within weeks, it was gone; it became political when it shouldn't have been. But as people were calling and asking what we were going to say, it became important for me to think about what we were going to do. Just like COVID-19 exasperated the digital divide, the killings of George Floyd, Breonna Taylor, and others exasperated some of the racial injustice that we knew existed.
Perhaps one of the most powerful things I did was meet with a group of Black male leaders in our district. I just listened and said, What are some things that I can do as the superintendent? I didn't want to just talk about it. I listened for two hours and took notes, and thanks to that conversation, we took some action. We ended up having a summit for male high school students. Male community leaders opened up a dialogue with these young men. They talked through hopes and fears, careers, relationships, education—anything on their minds. It gives me goosebumps thinking about it now.
When I think about our strategic priorities, I'm also proud of our focus on literacy. During the same meeting, I had a high school assistant principal tell me about a student who was having discipline issues. The assistant principal pulled the student's cumulative folder and saw that the young man had been struggling with reading for years. The student started getting in trouble in the third grade. What I know is that when you dislike school, get written up, and spend more time in out-of-school placement, you have an increased likelihood of having some type of encounter with the police.
As we thought about both pandemics, we went back to our unifying message, our vision, and our strategic priorities. The one gift that we can give students is to ensure that they can read on grade level. It's ignited a focused attention on getting the work right, educating kids, and making sure that we're calling inequities out while moving forward.
We assembled cross-sections of people from throughout our district to create a think tank on how we can improve Black student outcomes—a BSO group. It's been powerful as we think about our own orthodoxies and rules, like why kids wear their hair a certain way. Our Black students only make up 23% of the district, but they receive 70% of discipline infractions. We've been looking at ourselves in the mirror, peeling the onion back, and asking ourselves, How do we move forward?
We've never lost sight of what I promised our community in June: Aldine ISD will be a place where all students are heard, are safe, and can thrive. I meant it when I wrote to our stakeholders that we would address academic achievement, focus on literacy, and implement a multifaceted approach to ensuring equity across our schools.
Are you comfortable sharing your own story with your team?
For a while, I felt this sense of shame. I was never embarrassed about how I was raised—it just wasn't a source of pride. My mentor, the late Dr. Susan Simpson Hull, called me right after I won the Texas Superintendent of the Year award. She was one of the few other women to win that award, and she told me, When you speak, people are going to listen now. Make sure you share from an honest place and share your most authentic self because that information is going to make a difference.
After that conversation, I had the chance to speak in front of the State Board of Education. Typically, I would've just talked about the power of education, but I remembered my conversation with Dr. Hull. It was an opportunity to show what education can do.
So I shared my story. I talked about how my mom gave birth to me when she was 15, how I never knew my father, and how I grew up in an environment of abject poverty and horrible abuse. But when I went to school, I had teachers, counselors, and principals who cared about me. It was my testimony of how education changed my life.
I think my story resonates with people in that we don't always have to put on airs. There are times when we overcome a difficult journey and want to forget about it. But it's important to look back and share because there are people going through similar challenges.
It doesn't matter where you start. If you get your education, everything is possible. You may be going home to a place that doesn't have indoor plumbing; your parents may be working as housekeepers for other families. But if you get your education, you won't have to have that same life. You can graduate from high school with choices and opportunities.
---

SchoolCEO is free for K-12 school leaders. Subscribe below to stay connected with us!