SXSW EDU x SchoolCEO: Online Gaming in the Classroom
Gerald Solomon and Laylah Bulman show us how the North America Scholastic Esports Federation is bringing play with purpose to schools around the globe.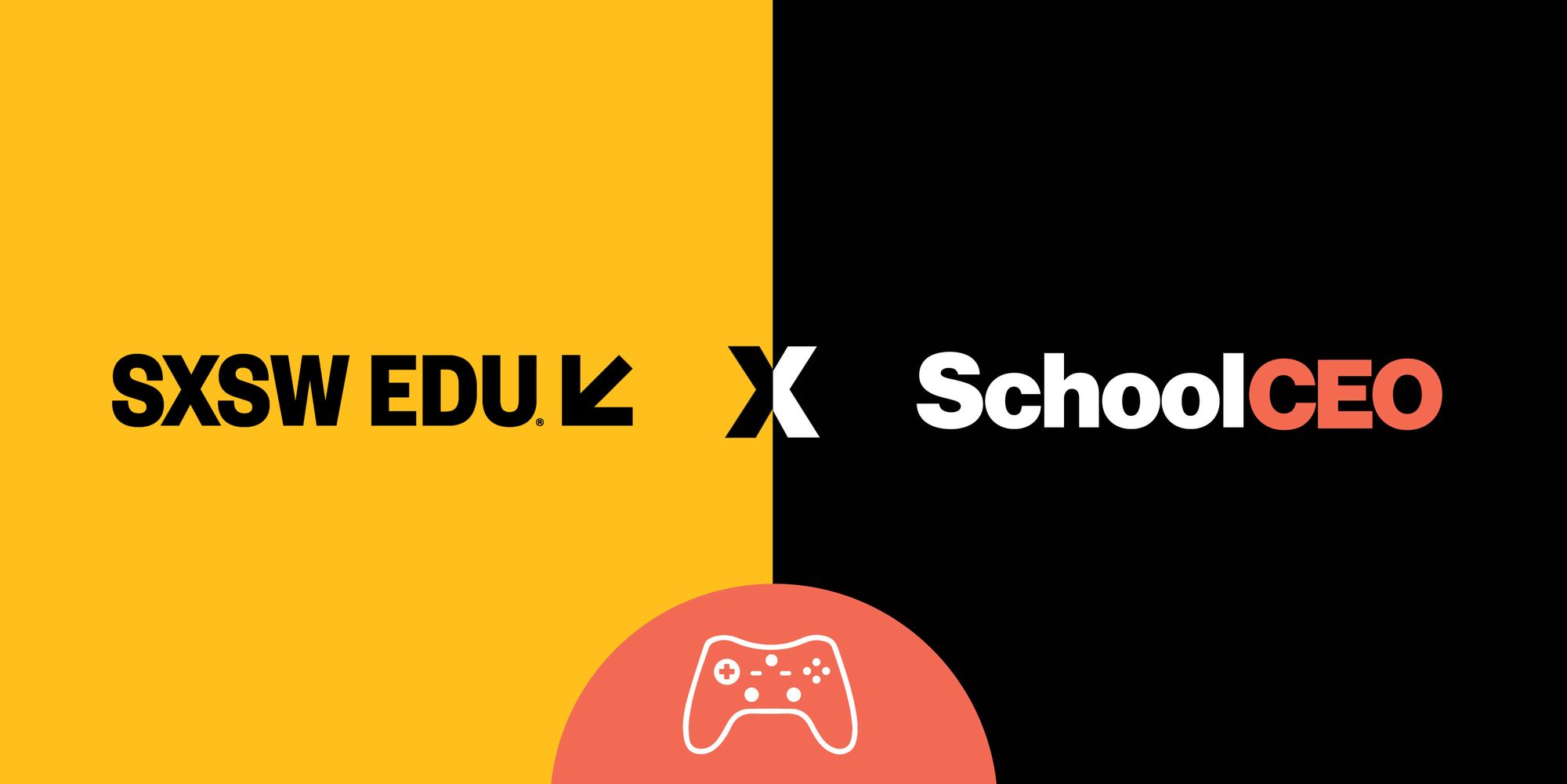 We know video games haven't always been an educator's best friend. When they aren't distracting students in the classroom, they're depriving them of sleep at night. But through the North America Scholastic Esports Federation (NASEF), online gaming is now playing a groundbreaking—and highly academic—role in classrooms all over.

---
NASEF is funded by the Samueli Foundation, whose Executive Director, Gerald Solomon, helped start the STEM Learning Ecosystems Initiative. This project seeks to reinvent how kids learn, how systems educate, and how the workforce is developed. "About two years ago, just by happenstance, we learned there was this thing called esports," Solomon tells us. After looking at the numbers, he realized that gaming could be a perfect Trojan horse for school kids. "If we can let students learn without thinking they're being taught, then we're going to re-engage a whole slew of kids who see no value in education anymore, who see no real-world relevance in what they're learning," he explains.
After launching, the program became so popular among California high schoolers that there was a demand for middle school and CTE curricula as well. "We now have full state credentials for all curriculums for high school, middle school, and CTE. And it's 100% free to every school, every afterschool program, every youth development organization, and every library in North America," Solomon tells us. "Because that's who we are—our return on investment is the impact on kids. It's not in our pocketbooks.
But that's only the beginning. Since launching just 18 months ago, NASEF is now in 48 states with nearly 10,000 students in almost 800 school clubs. And, as a result of its success in the U.S., NASEF has recently signed MOUs with Mexico, Japan, the British Esports Association, and will be working with Israel next. "We're going global," Solomon says.
He gives much of the credit to Program Director Laylah Bulman, a former principal who knows a lot about making learning fun. She worked for LEGO Education to implement hands-on instructional systems across the Southeast and is also the director of the Florida Scholastic Esports League. "What Laylah has done in Florida has become the model for what we're doing across the country," Solomon explains.
"The great thing about our curriculum is it's extremely flexible and highly scalable," Bulman says. "It looks different from class to class, and it reflects what's happening in the community." Solomon adds that some people call it a "scholastic playground," but stresses that their approach focuses on learning first and foremost. "It's really about how you connect passion and play with purpose," he says.
Not Just a Game
NASEF's curriculum is a set of nearly 40 modules, all regarding different aspects of four major domains: Entrepreneurship, Content Creation, Organization, and Strategy. "If you think of a sports team, you need event planners, you need social media experts, you need web developers and data analytics—that's our curriculum," Solomon explains. "But we tie it in through gaming so kids can have fun learning."
"The modules are all aligned to jobs within the esports industry," Bulman says, noting that as careers change, their modules will follow. It isn't just about teaching kids to be competitive gamers—players are actually a minority in the program. Learning comes first, so there's no play during the school day. "That's done in clubs," she notes.
Organizing modules into these domains helps teachers utilize the material and integrate it into their own lesson plans and teaching styles. NASEF competitions, which take place only after school, also involve every student, no matter their area of study. "Our tournaments don't look like traditional esports tournaments," Bulman says. "Teachers want to physically see students making artifacts of work and examples of their web pages, merchandise, ecommerce sites, or strategy and data analytics." During a competition, students actually gather in quadrants around a game player with surrounding examples of their work, like fan art on easels. "And they love it," Bulman adds.
"It's an equity issue," she says. "If you have an esports class, tons of kids want to be in that environment but may not be gamers. The after-school club portion is ample opportunity for kids to express their interests, explore work, hang out with one another, and find a cool space in their school."
NASEF also finds ways to open up the world of gaming to students who can't afford to play the same way as some of their peers. "Kids who are playing League of Legends usually have to pay to unlock more characters," Bulman explains. "We provide it unlocked. That's huge for kids. They can explore all these characters that otherwise would take them hundreds of hours a day to unlock. Here they can explore if they like gaming, they can get better at gaming, or they can just run the club."
And while you may expect esports to appeal mostly to boys, many programs are seeing girls step into various roles. "We have a lot of girls who are gaming, for sure," Bulman says. "But in terms of leading, we're seeing girls run these clubs. In fact, the two leaders of the University of Central Florida esports teams are girls—which reflects what we see in K-12."
The Samueli Foundation gave a three-year grant to an outside research company to study the impact of NASEF's curriculum, and the results couldn't be a stronger endorsement for scholastic esports. "The data is off the charts as it relates to social-emotional learning, communication skills, critical thinking, you name it—all the characteristics you want to see people develop," Solomon explains.
Because of widespread school closures surrounding the COVID-19 outbreak, NASEF has recently had to pivot their program online—but they've quickly formed unique partnerships to keep learning fun and fruitful. "Typically, we have teachers in schools activate clubs, because our purpose is to have kids getting together," Bulman explains. "Right now, because everyone is dispersed, we've opened our materials to various streams for kids to learn things like content creation."
"For the next couple of months, we've created a theme called From Competition to Community," Solomon says. "We're giving all the materials out for free. And with the help of Twitch, Microsoft, Flipgrid, and Earpod, we're creating daily activities—45-minute sessions with 15-minute health and wellness breaks everyday—and we're opening that up to everyone. We're doing trainings on everything from how to become a club to how to use Minecraft in a way that deals with economics to COVID-19." NASEF has also set up a free professional development channel on Zoom for teachers who preregister, along with a channel for kids to learn how to collaborate on projects and play games together from home.
For NASEF, it all comes down to providing free, equal access to any student, especially those who may otherwise be disengaged or disinterested in school. "Esports brings kids together in a safe, welcoming space where they can not only share what they're passionate about through play, but also explore ideas and careers that are going to be highly relevant in their futures," Bulman says. "This is not about game time," Solomon adds. "This is where kids are. Go to where they are, speak their language, and do it through an academic lens. Be intentional about inclusion and diversity in how you bring kids together. When you do that, and you don't prejudge, and you give kids the opportunity to build their own community—the world is their oyster. It's amazing what they can create."
For more information on how to bring NASEF's curricula to your schools, visit esportsfed.org.

SchoolCEO is free for K-12 school leaders. Subscribe below to have a digital copy of the most recent edition of SchoolCEO sent to your inbox.