Aurora Meyer: Crafting Meaningful Connections
Aurora Meyer shares with SchoolCEO how Columbia Public Schools approaches communications in new and old ways in order to craft meaningful connections.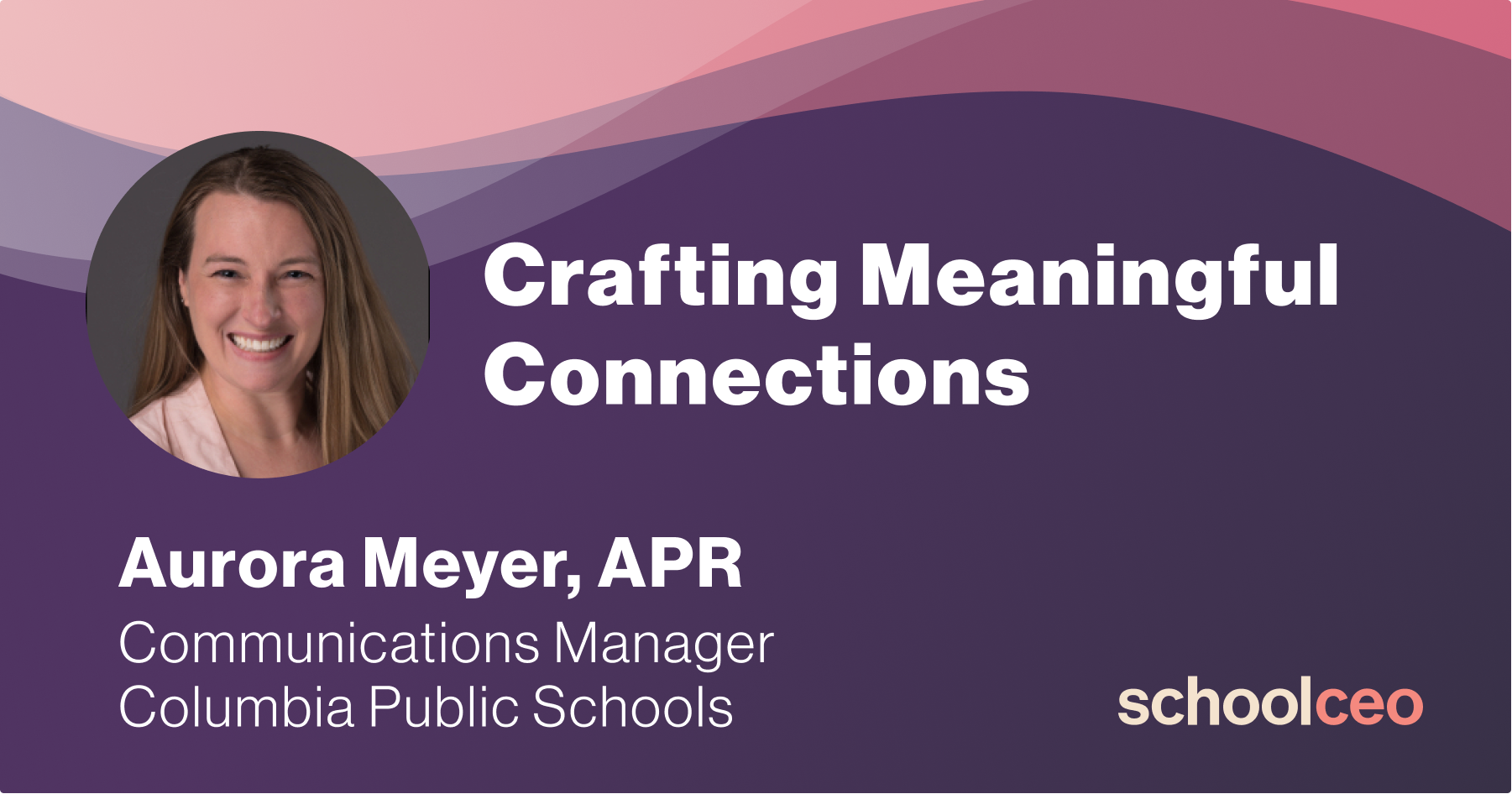 EPISODE SUMMARY
What role does print media play in the age of digital communication and social media? What is the role of a district in communicating directly with families? How can a community stay informed and in-touch with its schools year after year?

Aurora Meyer answers these questions and more as she shares with SchoolCEO how Columbia Public Schools approaches communications in new and old ways in order to craft meaningful connections. Join the conversation...
EPISODE NOTES
In this conversation Aurora Meyer at Columbia Public Schools in Missouri explains and explores a different approach to their district communications including rethinking the role of social media, the value of print communication, and promoting the very best of your schools with the larger community. We discuss the importance of establishing a connection over specific data and metrics.
Aurora Meyer is the President of the Mid-Missouri PRSA chapter, APR Chair for the Public Relations Society of America (PRSA) St. Louis Chapter and previously served as the Mid-State Director for the Missouri School Public Relations Association. She currently serves as the Communications Manager for Columbia Public Schools.
Over her 19-year career, Aurora has developed an impressive track record of increasing both the size and engagement of relevant audiences and campaign outcomes by using analytics to guide strategic decision-making. She is recognized by her industry peers with multiple awards for social media strategy and campaigns in addition to a MarCom Gold award in 2019 and several National School Public Relations Association awards for her work in 2020 and 2021.
Aurora is a regular speaker and workshop presenter on campaign analysis, social strategy, community engagement, crisis communication and analytics. A PRSA-accredited public relations professional, Aurora is entitled to use the APR professional designation.
Follow Aurora Meyer on Twitter at @aurorameyer
EPISODE TRANSCRIPT
Intro Quote: Aurora Meyer (Guest): You try something, you never know what's going to catch on or what's going to make a difference. And don't be afraid to think about: How can I provide people with the tools that I want them to use or with the messages I want them to share in a way that is great and is positive? And yeah, you might not have the best open rates in May when you share your main newsletter, but look at the bigger picture.

Tyler Vawser (Host): Welcome to SchoolCEO conversations. The goal of this show is to help superintendents and other school leaders take control of how your community thinks and feels about your schools and district. I'm your host, Tyler Vawser, and to that end, I sit down with leaders in education and in business to discuss how to better market your schools. Today, my guest is Aurora Meyer, a communications manager for Columbia Public Schools in Missouri.

Over her career, Aurora has developed an impressive track record of increasing both the size and engagement of relevant audiences and campaign outcomes. She is the president of the Mid-Missouri PRSA chapter, the APR Chair for the Public Relations Society of America St. Louis chapter, and previously served as the Mid-State director for the Missouri School Public Relations Association. Aurora is a regular speaker and workshop presenter on campaign analysis, social strategy, community engagement, crisis communication, and analytics.

In this conversation, Aurora explains and explores a different approach to their district communications, including rethinking the role of social media, the value of print communication, and promoting the very best of your schools with the larger community. Most importantly, we discuss the importance of establishing a connection over specific data and metrics.

Tyler Vawser (Host): Let's join the conversation. Well, Aurora, thanks so much for joining SchoolCEO conversations. Really excited to have you here.

Aurora Meyer (Guest): Super excited to be here. Always a pleasure talking with you.

Tyler Vawser: Well, good. Well, I would love for you to tell us a little bit more about you and the story of Columbia Public Schools in Missouri. So do you mind just kind of telling us about who you are and the brand of Columbia Public Schools?

Aurora Meyer: Yeah. So. My name is Aurora Meyer. I'm an accredited public relations professional. That means I have my APR and I love public school. I think public school is critical to so many things in our society, and I think it is really important for moving ideas forward and for bringing the next generation up to speed on all the things that they can know so that they're prepared to change and upend our world in ways we couldn't have even imagined.

I believe in it so much that I support it in as many ways as I possibly can. And I have always been a public education supporter. I'm a product of public education, and I have a degree in journalism. I did journalism for a little while before I did public relations, and all of that storytelling that I learned to do is really what has made this job as rewarding as it possibly can be. Because it's all about stories; it's all about connections. It's all about showcasing the amazing, incredible things that people do.

And so I use those journalism skills every day and I have an incredible videographer and editor that I work with for our cable access channel. And getting into buildings are the days that I love my job the most. I walk into it, and I get to tell the kids: Guys, this is amazing. What you are doing is incredible. You're doing such cool stuff and it's so different than when I was in school and when my parents were in school, my grandparents were in school. And my job is just to show that off.

And usually I tell the kids to pretend I'm not here. I'm wearing carpet colored clothing and I'm blending into the wall and please don't stare at the camera or make crazy arm signals or anything like that because we can't use it and then we can't show off how amazing you are. And that works until about fifth grade. Then, in about fifth grade, I start to get some of those awesome eye rolls.

Usually the students understand that that's the whole purpose that we're here. We're here to showcase the amazing things that they do every day and how all of these things are incredible. And usually they think they're going to be famous, so that kind of helps a little bit. But that's really my job in Columbia Public Schools beyond many of the other things that are part of my responsibilities. But I like to think of my job as telling the story of Columbia Public Schools to our community in the variety of ways that we have to tell that story.

Tyler Vawser: Yeah, that's great. What have you found to be the most effective communication channels from the district level at Columbia Public Schools?

Aurora Meyer: So that's one of those ever-evolving kinds of things. I believe that there should be one truth in terms of reminding our families that if you didn't see it on the district website or you didn't read it in an email from the district, that it has probably gone through a filter, that it has been altered in some way or maybe it's not even 100% true. Like it's not even snowing. Why would you think we have a snow day just because you saw someone recycle a post that we had last year?

So I think that that is really critical when you have a large district. We're about 19,000 students. We cover more than 300 sq mi. We're urban, rural and suburban. And so being able to pinpoint that this is the one place you can go for accurate and up to date information is crucial. We could do a better job of underscoring that with our families. And I think as long as we're reminding them on a regular basis that this is where you're going to get information from, this is where you're going to see the stories of your students in our quarterly newsletter that we mail out or on our CPS TV that we share those stories from. This is the one place you can go for all of those things. We just have to keep reminding them of that regularly.

Tyler Vawser: And when you say newsletter, you're actually mailing a physical copy of the newsletter, right?

Aurora Meyer: Yes, so we do. We mail a physical copy to all of the people who have a registered postal address in our community. And it's a pretty big number. So that's something that we do quarterly. And so we mail one for spring, summer, winter, fall, and then we mail an annual report as well. And my favorite thing is we have an incredible partner that we work with on that. But somebody will come up to me and they'll say: Oh, did you know I read it in the quarterly report? And I'll be like: Yes, I did. Thank you for reading that. Not just tossing it in the recycling.

But it's amazing how many people do still read mail or still look for that in some way. And it's a great way to reach community members who maybe don't have another connection to the district, that they're still going to get at least a piece of information once a quarter and an annual report with details that they might need to know. Maybe they have somebody move in next door who's got a kindergarten-aged child. That's a really great way to make sure that you're conveying the same message in multiple formats.

Tyler Vawser: Yeah, I think it's really interesting, right? A lot of people think mail is dead, right? It has to be digital. That's the best way of communicating. Can you kind of talk just about the decision to continue having a newsletter in the year 2023 that you're physically mailing out? And not just in a small way, right? In a pretty significant way, covering the entire community? What's the thinking behind that or the strategy?

Aurora Meyer: So I was not part of the decision-making process that began this, but it's been going on in our district for quite a while. My role is more to facilitate that. So to make sure that there's up-to-date pictures, that the cool things that are going on in our buildings are making it in. And I think because our community has just come to expect and rely on that, they would definitely notice if it wasn't there. We even did it during the pandemic. We were even able to get out late. But we did get all of our mailings out during the pandemic as well. And that was crucial for reaching some of the community members that maybe otherwise we wouldn't have had access to.

Tyler Vawser: I'm kind of curious to know what's the mix of information, right? Information that is relevant now, but in three months or six months won't be and stories or kind of messages that are carrying the greater purpose of what your school district is doing. What's the balance of that in the newsletter?

Aurora Meyer: So I think it's probably all of it is important, all of it's critical information. But I think when you look at sort of the yearly day-to-day kinds of things, we always have the school year calendar, the bus information, and the lunch information. In our fall issue, we always have updates on important things like winter weather in our winter issue, our summer school information goes in spring, and our details for the upcoming school year go in summer.

And then our annual report is kind of a big brag sheet. So it's all of the high-level, really cool things that are going on in our district. And we always try to weave in where we can—and where it's appropriate—stories. So whether it's the milestone anniversary that we're celebrating as a district this year with 150 years, or it's some students that did a really creative project or took a project that they had in class and as a class grew it into something bigger. It's showcasing that not only does learning happen every single day in amazing, incredible ways, but here's information you need to know, plus a story that's going to maybe help you remember it.

Tyler Vawser: Yeah, that's great. Yeah, I like the brag sheet idea. That's a really smart idea. That's great. You're taking a different approach to communication just with the newsletter and mailing that out. And something you and I have talked about, and one of the reasons I invited you onto the podcast, was that your school district has taken a different approach to social media. And so I wonder if you could share what that approach has been and the thinking behind that as well.

Aurora Meyer: So I have lived in Columbia longer than I have been with the district. Full disclosure, I joined the district in June of 2020 on purpose. I thought my skills were a good match for an open opportunity, and I was super excited that they picked me. So this has been something that was going on and was well established prior to my joining the district. So I really can't articulate or speculate on all of the decision-making and all the reasoning that went into it, but I will admit that when I wasn't part of the district, it didn't make sense to me.

Our school district, as a district, does not have social media. Now, our chief communication officer's Twitter is used as a sort of broadcast tool, but that was not her original intent. And as a district, we really focus on letting our schools share that information, share the things that they're proud of, have a Facebook page, share cool things on Twitter, have their own Twitter hashtag. Some of our schools have different Instagrams. Whatever makes most sense for that school that they want to maintain themselves, they absolutely can.

And then we can reshare or we can pick things up as we see them. But with 42 buildings and 26 elementary schools, even if we had the ability to constantly share and reshare all the amazing things, it would not get through to the families that need to hear that or want to see it or want to be in the know as quickly or as effectively as the school sharing it themselves.

Tyler Vawser: Yeah, that makes a lot of sense. When people do engage with social media because it's coming from the school or someone they're more likely to know, have you seen a more positive reception than if it had come from the large district office?

Aurora Meyer: That's a really great observation. Something that I'm working on studying with a professor at the University of Oklahoma and another professor at the University of Florida is that our community is not super unique in that our families have connections to their teacher and they have connections to their school that their child attends. But once you get beyond that level, it's sort of this ethereal thing, right? It's full of vague people who do stuff and they tell other people what to do. So I think by putting the emphasis on fostering those already established relationships and already established communication channels, it gives our schools the ability to maybe cut through some of the clutter, maybe even cut through some of the social media trends that we're all observing, and really just use it as a way to reinforce those relationships.

Tyler Vawser: Interesting.

Aurora Meyer: So I can't really speak necessarily to whether they are getting trolled as much as districts and the rest of us are on a regular basis. But I think because it is targeted, it is focused, it is underscoring those relationships. My hope is that they're not the social punching bag that everybody else is.

Tyler Vawser: Yeah, that makes sense. How are you supporting those communications folks in a building, right? That could be the principal or it could be a head teacher that's running the English department or something like that. How is the district office supporting the individual schools? Because it makes a lot of sense that people have relationships with their principals more than a superintendent. They have relationships with the building more than the 300 sq mi of the district, right? And so I am curious, how do you take maybe an initiative from the top and work its way down through all the different buildings?

Aurora Meyer: So we don't really have an established content calendar or general initiative that we push down. In fact, we don't have many things that we push down. When I'm going out with our incredible CPS TV videographer, we are sharing those back with the school that welcomed us and letting them kind of choose how to share it. So if it's a full piece that we're putting together and we're airing it on CPS TV, we're also putting it on our website. So I'm able to say: Thank you so much for inviting us. We were so happy to be there. Here's the link so that you can see what we put together. If you plan to be sharing this in a newsletter, here's a trackable link you can use so that we can keep up to date on that kind of thing.

And then we also do have an internal newsletter that we started last year. I started last year sharing The Gold. All of our high schools have gold as their secondary color and we send out a monthly employee internal newsletter that kind of highlights some of those things that they may have missed because they're focused at their school level.

So maybe somebody got an award or an assistant principal of the year or maybe one of our high school teams took state in something, then it's another opportunity for us to share that information. Some of that does translate into our annual report, but some of it is things that wouldn't fit in an annual report. But we still want to share, we still want to make sure people are aware of what's going on not just in their building, but in other buildings.

So there's not really a designated waterfall effect necessarily. But we do try to share and stay up to date on the things that our schools are doing, mostly because they're great stories and that there's usually opportunities for us to share that with a wider audience, either through CPS TV or one of our other means. I send an email out to all of our buildings at the beginning of every month just saying: Hey, what are some cool things that are going on in your building? What are some active learning where there's physical cool active things going on that would make for good TV? And that is helpful for us in planning what we're going to cover for CPS TV. But maybe there's something that we would like to invite media to. Maybe there's something that we can help play up a little bit bigger. Maybe there's another opportunity that we hadn't considered before.

And so being consistent in sending that every month and honestly, I will be totally truthful. I have it scheduled. I create them all at the beginning of the year and I just have Outlook scheduled to send, and they just go, and then I get replies back and I'm able to say: oh, you all are going to the exercise physiology lab or you all are going on a cool field trip. We would love to tag along. Or you're doing a number line lesson plan with your kindergartners where they're going to jump from number to number. That's really cool. That's a really great way to understand and comprehend number place in a line. We would love to tag along. They're really good about sharing a lot of that stuff back with us, which is super helpful.

Tyler Vawser: Well, I'm sure it helps that they see when you ask for content, they see someone else that took you up on that offer, and then they're excited about doing it the next time. And I really like that. I love the tactic of pre-scheduling those emails, right? You know that you're going to do it every month, and so January 1 or second, you're doing a year's work ahead of time. That's great.

Aurora Meyer: And then I also keep track if there's something that happens every year. So we are incredibly lucky that we have a wonderful partnership with our Assistance League and they provide grants to some of our classrooms to do really cool things. And so I can look through that list and see what some of the things were funded and say: We would love to tag along on this, or when this comes to the classroom, let us know. We would love to be there. So there's multiple ways that we're getting details back, but I try to automate things as much as I possibly can so that I can save the brain space to be creative about how we're showcasing our stories.

Tyler Vawser: So I imagine that some schools are doing a better job of telling their story, right? When you put out that request for content, they're the ones that are always answering. They're giving you 5,678 things to pick up on. If you have a handful of buildings and schools that are not taking you up on that, or it's been six months since they've given you something to follow up on and an opportunity to create that content, how are you helping them maybe discover their own stories? Or are you reaching out to them in a different way to say: Hey, it's been really quiet from you. What's happening?

Aurora Meyer: So I initially had this grand plan where I would be more proactive in that space and I would connect with some of our schools in ways that I haven't previously. I know I could definitely do that in a different and better way. So it's something that's kind of always evolving.

We actually only have been doing this for about a year. I started it in the summer of 2021. And during summer school, I figured we would kind of roll something out during summer school where it's a little bit of a smaller space to test. And initially, we weren't just looking at things for our CPS TV, but we were also looking at things for what we had branded as In the Classroom, which is kind of like a blog style photo essay space. And with our website redesign, I had to let something go, and I wasn't willing to let the CPS TV side of things go.

And so I have put a pause on In the Classroom for the time, and I'm really eager to pick that back up because sometimes you don't know and our schools don't know, this is going to be a really cool lesson plan until they're in the middle of it. And then the teacher has recorded 20 seconds of video or gotten some really cool photos. And there's almost always a way to showcase something and we always ask what are the learning objectives? What was the goal of this project? What were you hoping the students took away from it? How will you build on it? What comes next?

Because depending on when you went to school, that may not be something that you're connecting. You may not be connecting that that number line that that kindergartner is jumping up and down through is going to help them with addition and subtraction in three weeks. So it's a balance between how much time do we have in a day and different ways to showcase the information with our community.

Tyler Vawser: Coming back for more, but first I want to tell you about the newest edition of SchoolCEO magazine. In it, we explore the power of influence and the issue encourages you as a school leader to see the influence you're having in your daily work and gives you practical advice on how to increase that influence to benefit your schools.

If you don't receive the print edition, visit schoolco.com to read about the science of motivation, the language of leadership and how to revive a district brand and so much more. Now back to the conversation.

Tyler Vawser: Thinking back to the newsletter, how do you measure success? If you're mailing out that newsletter every quarter, are you thinking about a specific goal or metric or is the goal really just to get that information out there? I'm curious how you think about that or how you look back and see if it was successful or could have done better.

Aurora Meyer: So I think about that in multiple ways and actually as I look at our overall communications in all the forms and all the ways that we do that, first and foremost, sometimes it's just about establishing a connection.

So that quarterly newsletter that we mail out has an established connection. People kind of have a pretty good idea of when it's going to arrive in their inboxes and they may not necessarily be looking for it, but they know it's going to be there. And so I look at that as an opportunity for us to call on if we need it. So we've established this relationship, we've established this connection, we've established this means of communication. If we needed to call on the community for something, we could.

I think one of the ways that is a byproduct of measurement is our bond and levy passage rates. We passed a bond issue in the middle of a pandemic, which is huge. And so there is nothing formal in that. I don't have the data and the metrics though I would love to know exactly how many people opened it versus recycled it, how many people read it, how long did they read it? All that stuff that people like me really love to know because it helps us be better communicators. I don't have that for the newsletter, but I can say that we are passing community initiatives. We do have community engagement where it's important.

So would I love to have some better metrics and some better details on various pieces that we're working with? Yes. Do I look at things from a holistic perspective in general and say we're making progress? People are talking about it, people are hearing about it, people are registering their children for kindergarten, people are voting. We'll call those things wins.

Tyler Vawser: I actually love that answer. I think a lot of times we get a little obsessed with data and it's like you can't make a decision unless you have the data. And I think sometimes, especially in communication or marketing or branding, you really just have to think about what is the end goal and how do we creatively go about that. Even if you can't prove it, you can still see it later. Right. And I like that idea that you're investing in those relationships and that's not going to necessarily pay off tomorrow, but with time, you're doing everything possible to set yourself up to win with or without data. I think that's actually really smart observation.

Aurora Meyer: From my perspective. I love teaching people about how to use key performance indicators. I love that it's not just your expertise and your knowledge and your historical knowledge, but that plus some data for decision making. But I also recognize that in the realm that school districts operate in, you're not going to necessarily have that at your fingertips all the time. And so coupling whatever your key performance indicator is with the end goal or establishing relationships or reconnecting with your community or whatever, that bigger goal is finding other ways to measure. Sometimes it's just a matter of taking a different perspective.

Tyler Vawser: Yeah, that's really good. So on that note, on different perspectives, how are you reaching families or students that come from a different background? Right. So a non English speaking family that moves into your area, not having the benefit maybe of having that long established relationship because they're new. How do you think about communicating with people like that?

Aurora Meyer: Yeah, so this year on our website we have the translate button that now does a drop down into just about any language that you can think of. We have relationships with our schools who are aware of how many of our families want to be communicated with. In our annual enrollment, which every family goes through in the district, we ask them some questions that are specific to how you want your communication. We are also trying to be modern in that if there's something specific, we're going to text or we're going to send an email so that there are several touch points.

But again, always referring everybody back to the website where it is more accessible, it is easily translated, may not be 100% perfect, but even imperfect is better than completely unreadable. So we're always making strides in that space. We have wonderful team members in multiple departments that do a lot of that outreach for us as well. So it's really working together with more of our team members and more of our schools to figure out what the best way is to reach those families. There are always families who move. We're a college town, so we're pretty transient and they either move from building to building or they move in and out of the district. And reaching those families is always important. It's really great when the start of school comes around and somebody calls and says: hey, we didn't realize school was starting because where we're from, it doesn't start till September until all the kids weren't at the playground yesterday. And then they enroll their student and then they're part of the community. And from that point on, then they can tell others. So it's really mostly just established relationships, reiterating those and finding ways to meet the people that we're not meeting in our already established ways.

Tyler Vawser: Yeah, that's really neat. So that makes sense. On the enrollment front, I am curious, and it's a hot topic right now, and we've also been doing a lot of research at SchoolCEO into teacher recruitment and retention. A lot of times the district is kind of the final word on recruitment, and every district handles this differently. But in a lot of cases, the district is responsible for HR recruitment, retention, and principals and buildings are kind of involved in the process, but more focused on the day to day. So I'm curious, since your communication strategy is so not top down, I guess almost like a grassroots among the buildings and principals, how do you think about recruitment? Is that different as well?

Aurora Meyer: So ours is probably more like most districts than you might think. So our human resources department and our incredible team over there really do the majority of the recruitment. And so they are putting together virtual interview days and they're sharing information on LinkedIn and they're just going through things in a different manner and owning that whole process. We also share things on our CPS TV channel as well. When we've got openings, we often share things directly on the website as well. So it's less of a focus on the school level and more from the district level in terms of recruitment.

Tyler Vawser: Okay, very cool. What are some of the biggest challenges you faced in the last, say, six months? I won't go back over the last three years because we're moving past that. But in the last six months, what are some challenges that you've taken on as a team and as a district?

Aurora Meyer: That's a really great question. I think one of the things is we launched a new website this fall and that process was huge. It was a huge undertaking. I started working on that pretty soon after I started in early 2020, and ultimately we discovered a lot about how the back end of things was set up and how different processes were. So really looking at how to make that better moving forward, that's been a huge focus of mine over the last six months. And thinking about it from the end user perspective. We're all really good about thinking how things are structured or how things are processed from the internal perspective, but remembering that it's all external.

And I find myself on a regular basis saying and reminding myself that your website is the biggest advertisement you have. It is the biggest thing. It's like putting a huge billboard out there for your district, for your families, for potential families to use. And coming at it from that perspective sometimes makes the decisions or where things live or how it's structured a little easier.

Tyler Vawser: Yeah, I think that's really a good way of looking at it. Ads are actually pretty simple, right? You rarely find an ad with 1000 words, but how often do you go to a web page and there's thousands of words? And I think that's a smart filter to put that through, which is, hey, what's the thing we actually want to say here? And how do we say it as quickly and as usefully as we can.

Aurora Meyer: And in a way that people have access to, right? So accessibility is always what? The minimum requirements are always increasing. And so how do we make sure that no matter how you're accessing this web page or our entire website, that you can come away with at least the minimum information that is necessary? And so that is a really good lens to look at a lot of things through.

Tyler Vawser: Yeah, and one of the big advantages to websites over social media and we kind of talked about this earlier, but it's distraction free, right? When you get on social media, if you're a school district, you're competing with all kinds of others, including baby photos of your friend from college or somebody's vacation to Italy. That's a pretty tough thing to compete with. But on your website, it's your district or your school and only your district and school. And so I think that's one of the things I like, as I hear from you, is that you see how important your website is and you're trying to keep their attention, but get them to keep coming back and making it as practical and as useful as you can.

Aurora Meyer: It goes back to the stories. If our community can see themselves or their grandkids or their neighbors or someone they know reflected in the stories that we're telling, then we're more likely to have a better connection with them and they may be more receptive to supporting initiatives in the future.

Tyler Vawser: Yeah, that's a really good point. Do your individual schools have their own websites that they run?

Aurora Meyer: They do. So all of our schools do have their own website that they run. And they are able to update their calendar and their news stories and the images. We've given them templates that we've created that fit that space and make it so that you're not scrolling up and down too much. And we shared those with them and said, these are some great places for you to share wonderful information. And we encourage them to use that as much as they use social media.

We've also moved to Peach Jar for our flyers, which has been crucial. Many of our families can go back and see flyers that were before, or they might remember, hey, I saw that on Thursday when our Peach Jar flyers come out, but I can't remember which Thursday, or I might have deleted it. And so they can go and access the Peach Jar flyers from the website as well.


Tyler Vawser: Aurora, I am curious. There's a lot of information being shared and what I'd love to know from you is how do your employees and how does your team keep track of it all?

Aurora Meyer: So I think that's where that internal newsletter that I mentioned previously and some of our other initiatives come into play is we don't expect our employees to be up to date on absolutely everything that's going on. They know what's going on in their buildings, they typically know what the events are in their buildings, and so they can speak to families about that when questions come up.

But we don't expect them to necessarily know what's going on in other buildings. And so being able to share that information on a monthly basis is really critical to: Here are some other really great things going on that if you maybe don't want to talk about something that's going on in your building because you feel like you've cheerleadered that way too much lately and your amazing whatever has been the topic of conversation and you're looking for something else to talk about.

That's part of why we called it sharing the gold is because there's tons of gold in every building. And sometimes just remembering that you're not isolated and that there's cool things going on and you can talk about them in other ways with other people is helpful. So we keep track of sending that out. We make it a priority that that's something that goes out at the end or the beginning of the month. It just sort of depends on how things fall, but it gives you talking points for things that are going on.

We also use that as a way to recap some of our really incredible positive media coverage that we've gotten in our district. We are in a 130s ish market, but we have all three TV stations here or very close to here, so we do get a lot of attention. And sometimes it's nice to be reminded that attention is good in some ways. And here are some really positive and amazing wonderful stories that have been shared about our district.

Tyler Vawser: Yeah, that's fantastic. In our own research at SchoolCEO, we've actually dug into how do teachers think about their district brand and what is their role in it? And the news is actually really positive. Teachers feel a responsibility for representing their district, and they actually want to be more involved in the branding and the messaging and knowing what's happening. And so an internal newsletter or any device that gets teachers to see the good that's happening in their own building as well as across the district is really important.

Aurora Meyer: Well, when you have such a wide district, too, it can be hard. And nobody wants to read whatever the talking points are, right? They just want to share the incredibly great stories that are going on and we just try to make it easy.

Tyler Vawser: Well, and if you're building those relationships, right, you know, oh, I know that teacher over there, then it makes it more likely that you're going to share it or you bump into someone that you don't know, but you heard a little bit about their building, right? It makes it easier to stick to that conversation, but also have them be more sticky in the future.

Aurora Meyer: I've been surprised as I send that email out monthly. There are often principals or assistant principals or sometimes even our other team members in buildings that will say, hey, did you know so and so in other building did this or did you know about this other thing? And sometimes we'll get information that way as well, which it's always nice to have somebody brag on you.

Tyler Vawser: That's great. Well, good. Well, any other advice? If someone else that's listening to this is a communications manager or they're involved in the communications within their district, what are two or three things you would tell them to encourage them or some tips that you would give to them?

Aurora Meyer: So I would encourage anyone to think about, is there a way to showcase awesome things that you're doing in a non-braggy and easy to remember and easy to share kind of way?

And if you don't feel like something is working out for you, whether it is social media in general, whether it's an internal newsletter that maybe didn't go or wasn't as successful—if you can figure out why and maybe work to avoid that hurdle or that pitfall in the future or make the next iteration better, it's worth it. So try something, even if you might fail at it. I mean, I wouldn't say fail spectacularly, but try something. You never know what's going to catch on or what's going to make a difference.

And don't be afraid to think about how can I provide people with the tools that I want them to use or with the messages I want them to share in a way that is great and is positive? And yeah, you might not have the best open rates in May when you share your May newsletter, but look at the bigger picture as well.

So fail. Don't be afraid. Try and fail at something. If you are failing, try to figure out why you're failing and what you can do differently and then make changes. Don't just scrap something because it didn't work one or two times. Give it a little bit of time. Maybe it just needs traction. But keep an eye on things, and if it's not worth your time, don't do it.

Tyler Vawser: I love the idea of looking at the bigger picture, right? I think we can really get caught up in this specific moment. But it's not about winning the open rate on your email newsletter this month. It's about changing hearts and minds and getting people to think and feel differently about your district.

Aurora Meyer: Thank you so much for having me. As always, it's a wonderful opportunity to talk to you and the team at SchoolCEO. It's been a wonderful day and I super appreciate it.

Tyler Vawser: Thank you, Aurora. I really enjoyed having you, and I'm excited to share this conversation out. SchoolCEO Magazine publishes original research, interviews and more in our quarterly magazine that's read by more than 15,000 school leaders. If you work in K-12 Leadership Administration or in Communications, we'd love to start mailing the magazine to you.

Go to schoolceo.com, click subscribe now and check the box to receive the print edition of the magazine. SchoolCEO Conversations is produced by the SchoolCEO magazine team and is powered by Apptegy.

I'd love to get your advice to make sure this is the most actionable and insightful podcast you listen to. Email me at tyler@schoolceo.com with thoughts and advice. And can you do me a small favor? Go online and share this episode with one friend or a colleague that you think would enjoy it. Thanks for joining the conversation and take care until the next one.
Subscribe to SchoolCEO Newsletter at https://www.schoolceo.com/subscribe-now/ for more strategies on communication, newsletters, and more.
The article Where Social Media Falls Short from the Summer 2022 edition of SchoolCEO pairs nicely with this episode. Read it and more here.
Follow SchoolCEO on Twitter @school_CEO