Bond Campaign Deep Dive: Federal Way Public Schools
Building Support · Staying Organized · Communicating After the Vote
"Just a couple big ideas," says Dr. Tammy Campbell, Superintendent of Federal Way Public Schools in Washington, as she answers the phone. "I don't think you win a bond just on the campaign. You have to have the confidence of the voters. You have to have a vision."
When Campbell came into the district in 2015, her first move as superintendent was to engage 3,000 stakeholders in the district's strategic planning effort. "The first thing I wanted to do was show the community that we had a vision for improving schools, and that we wanted to include them in it," she says. The goal wasn't to pass a bond. The goal was to unite the community around a common vision, mission, and set of goals that would collectively make an impact for students.
In Federal Way, however, passing any kind of referendum issue is especially difficult. "We don't have a lot of industry here," Campbell tells us. "So when you do any kind of bond or levy campaign, taxpayers typically pay more than surrounding districts."
Luckily, Campbell understands how to rally the community around their schools. In 2017, their $450 million bond passed at almost 62%. Then, just three months later, they asked the community for another $33 million: a four-year replacement levy for staff and educational programs. It was approved by over 58% of voters.
Lessons from Federal Way:
If the community buys into your vision, they'll buy into your bond.
When Dr. Campbell joined Federal Way, overcrowding was already a critical issue in many elementary schools. As the district grew, they reduced class sizes in already aging facilities. So besides new buildings, they would need major system repairs and enhancements in security. The district would need to go out for a bond.
By this time, though, administrators had already connected with thousands of stakeholders through the strategic planning process. "A natural reward of that engagement was that the community was ready to jump on board for other
initiatives," says Campbell. "They'd committed to our vision and our goals. So when building needs surfaced, we launched the facilities planning committee with guiding principles aligned with our goals."
"You've got to make sure there's a group of folks out there in your corner who can spread a supportive message to influence public opinion."
Campbell wanted as many people involved in the planning phase as possible, to "build the compelling why," which inevitably circled back to students' needs. So they recruited over 100 parents, community leaders, public officials, staff, and scholars for the facilities planning committee. The more people involved, the more the community "ripened" to the idea. "It's ripening the environment for a bond and getting all hands on deck. Everybody has a role to play—not just a small group of people," says Campbell.
After touring various school campuses, the facilities committee recommended an unprecedented, almost half-billion dollar bond—three times the size of the district's 2007 initiative. "A lot of people couldn't believe we were asking for that amount of money," says Campbell. Still, the bond had been informed by the community, so the board approved it.
To Campbell, community engagement is a piece of branding. "We always have community voice," she tells us. "People have to be involved." It's this trust that helps build a strong brand, "one that people believe in," she adds. "You've got to make sure there's a group of folks out there in your corner who can spread a supportive message to influence public opinion."
An organized campaign is an effective campaign.
"We had a very systematic approach," Campbell explains. "Each person had responsibilities every week in terms of messaging that would be sent out, and they coordinated all of this up until the actual election."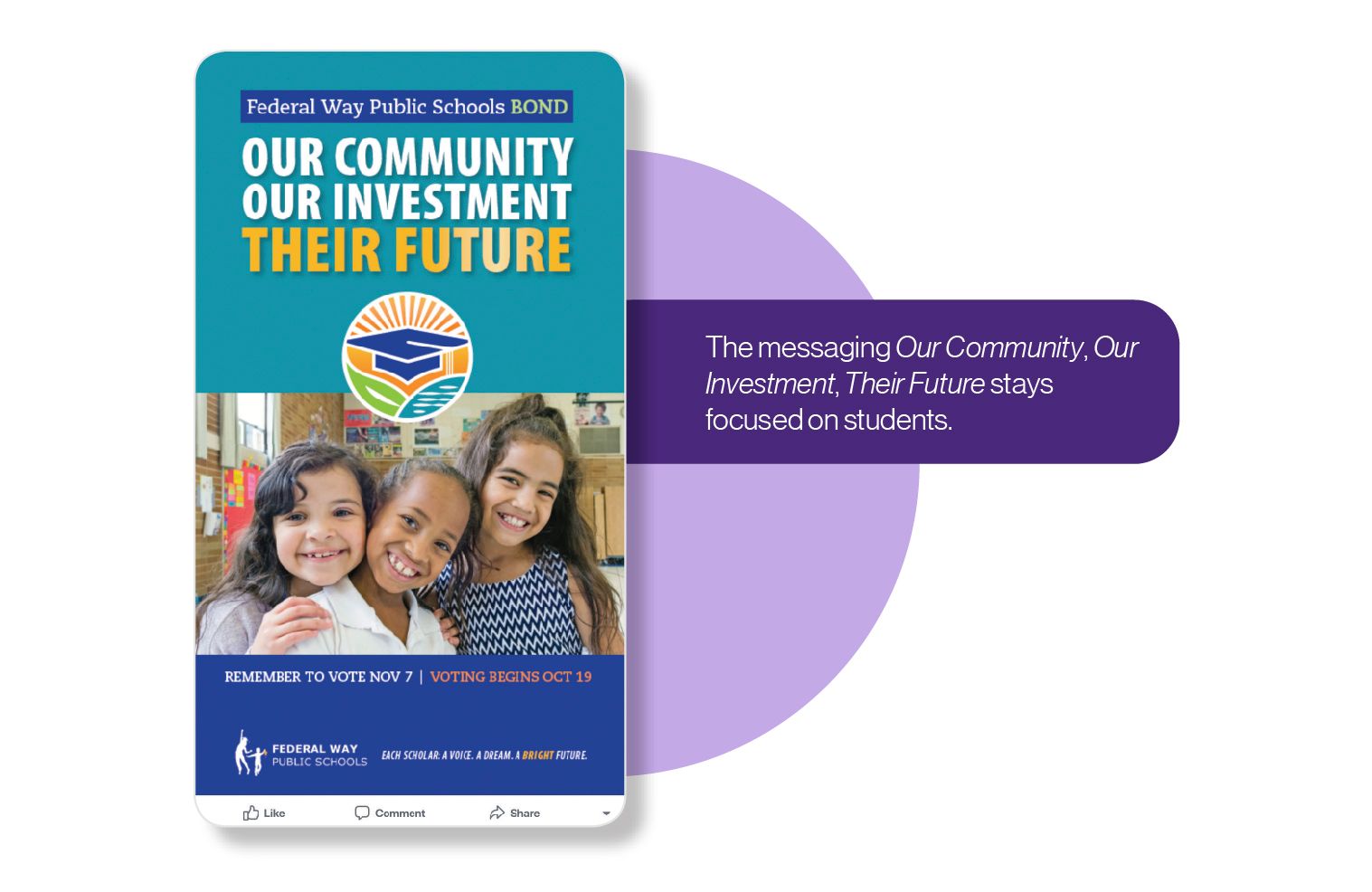 Like many states, Washington doesn't allow district employees to campaign for a bond during work hours. "That's why you need a separate committee," Campbell says. "District employees can join that committee, but they have to raise the funds to run that campaign outside of work hours on their own personal time. All of that is separate."
The volunteer committee—the Citizens for Federal Way Schools—worked backwards from Election Day to design a communications plan that would build momentum. Members of the citizens committee joined administration to present to local organizations like Kiwanis and Rotary clubs. And while the district certainly couldn't campaign for Yes votes, the outside committee coordinated messaging around the facts of the bond.
From there, the volunteer committee utilized strategic communication channels: social media, sign-waving, doorbelling, Vote Yes mailers, and other promotional print materials.
Back on the district side, Federal Way's Chief of Communications and Strategy, Kassie Swenson, made use of the district's internal communications—folding bond information into monthly and quarterly newsletter updates and sharing on social media. The team worked in every school, posting "Vote Today" and "Don't Forget to Vote" signs on school reader boards and passing out handy, one-page informational flyers. Outside of school, Dr. Campbell presented to firefighters and police officers, even speaking at City Hall's televised meeting for the entire community to see. "I always think face-to-face is best," she admits. "But it's not always efficient or possible, depending on the size of your district."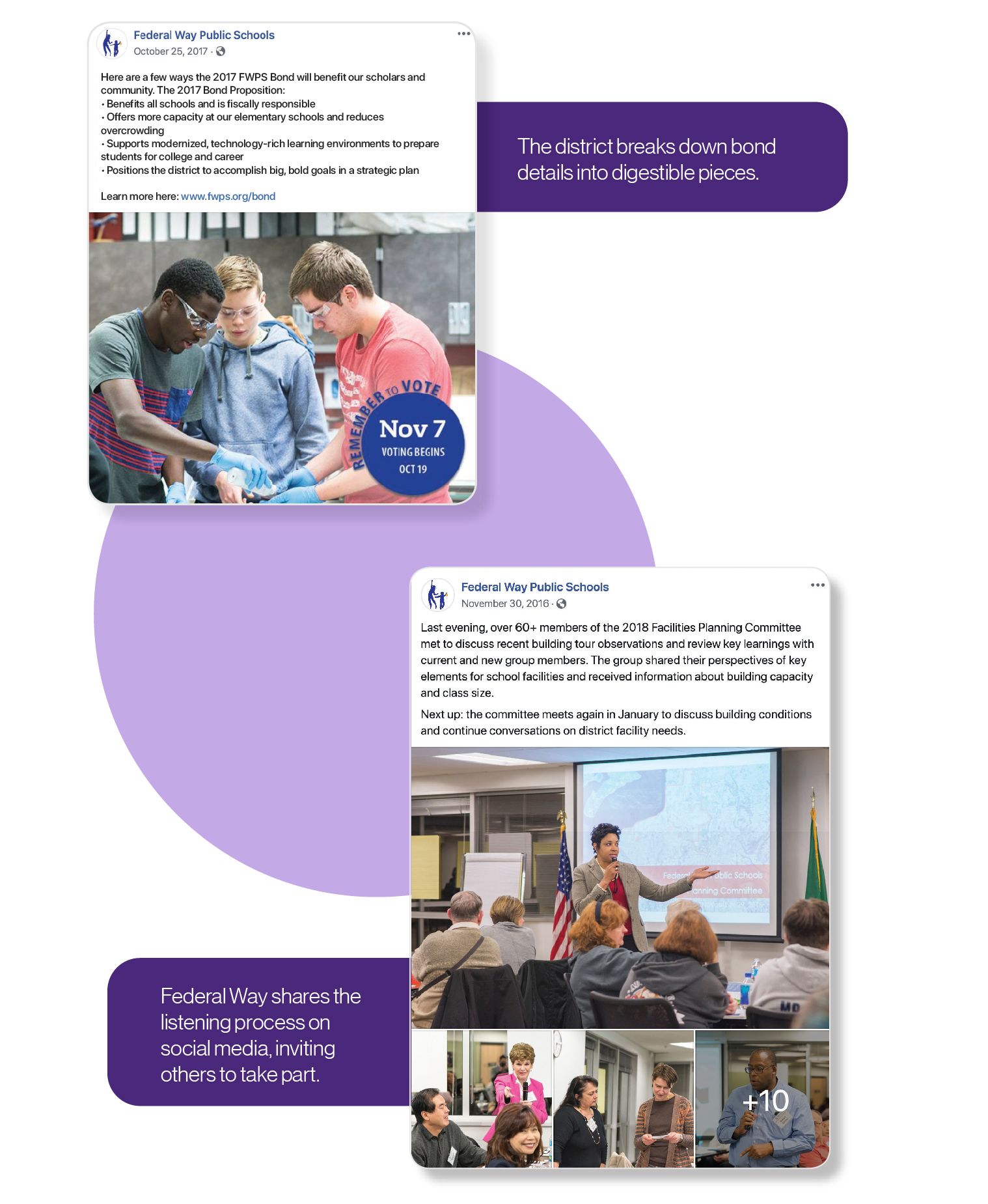 In those presentations, the team didn't hide from questions either. "You want to have people ask questions, because there might be rumors out there—misinformation—and it's hard to respond to that unless you're right there," Campbell says. In general, she kept conversation focused on the positive. "We talked about the long-term commitment to Federal Way—if it's going to be a thriving city, it needs to have robust schools, and part of that is investment in good infrastructure," she says. "We talked a lot about how kids would benefit. We didn't talk a lot about what would happen if the bond didn't pass."
What happens after the vote lays the foundation for the next bond.
"We are keeping the community informed with regular updates," Swenson tells us. The Federal Way team is effectively running a separate campaign that utilizes newspapers, quarterly publications, the district's website and social media, postcards, one-pagers distributed at community events, and large signs installed on school campuses. The team even created a subscription e-newsletter for monthly project updates. "We know our community accesses information in different ways," Swenson explains. "So we're always open to hearing if there's another way we can provide updates."
The Federal Way team has continued to listen, even after the vote. They host bond update meetings and invite students to provide input, ensuring that designs reflect the needs of all of the district's stakeholders.
Their informational work has already paid off. Again, just three months after successfully passing their half-billion dollar bond referendum, Federal Way asked the community for another $33 million for a four-year replacement levy to fund teacher salaries and support additional programming. The levy passed with almost 60% of the vote, saving 300 jobs in the district.
But the team isn't resting on their laurels. "What we are doing right now is laying the foundation," Campbell explains. "Our next bond will be passed based on the way the community feels informed."
With construction in full swing, Federal Way Public Schools is doing just what you'd expect them to do: looking forward.
---

SchoolCEO is free for K-12 school leaders. Subscribe below to stay connected with us!