Layers of Leadership
Leveraging Executive Internal Communication for Stronger Brands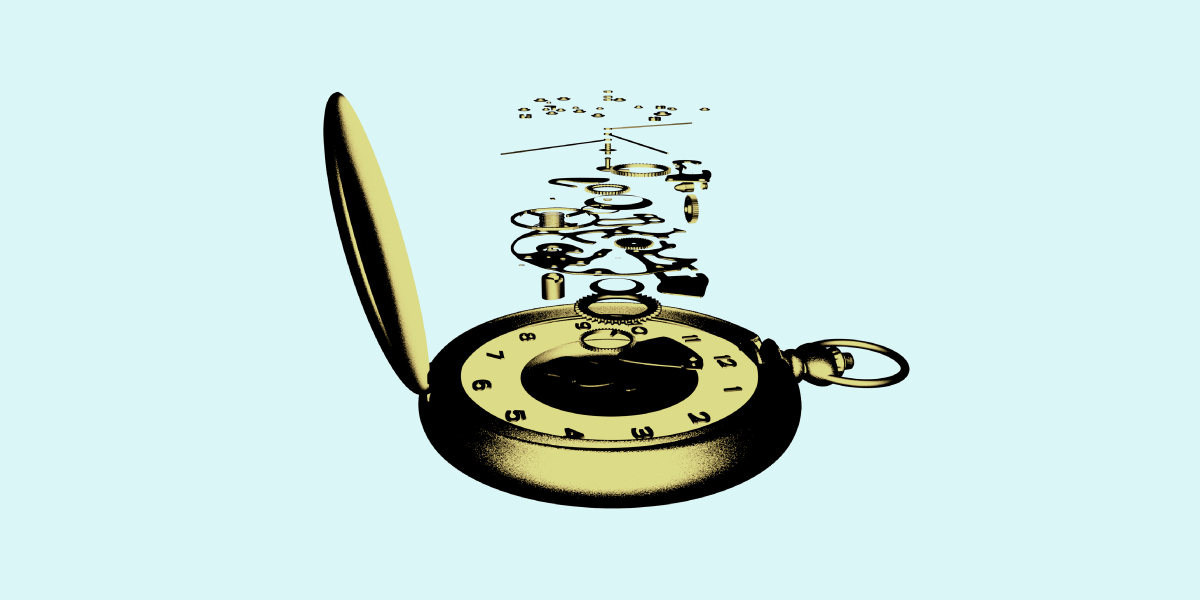 "It's critical."
"It's one of the top most important things on my radar right now."
"It's vital."
These are among the answers we received when we asked school leaders about the importance of school marketing, communication, and school branding to a district's success. While schools have not always had to view marketing as essential to their survival, this clearly isn't the case anymore. The reality is that every school district—from the largest urban ones to the smallest rural ones—must contend with increased competition at every level. No district can afford to miss any opportunity to create positive sentiment for their brand. For schools to thrive—or at least survive—in this rapidly shifting environment, they must find a way to establish themselves as safeguarded, valuable parts of their communities.
But when it comes to who is actually responsible for the work of school branding and marketing, the story gets a little complicated. In our previous research "Who Speaks for Your Brand?", when we asked respondents who they believed was most responsible for promoting and protecting their district's brand, 44% felt it was the duty of the superintendent. Communications directors ranked in second place, with other administrators, such as principals, coming in at a distant fourth. Once you consider that many families and community members identify more with school-level brands than with district-level ones, things get even messier.
If no one is sure who's responsible for the work, it's impossible for the work to get done. So for this project, we decided to explore internal communications between the building and district levels of school administration, especially around themes of school communication, marketing, and branding. Through this research, we tried to understand what gaps in communication exist between these two levels, and what conversations must happen in order for school districts of every size and type to develop successful, interwoven brands.
About the Study
In our previous research, we've used survey data to better understand various aspects of school communication. In discussing our data with school leaders, however, we've discovered that much of our audience finds the open-response portions of our surveys to be as illuminating as our formal data analysis—if not more so. So for this project, we decided to follow a different research model, focusing on qualitative interviews rather than quantitative data.
For this study, we held more than 30 one-on-one interviews with principals and superintendents alike from over a dozen districts across the U.S. While we relied on volunteers from our SchoolCEO community, we ensured that our sample included school districts of various sizes, geographic locations, and types. By interviewing one principal and one superintendent from each district, we sought to learn how administrators at both levels perceive their roles and responsibilities within the broader charge of school marketing. We also wanted to better understand the role that internal communication plays in creating a unified district brand.
Each half-hour interview included nine questions around school branding, marketing, internal communication, external communication, and more. In order to understand how perceptions around school marketing differ from one level of leadership to another, we spoke to superintendents and principals in separate, confidential interviews. As such, our interview questions varied slightly between principals and superintendents. After conducting hours of interviews and analyzing hundreds of pages of transcripts, we've distilled a few high-level findings, which we'll share in the pages that follow. Some quotes from these interviews have been revised for cohesion and succinctness.
We use three key terms throughout this study:
School Communication: Communication that goes from a district to its stakeholders, namely teachers, staff members, students, and families. Elsewhere in this issue, we break this down further into internal and external communication.
School Marketing: The practice of influencing how people think and feel about a brand.
School Branding: Any work that goes into improving or defining a district's brand or high-level reputation.
Why principals?
In the constellation of school administration, principals have a uniquely powerful position. They are privy to top-level conversations about the district while also interacting regularly with students and families. In fact, research has shown that principals are some of the most trusted institutional leaders in American society. Given our society's declining faith in institutions—including schools—this trust is crucial.
But if principals are the backbones of a district's reputation, shouldn't they be the ones leading the charge around school communication and branding? Again, it's not that simple. While the principals we spoke with were just as likely as superintendents to value school communication, marketing, and branding, the reality is that they spend a lot less time thinking about these topics.
Why? For one, because they're busy. Many principals' duties range from administrative coaching to covering classes to disciplining students. In fact, when we asked principals what they considered to be the most challenging aspect of school communication, almost every interviewee gave some version of the same answer: time.
But there's also a second reason principals focus less on marketing: Many of them have only recently recognized that they should focus on it at all. After all, principals aren't often trained on branding and marketing—and marketing still isn't reflected as a priority in any of the formal ways they're being assessed. As one principal succinctly put it, "It's not part of my evaluation."
Our Findings
How do principals and superintendents think about school communication and marketing? And—maybe more importantly—how are they communicating about communication? Here are our highest-level findings.

Observation #1: Everyone knows school marketing is vital.
Every school leader we talked to—from an elementary principal at a small rural school to a superintendent at a large suburban district—expressed that marketing and branding were unequivocally important to a school district's success. Some administrators admitted that this importance was relatively new, brought on by the increased pressure of school choice, a renewed focus on family satisfaction, and changes in state law allowing for open enrollment. "I think that public schools really fall down in this area compared to our private school counterparts, the university, and even private sector organizations," said one superintendent. "For too long, we were the only game in town, and we didn't have to compete or market ourselves. That's changed."
Most superintendents expressed that school communication, marketing, and branding were major priorities for them. Many were working with their cabinets and school boards to build strategies for the future around marketing, especially as it relates to enrollment. Principals, on the other hand, were less likely to speak about broader organizational goals around marketing and branding—but they were more likely to describe experiencing a high level of pressure around school communication, especially communicating with families.
In general, most principals understood how their roles as school communicators impacted student enrollment and retention, and acknowledged that this focus had become more important in recent years. "COVID opened up choices for families that they had never anticipated seeking out," said one principal. "We know research suggests that people in our country have less and less faith and trust in institutions, and schools are no different. I think the biggest thing around communication, when it comes to schools, is considering our stakeholders—our families and community—and getting them what they need to hear."
Both principal and superintendent interviewees were frustrated by how difficult it can be to justify marketing expenses to the broader community. One superintendent from the Midwest who had recently embarked on a district rebrand lamented that families were quick to question the increased costs associated with a new marketing campaign. "I've experienced the good, the bad, and the ugly of this," the superintendent explained. "Unfortunately, it took a while for everyone to understand the value of marketing and begin thinking about it as an investment in our district."
Observation #2: Principals struggle to incorporate school communication into their day-to-day work.
As a superintendent, it is probably no surprise to you that principals are incredibly busy. Although their duties can vary based on the size of their schools and their districts, the role itself is dynamic and changes day to day. Most principals said that the hardest part of school communication was simply finding the time. "It's not that I'm not interested in digging into the work. It's a time factor," explained one principal. "There's no one else in my building who can help me with it, and I don't have a lot of leftover time to think deeply about it."
And communication isn't just time-consuming for principals; it's also nerve-wracking. Some described facing criticism not only for decisions they've made, but for how they communicated those decisions. "It can be so hard to work on something and know that as soon as you send one email about it, you'll get a flood of criticism," said one principal. "I honestly dread sending emails." While communications professionals can sometimes deflect and filter criticism, educators in districts without communications teams usually have to do this themselves.
This can be stressful, especially when principals' biggest focus is (and should be) on ensuring learning outcomes. As one principal put it, "I can't sleep at night if I don't make sure that our kids are ready to go when they leave us, but if I miss an email? That's different."
Many superintendents acknowledged this challenge when talking about their marketing and branding expectations for principals. Some offered strategies for making sure that principals have the capacity to think critically about school communications:
-Make sure principals are part of the district-level cabinet, and therefore aware of district-level priorities.
-Build intentional relationships between principals and school communications staff (if your district has them).
-Emphasize communication and branding as part of regular discussions, as well as your principals' annual evaluations.
-Place administrators such as deans and assistant principals around your principals to alleviate some responsibilities and allow for more focus on communication.
One Midwestern superintendent expressed feeling responsible for ensuring that principals can focus on school communication: "My job is to be a multiplier for the principals to help them be their best, and it's a principal's job to be a multiplier for the teachers. The same thing would apply to communications and branding. It is my job to help them grow, but also to set up a framework where they can have success. This has to be a regular part of our conversations."
Observation #3: Principals are reluctant to initiate conversations about school marketing with their superintendents.
One of our questions resulted in nearly unanimous confusion: "How do you approach speaking to your superintendent about the district's marketing and branding priorities?" Most principals said something along the lines of, I don't, but if I had something to say, I'm sure my superintendent would be responsive. This likely speaks to the fact that many principals want to stay within their lanes at the school level. After all, not every principal feels that marketing is in any way their job. However, when you consider that individual school brands are essential parts of a district's overall brand—and that everyone in our study viewed school marketing and branding as essential to a district's success—this lack of communication is a bit worrisome.
Still, it could be a matter of perspective. While principals didn't feel like they had initiated any conversations around marketing and branding, superintendents had a different viewpoint. When asked how they approached speaking to their principals about marketing and branding priorities, many superintendents were full of anecdotes about principals who had come to them with valuable marketing ideas.
This suggests that some principals may have misconceptions about what marketing is—and what it isn't. One principal, for example, admitted that they thought of marketing solely as activities like running ads in newspapers and writing press releases. But in fact, marketing can encompass anything that improves your brand—including some activities that principals might consider part of their day-to-day work.
Interviewees from both groups discussed superintendents' open-door policies. While superintendents believed that building-level leaders felt comfortable coming to them with ideas, principals often credited standing meetings as more valuable spaces to talk about big-picture ideas. This disconnect suggests that open-door policies may not be enough to encourage conversations around marketing and branding, especially when those topics aren't usually a part of every principal's day-to-day priorities.
One principal mentioned that although they didn't recall ever going to their superintendent to discuss marketing, they have frequently strategized with their superintendent around school communication in general. "I'm lucky that my superintendent has done a really nice job of building a trusting culture, of making sure that I know my voice is valued, that I will be heard and respected," the principal explained.
Observation #4: Getting everyone on the same page is a challenge—but having a communications team generally helps.
At SchoolCEO, most districts we've talked to over the years have acknowledged a divide between the strategies laid out at the district level and the realities that play out in school buildings. When it comes to marketing campaigns and standards around school communication, that divide is especially apparent.
In these interviews, we were surprised at the multitude of organizational structures that different districts utilize. In some, principals report directly to their superintendents, while in others, they report to an assistant superintendent or similar intermediary figure who is over teaching and learning. Still other districts place principals under an executive director, whose job is to funnel information to the communications department or superintendent as needed. Each district's structure impacts how district- and building-level leaders share ownership over a brand.
For districts with communications teams, there is an additional layer of complexity, especially where school marketing and branding are concerned. However, this isn't necessarily negative. In fact, almost every principal in our study who had communications staff in their district mentioned having a positive, beneficial relationship with them. This was especially true when the principal had prescribed, structured ways in which they interacted with the comms team.
One principal said his district's communications team worked hard to market multiple secondary schools as equals. As part of this effort, communications professionals monitored and assisted with family engagement so that families had similar experiences between campuses. "I have a really collaborative relationship with the communications team and am so grateful to have them!" the principal explained. "They tell me over and over again that it's their job to make my job easier. It makes me feel so much better to know that my communications are vetted by professionals and that they're similar to what other principals are doing across the district."

Observation #5: Clear lines of communication are critical.
From a bird's eye view, it's hard to keep a brand consistent between the district and school levels. Many principals expressed how difficult it was to represent one school while also contributing to their district's collective story. This makes sense, especially given that principals don't often receive regular training around school communication and marketing.
To keep individual buildings in sync with the district brand strategy, communication between levels is crucial. But getting information from the district level to the building level or vice versa can be difficult, especially since most principals said they based the bulk of their communication on what they thought their superintendent needed to know. Administrators often fall into patterns of putting out fires rather than communicating regularly about long-term solutions or big ideas.
In our interviews with school leaders, we were surprised at the sheer number of ways superintendents and principals communicate with each other. While superintendents in our study emphasized quick weekly emails or daily texts as their most reliable avenues of communication, principals put more emphasis on face-to-face communication with their district leadership. As one principal in the Southwest explained, "There's a lot to be said about a face-to-face encounter with someone. When it's something complicated, I usually just wait for a chance to talk to my superintendent in person."
The truth is that hashing out big ideas around school communication, marketing, and branding takes time. While texts and emails might be good places to deal with minor questions or issues, it's probably best to save larger strategy-building for face-to-face meetings—and to meet in person regularly. As our interviews revealed, administrators at all levels are hungry for these conversations. "Lack of communication is an ax that chips away at the foundation of anything that you have going on," one principal explained.
Our Recommendations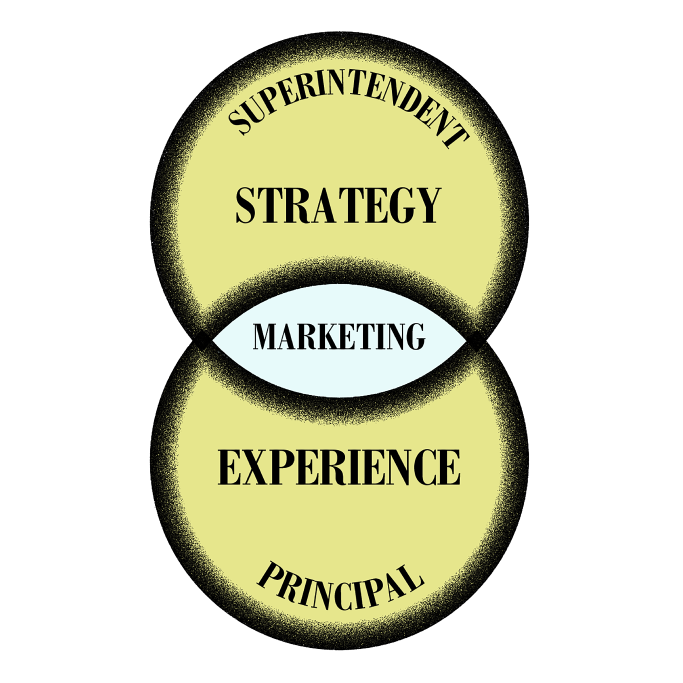 Internal communication, marketing, and branding are all big ideas that can be difficult to synthesize into actionable tactics. But in our hours of interviews, we heard hundreds of tactical best practices for easier communication, marketing, and branding. Here are a few things you and your team could implement this year, this month, or even tomorrow.
Train principals early and often.
Many school leaders lamented that school communication was one of their most dreaded tasks. Many felt insecure about engaging in strategic marketing work when they had so little time to focus on it. This is somewhat unsurprising given how infrequently our interviewees reported receiving regular training on their districts' brand and messaging priorities. In our previous research about brand ambassadorship in schools, about 50% of principals reported being trained on these topics less than twice a year. If communication and branding are as important as every interviewee in this study stressed, this is not enough training for most school leaders.
But training doesn't just have to be formal or one-directional. Sometimes, it can be as simple as regular, intentional conversations. As we found in our study, principals don't often come to district-level leaders with ideas about school communication or marketing, especially if they don't have a strong relationship with their superintendent. So, as a district leader, you need to actively encourage principals to share marketing ideas with you.
For example, you might ask principals how communication ideas for their specific schools fit into a broader, districtwide marketing strategy. If you want to emphasize that your district cares for students from kindergarten through graduation, ask them what that care looks like on their campuses and how they see that fitting into the overall district narrative. These shared brainstorms shouldn't be one-off events. Instead, they should be frequent conversations where you and your principals discuss how you're each contributing to the story your district wants to tell.
Asking this of your principals may feel like adding work to their plates—and honestly, it is. But inviting them to collaborate with you in this way will normalize brainstorming and help them understand how their day-to-day work converges with the district's broader marketing and branding strategy. Some principals we spoke to also admitted that the questions in our survey had pushed them to think about their communication and marketing strategies more deeply than they had in a long time. So sometimes, even just asking the right questions may be a start.
Emphasize a principal's role as an experiential marketer.
Our research revealed that superintendents view school marketing as necessary to the continued existence of their districts. For the most part, they're 100% invested in it. But principals say that while they understand the value of marketing, they don't wrestle with it in the day to day like district-level leaders do. They're preoccupied dealing with test scores, mollifying angry parents, and finding substitutes. In this difference of perspectives, though, an illuminating truth emerges: When it comes to marketing, the roles of the superintendent and principal are different, but mutually reinforcing.
What we mean is this: Superintendents, who have a birds-eye view of the district, are responsible for crafting a strategy that enfolds and supports every individual campus. Principals, on the other hand, are responsible for crafting day-to-day experiences for students, families, and employees—ones that hopefully reinforce the district's mission, vision, and brand. We've mentioned in this report that principals are busy doing principal work, but the thing is, principal work is marketing, too. More specifically, principal work is experiential marketing.
Experiential marketing means creating an experience for your audience that is so good it serves as its own form of marketing. When we use this term, we're not specifically talking about events; we mean every experience your community has with a school, from registration to graduation.
Many of the principals we talked to were frustrated that they couldn't spend more time on marketing their schools in their respective communities. But rather than spend all your time trying to build your principals' marketing capacity, we think you should help them understand their role as a manager of experiences. The reality that your principals create for teachers and families gives gravity and credibility to your district's brand. If the experience in your school buildings doesn't match up with the story you're telling about your district, your community will call you out on it sooner or later—and rightfully so.
Invest in communications professionals, if possible.
As many superintendents well know, communication is a skill and a craft. Although some superintendents have the benefit of regular training in this area, most principals don't have the same opportunity. Plus, as we established in our earlier observations, principals don't usually have much time to think critically about communication.
If your district is able, hiring a communications professional can make a major difference for principals. In our conversations, most principals with access to school comms professionals were quick to tout their benefit—and those who didn't have them wished they did. "In our district, all of the principals are responsible for communicating about what's going on in their own schools. But it feels like we're all our own puzzle pieces," one principal said. "What could it be like if there were someone linking us together?"
But simply having a communications team isn't enough. You also have to build avenues for principals to regularly strategize with your comms professionals. One principal said that their communications team seemed so connected to district-level concerns that they were unavailable to strategize at the building level. Another principal from a medium-sized district worried that their problems were too small to bother their one-person comms team about.
While we didn't speak to communications directors for this study, we know from past conversations that many of them enjoy being in the know about what's going on at the building level. As a superintendent, you and your executive team should create accessible systems for sharing information with the comms team. This will encourage participation from all principals—not just the one or two who feel better equipped to market their campuses.
If your district has a communications team, it is also important to ensure that your principals have regular opportunities to work and build relationships with them. School communication is challenging and vulnerable, and if your principals don't feel safe working with your comms team, they won't feel comfortable going to them when something goes wrong.
Make your mission and vision come alive.
As challenging as it is for districts to create districtwide narratives that encompass many schools and programs, having a clear mission and vision is essential for both levels of leadership. These clear touchstones for your work, both in the central office and in school buildings, can bridge the gap between the minutiae of day-to-day experiences and the district's broader brand narrative. "I've told a lot of our teachers that you have to have a telescope and a microscope," one principal explained. "You need the telescope—our mission and vision—to look into the future of our work. But you also need that microscope to really look at the details and see what we're doing to move toward that vision."
In our conversations, we asked each superintendent and principal to define and explain their role in executing their district's mission and vision. Interviewees from both groups agreed that while vision and mission are often determined at the district level, principals bear the weight of translating them into daily experiences for staff, students, and families. "The district hired me to help support their mission and vision, to sell it—so I need to do that," one principal from a large school district explained. "I think my number-one role is to understand it and support it."
Many of our principal interviewees felt they had an important role to play in how mission and vision are communicated at the school level. "I think my responsibility as the principal is to support our mission and vision, period," explained one elementary principal from a small district. "If I am talking about branding and marketing—whether I am good at it or I'm bad at it—everything I put out there should reflect what our mission and vision stand for."
Moving Forward
Over the course of this study, dozens of superintendents and principals helped us hone our understanding of how internal communication affects the executive levels of school leadership. While our interviews were highly structured, many of our Zoom calls began with a few minutes of warm, idle chatter. Some administrators seemed a little nervous to talk about a subject they felt they didn't think about often enough. But in all cases, it quickly became apparent that our interviewees were fiercely devoted to their work as educators—and to getting their schools or districts the recognition they deserved.
School marketing is not a recent phenomenon, but given increasing competition for both teachers and students, it's become a necessity for schools to thrive. And to do it well, leaders at all levels need to perform within a shared strategy that ensures clear communication and strong outcomes. Superintendents must not only build a clear vision for their district brand, but make that vision crystal clear to all stakeholders—especially building-level leaders. Then, principals can create day-to-day experiences that make that vision a reality for students, families, and staff members.
For this to work, superintendents and principals must communicate with each other regularly—not just about the minutiae of daily work, but also about deep, long-term strategies for the district's future. They must make sure they're aligned on marketing, branding, and communication. If district- and building-level leaders can do that, their schools will be able to build strong and authentic brands for decades to come.
---
Brittany Keil is a writer and researcher at SchoolCEO and can be reached at brittany@schoolceo.com.
Subscribe below to stay connected with SchoolCEO!