Seeking Seniors
Marketing to your district's oldest stakeholders
Kaplan's recommended height for a kindergartener's desk is 20 to 23 inches—less than two feet off the ground. If you've ever tried to squeeze into one of these plastic desks, you understand that schools were designed for a younger group of stakeholders—not older adults.
But as many administrators know, the older population remains a key part of a district's success—because seniors vote. In 2016, researchers from Portland State University found that the median age of voters in local elections was 57. The United States Census Bureau projects that by 2030, one in five U.S. residents will be of retirement age. For the first time in U.S. history, seniors are expected to outnumber K-12 students.

Unfortunately, older adults don't poll well when it comes to school funding. David Figlio, Dean of the Northwestern University School of Education and Social Policy, found that a higher percentage of older adults in a community is linked with less locally raised revenue for public schools.
This link is stronger when there's a racial mismatch. "The more minority students there are in the community relative to the elderly, the less elderly people want to support public schools," Figlio tells SchoolCEO.
Metropolitan School District of Wayne Township in west Indianapolis felt this problem firsthand. As they prepared to pass a property tax referendum in 2015, they realized that around 75% of their community didn't have kids in the district. What's more, while Wayne's student population was diversifying, the older population remained relatively homogeneous.
As a response, the district focused their attention on older adults. "We've deeply engaged our senior citizen communities," said Superintendent Jeff Butts, Indiana's Superintendent of the Year and finalist for AASA's 2019 Superintendent of the Year.
Building connections with the older community has made the district stronger:
through reading initiatives, mentorship, and additional classroom support. Wayne Township not only passed their 2015 referendum, but went on to pass an additional
referendum in 2019.
Wayne isn't the only district seeing success. In Brenham, Texas, a small town home to Blue Bell Creameries, schools value their large elderly community. About one in every five adults in Brenham is a senior citizen. Engaging this segment of the population is no small task, but the district gladly accepts the challenge. Older adults are consistently on campus, mentoring students and assisting in the classroom.
Both Wayne and Brenham are also using print, mail, radio, and digital channels to share positive stories about their schools. But Mary Lang, Wayne's Director of Communication, notes that the most fruitful marketing is about more than just sending out information. "It's about really connecting," she says. "In order to engage the population of senior citizens in our district, we felt that we needed to be more personal about it, more intentional, and more tangible."
Lang hits on something key here. Today's older adults—true to the norm—value connection, but they're also staying active longer. Current seniors not only think about aging differently, they have the energy to do something about it. It's a change that marketers in the private sector are picking up on—and one that matters when trying to reach older adults.
What's Old is New
Even though the oldest Baby Boomers are almost a decade into retirement, nursing homes are going out of business. The New York Times reported that nationally, 200 to 300 nursing homes are closing each year, while the number of older adults is increasing by the millions.

And today's elderly aren't just acting younger; they feel younger. According to Pew Research, 61% of Boomers feel nine years younger than their given age. Their energy is being put to good use; the Financial Times noted a boom in the adventure travel industry for an older demographic, and the Kauffman Foundation reported that adults over 65 start more businesses than those who are under 25. Across the country, seniors are dreaming big for retirement.

To marketers, this change matters. "People are aging differently; that's what we've come to realize," says Rebecca Scanlan, Senior Communications Consultant at Silvernest, a trendy home-sharing site that helps older adults find roommates. "This generation is still very vibrant, and they want to have their independence," Scanlan says.
Silvernest's communications, in turn, are geared toward forward-thinking seniors. "We don't want to put them in a box," she says.
Without recognizing seniors' vibrancy, advertisers risk excluding the very audience they hope to target. Karina Tama-Rutigliano, a Forbes contributor and digital marketing consultant with almost a decade of experience marketing to the elderly, uses photos of people 10 to 15 years younger than her target group. Why? Older adults don't recognize themselves in photos of their peers; they see themselves as younger than their given age. "Enhance their abilities," she told SchoolCEO. Just like the community at large, seniors like to have fun.
According to Tama-Rutigliano, this demographic focuses on health, on maintaining their independence, and on security. Of course, finance plays into all of these issues, underwriting the narrative of many retirees.
A few districts have taken note. EdWeek reported that Allegheny Valley, a small district in Pennsylvania with a high percentage of older residents, pushes out a message of conservation and cost savings. The district discovered that their senior population values financial responsibility, so the administration not only acts frugally, but they communicate those choices to their greater community.
But how do districts—or marketers in any sector—reach seniors with their messaging? When it comes to modes of communication, the modern senior is keeping advertisers busy. While print is commonly used to reach older generations, a 2017 report from Pew Research shows a rise in technology use. Younger, well-educated, and affluent seniors plug in as often as people younger than 65. However, as seniors get older, the numbers taper off. Older, less educated, and less affluent populations use technology at especially low rates; only 28% of seniors over age 80 have home broadband internet.
When we asked Silvernest which communication channels they use to target seniors, they had a hard time narrowing them down. "We do it all," says Scanlan. The company markets digitally, attends conferences on aging, and distributes flyers in target communities.
But just like Brenham ISD and Wayne Township, Scanlan particularly emphasizes the importance of in-person events. "Face-to-face is important," she says. "We find that some of our audience is more into community events, more willing to come out." Meeting in person builds ties across generations.
The Missing Piece
When we ask school leaders how they cope with the job on difficult days, the answer is almost always the same: they visit classrooms. Students have a magical effect on adults. Of course, it's not magic; it's science.
Developmental psychology shows us that older adults become hyper-focused on connection. While mind and memory fade, emotional processing actually increases
in older adults, according to a 2016 study from Harvard Medical School.
Of course, aging can still be isolating. Loss of mobility and available transportation inevitably narrows older adults' social circles. According to a 2012 study from the
University College of London, the resulting loneliness can increase the risk of cardiovascular disease, infectious illness, even cognitive deterioration.
"Two demographics — children in need of support and adults with the time and inclination to step into roles that provide it — fit together like the pieces of a jigsaw puzzle," reports Stanford's Center on Longevity.
Connection between kids and older adults, then, becomes a powerful thing. When Iowa State University analyzed a range of studies on intergenerational programming, the results were overwhelmingly positive. Spending time with kids can prevent cognitive decline, improve self esteem, and lower the risk of depressive symptoms.
Across the country in Wayne Township, Mary Lang notes two key reasons her district engages seniors. "One is that it's the smart thing to do," she admits, noting the demographic's sway at the polls. "It's also the right thing to do," she adds. "It's been really meaningful to watch the evolution of increased connections."
Those connections are part of community building, of building strong schools. Reaching seniors goes beyond politics; "it's just right on every level," says Lang.
---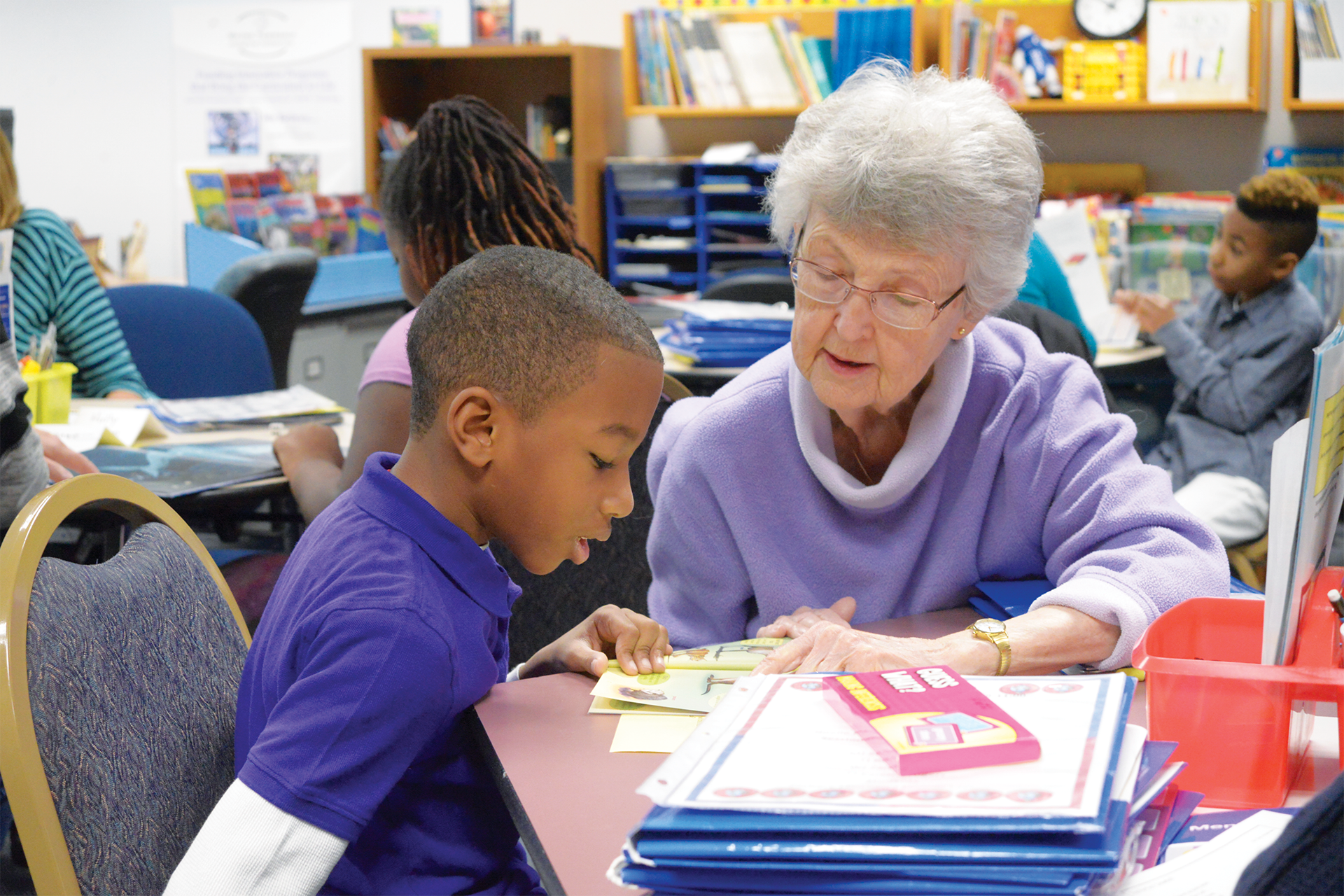 Photo provided by MSD of Wayne Township
Bring the community onto campus
Teachers and staff see the great things happening in your district; they witness the third grader holding the door for her class, or the seventh grader returning from a win at the state spelling bee. When seniors step onto campus, they get to interact with students firsthand. They see their support building stronger schools and, in turn, stronger communities.
Create a VIP Experience
The first metal credit card, the sleek black Centurion Card from American Express, was originally nothing more than a myth. But when a rumor began circulating, saying that the company had created an invitation-only credit card with high rewards, American Express decided to cash in. In response to the buzz, they produced a thick black card with a high annual fee and unmatched rewards.
The move was perfect marketing. In America, we've come to associate metal, platinum, and black cards with status and exclusivity. Customers are rewarded for their purchases—and even given a physical status symbol—because they are incredibly important to the company. The strongest loyalty programs, in turn, prove their appreciation for their VIPs.
Think this strategy can't apply to schools? Think again. Like many districts across the country, Wayne Township has created a VIP program, complete with ID cards, inviting seniors to attend sports and arts events free of charge.
"It's so easy for us to forget about our seniors," says Lang. "Everything that we're doing is to help them realize that we value them."
The physical cards themselves make Wayne Township's program stand out. After receiving a placeholder cardboard ID in the mail, senior citizens can snap a photo on campus to be made into a real plastic ID badge. The badges, which read "Wayne Township, VIP," match those worn by Wayne Township's staff, which communicates the district's senior stakeholders' importance. According to Butts, some older adults don't even use the program regularly, but they love making their VIP cards. "It's become something our senior community really enjoys," he says.
Spartanburg School District One in South Carolina shows appreciation by inviting retired employees on campus for an annual luncheon. But that's not all; each guest is sent home with a mint plant from the district's horticultural classes, thanking them for their "commitMINT" to Spartanburg One.
Ideally, this little gift serves as a talking point for retirees. "They talk to their friends, who may or may not have grandchildren in the district. Word of mouth is huge," says Sandra Williams, Chief Communications Officer. "We work very hard to help them understand the importance of public education, even if they don't feel like they've got skin in the game, because they do."
Assemble a Senior Staff
Back at Brenham, Director of Communications Jessica Johnston is adamant about getting older adults involved in the educational process. "I don't care if you're big, small, or in-between, there are people in our communities who want to be involved, but we just have to ask," she says. "There are opportunities out there ripe for the picking."
This Texas district depends on volunteer contributions to schools as a means to promote student well-being. Brenham's Bluebonnet Garden Club pulls weeds with
elementary students to keep Brenham's bluebonnets blooming. Pre-K students sit for a vision screening from the Lions Club, and the ministerial alliance greets elementary
students with high-fives on the first day of school. While these programs aren't exclusive to senior citizens, many attract retirees.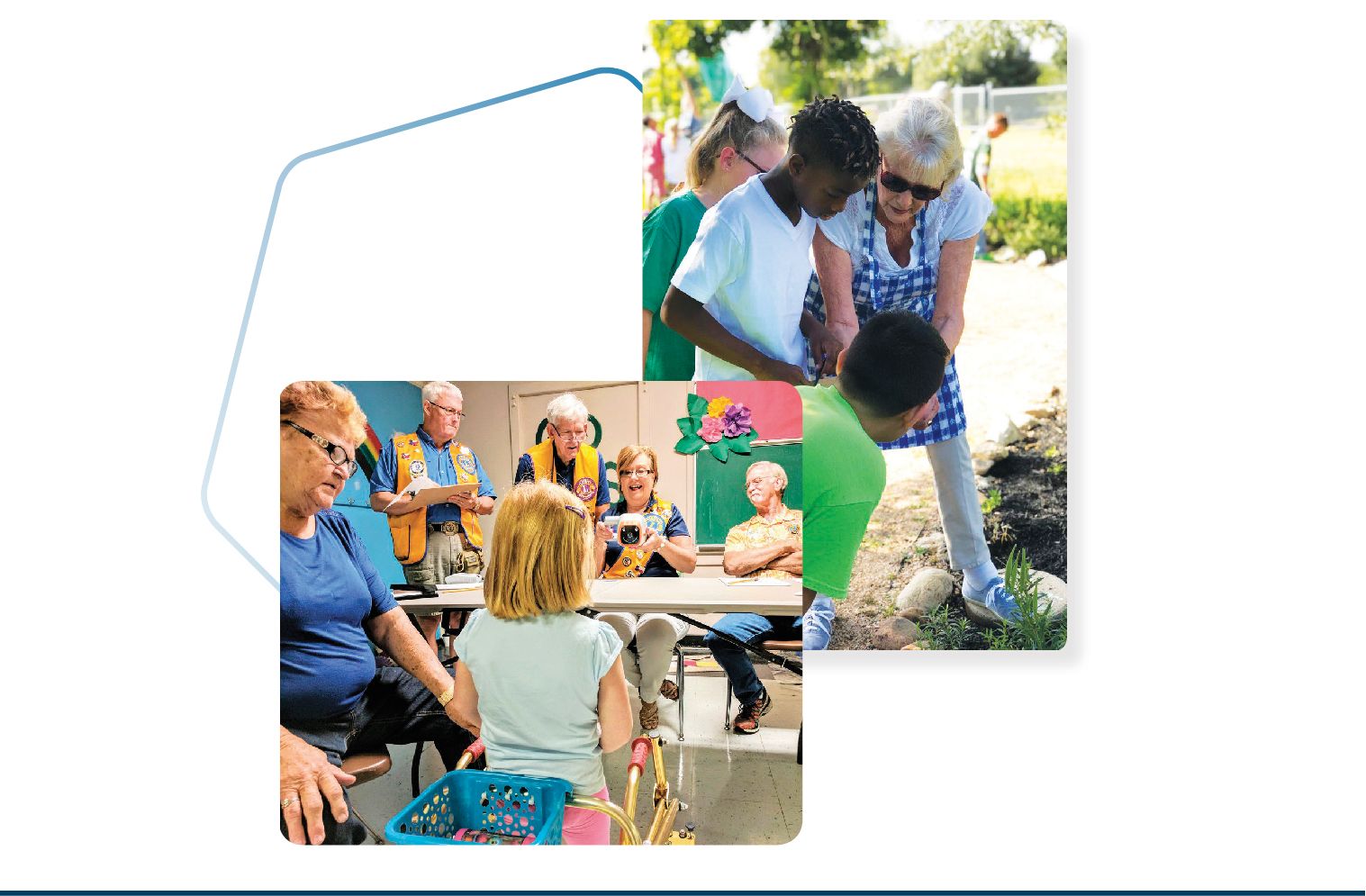 Photos provided by Brenham ISD
What's more, helping students seems to impact seniors as much as kids. Johnston describes the smiles on seniors' faces as they work with students—the change in older adults' demeanors after they've spent a day on campus. Wayne Township leverages this positive impact to recruit additional volunteers for the district's reading mentorship program. Helping One Student To Succeed (HOSTS) currently draws in over 1,000 volunteers—mostly older adults, Lang tells us—through its great reputation in the community.
The district is also intentional about recruitment. "The continual recruitment and recognition of volunteers is really helpful," says Lang. A closer look shows the district's systematic tactics for converting community members into volunteers—and it starts with recognizing their impact.
Every year, the district thanks volunteers from the HOSTS program with an annual breakfast with volunteers' mentees. Wayne Township goes the extra mile, finding ways to create impactful moments for volunteers. One of the program's alumni, for example, came back to his elementary school to speak at a HOSTS breakfast. Little did he know, the district had invited his former mentors, who traveled hundreds of miles to see their mentee speak.
The district shares these moments of transformation in written and video testimonials. "The experience has been very rewarding," writes a HOSTS mentor on the district's website. "It is wonderful to watch the growth of each student as they gain confidence in their reading skills and begin to enjoy the worlds that open up to them through literature."
Celebrate Community on Campus
Superintendent Nathan McCann turned to his student advisory committee for ideas on how to engage the broader community at Ridgefield School District in Washington. As a response, students designed an annual community carnival complete with vendors, food, and crafts. Experience Ridgefield, as they called it, celebrates the wonderful qualities of the broader town of Ridgefield. The message is clear: the district values their community's support.
"Students wanted to incorporate the things they love about the community," Carolyn Enos, the district's communications specialist, tells SchoolCEO. "The community is very tight-knit, and when you go to one of these events, you really feel the community spirit."
Everyone is welcome, whether or not they have kids in the district. Of course, this creates an opportunity to invite senior citizens onto campus. During the festival, attendees mingle over snacks and drinks, getting to know more about one another as well as the district.
Over the years, Experience Ridgefield has grown in size. The event is now in its fourth year, attracting more and more annual attendees. "The school district is a very integral part of the community," says Enos. "Whenever attendees join us for an Experience Ridgefield event, they think of the district and the part we played in bringing the community together."
Design an Intergenerational Curriculum
Back in Indianapolis, Wayne Township takes every available opportunity to partner with retirement communities. Each school partners with one of the five major senior citizen communities in the district, then develops monthly points of connection. These touchpoints pay off for students, teachers, and older adults.
For students, learning from and about senior citizens offers social lessons on service and aging, hands-on experience working with seniors, and even expanded support structures. The benefits for seniors are just as critical. "Even though you are part of a senior living community, there are still times when it's an isolating experience,"says Lang. "Families aren't right there all the time," she notes, which makes community support all the more important.
In February, students paste construction paper hearts onto glittered Valentine's cards for the seniors. Every resident opens a handmade card, crafted by a Wayne Township student, on February 14th. Sometimes students travel to senior communities to sing or perform; often, seniors visit campus.
As a partnership with the district's technical school, older adults travel onto campus to get their hair and nails done by students in the district's cosmetology program. After their manicures, retirees will walk over to the culinary arts classroom for lunch. "It's a day of pampering," says Lang. While seniors relax on campus, students learn to interact with older customers. Across campus, seniors can volunteer to have their blood pressure read by students interested in health care.
Lang especially emphasizes the impact of a program called "Cyber Seniors." During class, high school technology students teach seniors how to use video messaging services like FaceTime to connect with their families. "Our kids get an awful lot out of helping seniors make those connections," says Lang. "It brings something wonderful out in students when they connect with an older population."
Some of Wayne Township's programs involve simply learning seniors' stories. "A lot of the schools will actually have a classroom that adopts a senior citizen," Butts explains. The class communicates with the resident, learning more about their life. Residents, in turn, receive the opportunity to share their stories with an eager audience. Sometimes the partnership teaches students more about the aging process, especially important life lessons in illness and recovery. "We get to have those conversations," says Butts.
---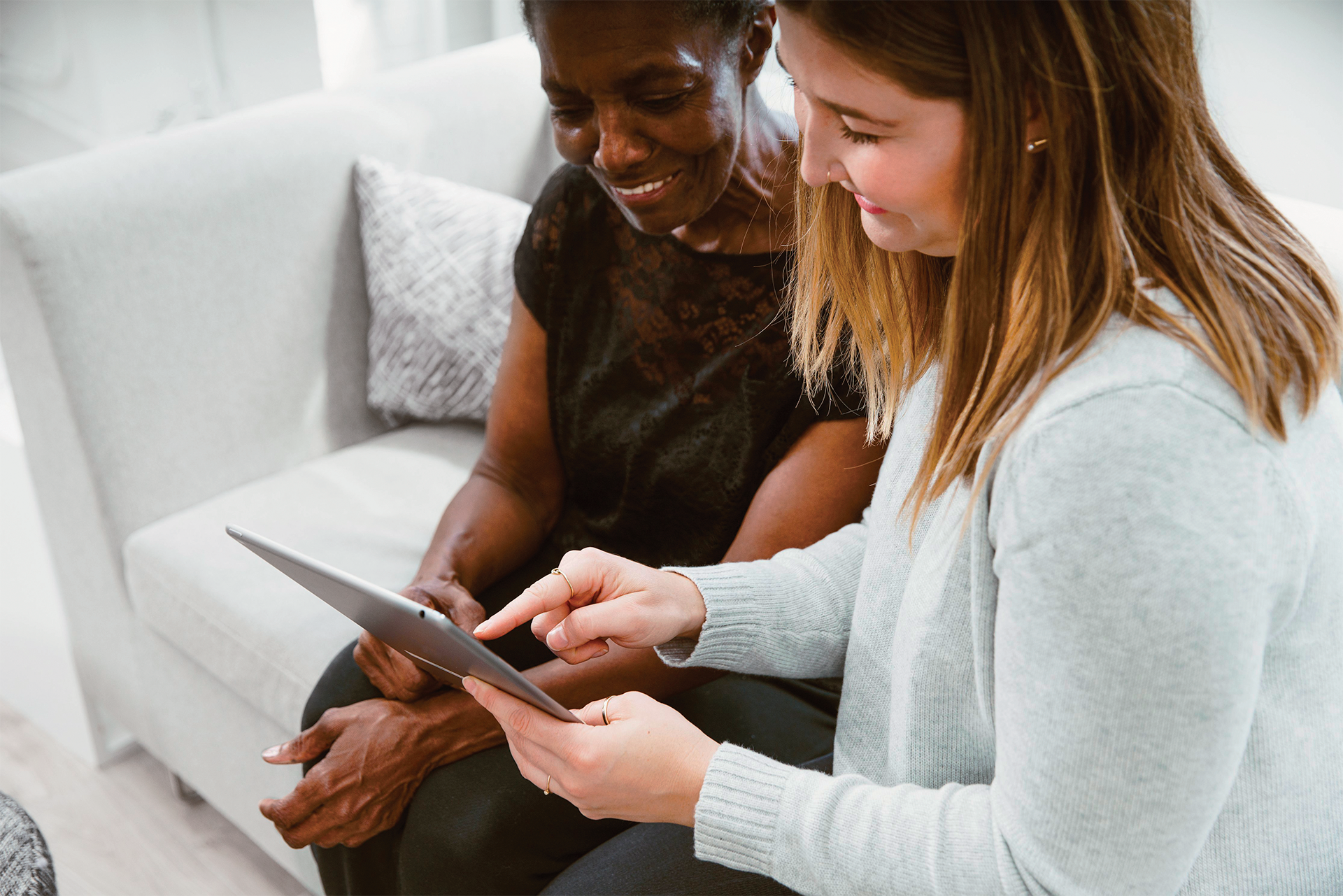 Bring campus to the community
On-campus events capture the attention of community members who are already somewhat invested in the district. They know where to find you, and they're interested in learning more. Reaching your entire community, however, means moving beyond your district, sharing positive student stories throughout the community.
Reaching the broader senior community, however, poses a challenge to marketers. Seniors receive information across a wide variety of channels. While we know that many older adults are engaged with the local news, Pew Research shows that these stakeholders are also on social media. Nearly 70% of people aged 50-64 are on Facebook, which drops to around 46% for those 65 and older. An even higher percentage are on YouTube: around 70% of those 50-64 scroll through videos, which drops to 38% for participants over 65. Clearly, social is important, but relying solely on social platforms means excluding almost a third of older adults.
Back in Wayne Township, Butts prioritizes in-person interactions. "We spend a lot of time—specifically me—going to community events, neighborhood association meetings, churches—being out there, being visible. We make sure we get our name in front of people," he says.
The district has teamed up with over 250 "Giant Partners" in the community, from churches to bakeries to insurance groups. Sponsors support the school, posting #WeAreWayne stickers in their storefronts. In short, they target key members of their community while continuously sharing positive stories all over the city.
Leverage Traditional Media
While face-to-face interaction is important, neither Wayne Township nor Brenham is neglecting traditional media, like printed newsletters or radio features. After all, the News Media Alliance shows that the median age of newspaper readers is still about 54, which rises to 55 for local evening news stations.

Every six weeks, Brenham ISD administrators create an insert for the local newspaper that includes updates from each campus. Once a week, a Brenham ISD student publishes an article in the local paper. "Students from our elementary school are talking about projects that they're doing in their social studies class," says Johnston. "Our kids at the junior high might talk about testing programs." Because of Brenham's great relationship with the press, Johnston says they also reach out about timely topics with the schools.
Wayne Township makes use of mail by delivering postcard updates to the entire community—whether or not individual households have students in the district. On the front of the card, they include a photo promoting a district success, like the unveiling of their solar farm. On the back, there's a short description of the photo. They keep the story short to capture their audience's attention, and focus messaging on key moments throughout the year. "We try to be strategic about the time of year and the messaging that we're sending," said Butts, mentioning the graduation postcard the district mailed out at the end of June.
And the district doesn't forget retirement communities, which aren't included in the bulk mailing system. Lang personally delivers stacks of postcards to each building. Working with the managers of retirement homes, they ensure that a postcard is placed in every senior's mailbox.
Show Up
At Brenham ISD, Johnston's team spreads out across town to gain traction in the community. "We are beating the pavement," she says. "We work with local churches, we speak at the chamber of commerce, at Rotary Clubs. Anywhere I can share what we're doing in Brenham ISD and invite all generations of stakeholders to get involved—I am there!"
Lots of community groups like Lions Clubs, Rotary Clubs, and other volunteer organizations tend to attract retirees, who often have availability throughout the day. Of course, each community is different. The point is to identify gathering places for your community's older demographic—then show up.
It's not just administration. Students from Brenham volunteer in the community, helping the senior population while simultaneously building up the district's reputation. Last year, students from construction technology classes volunteered to build a shed to house the local senior center's golf cart. They've been working with the center for years, helping with various maintenance projects. In turn, the relationship between the district and the senior center has flourished. Seniors have even engaged in volunteer activities with students.
A few years ago, one of Brenham's high school woodworking classes heard about an initiative to make "lily pads." These wooden seats, shaped like leaves, attach to the bottom of IV stands to provide a place to rest for children battling terminal illness. Kids can sit on these seats or use them like skateboards as they walk from room to room. The story got picked up by local media. When residents at the senior center caught wind of the idea, they offered to help paint some of the lily pads. The teacher, Mr. Thiel, took half of the pads to the senior center to paint. Instead of plain wood, pads were decorated with bumblebees or pictures of Snoopy. The project eventually garnered statewide attention for the district, further reinforcing their message of a unified community.
Talk Community
True inclusivity starts at the district's core: its mission and vision statement. Both Wayne Township and Brenham ISD emphasize community in their core messaging. "We don't have Brenham Schools in our themes," says Johnston. "It truly is about more than just what we're doing in our schools. It's about making sure that our whole community is engaged in this process." Brenham ISD creates themes that unify schools and their communities. A few years ago, their theme was "One Brenham, Better Together." Last year it was "Brenham, United."
Wayne Township developed a hashtag to empower every stakeholder. "#WeAreWayne really brings our school community together," says Butts. "It helps people to feel like this is their district; they are a part of this, and our success is dependent on them. Whether they are a teacher, a bus driver, a custodian, a child nutrition worker—they're all a part of the success of our children."
The hashtag has taken hold, too; Butts mentions with a laugh that students think it's been around for fifty years. Political candidates use #WeAreWayne on their signage; the chamber of commerce and economic development commissions use the hashtag in their own marketing. #WeAreWayne links the community to their schools.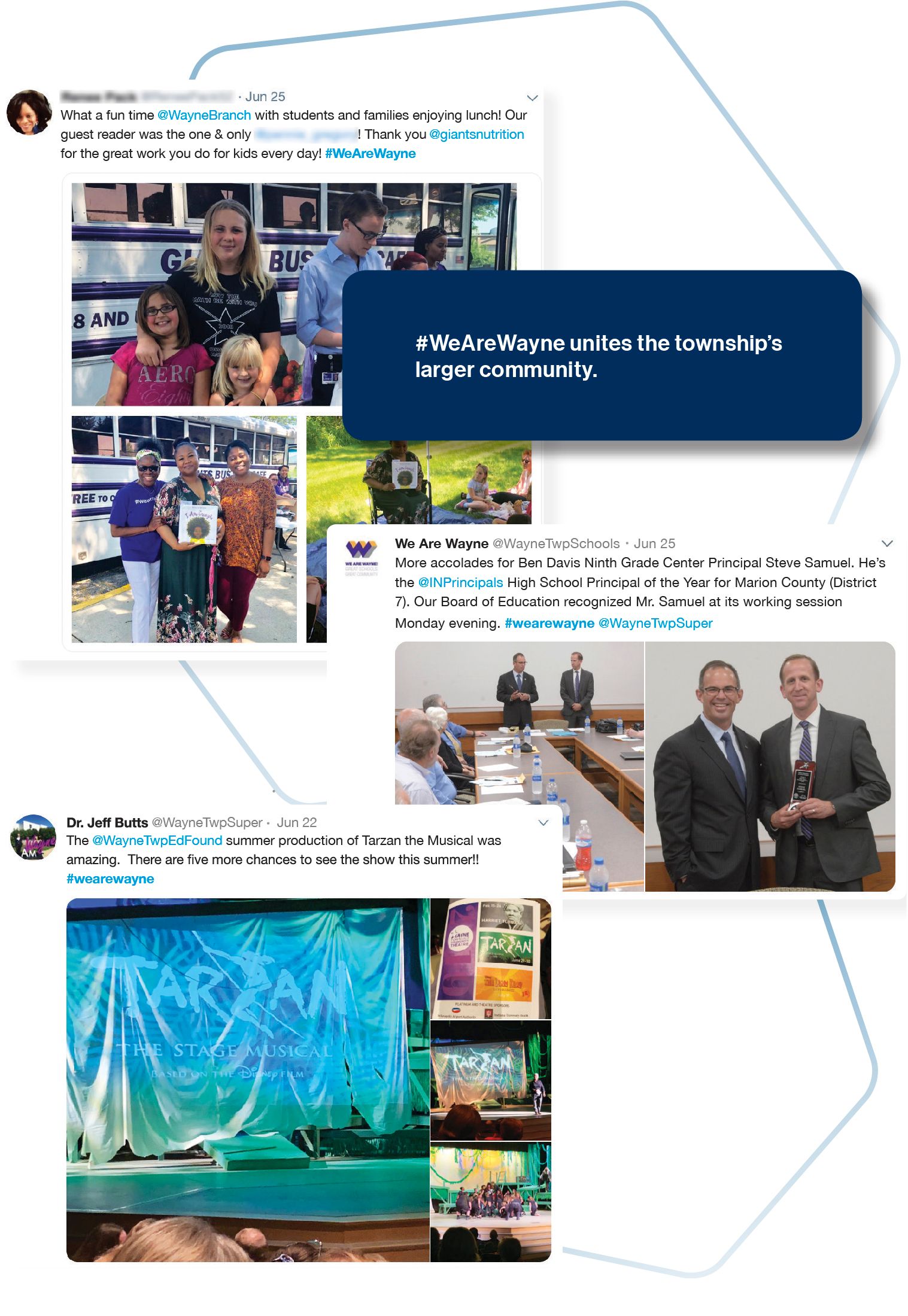 At its core, marketing to older adults is creating community-driven schools. While many districts engage older adults in their community, they miss the opportunity to maximize the marketing potential of those engagements. Each connection built with an older resident is a story. As your district creates more stories, give the extra 10%: capture photos, write down quotes, and follow up with seniors. Then, when your district vets for a bond, reach into your collection of stories to share those moments of connection.
---

SchoolCEO is free for K-12 school leaders. Subscribe below to stay connected with us!
---