Student Voice in School Marketing
As your most valuable stakeholders, students can be natural marketers for your schools.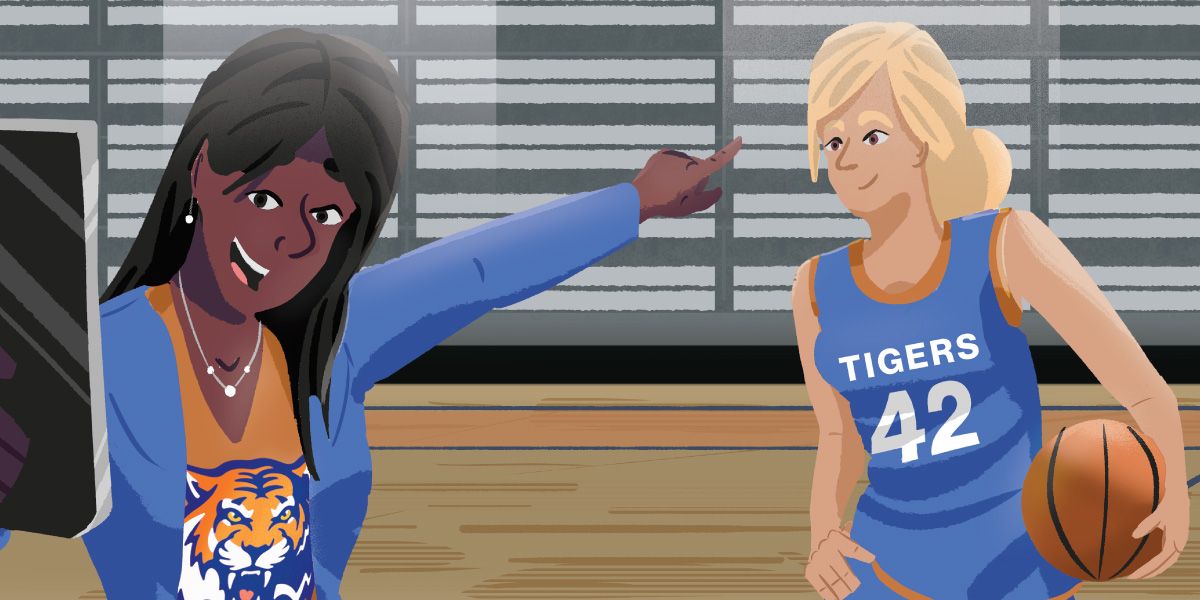 This article is even better when paired with the companion discussion guide.
There's a good reason we see a common image in most ads and commercials: happy people enjoying a product, whether it's a can of soda, a jet ski, or even an allergy medication. Private sector companies know that to get our attention, they need to show their products creating joy, excitement, and value. When we see other customers enjoying a product or service, we start to buy in.
As a school district, the product you're selling is education, so highlighting your most impacted customers—your students—is a highly effective way to show your success. If your community can see your schools through the eyes of your most valuable stakeholders, they'll believe in your mission that much more. That means your students are natural marketers for your schools.
By listening to your students first, letting them tell your story, and then giving them some control over district content, you can create a truly student-centered marketing strategy. Highlighting student voices in your marketing will help your community, as well as prospective students and teachers, see your district more clearly. When they research your schools, they'll see them as a place where their families can thrive. By amplifying your students' voices and telling their stories, you can grow your school community in both number and spirit.
Be authentic.
In our conversations with school leaders and communications directors, we find that many are hesitant to use students in their marketing efforts—and we understand that. We certainly don't suggest exploiting students to increase enrollment. Having students memorize a script for a district commercial or radio ad feels slimy for a reason—it's inauthentic.
Instead, we recommend a more organic approach: rather than scripted ads, find opportunities to showcase the learning already taking place on your campuses. Look for the inspiring stories happening in your schools and ask yourself: How can we tell this story through the eyes of our students?
Have student input inform your marketing.
There are several ways to incorporate student voice into your marketing, but the most successful strategies start with student input. Your students know what their peers need and where to find them, so let them lead the way.
In Oregon's Lake Oswego School District, Superintendent Dr. Lora de la Cruz has invited student input into several venues. The district instates two new student school board representatives each year and also invites students to sit on their Diversity, Equity, and Inclusion Committee. "We are seeking to have more and more student voice featured really prominently in our endeavors," de la Cruz tells us. "I love having these student representatives on our committees because they ask their peers about things, and then they turn to us."
Last spring's sudden shift to virtual learning didn't deter Lake Oswego's dedication to hearing their students. In fact, taking student input into account has opened the district's eyes to an issue they thought they had covered during the pandemic. "We thought we were doing a great job of  letting students know how and when to reach our counselors through Google Classroom, our website, and in newsletters," de la Cruz tells us. But in what she calls a "profound" conversation with a student, the superintendent learned differently. "This student said to me: I'm really worried about my peers and their parents who don't know where they can get support." Upon hearing this, de la Cruz was dumbfounded. "It just blew my mind that we had been doing what we thought was so much outreach to our students, and they weren't hearing it—we weren't getting to them."
In response to this student's input, Lake Oswego shifted their marketing and communications strategies. To reach more students, they added middle and high schoolers to all their newsletter mailing lists—and started sharing counselor
resources on the district's Instagram account. "We decided to meet them where they are," de la Cruz says. "And we saw a huge uptick in new contacts, a few thousand over the span of just a few weeks."
By listening to the input of one concerned student, this district has refocused its marketing efforts and strengthened its support for every student. Taking steps to include student input into your marketing strategy can earn you new, devoted cheerleaders for your district, and it may also change lives in the process. "We can talk to a lot of stakeholders, and all voices are important, but what really matters is how our students are either being positively impacted or not," says de la Cruz. "And if they're not, then we need to change what we're doing. Our kids can't wait one minute longer to have the support that they need."
Let students be your district's voice.
Letting your students tell the story of your schools is a win-win for any district. You want your community and the world to see the opportunities your campuses offer—and if that's coming straight from your students, your audience will be even more inspired by your vision and mission.
When Superintendent Matthew Miller of Lakota Local Schools in Ohio does his semiannual "State of the Schools" community address, he lets the kids do most of the talking. "It's not the Matt Miller show; it's the Lakota show, and our kids talk more about our schools than I do," he says. In a typical year, Lakota invites community members like local politicians and business leaders to hear from students firsthand. "If I say something, people think, That's just his job to say that," Miller tells us. "But if I get a 12-year-old girl and a 13-year-old boy up on stage talking about what they're creating and how this ties into what they want to do for the rest of their lives—then that goes much further than just me saying it."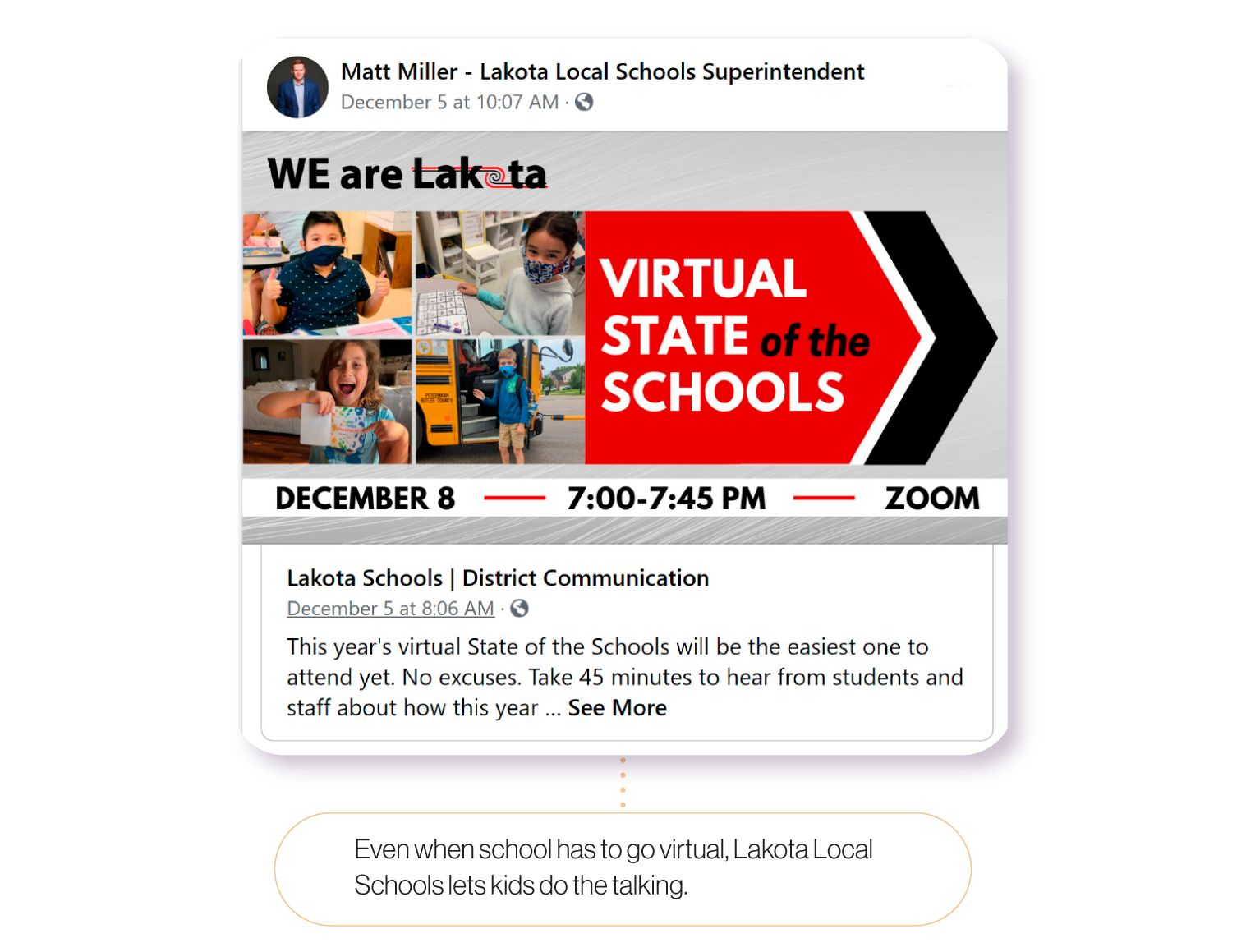 In Texas, the communications team at Allen ISD uses video to put their students front and center. Their district YouTube channel features a series titled "The Eagle Minute," inspired by the district's mascot and tagline: Where Eagles Soar. "The video series is a great way for us to highlight our students and their accomplishments," says David Hicks, the district's Chief Information Officer. "But it's also a great way to have the students tell our story for us. It personalizes the district to the community. That's what we're here for: to give students a chance to shine. And you'll notice in a lot of our videos, it's not just kids holding up trophies or a football team winning the big game—it's more about what they're doing everyday in the classroom and who they are."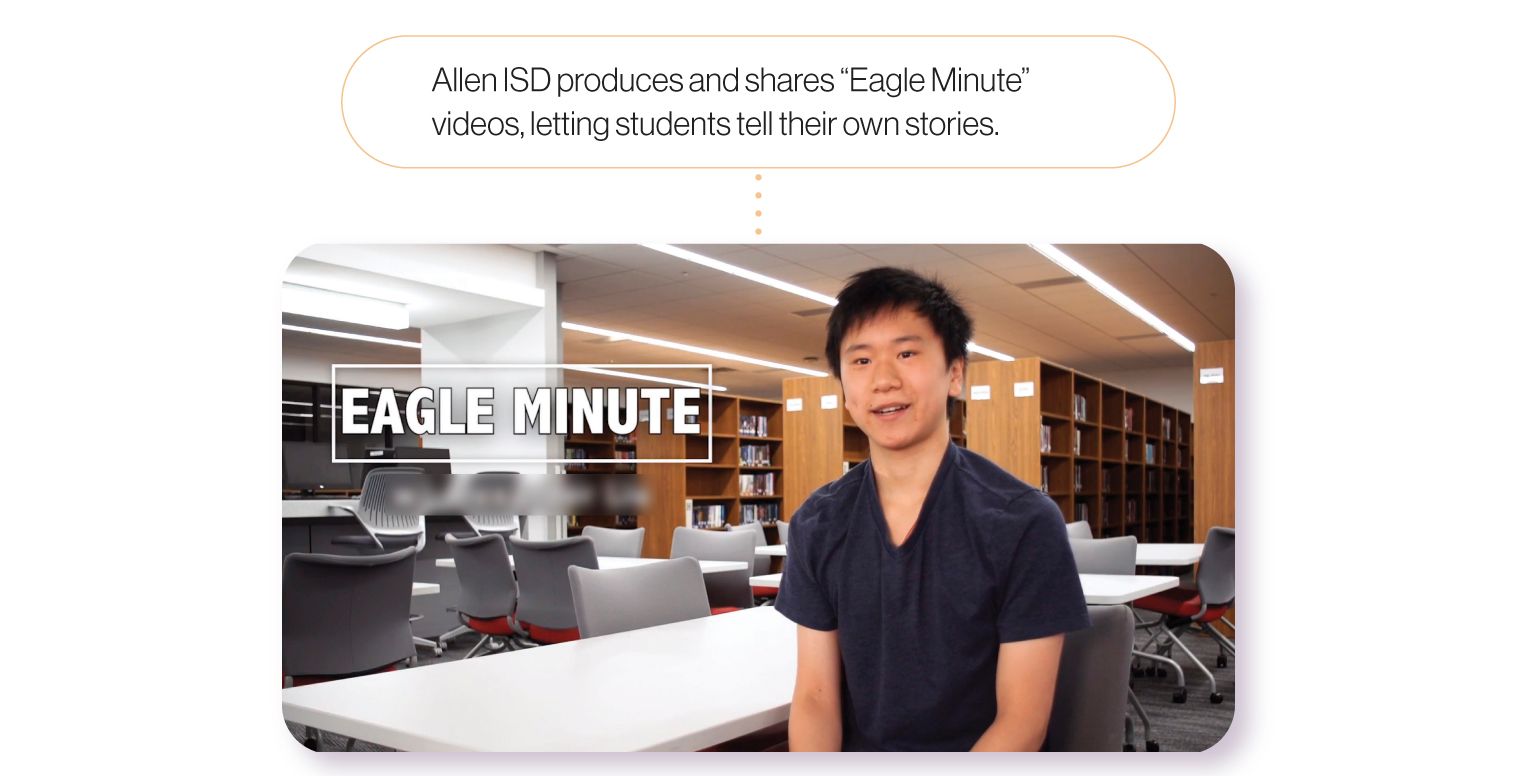 Put students in the driver's seat.
As we said earlier, your students are your best storytellers, and there can be great value—both for them and for your schools—in letting them take the lead. Your students know what they need, want, and care about more than anyone else, so it just makes sense to have them tell prospective students what your schools are all about. One engaging way to do that is by letting your district's kids produce relevant, student-centered content for you on the platforms their peers are using. A student-produced post on Instagram or TikTok could reach a lot more kids than a tweet or Facebook post from the district. Plus, it gives your students hands-on experience with media production, social media management, and 21st-century storytelling.
In McAllen ISD, another Texas district, Superintendent Dr. J.A. Gonzalez knows that to reach stakeholders, especially prospective students and their parents, his district needs to meet them where they are. "Our whole vision is trying to stay hip and fresh and ahead of what the kids are doing," Gonzalez says. "The last thing we want is to think we're being innovative and creative when we aren't even reaching our targeted audience."
By working with "student ambassadors," Gonzalez and his communications team have been able to appeal to a wider and younger audience through social media. Where some districts may struggle to connect with students online, McAllen ISD is letting the kids lead the way—and it's working. "We turned our student ambassadors loose on TikTok,  and they put out some really great stuff that got us some good reviews," Gonzalez says. He and his team work with school principals to choose these students, who now come from schools at every level. Student Council presidents, who are elected by their peers, are also invited to be ambassadors.
"In the education business, we are entrepreneurs of the human spirit," Gonzalez explains. "To have an impact on the future, you have to really look at it from the perspective that the future is now. The way to do that is by having conversations with students and empowering them to make decisions—not only through lip service, but through action. Any time students are able to see change take place based on their conversations with you, you start to get more momentum."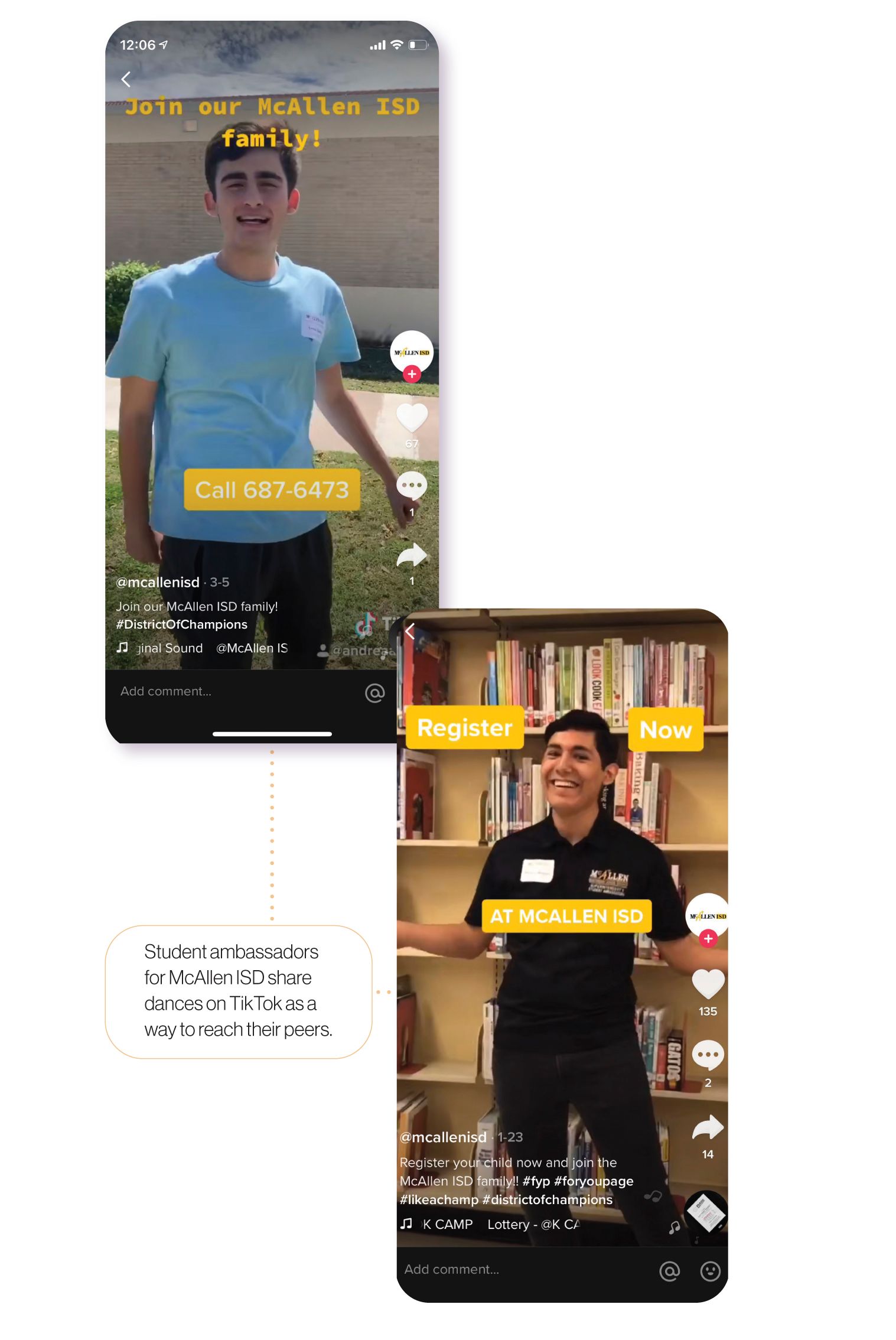 Making student voice a prominent part of your strategic planning, your community outreach, and your social media isn't just a smart move—it's a necessary one. All of those things combine to give you a marketing plan centered around your most important customers: your students. If you want your community to see who you really are, you have to connect with them, whether through a student-produced TikTok dance video or through a student's personal story shared on YouTube. No matter how you reach your stakeholders, keeping students on the forefront of both decision-making and implementation creates the most impact for them and for your schools.

SchoolCEO is free for K-12 school leaders. Subscribe below to stay connected with us!