Video 101: Engage your audience with episodic content.
Keeping your school community engaged means being creative and consistent with your videos.
By SchoolCEO
Last Updated: September 14, 2020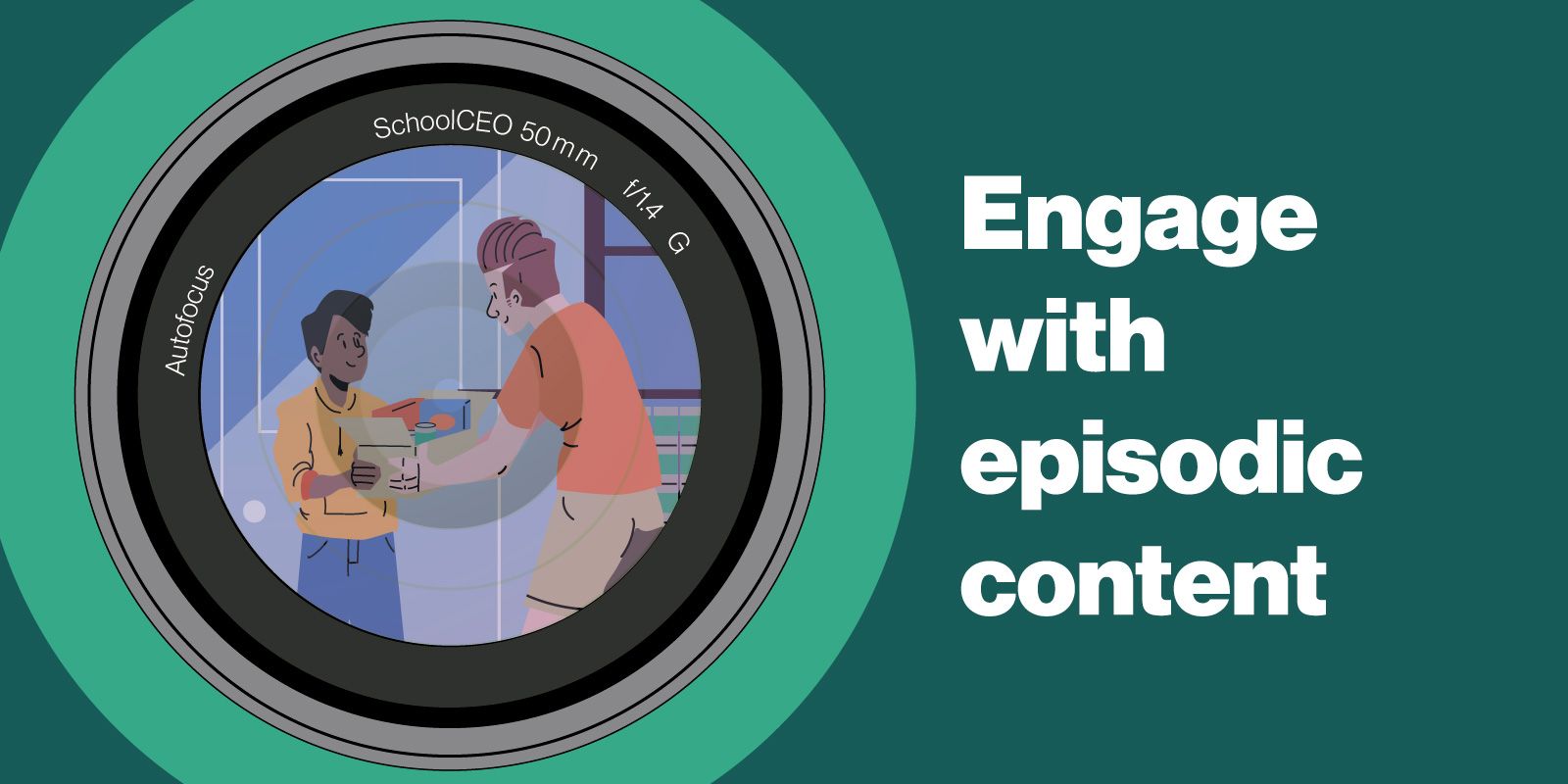 If you've ever binge-watched a TV series, you know how easily you can get attached to a show's characters. It makes sense; you've spent so much time with these people, over hundreds of episodes, that it feels like you know them personally. In the same way, episodic video can make your audience feel as though they know you and your schools on an intimate level—even if they don't.
"Episodic content is a great way for people to spend more time with your brand," says Kristen Bryant, former head of Strategic Partnerships for video software company Wistia. "It's a great way to build longer and stronger relationships with your customers and your community."
Of course, for this strategy to work, your content has to be engaging, relevant to your audience, and a good reflection of your district's personality. At West Bridgewater Public Schools in Massachusetts, recently retired superintendent Dr. Patty Oakley had to learn this lesson the hard way. She'd been interviewing staff for "Superintendent Spotlight" segments, but the Q&As, clocking in at about 20 minutes each, weren't getting much attention. "Twenty minutes of just an interview… people weren't watching it," she says. "And if they were, they were really bored."
So Oakley mixed up the format; instead of conducting a traditional interview in a classroom, she hit the road. "We started the Carpool Karaoke version of Superintendent Spotlight," she says, "which is just like James Corden's Carpool Karaoke. I pick up the people, and we drive around the town of West Bridgewater. We share information, and then we'll sing a song, then we share more information, then we sing a song."
This offbeat strategy worked wonders for the superintendent. And even though the videos didn't get any shorter, "everyone wanted to see the silly things we'd do, so they'd watch the whole interview," Oakley tells us. "We got great information out there, but in a fun way."
Not only did Dr. Oakley sing her fair share of songs while leading West Bridgewater, she also danced her way into the hearts of the district's stakeholders—using another idea that would become an engaging, and episodic, way to tell West Bridgewater's story.
"A few years ago, I decided to do a Welcome Back dance video and surprise everyone," Oakley tells us. "My friends say that I dance like Elaine on Seinfeld, so I'm not the best dancer, but I'd seen other people do things like this and thought, Why can't we do that?" So Oakley changed the words to a Justin Timberlake song, and recruited all her district administrators to sing and dance along with her.  
"Well, you've gotta be careful," she tells us. "The next year, all the parents were like, We can't wait for the welcome back video! And I said, Oh my God, now I'm stuck doing this every year—what am I gonna come up with? Despite her initial anxiety, Oakley and the district continued to start each school year with a new Welcome Back video. And of course, there's always dancing.

"Each year we've been doing it, adding more people—teachers, kids. It just promotes so much great camaraderie and school spirit, because everyone's looking forward to the video when they come back to school," Oakley says. "It gets parents excited. It goes on Facebook, on Twitter, all over the place, and it gives people this feeling of pride. It's not all about the scores you got on assessments and those types of things. It's about making people think, I want to send my kids there. I'm excited about getting back to school."
That sense of engagement and fun—and the frequency with which Oakley appeared on her viewers' screens—made her a more approachable figure in the school community, too. People felt like they knew her. "I think if you show your personality, people really like that," she tells us. "They want to know you—they want to know you're human—and social media gives you that outlet to show who you are and that you care. You're not just the superintendent sitting behind a desk."
---

SchoolCEO is free for K-12 school leaders. Subscribe below to stay connected with us!