Communicating COVID-19: Highline Public Schools
How Washington's Highline Public Schools is leading communication efforts during the outbreak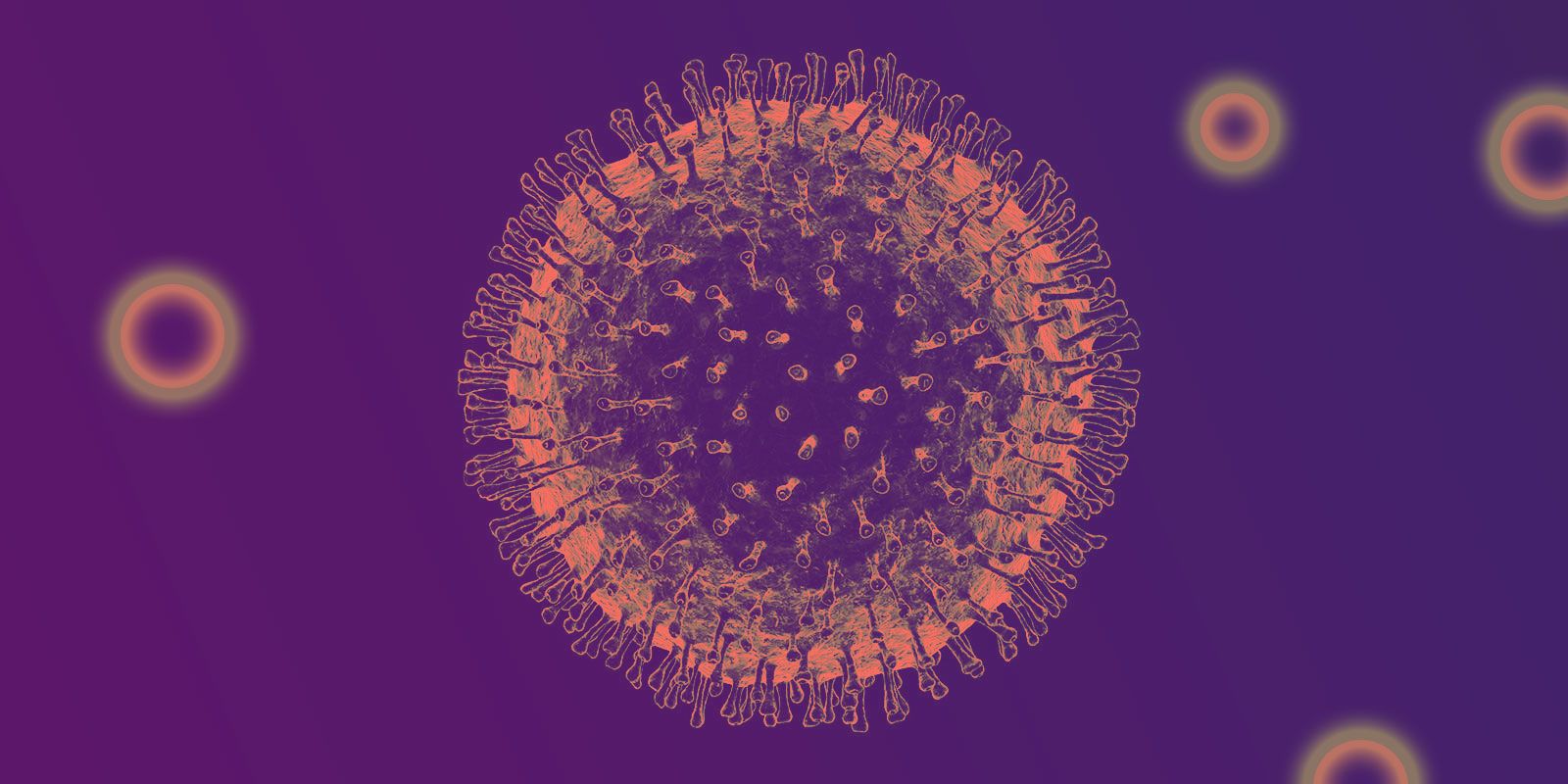 In the heart of Washington, Highline Public Schools has been a leader in coronavirus communications since the virus arrived in the U.S. at the end of February. The district has done a great job in maintaining transparency, staying professional, and opening two-way lines of communication with the community.
We spoke with Highline's Chief Communications Officer, Catherine Carbone Rogers, and Assistant Director of Communications, Tove Tupper on March 3rd about their work keeping the community informed. Since then, the team has continued to implement their strategy while adjusting to new information.
The following Q&A shows a glimpse into the team's communications.  

We spoke to the team on the 3rd of March. The social media examples included illustrate how the team has since implemented the strategy they describe.
Could you explain your strategy?
Carbone Rogers: Obviously we're trying to stay ahead of the information that is coming out of our public health authorities, because we know that people are on high alert and have the tendency to become panicky. So we're trying to combat panic by providing current information as quickly as possible.
We decided yesterday that we're going to do a daily update at least this week to staff and families just so that we could give them something everyday, even if it's not really new. We want to keep people in the loop and let them know we're on it.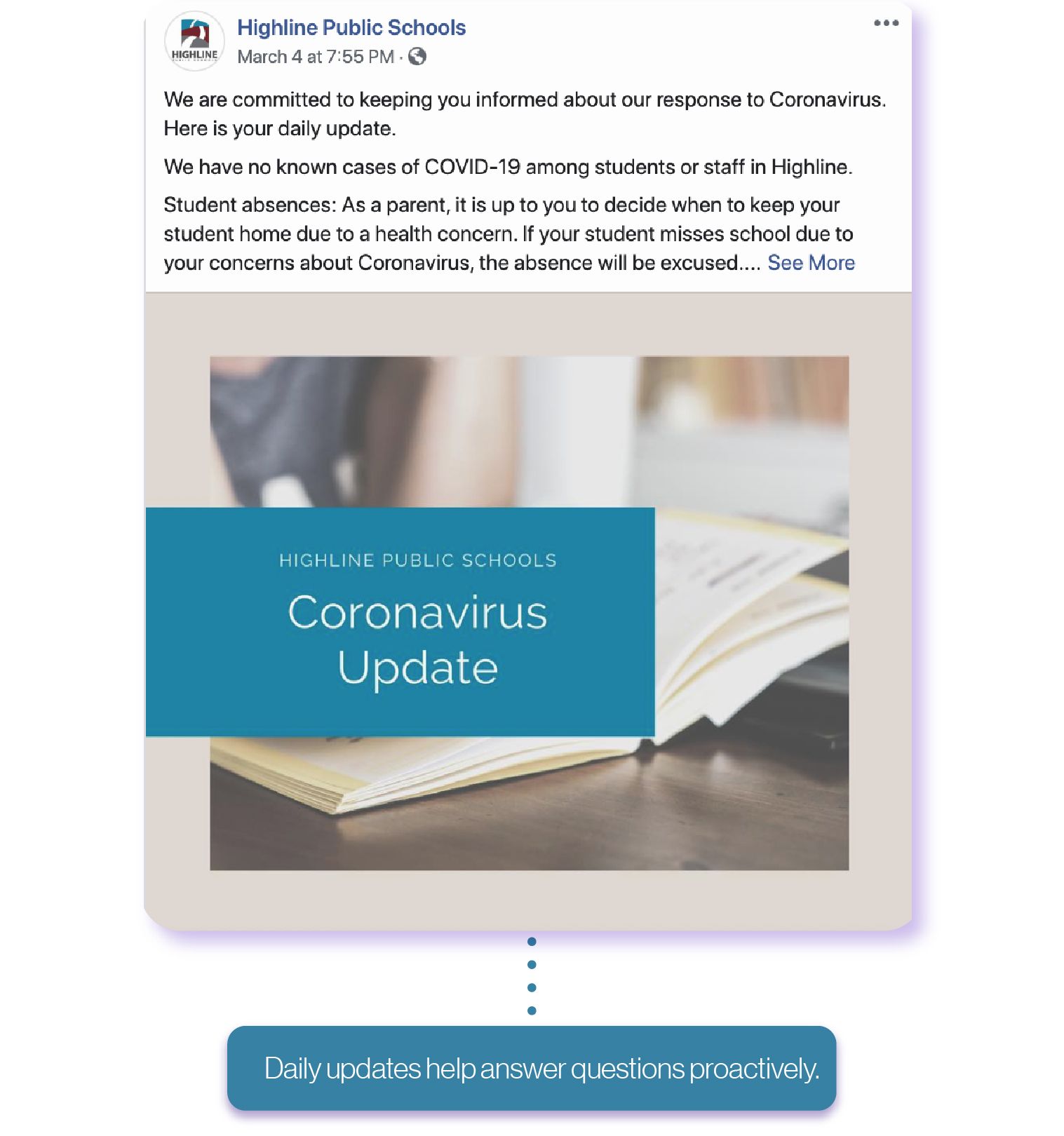 Are you getting a lot of concerns from parents?
Carbone Rogers: Yes, and we set up an impromptu call center that is staffed by three or four administrative assistants from different departments, because our health services office was just being overwhelmed. Most of the questions are not necessarily health related—they're about excused absences and cleaning protocols.

Tell me more about the website landing page you've created for the virus.
That's kind of a repository for all the updates that keep people current. We've posted the messages that we've sent out to families in case anybody missed them.

Find Highline's website here.
We're updating those multiple times a day and adding a timestamp so that people know the last time the page was updated.

What is your social media strategy?
Tupper: A lot of people are also on social media—we've worked really hard over the past three years to set this up. So when we put something out to families, we also put it out on social media. That includes Facebook, Twitter, and Instagram. On Monday (March 2nd), we did a series of Q&As on Instagram, because we know that a lot of people are following us there, including staff and students.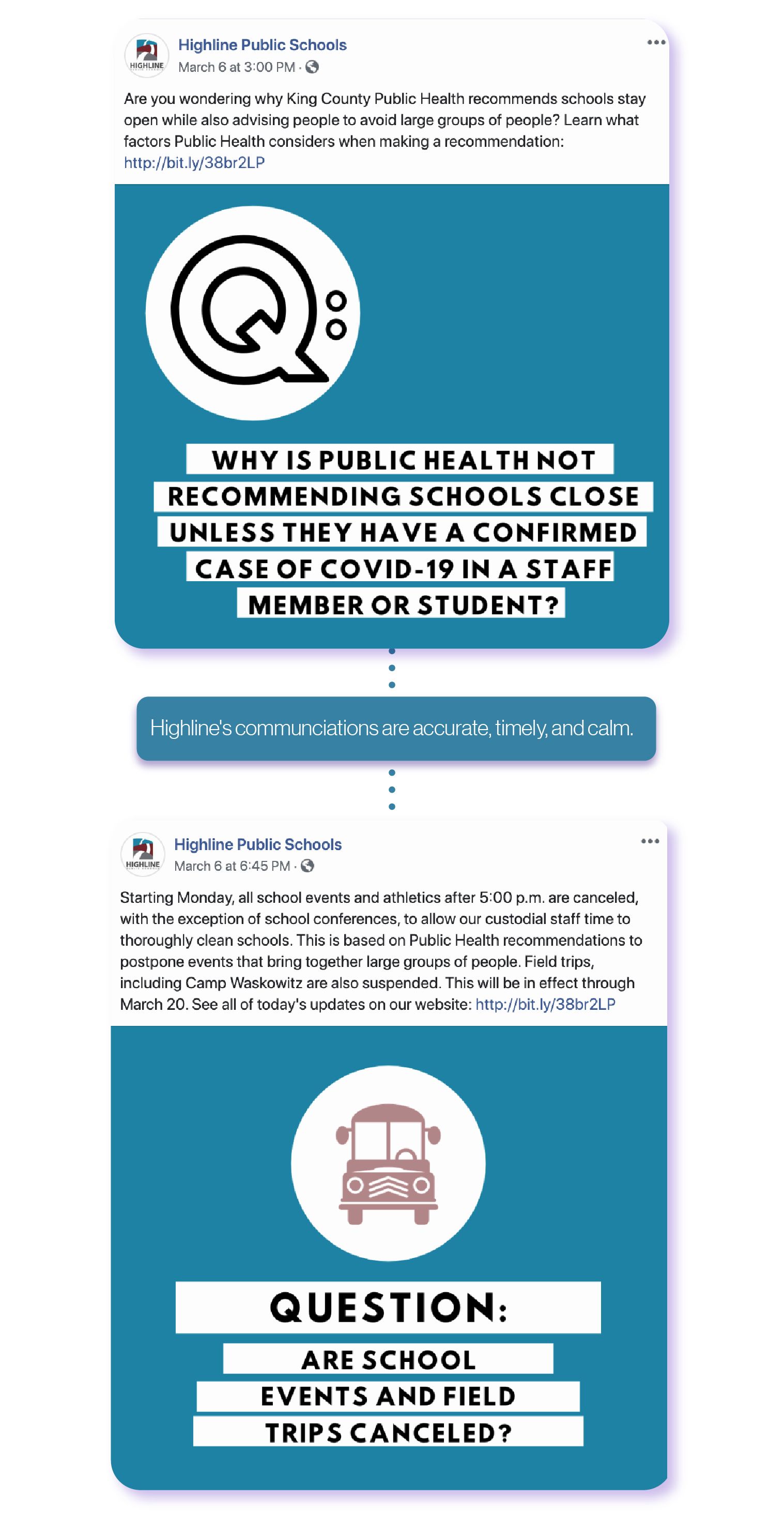 We want that to be a resource for people to get information that's accurate, timely, and calm.
Are you working with the state to get information?
Carbone Rogers: We're getting everything from our state and local public health authorities, but really we're mostly taking it off of their websites and they're keeping theirs up to date. Reaching our direct contact is pretty hard; they're overwhelmed right now.
What's the response from parents?
Tupper: It's a mixed bag. We have some parents who are really grateful for the information, grateful for the steps we're taking, but then we also have family members and community members who are frustrated that we're not closing down schools. There's just a variety of opinions on what's going on.
I would say that there's a difference in the tone of feedback that we've received today than we did on Sunday or Monday morning when we were first starting out with communications. So I do think that there's been a change in the tone and the appreciation of our communication in just a three-day period, because we've been really consistent in the last three days, and I think that's helped.
Carbone Rogers: I spent a lot of time on Sunday night and Monday morning (March one and two) answering questions from staff, and I haven't seen as much of that in the last 24 hours.
It seems as if sending out more updates gets you a more positive response. Is that true?
Tupper: Well I would say there's fewer questions, and I think it's because we're giving them the answers that they're looking for so they're not seeking them out. Which is good, because that gives us time to do the next-step communication that we need to do so that we're not just in reaction mode the whole time.
What is the next step to your communications?
Carbone Rogers: Well we have a lot of decisions to make. There's just a ton of implications in an organization that serves this many kids and has this many employees. We just had new guidance from the health department five minutes ago, so we're gonna have to figure out what that means. And that is that people who are at higher risk of illness should stay home. So there's gonna be an impact on both our student population and our employees—there's going to be employees in that category. So we have to figure out how we're going to deal with that because public health is recommending that they not come to work.
That's the biggest thing right now, but there's all sorts of other things like field trips to museums and other kinds of public places. What's the proper isolation if you have more than one child that's presenting symptoms and needs to be isolated? There's how we're going to deal with cleaning classrooms—our custodians can't clean every desk and every chair every day—what about teachers who are going to have to clean their own rooms? These are all things that require our leadership team to get together and talk through: what are the implications of all of these things, what are the labor relations pieces? We can't do something that violates the contract. Each one of these decisions requires a lot of discussion and just looking for: where are the possible pitfalls?
Tupper: And then once those decisions have been made, it's our job to go in and communicate that out in a way that's clear and concise, that doesn't alarm people even more.
How are you staying on your toes? Do you have a baseline plan?
Carbone Rogers: This weekend after we had the first death in King County, I spent some time building out the communications plan. So I had the bones on Monday when I came to work, and my team just started filling in stuff and doing stuff—creating more lines of things as we thought about them. Then we just started executing. I was frankly in up to my earlobes with cabinet-level decisions that whole day, or else responding to immediate questions. So luckily for Highline, we have a great team of communications professionals that can execute on that stuff.
It's times like these that the value of investing in communications really shows itself because if I were a one-person shop, I would have had to either leave the table where the decisions were being made and remove the public relations voice from the table, or we would not have been able to execute on any tactics after any decisions were made. We couldn't do both—one or the other. But because Superintendent Enfield has a commitment to communications and has invested in it, our team is robust enough to take that ball and run with it and be at the decision-making table at the same time.
What was in the bare-bones plan you started with?
Carbone Rogers: We did a basic situational analysis and we set out some goals and objectives. In terms of strategies and tactics, we had communications like a message from the superintendent to all staff. There was information to families about how we're handling the situation today and how we'll keep them updated.
And part of it is just being adaptive. We had a plan of day-of communication, but then we looked at one another and said, We need to keep doing this. We can't just have one-and-done communication.
There are a couple of other things that I think were noteworthy. We had our health education specialist whip out some lesson plans on communicable disease prevention, including hand washing and stuff like that. We got those out with the directive that every single student would get at least one of these lessons in this curriculum before Friday.
The other thing we're doing that I think is important is sending out our core messages to principals and administrators so that they know what the facts are and what to say to people when they ask them about various aspects of this.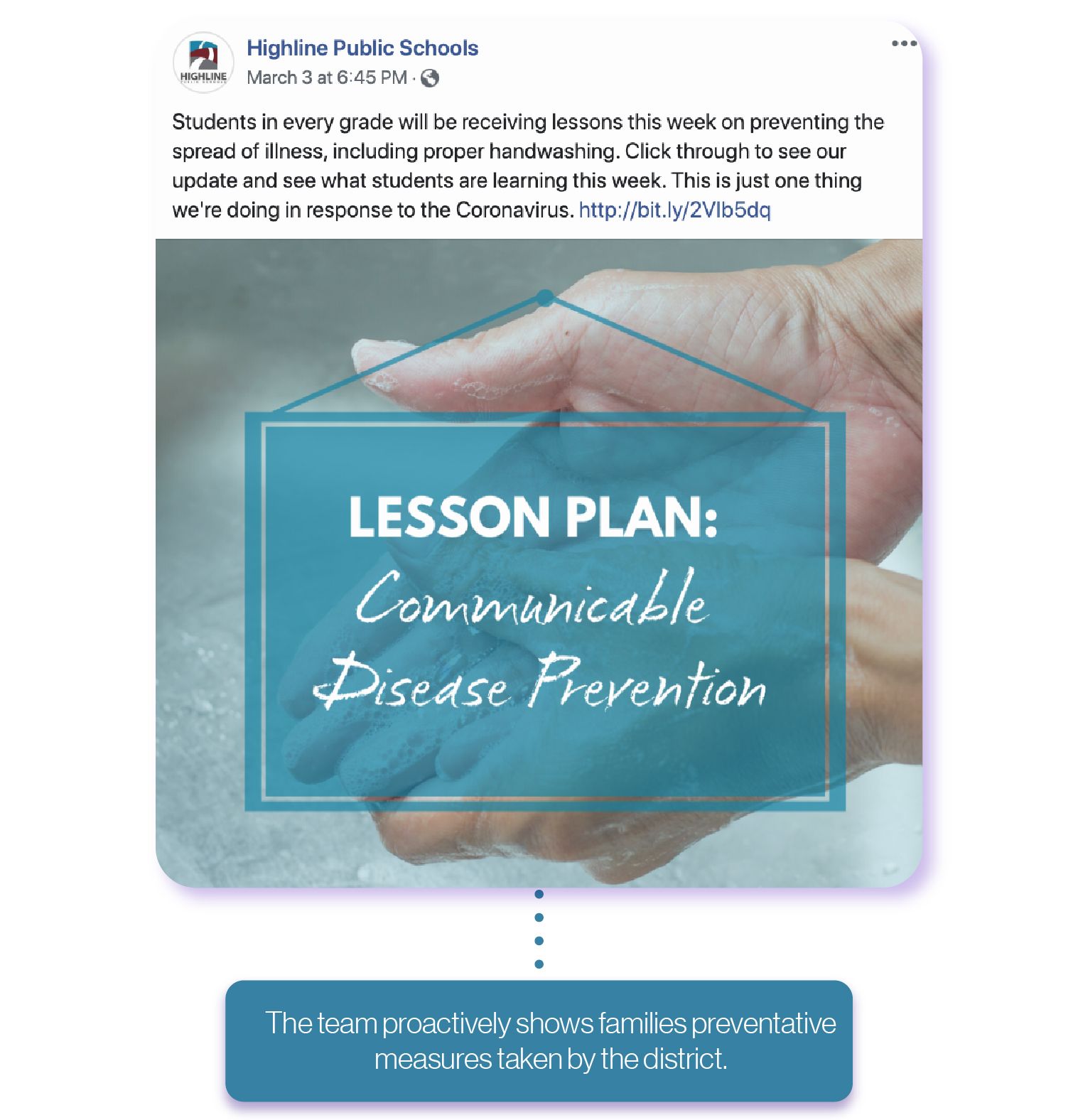 Is there a plan for communicating that information out?
Carbone Rogers: We're doing the communication for all of the policy and practice centrally; we're not depending on principals to do it. But we want them to have the facts so that when they're having conversations with families, they know what to say.
We just don't want to add the burden to them or want miss any people because the principal didn't have time or because they had something else that they had to attend to.


SchoolCEO is free for K-12 school leaders. Subscribe below to stay connected with us!